UC San Diego's New Downtown Hub Park & Market Opens to the Public
Made possible with philanthropic support from Malin Burnham and David and Claire Guggenheim, the new downtown center promises to be a cultural, intellectual and applied research hub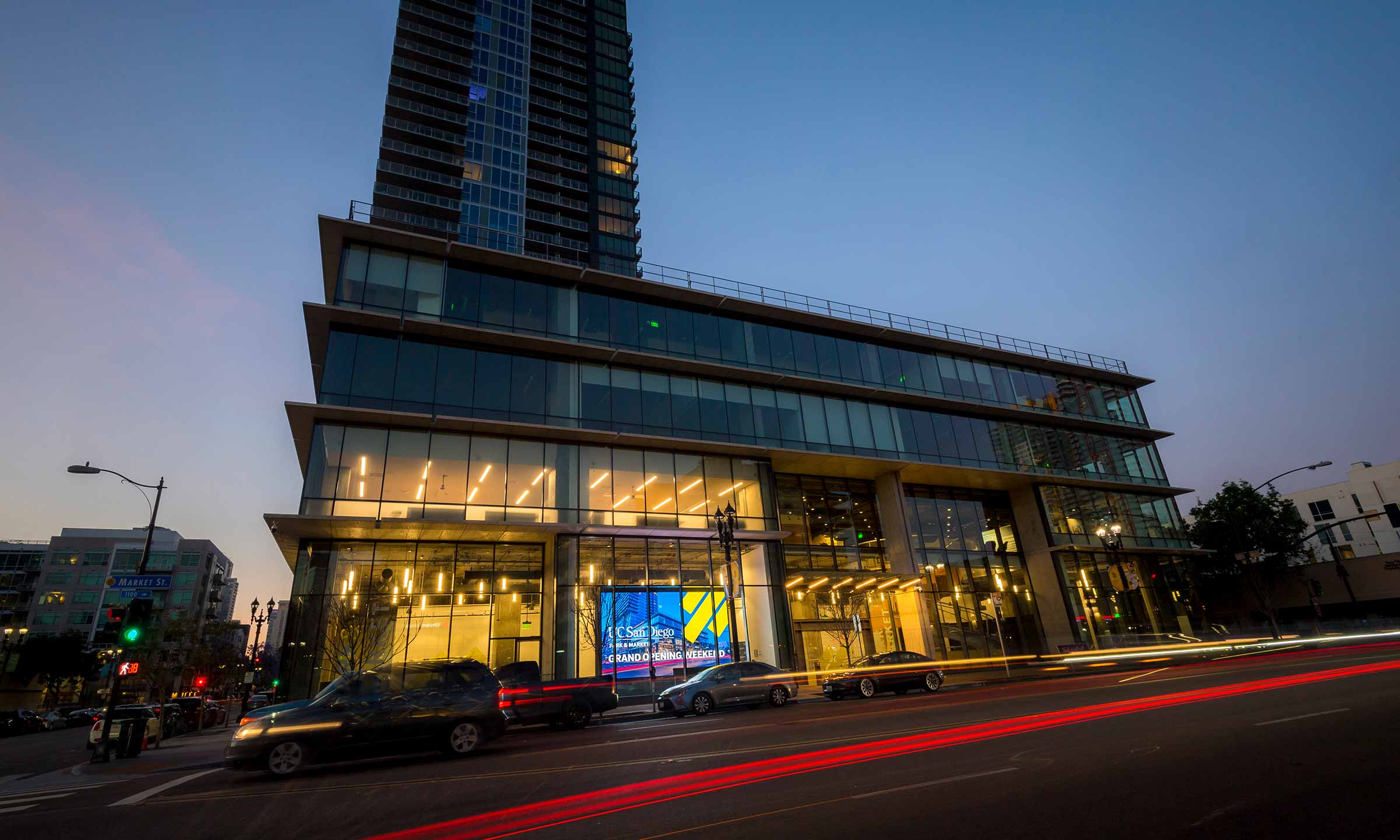 Photos by Erik Jepsen/University Communications.
From performances by renowned local musicians and a Family Arts Open House, to a conversation with Los Angeles Times columnist and award-winning author Jean Guerrero, UC San Diego Park & Market—the university's long-planned presence in downtown San Diego—opened to the community with a bang last weekend.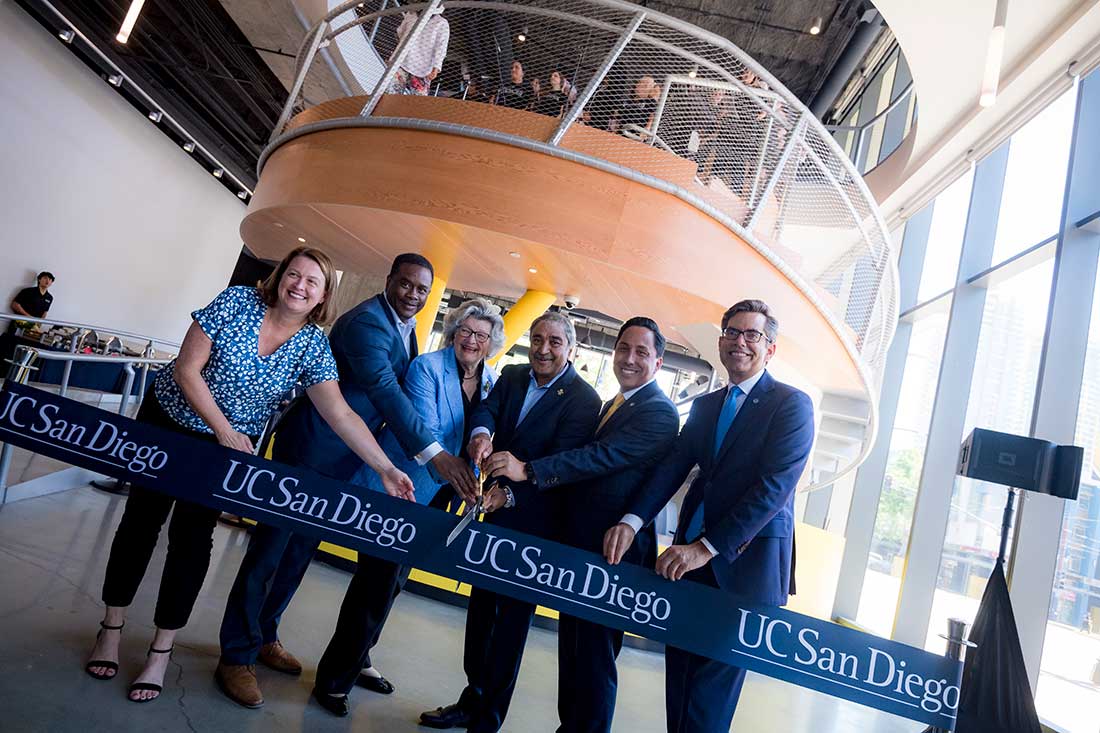 Located on a full city block at the intersection of Park Boulevard and Market Street in San Diego's East Village neighborhood, and steps away from the Blue Line Trolley connecting UC San Diego's main campus with the U.S.-Mexico border, UC San Diego Park & Market is designed to serve the entire San Diego community as a social and intellectual hub for civic engagement, learning and collaboration. The flexibly designed space represents the university's commitment to connecting with the cultural heritage and shared values of the region's diverse social, cultural and economic community.
"Park & Market is an integral part of our mission to be a student-centered, research-focused and service-oriented university community," said UC San Diego Chancellor Pradeep K. Khosla. "Ten years ago, when we learned that a proposed Trolley extension was slated to connect our main campus in La Jolla with the U.S.-Mexico border by way of downtown San Diego, we knew that a presence in downtown would better connect the campus to our community, and the community to our campus. UC San Diego Park & Market is a reaffirmation of our responsibility to nurture inclusiveness, create access to our world-class resources and build vital connections locally and globally. Now, a decade later, we are so grateful to our generous donors, Malin Burnham and David and Claire Guggenheim, who have helped make this incredible vision a reality."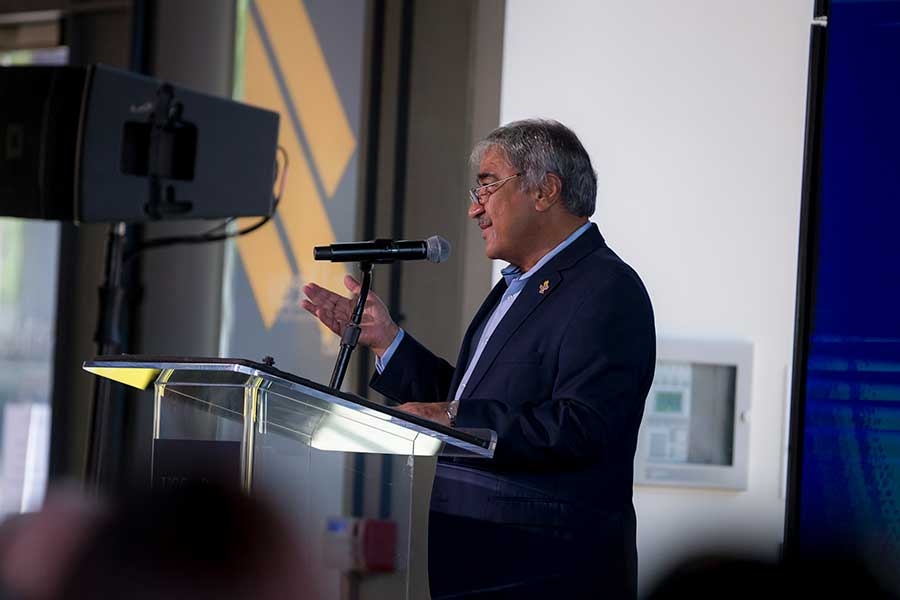 Local businessman and philanthropist Malin Burnham and his wife, Roberta Burnham, committed a $3 million gift to support the partnership between the Burnham Center for Community Advancement and UC San Diego in their creation of a "civic collaboratory" at Park & Market. The collaboratory will be focused on bringing great minds together from all backgrounds to focus on advancing the region. The Burnham Center for Community Advancement—a think-and-do tank that serves as the nexus where community stakeholders and multi-sector partners come together to identify regional needs, find innovative solutions and tackle some of our binational region's most pressing issues—is housed at Park & Market.
"The Burnham Center for Community Advancement is here to work with like-minded organizations to solve problems, create solutions and move our binational region forward," said Malin Burnham. "UC San Diego Park & Market is an ideal hub for collaboration and problem-solving in downtown San Diego. We are honored to support this revolutionary building and look forward to a strong partnership for many years."
In addition, David and Claire Guggenheim are giving $1 million to the project as a culmination of their involvement with arts at UC San Diego for over three decades. In honor of their gift, the building's 225-seat black box theatre, to be used for a wide range of performances and teaching, will be named the David and Claire Guggenheim Theatre.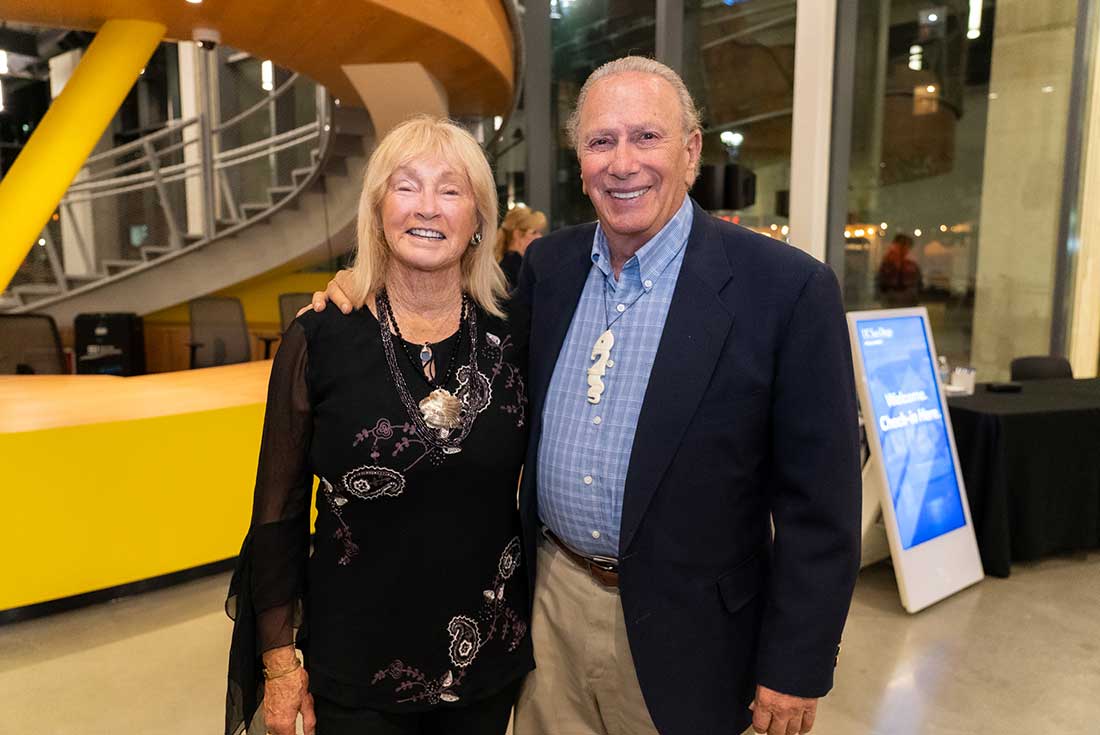 "Claire and I feel the Guggenheim Theatre will provide a modern, configurable space for many of our local performing arts organizations, for in person and Zoom classes and many other uses," said David Guggenheim. "We are excited that Park & Market, with its downtown location, will help expose UC San Diego to a whole new audience, to many underserved individuals who might have felt a disconnect with the La Jolla campus. In addition, we hope that Park & Market will bring together the brightest minds and organizations who will work together to help address some of the region's most pressing challenges – from making our city more liveable to improving transportation and lowering our carbon footprint."
According to UC San Diego Associate Vice Chancellor for Public Programs Mary Walshok, the new facility is more than just an academic building in a metropolitan area's downtown. "UC San Diego Park & Market is an accessible, world-class space built on the idea that a university's relationship with its community should be as diverse and dynamic as the community itself. Park & Market is purpose-built for interaction with all members of our unique, binational region and represents our commitment to building a diverse talent pipeline, grappling with tough social policy issues and nurturing the thriving arts and culture scene of San Diego."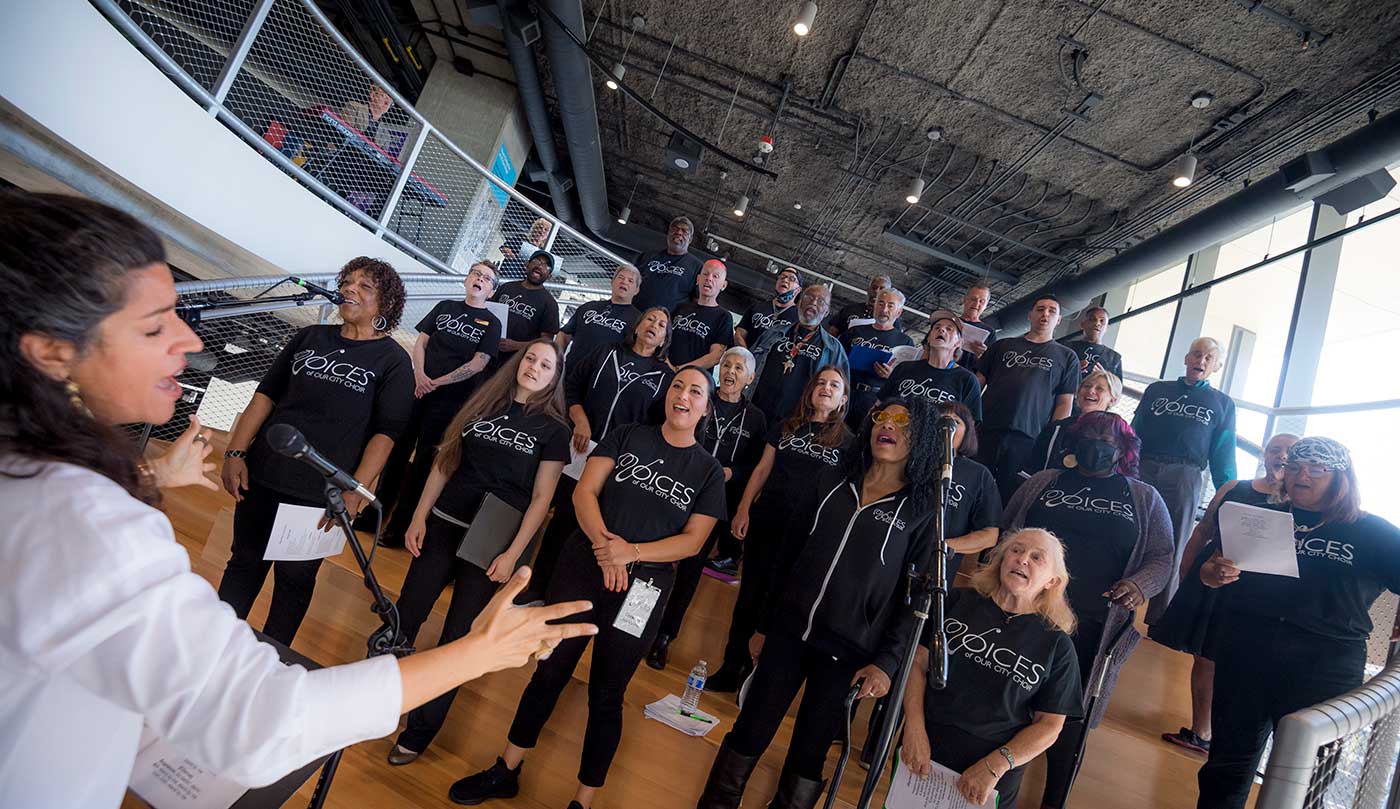 What's inside
UC San Diego Park & Market will be operated by the UC San Diego Division of Extended Studies. Hugo Villar, dean of the Division of Extended Studies, is committed to making Park & Market a tangible addition to the intellectual, cultural and economic growth of the region, while providing a new platform for faculty, community and student engagement. The 66,750-square-foot, four-story, mixed-use building is designed to accommodate multiple and diverse campus and community programs, exhibitions and events for all ages.
UC San Diego expects to engage over 10,000 local community members each year at Park & Market, with a focus on programs that will allow unemployed and under-employed people to achieve academic certificates and well-paying jobs on an accelerated basis.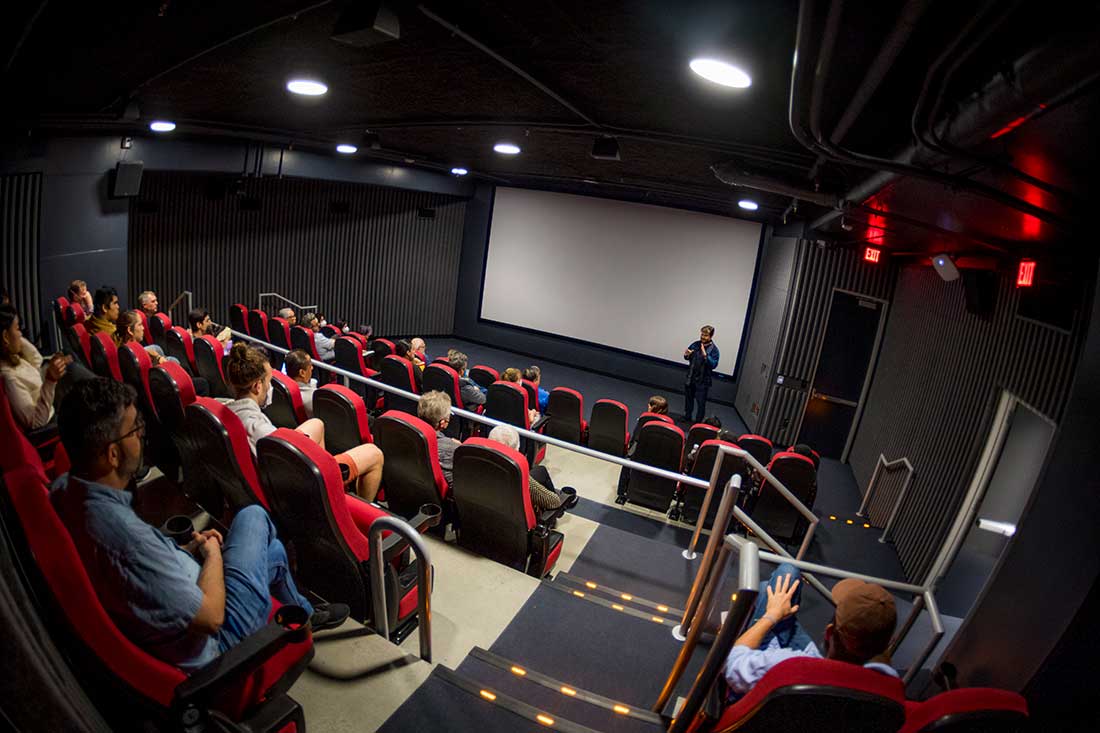 The creation of UC San Diego Park & Market directly created more than 370 permanent jobs, and provided another 1,500+ temporary (construction) and indirect/secondary/tertiary jobs during the building process. The new building also eases the city's housing crunch with The Merian, a 34-story residential tower consisting of 426 units, 85 of which will be reserved for very low-income residents, managed by Brookfield Properties.
UC San Diego Park & Market brings together a diverse array of amenities that are not present in any other professional building in San Diego at this time. These include: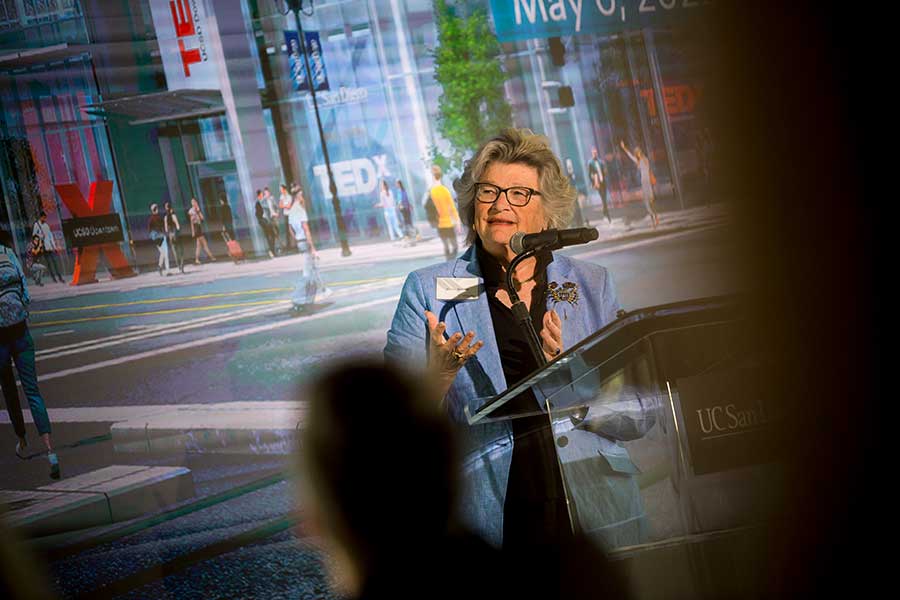 A "civic collaboratory" focused on applied research and public policy, that brings great minds from different regions and walks of life together, with office space for multiple campus and community partners (see full list below);
225-seat Guggenheim Theatre with configurations to accommodate plays, concerts, lectures and more;
58-seat cinema operated by Digital Gym, which will show independent and foreign films from noon-10 p.m., seven days a week, and is also available for private film screenings and media arts education;
A sophisticated 25-foot x 17-foot dual-sided video wall for video installations, virtual speakers and other extraordinary multimedia experiences, made possible through a partnership with the Qualcomm Institute at the Jacobs School of Engineering
A one-of-a-kind, multi-functional staircase with San Diego's only balcony stage and optional pocket theatre seating;
An accessible gallery space featuring art installations from regional and national artists, currently featuring an exhibit on the history of the UC San Diego Stuart Collection;
Four versatile executive education and conference rooms providing distinctive experiences for small groups, conferences and business meetings;
Three classroom spaces available daily for flexible learning opportunities, as well as outside traditional working hours;
A state-of-the-art computer lab with the latest equipment;
A dance and wellness room for fitness, dance and meditation classes and public use;
Food and drink from Bella Vista Caffé, an extension of the popular cafe located in the Torrey Pines Mesa across from UC San Diego;
A publicly accessible courtyard for outdoor performances and special events.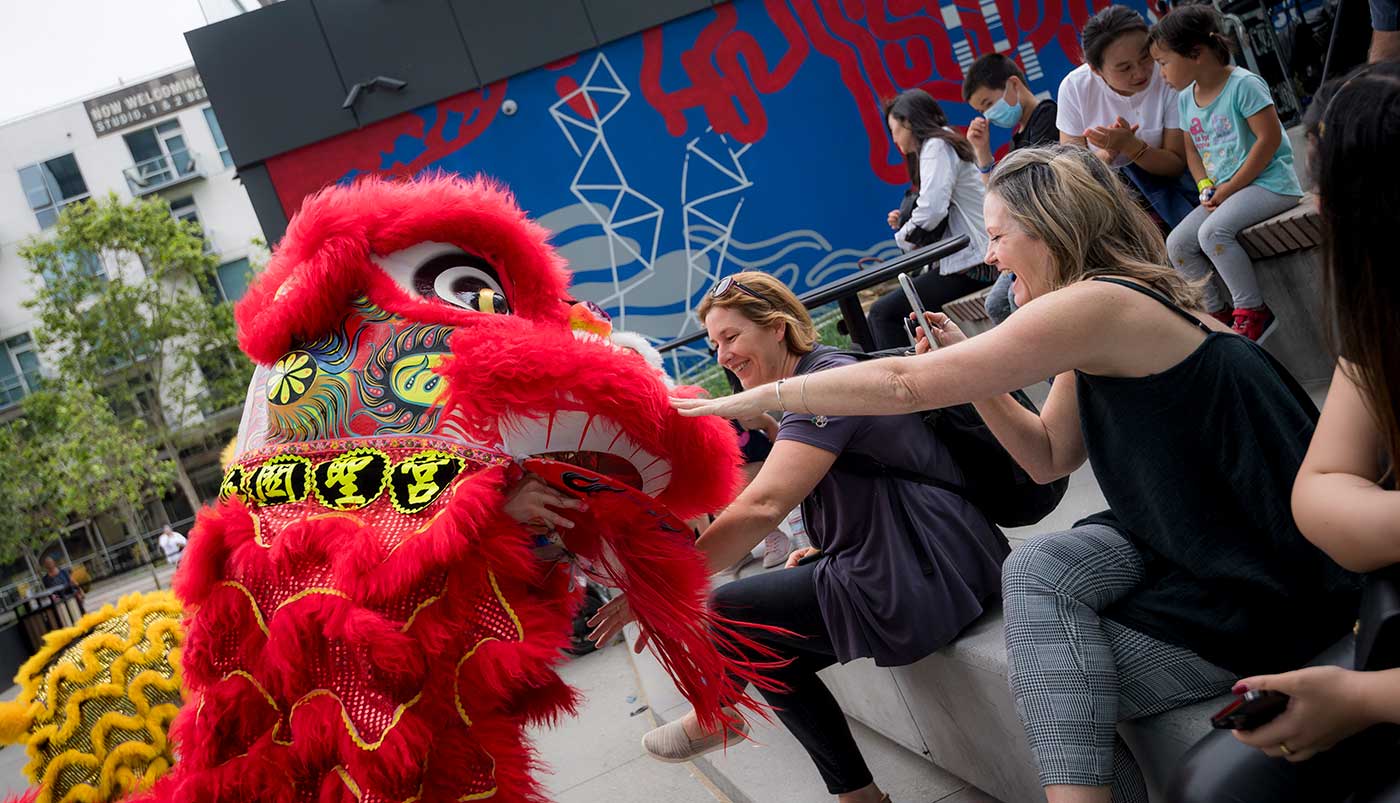 Who will be there
The new building will welcome a variety of innovative and collaborative partners.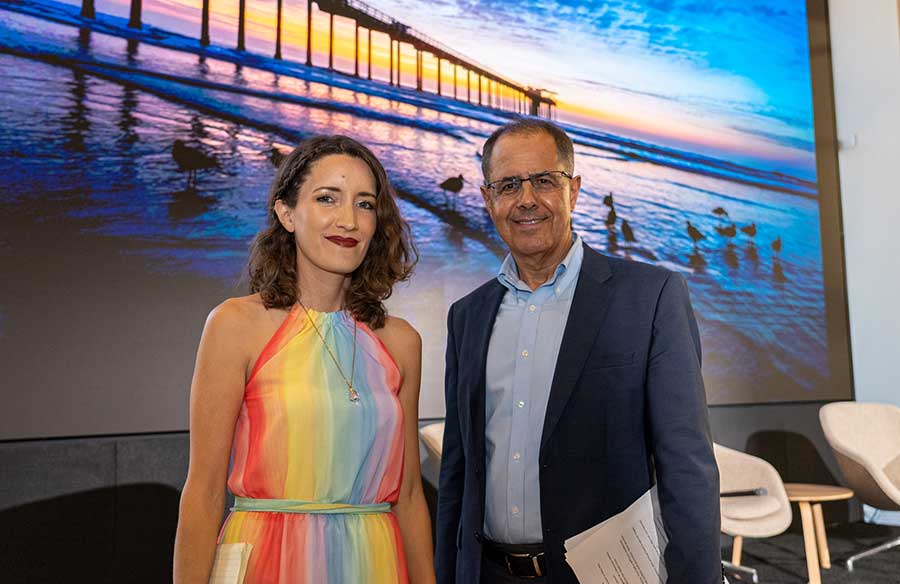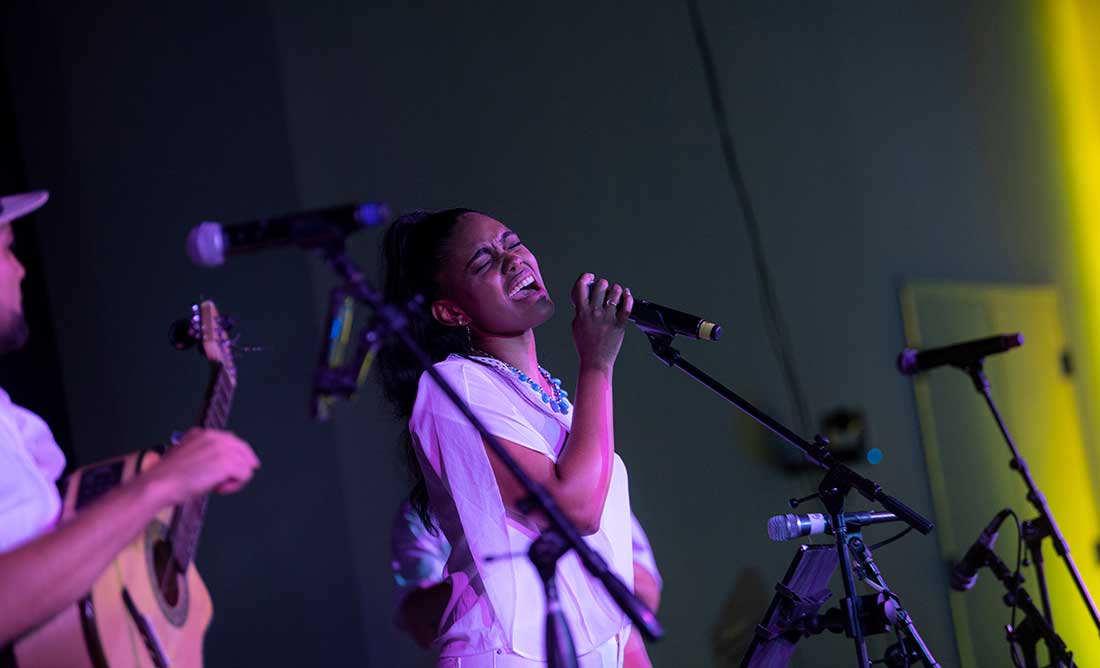 Other campus and community partners with space or programming at UC San Diego include:
UC San Diego Academic Partners:
In addition to the funds raised through philanthropic giving, Park & Market also successfully secured $6 million in new market tax credits toward building construction. Philanthropic support for UC San Diego Park & Market, like the gifts from Malin Burnham and the Guggenheims, also count toward the Campaign for UC San Diego—a university-wide comprehensive fundraising effort concluding in June 2022.
For more information on how to become a part of UC San Diego Park & Market, please contact Todd Miller, director, asset management and community partnerships, UC San Diego Division of Extended Studies, at (858) 534-7479 or tjmiller@ucsd.edu.
Stay in the Know
Keep up with all the latest from UC San Diego. Subscribe to the newsletter today.