UC San Diego's Formula Racing Team Breaks Its Own Records in Annual Competition
Fueled by engineering innovation, Triton Racing transforms potential disaster into high-speed success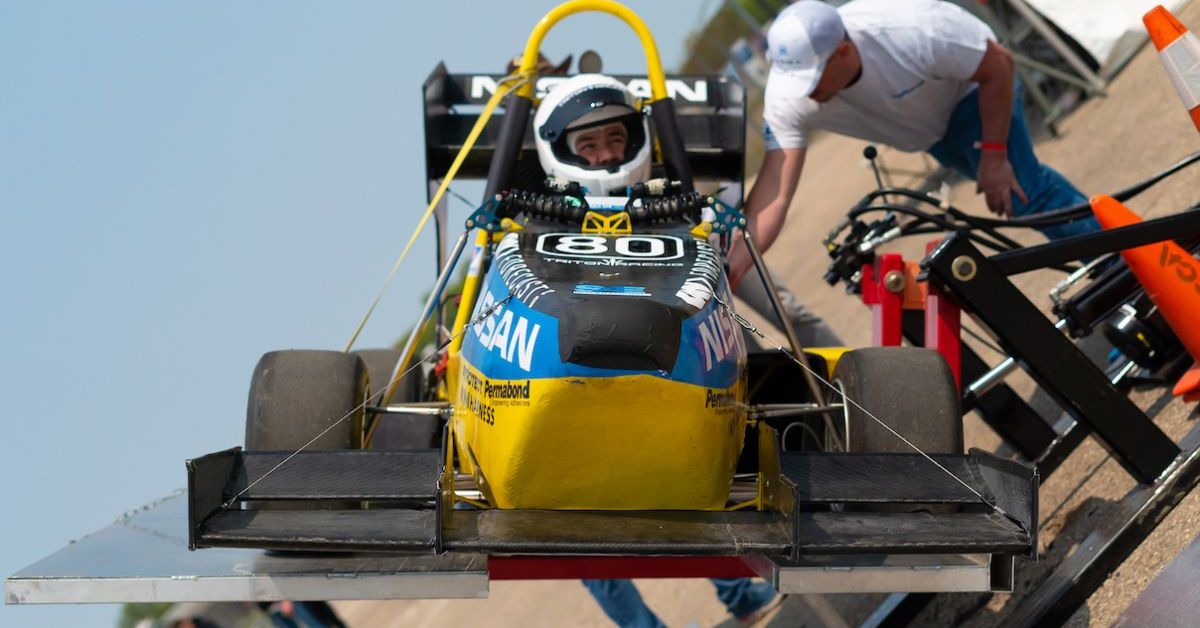 By:
Media Contact:
Published Date
By:
Media Contact:
Share This:
Article Content
Triton Racing, the Formula Society of Automotive Engineers student team representing the University of California San Diego, overcame serious obstacles to beat its all-time best performances in this year's Formula Society of Automotive Engineers (FSAE) Competition at Michigan International Speedway, providing a thrilling example of what a real-world engineering education can look like.
Overall, the Triton team placed fourth out of 121 teams in the May 2023 event. It also notched third in the fuel efficiency category, underscoring UC San Diego's dedication to leveraging the latest engineering innovations to facilitate environmental sustainability, overcoming some uniquely terrifying logistical hurdles in the process.
At the annual contest, held in the noted racing hub of Brooklyn, Michigan, vehicles are tested on their performance in dynamic events, which include autocross, acceleration, endurance, skidpad, and fuel efficiency. Teams are also separately assessed on their performance in design and cost efficiency, in which they explain their design and manufacturing decisions to industry experts.
The immersive Triton Racing experience prepares students well for future career opportunities. The team has sent alumni to Tesla Motors, Rivian Automotive, Mercedes-AMG F1, Honda Performance Development, Hyundai Technical Center and other prestigious roles on the front lines of automotive innovation.
Triton Racing is a student-led engineering team which works to design and manufacture a formula-style car in the span of one year. That would be a taxing challenge under the best possible circumstances, and this year's were far from optimal.
"I knew that being a part of this would help shape me into a well-rounded engineer," said Joseph Pallan, the president of Triton Racing and a student in mechanical engineering at UC San Diego. "The rigors and demanding nature of competitive racing required us to develop resilience, discipline and a relentless pursuit of excellence."
Keen observational skills honed through months of balancing the demands of racing with their educational commitments helped the racers foresee and avoid a potentially disqualifying disaster. With days to go before the scheduled departure, the Jacobs School of Engineering students observed that the car's engine control unit (ECU), an essential data logger, had a bent USB port, requiring them to secure a new one from a Los Angeles eBay listing with maximum urgency.
Then, as the team towed its 8,000-pound trailer across Southern California, they realized to their horror that their vehicle was conspicuously inadequate to the challenge of the full 2,300-mile trek. With three days until the starting signal, they stopped in Las Vegas and scrambled to obtain a suitable vehicle. When they did, they continued nonstop to Michigan, making it just under the wire, in time for their real adventure to begin.
It takes strong team camaraderie to collaborate in such an intensive engineering challenge, much less survive a cross-country road trip.
"The lifelong friendships made during competition are invaluable," said William Hulett, the team's technical director and a mechanical engineering major. "The shared passion and the countless hours spent working together as a team have created bonds that foster a brilliant work environment. You spend an entire year working on this car, from high level design to putting together nuts and bolts. All that time amounts to just four days of competition, where you're put to the test in defending the design, the car's ultimate performance and reliability, and the relationships between members. It's a test that sometimes pushes you beyond your limit, but ultimately makes you a more capable and innovative individual."
Even without added logistical challenges, the physical and sensory racing experience itself can be taxing.
Jack Hecker, Triton Racing's president during the 2023 competition, and a lifelong racing enthusiast who learned to work on cars throughout his childhood, was one of two endurance drivers on the team along with Hulett, with each driver taking half of a 22-kilometer distance in the shortest time possible. Hecker drove the 8th fastest endurance stint overall alongside another notable 8th place skidpad performance by former aerodynamics lead Justin Chen.
"Piloting the car to make eleven kilometers go by as quickly as possible is far from a leisurely experience," Hecker said. "[It's] a whole-body experience that demands complete focus and keen intuition to rise above the competition," likewise, "The steering action needed to control the car at its limit requires nearly instantaneous movements of the steering wheel, which, over the endurance distance, can cause varying degrees of upper body muscle fatigue depending on the track layout and individual."
Despite these myriad difficulties, or more likely because of them, Triton Racing achieved its highest finish since the team's inception in 1997.
Next year, the team will transition from gas-powered internal combustion (IC) cars to developing an electric vehicle (EV). With an emphasis on green practices and sustainability, they endeavor to empower the next generation of motorsport engineers with the skills needed for a rapidly changing energy landscape. Design and procurement are already in progress thanks to a sponsorship from UC San Diego's Green Initiative Fund, with a goal of competing in the 2024 FSAE EV competition.
"UC San Diego's culture of sustainability and social responsibility has encouraged us to thinkbeyond the boundaries of tradition," Pallan said. "The university's emphasis on making a positive impact in society has motivated us to address global challenges and contribute to the betterment of communities. This shift represents a departure from nearly twenty-six years of internal combustion development, highlighting our commitment to embrace innovative technologies and pursue greater objectives."
More information about the Formula Society of Automotive Engineers (SAE) Competition is available at fsaeonline.com.
Stay in the Know
Keep up with all the latest from UC San Diego. Subscribe to the newsletter today.