UC San Diego Welcomes Students, Faculty and Staff Back to a Transformed Campus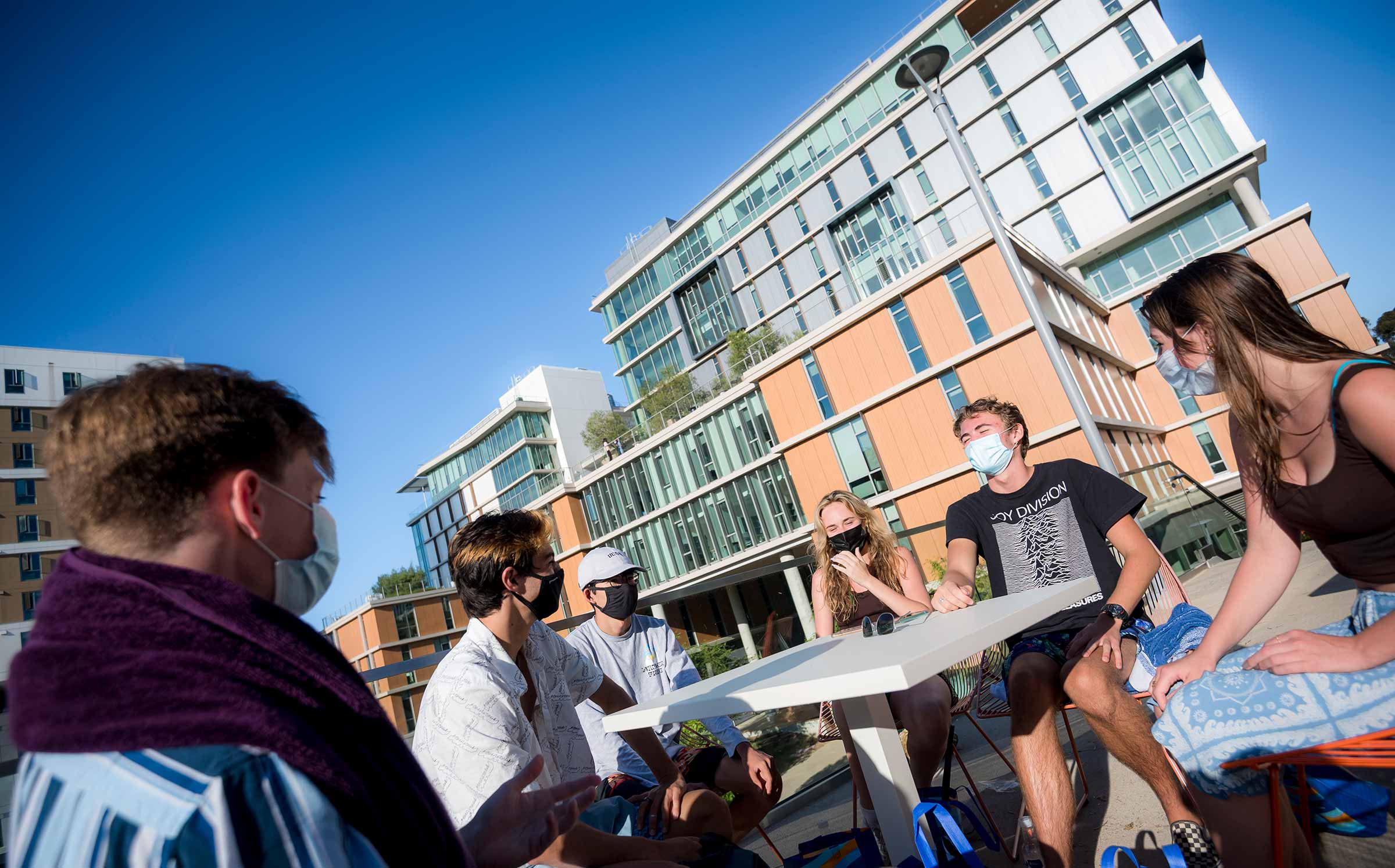 UC San Diego opened new housing for 2,000 undergraduate students in the North Torrey Pines Living and Learning Neighborhood. This exciting live, learn and play environment celebrates shared spaces, blending cultural and retail spaces among the classrooms. Photos by Erik Jepsen/University Communications
UC San Diego is experiencing a significant and exciting transformation, with multiple projects underway to make the campus a premier destination for students, patients and community members. Throughout the pandemic, while some students, faculty and staff were off-campus, a series of incredible changes took place, including:
In addition, in less than two months, the campus will have two brand new trolley stops connecting our campus to UC San Diego at Park and Market downtown and beyond, all the way to the Mexican border.
The shift in the campus's physical appearance is profound, as is the opportunity to enhance the student experience, enrich the campus community and spark research and innovation.
"These transformational projects are expanding opportunities for Tritons and our greater San Diego community like never before," said Chancellor Pradeep K. Khosla. "As we continue to evolve physically, culturally and intellectually, we are redefining what it means to be a world-class public research university. UC San Diego has become a preferred destination for arts and culture, higher education, health care and groundbreaking interdisciplinary research."
As the UC San Diego community returns to an improved campus to work and study, they can do so with confidence. UC San Diego's award-winning Return to Learn strategy has helped establish our campus as one of the safest locations in San Diego County, leveraging masking, physical distancing, daily screening, regular asymptomatic testing, wastewater testing, contact notification and now, vaccination.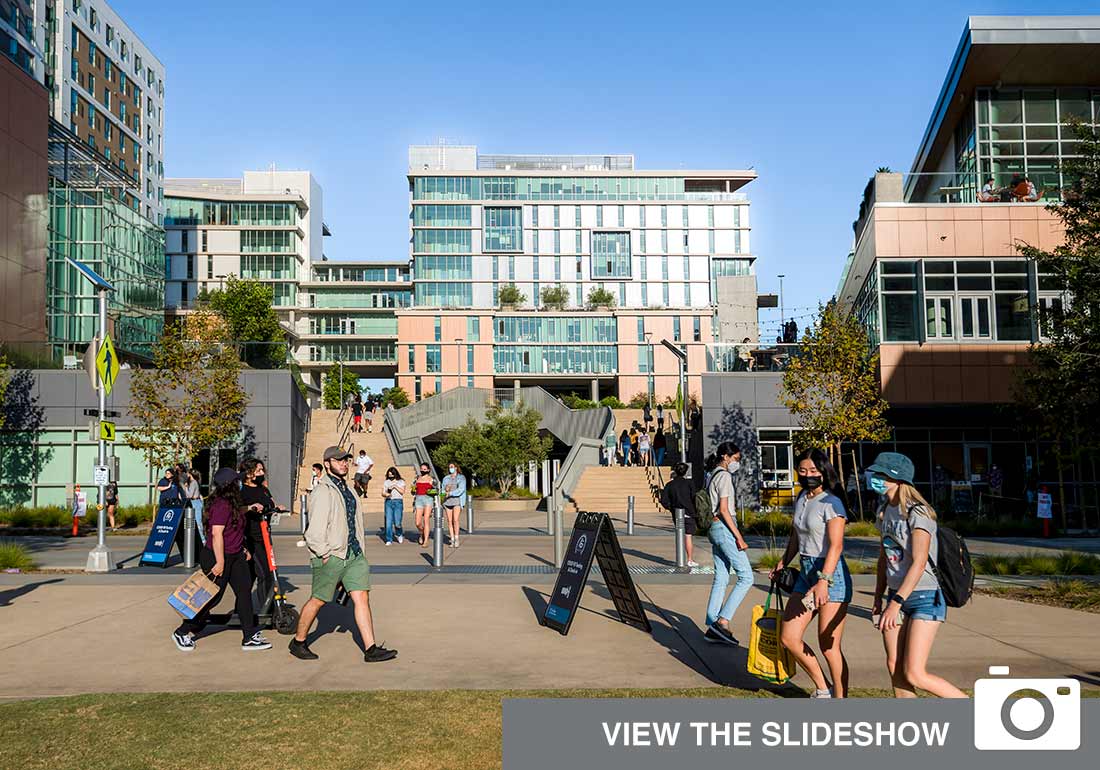 UC San Diego will continue to study the data and analyze potential risks to better understand how risk mitigation, virus detection and intervention together can maintain and manage the public health of our community. The university has shown that our flexible, data-driven Return to Learn approach works to keep our campus safe, and encourages students, faculty and staff to take advantage of all of the campus has to offer.
"We are thrilled to welcome all of our students to campus for an in-person living and learning experience," said Vice Chancellor for Student Affairs Alysson Satterlund. "With health, well-being and safety at the forefront, we will resume many social activities, hands-on learning experiences, cultural events and athletic competition—all hallmarks of the Triton student experience, and many within state-of-the-art facilities."
The campus's strategic approach has already resulted in a safe start to the school year. Over the 10-day undergraduate move-in, only 13 infections were found among 11,857 students (0.11%). Last year, UC San Diego maintained a median campus-wide infection positivity rate of 0.28% throughout the fall quarter.
Improved Campus Connectivity
As people return, they may see red trolleys gliding over UC San Diego. MTS is testing the new line in preparation for two new UC San Diego Blue Line trolley stations on our campus scheduled to open at the end of November. This new route will connect the university to downtown, the border and everything in between. New transit riders can ride for free for three months with the university's FaSt Pass Trial program, and students automatically receive unlimited bus and trolley rides through the U-PASS program.
Our exclusive micromobility vendor, SPIN, has provided 600 bikes and eScooters to help faculty, staff and students get around campus, with hubs at the trolley stations. Transportation Services and SPIN are welcoming the students, faculty and staff back with a complimentary $10 ride credit.
Ridge Walk was enhanced to create two distinct pathways for pedestrians and other non-motorized transportation like bikes, scooters and skateboards. This is similar to the mode separation seen in our Orchid Award-Winning pedestrian bridge that links thousands of students living in new graduate and professional housing to the center of campus. In addition, more than three miles of protected bike lanes were added to the campus to promote safe and efficient travel.
Enhanced student experience and spaces to create
UC San Diego added new housing for 2,000 undergraduate students in the North Torrey Pines Living and Learning Neighborhood. This exciting live, learn and play environment is designed to celebrate shared spaces, blending cultural and retail spaces among the classrooms. The neighborhood includes several new popular restaurants, bringing the best of the local restaurant scene to campus for all to enjoy. Further cementing UC San Diego's capacity as a destination for arts, the neighborhood includes a gift from Arthur and Jeannie Rivkin named "The Jeannie" — a 600-seat auditorium that is the permanent home for artist Alexis Smith's 22-by 62-foot Stuart Collection mural, "Same Old Paradise." A three-story, light-filled, nearly 20,000-square-foot building includes the largest market on campus, Sixth Market, and five new exceptional campus dining options offering poke bowls, burritos, barbecue, ramen and more.
The new 11,000-square-foot UC San Diego Craft Center is also located in North Torrey Pines Living and Learning Neighborhood. A team of artist instructors have joined UC San Diego Craft Center Manager Annika Nelson to support hands-on art classes in ceramics, jewelry-making, surfboard shaping, culinary arts and more. Many classes begin the first week of October, but shorter courses start throughout the quarter. Take advantage of discounted rates for students, faculty and staff on more than 25 classes and workshops this fall.
UC San Diego is super-charging the region's capacity for new discovery with the Design and Innovation Building, a 74,000-square-foot space dedicated to sparking disruptive ideas, products and services. Three distinct spaces to incubate and accelerate groundbreaking ideas, The Basement, Maker Space and The Design Lab, provide opportunities for students to guide products through the full lifecycle—design, prototype creation, testing, fabrication, meeting with potential funding partners and bringing a product to market.
New services and enhancements
A multitude of projects were built over the pandemic to enhance campus services.
The campus installed 92 new electric vehicle charging stations powered by renewable energy, bringing the total available on campus to more than 300, including 10 DC fast chargers.
A Target store opened at Price Center West, offering groceries, fresh produce and a CVS Pharmacy.
During the pandemic, the university increased bandwidth to broadcast classes. As a result, returning students, faculty and staff will benefit from enhanced WiFi throughout the campus.
Two new restaurants, Ridge Walk Social and Shake Smart, opened at RIMAC.
The university opened The Trove, a new campus hub in front of Geisel Library featuring enhanced mail and package services in one convenient location.
The university opened the Scholars Parking Structure at North Torrey Pines Living and Learning Neighborhood, which brought 1,200 parking spaces to the parking system, a net increase of more than 300 spaces. In addition, as trolley construction winds down, hundreds of spaces on the east campus are coming back into the parking inventory this fall, returning parking that the campus hasn't had access to in years. This includes spaces in lots P702and P705, which will help ensure we have sufficient parking as the campus returns to full operations.
Looking ahead
Opening in early 2022, UC San Diego at Park and Market is a full-block site in downtown San Diego located on a UC San Diego Blue Line trolley stop. The downtown center is designed with a purposeful mix of public, meeting, arts and educational spaces for civic engagement, learning, collaboration and cultural experiences for all ages and walks of life.
Throughout 2022, the campus will install interactive digital kiosks to provide real time transit information, maps and points of interest around the campus as well as information on events, dining, artwork and performances.
In the spring of 2022, the Jacobs School of Engineering will open the 200,000 gross-square-feet Franklin Antonio Hall, featuring new laboratories, classrooms, faculty offices and more.
The Epstein Family Amphitheater will open in the fall of 2022, providing an open-air gathering space and performance venue on the new trolley line.
And there is more to come. This unprecedented multi-billion-dollar plan is motivated by the university's academic and research mission, with a specific focus on meeting the needs of our students, and will help UC San Diego become a more inclusive and welcoming destination for all.
Stay in the Know
Keep up with all the latest from UC San Diego. Subscribe to the newsletter today.