UC San Diego Welcomes New Cohort of Medical Students at Annual White Coat Ceremony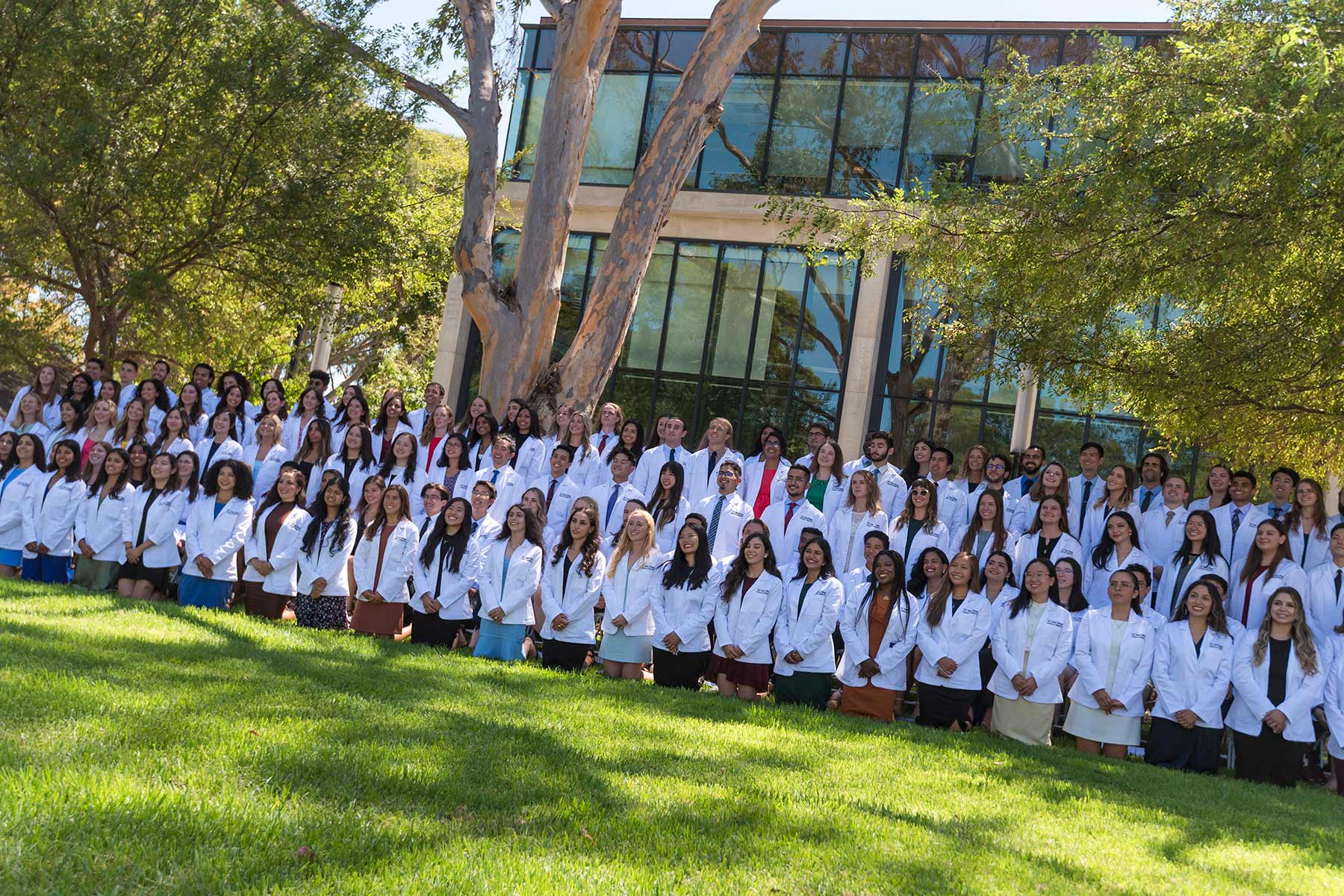 Published Date
By:
Share This:
Article Content
The University of California San Diego School of Medicine welcomed the Class of 2026 at its White Coat Ceremony on Friday, September 2, 2022. An annual tradition, the event marks the beginning of the medical education journey for first-year students when they receive the white coat that will be worn throughout their medical school training.
"The white coat is one of the most enduring and important symbols of our profession," said Michelle Daniel, M.D., M.H.P.E., vice dean for medical education. "For our incoming students, it represents the culmination of so many hopes and dreams, and the struggle it took to get here. In medicine, it stands for the virtues and excellence expected of a physician."
Throughout the event, School of Medicine faculty shared words of wisdom and encouragement with the new medical students.
"Excitement, doubts, fears, anxieties — I am sure you have some or all of these feelings. That is normal," said Steven Garfin, M.D., interim vice chancellor of health sciences and interim dean of the School of Medicine. "This is the start of your new quest to understand, learn, and become experts in medicine. We welcome you here — with our arms open — placing on you a white doctor's coat to get you started."
The reasons for attending medical school are wide-ranging, but for many students, the pursuit of medicine is fueled by the desire to make the world a better place.
"I spent a great deal of my adolescence living in a developing country and saw firsthand the effects of social inequity on health," explained first-year student Avelina Brener. "After retiring from a career in performing arts, I wanted something that would allow me to continue exploring my fascination with the human body. Medicine turned out to be the perfect way to explore my never-ending curiosity while also providing an avenue for correcting some of the imbalances in our society."
Brener, a 2021 UC San Diego graduate, decided to continue her education at the university because of its vibrant community.
"The campus is one of the most diverse places in San Diego, full of brilliant people who are all so welcoming. I chose to come here for medical school because the community feels very supportive," she said.
As a top ranked medical school, UC San Diego attracts the some of the best and brightest medical students, and this year is no exception. The School of Medicine welcomed 140 students into the Class of 2026. Seventy-six percent of the class are California residents, 24 percent identify as students underrepresented in medicine and 16 percent are first-generation college students. The class pursued a wide range of undergraduate majors including the traditional sciences, public health, musical performance, romance languages, economics, and anthropology.
Humanism in medicine
The White Coat Ceremony also recognized fourth-year students, trainees and faculty for ongoing excellence in promoting humanism in medicine.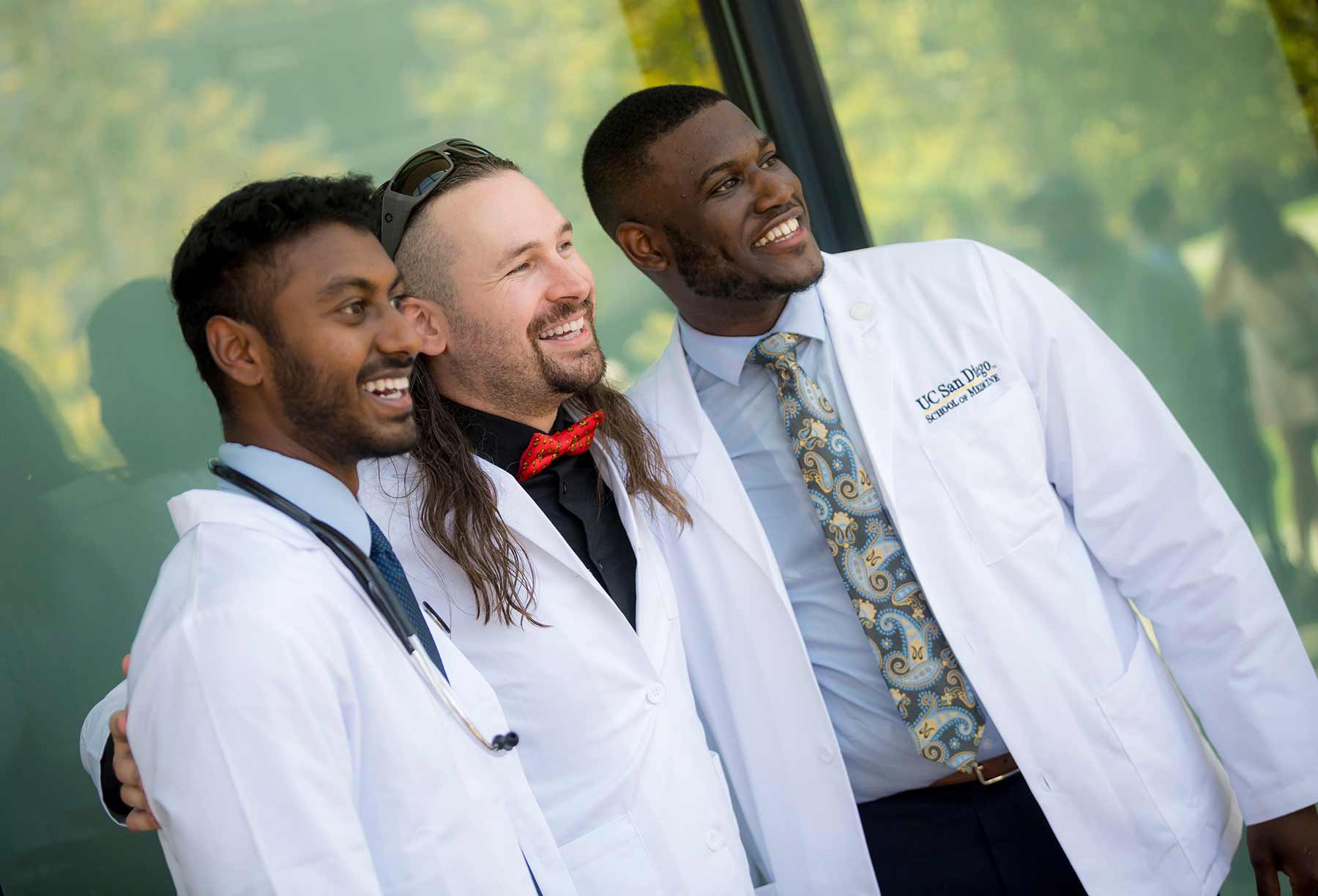 Amy Sitapati, M.D., clinical professor of medicine, was honored with the Leonard Tow Humanism in Medicine Award presented by the Arthur P. Gold Foundation. Awarded annually to a School of Medicine faculty member who best exemplifies humanism in medicine, the recipient of this award is nominated by medical students and faculty, and then selected by a committee of peer faculty members. Sitapati's nomination cited her approachability, professional enthusiasm, respect for others, cultural humility, communication skills as well as dedication to self-reflection and personal improvement.
"Her abilities as an astute, intuitive clinician engenders both trust and confidence to her patients. Her competence, professionalism, and ethical standards are of the utmost excellence."
In addition, residents and fourth-year medical students were inducted into the Gold Humanism Honor Society, a national organization that recognizes medical students, residents and physicians who demonstrate exemplary behavior that promotes humanism in medicine. This year's inductees included:
Fourth-year students
Jordan Anderson, Theresa Asuquo, Heidi Marie Banh, Andrew Chang, Claire Conklin, Erin Coonahan, Nick Cumpian, Joe Di Pane, Chance Dunbar, Kevin Gilbert, Mihiri Karunaratne, Austin Leonard, Melinda Lyall, Sid Machiraju, Chelsea Maduike, Daniella McDonald, Eric Miller, Haley Moss, Megan Musilli, John Matthew Perry, Nyah Rodman, David Rosas, Kiley Rucker, Shady Soliman, Alec Terrana, Lauren Tronick, Edgar Vega, Shelby Warren and Vanessa Yu
Residents
Zachary Hodosevich, MD, PGY-3, Department of Neurology; Michelle Keyser, MD, PGY-4, Departments of Medicine and Pediatrics; Jessica Kriksciun, MD, PGY-3, Department of Psychiatry; Steve Niemiec, MD, PGY-4, Department of Surgery; Kellie Schueler, MD, PGY-2 Department of Obstetrics, Gynecology & Reproductive Sciences; and Ian P. Simpson-Shelton, MD, PGY- 3, Department of Medicine.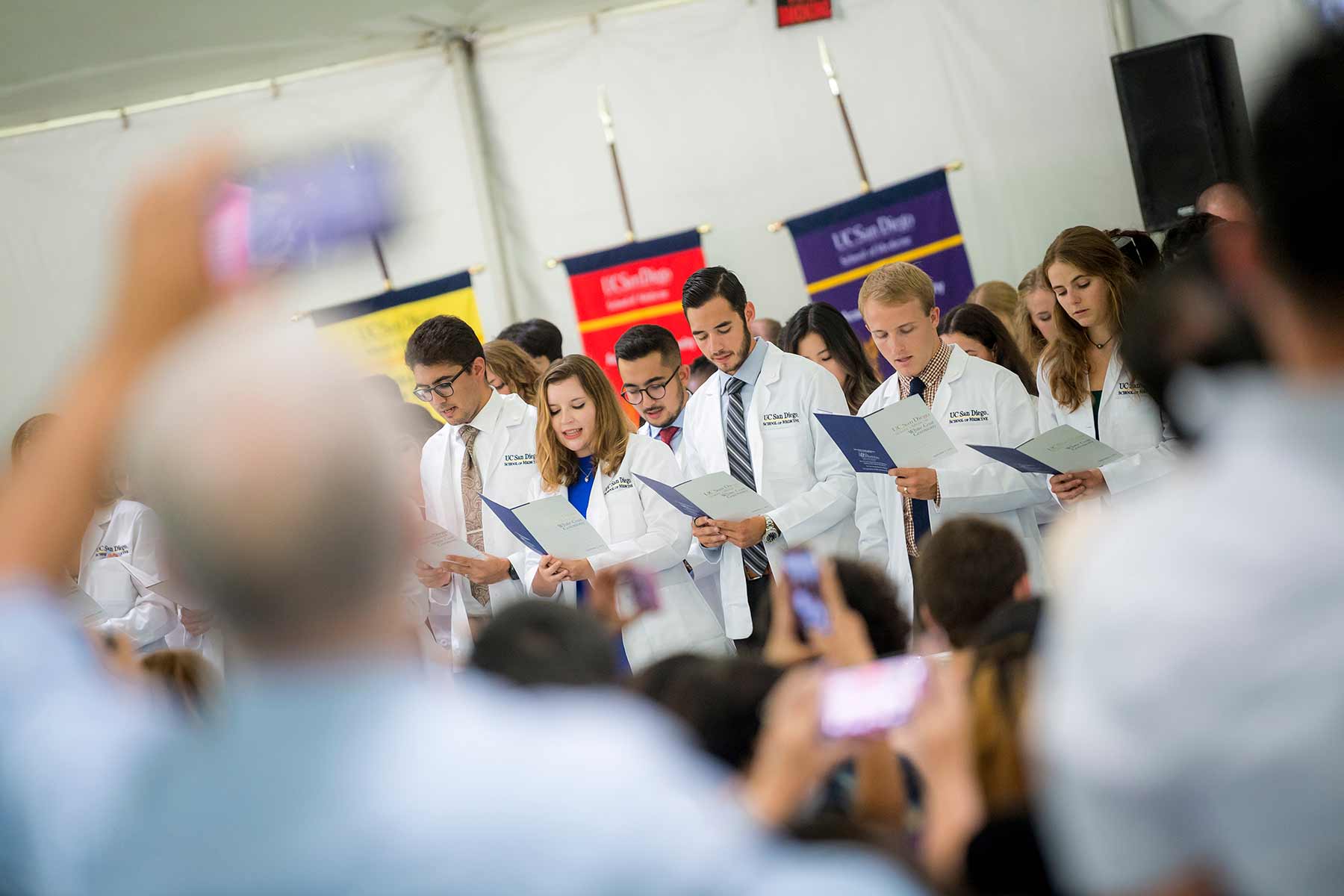 As life-long members of the Gold Humanism Honor Society, the society's newest members will be active participants in creating a community and culture of humanism at UC San Diego through activities such as clinical mentorship, sharing stories in medicine and service in the community.
This year's White Coat Ceremony is available for viewing on YouTube.
Stay in the Know
Keep up with all the latest from UC San Diego. Subscribe to the newsletter today.