UC San Diego School of Medicine Welcomes its 55th Class of Medical Students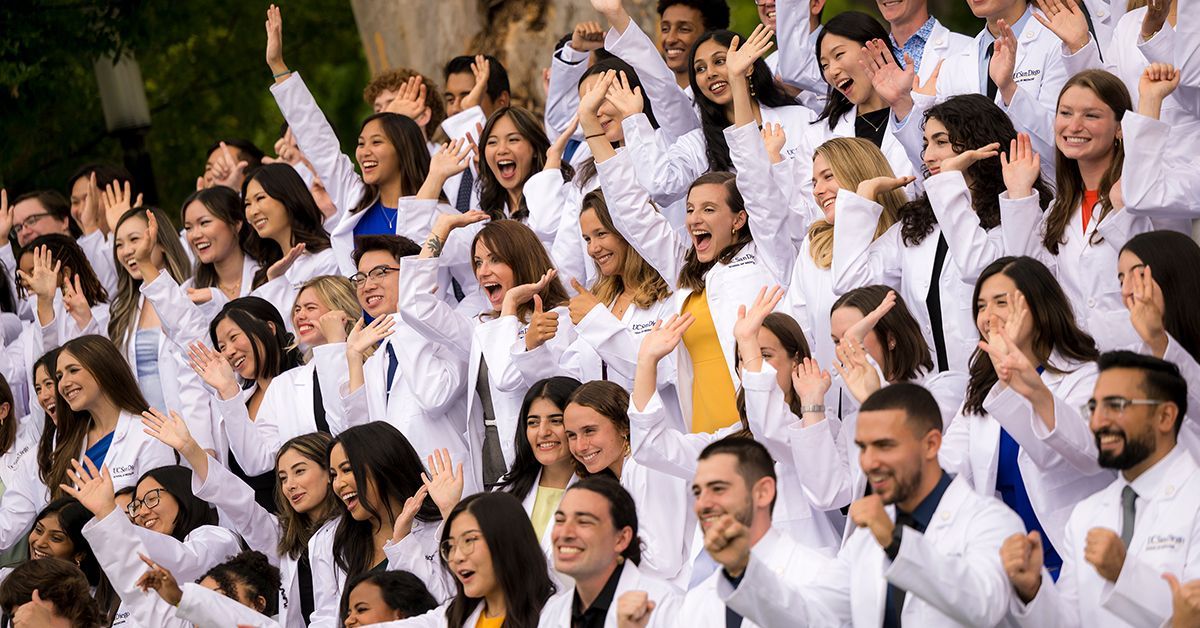 Published Date
By:
Topics:
Share This:
Article Content
The white coat is one of the most recognizable symbols of the medical profession. Receiving your first white coat is an exciting rite of passage.
On Thursday, August 31, University of California San Diego School of Medicine presented the newest members of the medical profession – 141 students in the entering Class of 2023 – with the white coats they will wear throughout medical school. An annual tradition, white coat ceremonies are held by medical schools across the globe to mark the beginning of the medical education journey for these future physicians.
Throughout the ceremony, School of Medicine leaders offered heartfelt advice and encouragement to help the students during their time at UC San Diego and beyond. Faculty emphasized the importance of becoming compassionate caregivers, developing into leaders, advocating for health equity and social justice, and prioritizing personal well-being and health throughout medical school.
"Today, I offer you the same advice I received on the day of my white coat ceremony," said Michelle Daniel, MD, vice dean for medical education. "When you don your white coat for the first time – and every time thereafter – remember that wearing a white coat is a privilege. Your patients and their loved ones will trust you with their lives. They will come to you when they are hurt and at their most vulnerable. They will reveal their hopes and dreams about living and they will share their fears about dying. Wear your white coat with grace and humility."
Curiosity and a passion for serving others
The reasons for choosing a career in medicine are wide-ranging and inspiration often comes from surprising places.
First-year medical student Angel Sambo developed a fascination with engineering and mechanics as a ship engineer in the U.S. Navy. After completing military service, Sambo came to UC San Diego to complete his bachelor's degree and discovered a new calling.
"I realized that the human body is the most complex engineering system I have ever encountered," he explained. "I am excited to learn more about healing our 'biological machine.' Also, as a first-generation immigrant and first-generation college student, I hope to help others who have faced similar hardships I once did."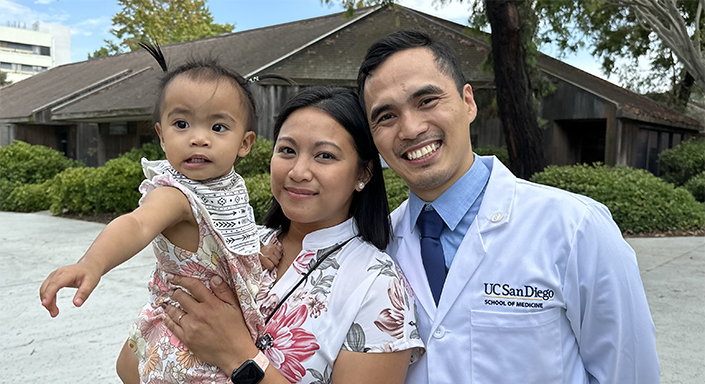 Like Sambo, many incoming students choose UC San Diego because of the School of Medicine's commitment to addressing health inequities and caring for underserved communities.
"Growing up in Palestine, I witnessed first-hand the distrust in medical institutions and the poor health literacy experienced by underserved communities," first-year student Alaa Erras said. "I am motivated to combat these issues as a physician by providing culturally competent and equitable care. This white coat embodies the enduring responsibility that I'll carry as a future physician."
Meet the new class
This year's incoming class is the most diverse in School of Medicine's history. One-third of the class is underrepresented in medicine (Black, Latinx, Native American and Native Hawaiian) and 18% of students are first-generation college students. Students pursued a variety of undergraduate majors including biology, neuroscience, anthropology, history, environmental studies and dance.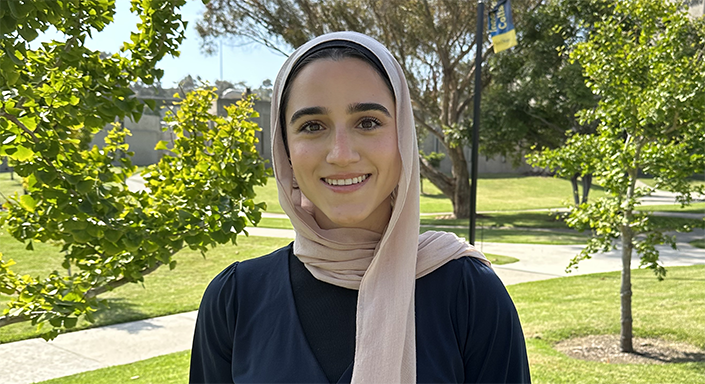 The majority of students will complete the Doctor of Medicine (MD) program, which typically lasts four years. Five students will supplement their degree program with the Global Health Academic Concentration, a track that provides global health research and health care delivery experiences.
In addition, 19 students will complete the Program in Medical Education (PRIME) – a five-year joint MD/master's degree program focused on preparing students to provide care for underresourced communities. UC San Diego offers two PRIME options – Health Equity, which prepares students to work in communities where health disparities exist, and Transforming Indigenous Doctor Education, which trains students for careers focused on provide health care to native populations.
Lastly, ten students have enrolled in the Medical Scientist Training Program, a joint MD/PhD program that trains students to become physician-scientists.
Humanism in medicine
The ceremony also recognized fourth-year students, trainees and faculty for exemplary behavior that promotes humanism in medicine at UC San Diego.
Simerjot K. Jassal, MD, clinical professor of medicine and program director for the Internal Medicine Residency Program, was recognized with the Leonard Tow Humanism in Medicine Award presented by the Arthur P. Gold Foundation. Awarded annually to a School of Medicine faculty member who best exemplifies humanism in medicine, the recipient of this award is nominated by medical students and faculty, and then selected by a committee of peer faculty members. Jassal's nominations highlighted her compassionate care, professionalism, and the respect and trust of her patients.
One nominator wrote, "Her patients hold her in the highest regard and trust her completely. She embodies the concept of humanism in all that she does. Dr. Jassal is the consummate physician role model, and lives/practices at a level that is aspirational to the rest of us."
In addition, residents and fourth-year medical students were inducted into the Gold Humanism Honor Society, a national organization that recognizes medical students, residents and physicians who demonstrate exemplary behavior that promotes humanism in medicine.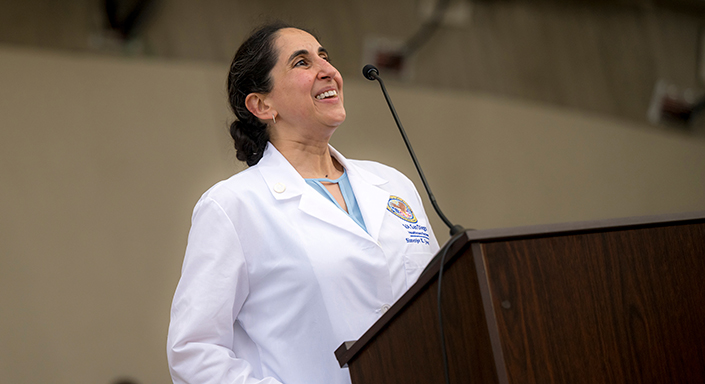 Fourth-Year Students
Ravi K. Agarwal, Alan Aung, Madison Chakoumakos, Sheridan Chappelle, John Kevin Ong Dayao, Morgan Desjardins, Veena M. Do, Suma Katharina Gudipati, Leah Howitt, Nanki Kaur, Katja Lazar, Thanh Luong, Ghattas Malki, Alyssa Martin, Sahit Nallani Menon, Quynh Nguyen,John Ryan, Nicole Sun and Nicholas Wu.
Residents
Elena Heide, MD, PGY-2, Department of Medicine; Christopher Goyne, MD, PGY-5, Department of Neurology; Caitlyn Toney, MD, PGY-4, Department of Pediatrics; Eric Geier, MD, PhD, PGY-3, Department of Psychiatry; and Isabella Guajardo, MD, PGY-5, Department of Surgery.
The new members of the Gold Humanism Honor Society will encourage a community and culture of humanism at UC San Diego through activities such as clinical mentorship and service in the community.
This year's White Coat Ceremony can be viewed on the School of Medicine's YouTube channel. A photo album from the event is available on the School of Medicine's Facebook page.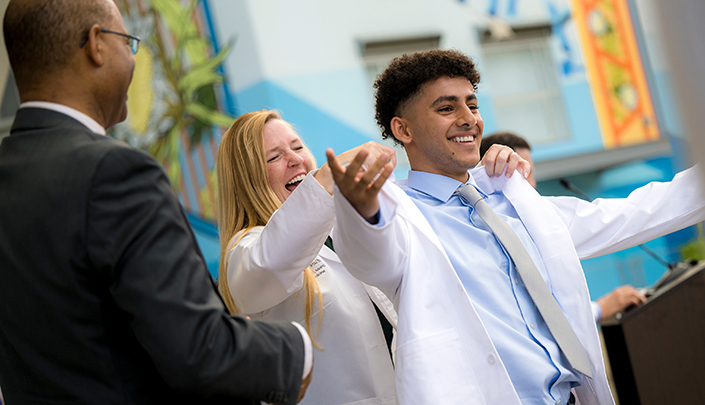 Topics:
Share This:
Stay in the Know
Keep up with all the latest from UC San Diego. Subscribe to the newsletter today.