UC San Diego Scholar of Eastern Europe Amelia Glaser Selected as Harvard Radcliffe Fellow
Glaser will investigate how Ukrainian literature reflects shifting notions of identity in a time of conflict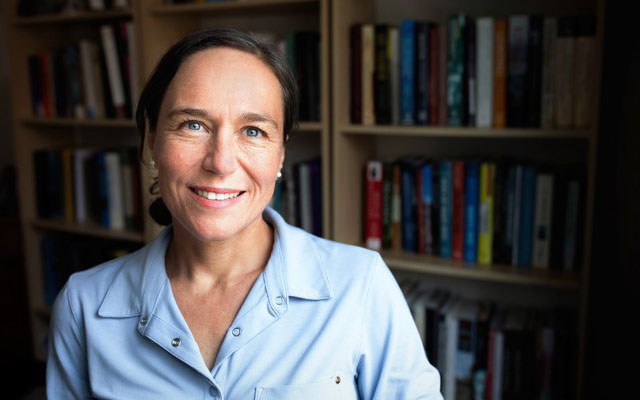 Published Date
Article Content
University of California San Diego associate professor Amelia Glaser has been named a 2021–2022 fellow at Harvard Radcliffe Institute, where she will investigate contemporary literature and art in Ukraine to better understand how a collective identity can be publicly reimagined during, and immediately following, political upheaval.
A scholar of Ukrainian, Russian, and Yiddish literature, as well as a translator from these languages, Glaser said she hopes to understand whether it is possible for a people to alter their "imagined identity," accommodating changing conceptions of both community and citizenship.
"Since 2014, Ukraine has become a theater where assumptions about nationalism, post-communism, democracy, and multiethnicity are tested and reimagined," she said. "Can a post-Soviet nation state, torn between western and Russian interests, reinvent its identity?"
As the 2021–2022 Rita E. Hauser Fellow, Glaser will embark on research that she plans to ultimately publish in a book, provisionally titled "Staging Ukraine: Reimagining Community in 21st Century Performance." She will join a group of artists, scientists, scholars and practitioners at the institute who will learn from and inspire one another in a year of discovery and interdisciplinary exchange while in residency in Cambridge, Mass.
"My new project, which was conceived shortly before the Covid-19 pandemic, has taken on new dimensions over the last year," Glaser said. "Many of the networks among East European poets that were formed in the wake of the 2013-2014 Euromaidan — a series of civil demonstrations in Ukraine that led to the 2014 Ukrainian revolution — have shifted to virtual spaces due to the physical isolation of the pandemic, and these changes will be part of my study of a new East European literary landscape."
Recognizing the pandemic has changed the way people form connections, Glaser has spent the last year getting to know Ukrainian writers and artists over virtual platforms, and said she is excited about the opportunity to conduct research in person. Harvard University is home to the largest collection of Ukrainian literature outside of Ukraine, and she said she is eager to work with these collections as her research continues.
Glaser is the former director of the Jewish Studies Program, and the Russian, East European and Eurasian Studies Program, both within the UC San Diego Institute of Arts and Humanities. She joined the university's Department of Literature in 2006, and has advised multiple Ph.D. students in comparative literature and cultural studies. On July 1, 2021 she was awarded the UC San Diego Endowed Chair of Judaic Studies.
Her first book, "Jews and Ukrainians in Russia's Literary Borderlands" (2012), explored Russians, Ukrainians and Jews who described one another in fiction and poetry from the imperial Russian Pale of Settlement. This was published in Russian translation in 2021. Her most recent book, "Songs in Dark Times: Yiddish Poetry of Struggle from Scottsboro to Palestine" (2020), is a study of Yiddish left-wing poets in the 1930s who wrote about other national minorities.
Glaser is also the editor of "Stories of Khmelnytsky: Literary Legacies of the 1648 Ukrainian Cossack Uprising" (2015), co-editor of "Comintern Aesthetics" (2020), and translator of "Proletpen: America's Rebel Yiddish Poets" (2005).
"Staging Ukraine" is a departure in research for Glaser, whose past work has focused on literary history as opposed to contemporary writers. She said she is excited about this new project, which will allow her to bring her understanding of the history of coexisting literatures in Ukraine to bear on contemporary artistic portrayals of Ukraine in theater, music, comedy, literature and visual arts. These forms — rock concerts, online poetry, graffiti art, Jewish comedy, and Russian films and parades — are a platform for reevaluating how people talk about nationhood, multiethnicity, and belonging, Glaser said.
"It used to be that only ethnically-identified Ukrainians, who spoke the language from childhood, called themselves 'Ukrainian,' whereas other citizens in Ukraine identified as Russians, Jews, Tatars et cetera," she said. "Since 2014, researchers have found that more Ukrainian citizens, including non-Ukrainian speakers and migrants, choose to call themselves Ukrainian, and that others are embracing the multiethnic potential of this identity category."
Glaser said she feels what is happening in contemporary Ukraine can help those in the United States to consider the importance of reevaluating identity: "As Americans and others attempt to understand a rapidly polarizing public sphere, Ukraine's struggle to define itself offers an instructive case study in the way competing versions of history emerge in the public sphere.
"Contemporary Ukraine offers a model for understanding how the stories we tell about nationhood and identity can be modified over time."
Stay in the Know
Keep up with all the latest from UC San Diego. Subscribe to the newsletter today.