UC San Diego Researchers Awarded $1 Million to Build First-of-its-Kind Microscope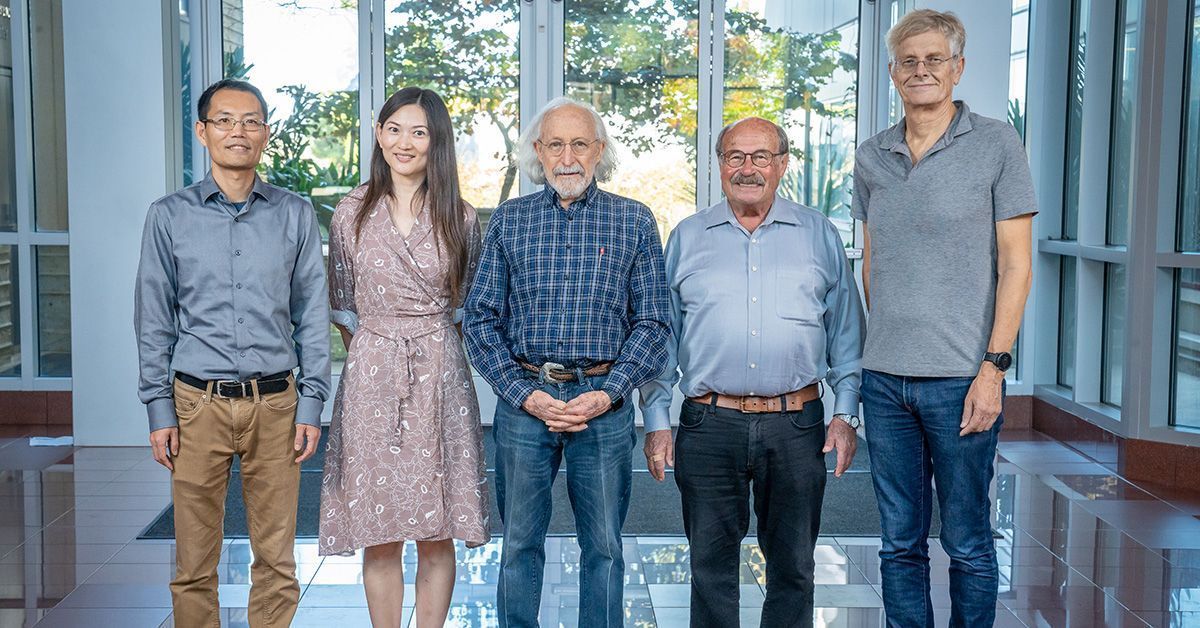 Published Date
By:
Share This:
Article Content
The National Science Foundation has awarded $1 million to an interdisciplinary UC San Diego research team to build a first-of-its-kind, super-resolution microscope that will set the stage for advances in the biomedical sciences. Using materials custom-built at the university, the machine has the potential to achieve 10 times the resolution and more than 100 times the measurement speed of similar microscopes at current state-of-the-art levels.
"We think this [technology] will be really transformative," said Principal Investigator Zhaowei Liu, an affiliate of the UC San Diego Qualcomm Institute (QI) and professor in the Jacobs School of Engineering's Department of Electrical and Computer Engineering. "This award is a great jump-start toward building a pivotal tool for biomedical and engineering research and education."
The "metamaterial-enabled structured illumination microscope" (MESIM) will leverage an imaging technique called "stimulated Raman scattering" to visualize chemical signatures like molecular bonds without the need for fluorescent markers typically used in biological microscopy. While existing microscopes use this technique, none have achieved the level of resolution and measurement speed that the MESIM promises.
The MESIM's advanced capabilities will also lay the foundation for progress in tools and treatments for disease; create education and training opportunities for undergraduate and graduate students; and encourage collaboration across and outside UC San Diego. The MESIM will be housed in the Qualcomm Institute's Atkinson Hall on the UC San Diego campus.
The MESIM will be made possible by the combined expertise—with skills in microscopy, imaging, machine learning and the engineering and biological sciences—of multiple high-profile researchers at UC San Diego. Co-principal investigators of the multidisciplinary team contribute campus-wide talents, including experts from QI, the Jacobs School of Engineering, Scripps Institution of Oceanography and the School of Medicine.
A Closer Look at a Fundamental Piece
In stimulated Raman scattering imaging, a microscope uses laser-generated light to strike and illuminate the bonds between molecules. The technique allows scientists to image molecules that might otherwise be difficult to see without the aid of fluorescent markers, which attach themselves to target molecules. If these labels are larger than their targets, they can potentially skew the very behavior scientists hope to document.
With the MESIM, researchers hope to study molecular behavior in high-speed, high-resolution detail without interference. The technology offers the chance to pursue fundamental questions, such as the structure of water, its role in regulating biological processes through its movement in the human body, and how its mobility relates to cell metabolism, microbiology, neuroscience, aging and disease.
"The MESIM technology will give us new insight within the domain of cells where these changes in mobility occur," said Mark Ellisman, a co-principal investigator, QI faculty affiliate, director of the National Center for Microscopy and Imaging Research (NCMIR) and professor in the Department of Neurosciences at School of Medicine. "What we're going to build is highly complementary and likely to propel new advances we are making in labeling chemistry and methods for multi-scale, multi-modality correlated microscopy."
At NCMIR, a heavily subscribed National Technology Integration and Dissemination Center of the National Institutes of Health's (NIH) BRAIN Initiative, researchers will use the MESIM's advanced imaging capabilities to pursue pressing questions in neuroscience. The MESIM grants researchers a fresh platform toward exploring the diversity of brain cells and creating new maps of the brain, delivering on investments made by both NIH and the National Science Foundation.
Support for a Vision
At MESIM's core lies a custom "metamaterial," a tiny, human-engineered composite precisely patterned to concentrate light into more focused beams. This novel innovation also enhances the microscope's ability to detect the scattering of photons, known as "Raman scattering," which occurs when light strikes a target.
With this new development, researchers can increase the scattering of these photons by orders of magnitude, potentially gaining deeper insight into molecular behavior.
"This novel microscopy will significantly enhance the spatial-temporal resolution of stimulated Raman scattering imaging of metabolic dynamics in living organisms, especially the enzymatic and non-enzymatic incorporation of water molecules, which can be visualized non-invasively using this MESIM. It will be a unique resource for on- and off-campus collaborators," said Lingyan Shi, a co-principal investigator, assistant professor in UC San Diego's Shu Chien-Gene Lay Department of Bioengineering and faculty-affiliate in the Department of Electrical and Computer Engineering.
"This novel Raman imaging modality with sub-diffraction limited resolution will enable in situ monitoring and understanding of biochemical reactions essential for various biomedical applications," added Shaya Fainman, co-principal investigator, QI faculty affiliate and professor in the Department of Electrical and Computer Engineering.
The researchers will also develop a new computer algorithm and machine learning package to help the machine reconstruct images in real-time.
Peter Gerstoft, adjunct professor in the Department of Electrical and Computer Engineering and distinguished data scientist at Scripps Institution of Oceanography, is also a co-principal investigator on the project. The MESIM grant was awarded through the National Science Foundation's Major Research Instrumentation program.
Stay in the Know
Keep up with all the latest from UC San Diego. Subscribe to the newsletter today.