UC San Diego Publishes Inaugural Sustainability Report during Earth Month
Sustainability plays an integral part in UC San Diego's education, research and campus operations.
Fittingly, UC San Diego has published its first-annual sustainability report during Earth Month, providing an update on the progress the campus made in 2020-21 towards sustainability goals across ten key areas—air and climate, clean energy, engagement, environmentally friendly purchasing, food and dining, green buildings, sustainable landscapes, transportation and fleet services, water conservation and zero waste. While the report focuses on innovative and leading sustainable practices for campus operations, it also recognizes solutions that help to address significant global challenges as diverse as climate protection, food adequacy and resource conservation.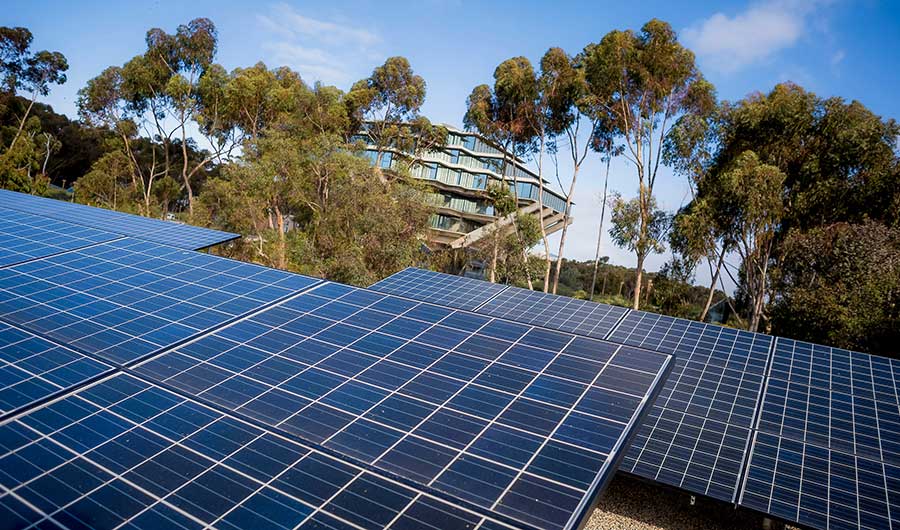 "UC San Diego has a long-standing commitment to climate change research, education, innovative sustainability practices and real-world climate action with civic and community partners," said Chancellor Pradeep K. Khosla. "I am proud of the extraordinary efforts of UC San Diego faculty, staff and students highlighted in the inaugural sustainability report."
The sustainability report demonstrates how, throughout a challenging year, the university remained focused on building a more sustainable future. Key achievements highlighted in the report include:
The university leveraged public funding to expand the campus electric vehicle charging infrastructure. With 300 ports serving commuters and the public, our campus has become San Diego County's largest multipurpose hub of EV charging plazas, serving more than 5,500 unique drivers.
Housing*Dining*Hospitality launched the Triton2Go Mobile Ordering App and Reusable Container Program, which in its first eight months, replaced the use of more than 250,000 disposable containers.
In 2020, UC San Diego decreased its total greenhouse gas emissions by over 25%, over 70,000 MTCO2e, from 2019, which is the amount of greenhouse gas emissions from approximately 16,000 passenger vehicles driven for one year.
In July 2020, UC San Diego's Green Labs team certified Jan Kleissl's lab to reach a 100 certified labs milestone.
In November 2020, the Association for the Advancement of Sustainability in Higher Education (AASHE) ranked UC San Diego as the top performer in Sustainability Related Research. This includes everything from exploring honey bee immunity to advancing electric vehicle charging to studying ocean currents.
The campus microgrid responded to Gov. Gavin Newsom's state of emergency proclamation during the Labor Day extreme heat wave, exporting power during nine of the SDG&E grid's most vulnerable hours to help avoid regional public safety power shutoffs.
UC San Diego received $39 million from the National Science Foundation to build a world-class research platform with the objective to decarbonize the electric grid, protect it from cyber security attacks and make it more resilient.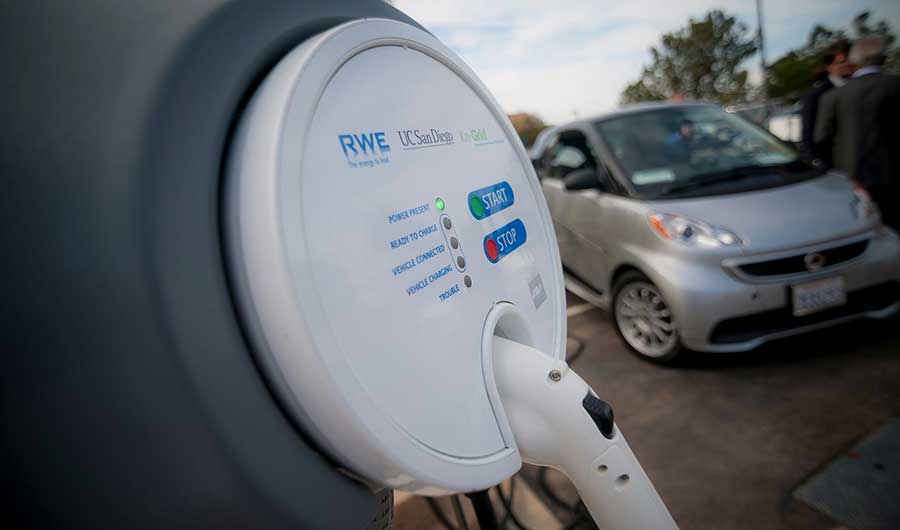 Each year, the sustainability report will serve as an important milestone recognizing the extraordinary efforts of UC San Diego faculty, staff and students as they work to challenge expectations in order to make our world better locally and globally.
"We're excited to showcase the progress UC San Diego made in 2021 towards meeting our sustainability goals," said Sustainability Engagement Manager Jen D. Bowser. "Much of this work is accomplished behind the scenes. It's important that we highlight the efforts contributed by so many departments and individuals around campus and to champion their successes. We also aim to increase awareness through the annual sustainability report and influence the campus community to do their part in helping UC San Diego to be a sustainable university for future generations to enjoy."
Take action Tritons!
What can faculty, staff and students do to ensure our campus is even more sustainable? Following are 10 easy steps you can take that make a difference—not just throughout Earth Month, but all year-long.
Use Power Strips.
Plug computer(s) and electronics into power strips. Switching off power strips at the end of the day can cut electricity usage by 20-48%.
Consider Natural Lighting.
You can cut up to 22% of your energy use by taking advantage of natural lighting. Turn off lights when not in use.
Turn Off the Tap.
Save gallons of water for every minute you turn off the tap while brushing your teeth or lathering up. The average faucet flow rate is 1-5 gallons per minute.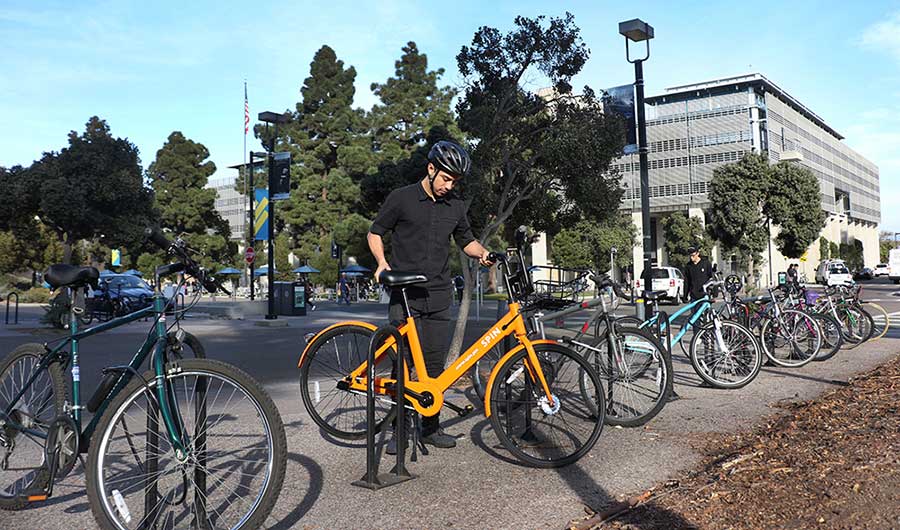 Eat What's on Your Plate.
About 40% of food produced ends up in the landfill. Reduce food waste where possible and share extra food with the Triton Pantry.
Consider Alternate Transit.
Triton U-Pass provides students with unlimited rides on all regional trolley and bus routes, and a free trial program is available to most faculty and staff. Take advantage of bike-share programs to get to and around campus. The Triton Commuter Club rewards those who choose lower-impact commuting options.
If You Work in a Lab…
Shut the sash before you walk away from the fume hood. Closing the sash can cut energy use and greenhouse gas emissions by 60%. Learn about how to make your lab more sustainable.
Reduce Paper Use.
Print physical copies of documents only when necessary and print on both sides whenever possible.
Avoid Single-Use Plastics.
Use reusable shopping bags, water bottles, utensils and food containers whenever possible. Take advantage of over 125 hydration stations on campus and the Triton2Go program.
Learn How to Recycle and Compost.
Did you know our campus has an anaerobic digester that turns food waste from the restaurants at Sixth College into renewable biogas and liquid fertilizer? Learn how to properly recycle everything from food scraps to cardboard.
Get Involved.
Learn about events, organizations and fellowships at the Inter-Sustainability Council, a coalition of sustainability organizations at UC San Diego.
Stay in the Know
Keep up with all the latest from UC San Diego. Subscribe to the newsletter today.