UC San Diego Music Professor Wins Prestigious Award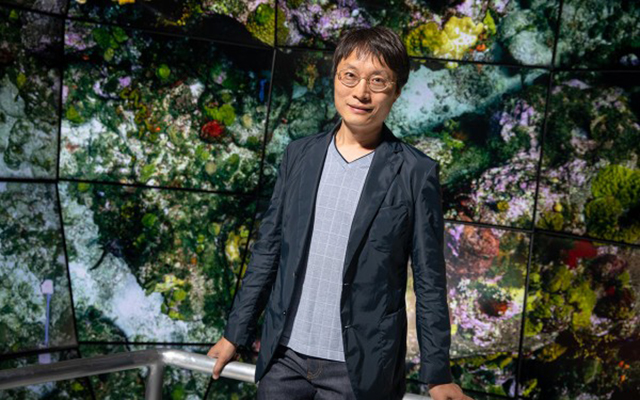 Published Date
Article Content
The American Academy of Arts and Letters announced that University of California San Diego professor Lei Liang will receive a major music award at the academy's official virtual ceremony on May 19. He is one of two composers awarded Goddard Lieberson Fellowships in Music for 2021.
Liang is a professor in the UC San Diego Department of Music and, since 2018, the Research Artist in Residence in the Qualcomm Institute, the UC San Diego division of the California Institute for Telecommunications and Information Technology (Calit2). Previously, he served as the Qualcomm Institute's Composer in Residence from 2013 to 2016.
The Goddard Lieberson Fellowship and $15,000 prize honor mid-career composers "of exceptional gifts." Liang is only the second UC San Diego music professor to be honored with the prize: his faculty colleague Chinary Ung received the fellowship in 1981. (The Cambodian-born Ung was also elected a member of the American Academy of Arts and Letters in 2020.)
Liang was previously nominated twice for the award, originally in 2011. "I am very honored," the composer told the San Diego Union-Tribune. "I just wish I could celebrate in person with some of my good friends who have helped keep me going through the pandemic for the past year."
Among other notable prizes, in 2020 Liang received the $100,000 Grawemeyer Award for Music Composition – popularly dubbed the "Nobel Prize for Music" – for "A Thousand Mountains, A Million Streams". The orchestral work was commissioned by the Boston Modern Orchestra Project and premiered in 2018. The climate change-themed work was developed during Liang's residencies in the Qualcomm Institute.
Liang's other honors include a 2015 Koussevitzky Foundation Award, the 2011 Rome Prize, a 2009 Guggenheim Fellowship and a 2008 Aaron Copland Award. His saxophone concerto "Xiaoxiang" was a finalist for the Pulitzer Prize in Music in 2015. In 2020, Liang was also awarded an endowed chair through a UC San Diego Chancellor's Distinguished Professorship.
Born in Tianjin, China, Liang moved to the United States as a teenager, later graduating from the New England Conservatory of Music and earning his Ph.D. from Harvard University. He joined the UC San Diego faculty in 2007.
In the Qualcomm Institute, Liang has worked on multiple interdisciplinary projects at the intersection of music, science and technology. His "Hearing Landscapes" paired a contemporary musical composition by Liang with high-resolution, multispectral scans of 12 rare Chinese landscape paintings by 20th-century artist Huang Binhong. Collaborating with engineers in the institute's Cultural Heritage Engineering Initiative, led by structural engineering and computer science professor Falko Kuester, the scans at various wavelengths of the electromagnetic spectrum (ultraviolet, infrared etc.) illuminated the painter's creative process as a companion to Liang's composition. The project also resulted in a documentary short film, "Deriving Worlds", which premiered in 2015.
"Lei Liang's work is an exemplar of interdisciplinary collaboration and how it can cross new frontiers in a field," said Qualcomm Institute director Ramesh Rao. "He and his collaborators combine musical composition and innovative technology in truly unique ways – allowing all of us to explore and immerse ourselves in everything from changing ecosystems to a rare painting."
As the institute's Research Artist in Residence since 2018, Liang has continued to collaborate with engineers in QI's Sonic Arts R&D and cultural-heritage groups, as well as scientists in the Scripps Institution of Oceanography. "Hearing Seascapes" is a collaborative seminar on the sonification of coral reefs in which graduate and undergraduate students use oceanographic data to compose interactive, multimedia performances that bring together sound, images and movement.
Most recently, in spring 2020, Liang taught a virtual collaborative course called "Hearing Earth" in collaboration with Falko Kuester, who is the Calit2 professor of Visualization and Virtual Reality, in addition to directing QI's cultural-heritage program. In it, student teams – appropriately distanced due to the pandemic – used sounds of earth processes, including erosion and sedimentation, as inspiration for their compositions. Liang also collaborates with Scripps Oceanography postdoc Joshua Jones and professor John Hildebrand, as well as recent UC San Diego music Ph.D. graduate and electronic composer Theocharis Papatrechas and PhD candidate Nicholas Solem through QI's Sonic Arts R&D program, directed by fellow music professor Shahrokh Yadegari.
"These collaborations have been the highlight of the past year since the pandemic," said Liang. "We continue to have weekly meetings with the team, and it is these collaborations that kept me going through this challenging time."
Stay in the Know
Keep up with all the latest from UC San Diego. Subscribe to the newsletter today.