UC San Diego Medical Student Wins National Fellowship for Immigrants and Children of Immigrants
Lawrence T. Wang, known for his work in malaria vaccine research, receives a 2022 Paul & Daisy Soros Fellowship grant worth up to $90,000
Published Date
Article Content
A UC San Diego medical student has won a prestigious fellowship for immigrants and children of immigrants to the United States. Lawrence T. Wang, an MD-PhD candidate, was named among the 2022 recipients of the Paul & Daisy Soros Fellowship for New Americans and will receive up to $90,000 in funding to pursue his medical studies at UC San Diego.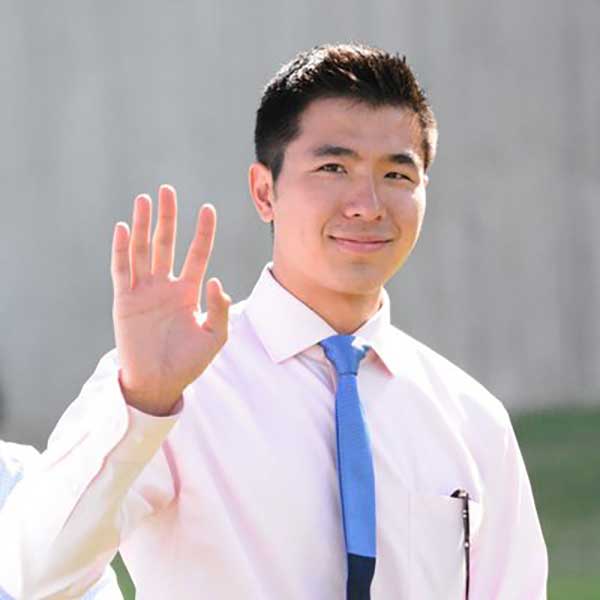 The fellowship celebrates the ongoing achievements of continuing generations of immigrants to the United States. Among other achievements, as a graduate student in the National Institutes of Health (NIH) Oxford-Cambridge Scholars Program, Wang discovered a monoclonal antibody that may prevent malaria, which has completed Phase I testing and is undergoing further clinical trials.
"I love vaccine development because it is a clinically translatable field of science that involves harnessing the power of the immune system to protect the body from disease," Wang said. "I am honored to be associated with, and inspired by, the many vaccinologists I have met or read about. Most people in this field do not develop vaccines for personal or monetary gain, but rather to protect people from disease and thereby aid all mankind."
Born in Rochester, New York, Wang grew up in the San Francisco Bay Area with his Tawainese mother, who was determined to unlock opportunities for her son, enabling him to attend the prestigious private high school Bellarmine College Preparatory. Wang was inspired to study infectious diseases when he read Mountains Beyond Mountains, the biography of the medical anthropologist and physician Paul Farmer. He earned his BA in chemistry and biochemistry from Haverford College, where his senior research thesis described a protein toxin produced by diarrheagenic Escherichia coli to inhibit other competing bacteria. Before starting medical school at UC San Diego Wang accepted a two-year post-baccalaureate fellowship at the NIH, where he researched the immune systems of rare individuals who can control HIV infection without progressing to AIDS.
While working in Uganda during the summer after his first year of medical school, Wang observed up close the ongoing prevalence of malaria despite the widespread availability of antimalarial drugs. This was the turning point that inspired his research into new vaccines for preventing malaria. After completing his second year of medical school, Wang decided to pause his medical studies to earn a Doctor of Philosophy in biomedical sciences from the University of Oxford and the NIH on the strength of his research on antimalarial monoclonal antibodies.
"I still have to pinch myself at how cool it has been to see my research get translated so quickly into something that might help protect people from malaria," Wang said. "With the benefit of hindsight, if I could talk to my 22-year-old self, I would tell him doing an MD-PhD is certainly a long road and less traveled because of that length, but so worth it."
Wang is among 30 of those selected from more than 1,800 applicants to the Paul & Daisy Soros Fellowships, chosen for their ability to make significant contributions to the betterment of life in the United States. He will join a network of past Paul & Daisy Soros Fellows including US Surgeon General Vivek Murthy, Olympians Amy Chow and Patricia Miranda, and five other remarkable recipients from UC San Diego.
"Immigrants, asylum seekers, and refugees are an essential part of the United States," said Fellowship Director Craig Harwood. "The Paul & Daisy Soros Fellows demonstrate the ingenuity and diverse perspectives that immigrants of all backgrounds bring to America's graduate programs and to the country as a whole."
"The major value of the fellowship is the network it unlocks," said Wang. "Paul & Daisy Soros Fellows are comprised of New Americans who have a proven track record of work ethic, intelligence and high achievement. It is a distinct honor to be included in this group, and I am sure the people I will meet and the connections I will make as a Paul & Daisy Soros Fellow will prove invaluable down the line in my work as a physician-scientist who wants to make vaccines to protect people from pathogens."
After his planned graduation in 2024, Wang intends to complete his residency in internal medicine, followed by a subspecialty fellowship in infectious diseases. "My eventual career goal is to be a physician-scientist based at an academic medical center and split my time between caring for patients, developing vaccines for infectious diseases in the lab, and testing these vaccines in clinical trials," Wang said. "I am also interested in addressing global health issues and intend to spend a significant part of my career working abroad in low- and middle-income countries."
New Americans eligible for the Paul & Daisy Soros Fellowship include green-card holders, naturalized citizens, Deferred Action for Childhood Arrival (DACA) recipients, individuals born abroad who graduated high school and college in the US, and US-born children of two immigrant parents. The 2022 Paul & Daisy Soros Fellowships class includes students in economics, law, physics, architecture, music, and other fields. Applications are now open for 2023 Fellows.
Stay in the Know
Keep up with all the latest from UC San Diego. Subscribe to the newsletter today.