UC San Diego Mechanical Engineer Awarded Packard Fellowship for Next-generation Imaging Technology
Published Date
By:
Topics:
Share This:
Article Content
The David and Lucile Packard Foundation has named Lisa Poulikakos, an assistant professor of mechanical and aerospace engineering at the University of California San Diego Jacobs School of Engineering, as a 2023 Packard Fellow for Science and Engineering. Poulikakos is among the 20 innovative early-career scientists and engineers in this year's class who will each receive unrestricted research grants of $875,000 over five years.
Poulikakos develops novel nanomaterials to address key challenges in imaging science. Existing imaging technologies face prohibitive tradeoffs in resolution, penetration depth and experimental complexity. Poulikakos proposes to develop a new class of nanomaterials with acoustoplasmonic properties. These materials are designed to manipulate light and sound waves in ways that are not observed in nature. By taking advantage of these special properties, acoustoplasmonics can enable imaging at unprecedented resolution and penetration depth simultaneously in a miniaturized, on-chip format.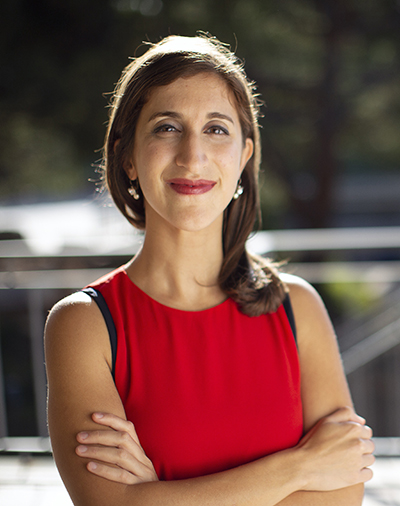 "Acoustoplasmonic nanomaterials could not only deepen our fundamental understanding of how light and sound waves interact with matter, they also have the potential to be game-changers for how imaging is performed in a wide range of applications, from biomedicine to industrial materials and environmental science," said Poulikakos. "The Packard Fellowship provides incredibly exciting opportunities for my research program to develop this new class of acoustoplasmonic nanomaterials and thereby bring the most sophisticated imaging technologies out of the lab and into society."
The Packard Fellowships for Science and Engineering were inspired by David Packard's passion for science and engineering and his commitment to strengthening university-based science and engineering programs in the United States. The fellowships are designed to encourage blue-sky thinking by providing early-career researchers maximum flexibility through unrestricted funds. Former fellows have gone on to receive the highest accolades, including Nobel Prizes, Fields Medals, Alan T. Waterman Awards, Breakthrough Prizes, Kavli Prizes and elections to the National Academies of Science, Engineering and Medicine.
"From the nanoscale to the scale of the galaxies, the 2023 class of Fellows are making ground-breaking discoveries, conducting critical research, and leaving a lasting impact on the scientific community and our world," said Jason Burnett, Packard Foundation Board Chair. "Their ability to strive for the impossible is a contagious source of hope for those looking to change the field of science and will serve as inspiration for the next generation of researchers."
Poulikakos joined the UC San Diego Jacobs School of Engineering faculty in the fall of 2020. She received her Ph.D. in mechanical and process engineering at ETH Zürich, where she introduced an original theoretical and experimental technique to enable the rational design of chiral nanophotonic systems. Her postdoctoral research in materials science and engineering at Stanford University focused on developing functional nanophotonic surfaces for all-optical, on-chip and label-free cancer tissue diagnostics.
She is a recipient of the ETH Medal, awarded to outstanding doctoral theses, the L'Oréal USA For Women in Science Postdoctoral Fellowship, the Swiss National Science Foundation Early Postdoc Mobility Fellowship, the RCSA Scialog Fellowship for Advancing Bioimaging, the UC San Diego Materials Research Science and Engineering Center (MRSEC) New Investigator Award, the DARPA Riser recognition, the Beckman Young Investigator Award and the AFOSR Young Investigator Program Award.
Topics:
Share This:
Stay in the Know
Keep up with all the latest from UC San Diego. Subscribe to the newsletter today.