UC San Diego Joins USC-led Coalition to Boost Microelectronics Production for 5G/6G
U.S. Department of Defense awards nearly $27M for USC-led coalition to boost microelectronics production for 5G/6G. The funds for this Microelectronics Commons project support a USC-led hub involving UC San Diego and 15 other university, community college and corporate collaborators.
By:
Published Date
By:
Share This:
Article Content
The U.S. Department of Defense has announced that it has awarded approximately $27 million for a USC-led Microelectronics Commons project. The University of California San Diego is a key member of this coalition of research and industry organizations with the power to accelerate the development and manufacturing of microelectronics in the United States.
The CHIPS and Science Act of 2022 this year provides a total of $2 billion for the Microelectronics Commons program, Deputy Undersecretary of Defense for Research and Engineering David A. Honey said at a news conference in September 2023.
In all, eight hubs involving more than 360 institutions nationwide are involved in the program, he said.
Researchers from the UC San Diego Jacobs School of Engineering are a key part of the coalition of universities, contractors and workforce-development partners being led by scientists and engineers at the USC Viterbi School of Engineering and its Information Sciences Institute (ISI). Together, the innovators will quickly translate the sophisticated materials and devices developed in academic labs to fabrication. Their work will also focus on 5G/6G technologies.
The coalition is led by researchers at ISI and the USC Viterbi Ming Hsieh Department of Electronic and Computer Engineering. The partner institutions within higher education ​are Caltech; Morgan State University in Baltimore; North Carolina A&T State University; Pasadena City College; University of California, Irvine; UCLA; University of California, Riverside; University of California San Diego; and University of California, Santa Barbara.
Among the many companies involved are The Boeing Co., HRL Laboratories, Lockheed Martin, Northrop Grumman, PDF Solutions, Raytheon and Teledyne Scientific Co.
Inspirational and intentional
The coalition has an inspirational name, California DREAMS, an acronym for the California Defense Ready Electronics and Microdevices Superhub.
"The DREAMS coalition will unite us and our strengths to work together much more closely than we ever have, and in a much broader collaboration than has ever existed in this area," said Stephen Crago, associate director of ISI and the principal investigator for the USC-led hub. He is also a research associate professor of electrical and computer engineering at USC Viterbi.
California DREAMS brings experts together from across Southern California to provide research-based solutions that will impact our world positively.
California DREAMS will concentrate its efforts in 5G/6G technologies and on the broader effort to establish advanced communications networks, focusing mainly on hardware, Crago said. One goal of the superhub will be to accelerate the transition from invention to impact.
Within universities, "we develop innovative technologies that are better than anything that's ever been done before, and potentially world-changing," Crago said. "This program will improve the odds that creative science will lead to devices and solutions that make a difference to the Department of Defense, the commercial markets and the American people."
USC and the superhub collaborators have laboratories and fabrication facilities capable of producing the technologies and capabilities needed for rapid "lab-to-fab" development for the U.S. Department of Defense. One of these facilities is the NANO3 laboratory at UC San Diego, which is the main facility of the San Diego Nanotechnology Infrastructure (SDNI). Nano3 is housed in UC San Diego's Qualcomm Institute.
One key aspect of California DREAMS is building an ecosystem that better connects the academic-scale labs with high-volume manufacturing fabs that make millions of devices. This will include efforts to scale new advanced technologies to high-volume production while still preserving high yields.
"As a member of the California DREAMS superhub, UC San Diego is looking forward to working collaboratively to streamline the transition of advanced semiconductor research in university laboratories to DoD-scale industrial fabrication facilities," said Yu-Hwa Lo, professor in the Department of Electrical and Computer Engineering at the UC San Diego Jacobs School of Engineering and director of the Qualcomm Institute Nano3 nanofabrication cleanroom facility. "We are committed to advancing integrated circuits and systems to serve the defense sector as well as 5G/6G communications, which are supported by many of our industrial partners and critical for our national security and economic growth. UC San Diego's expertise in electronic design automation and 3D heterogeneous integration will help support the missions of the superhub, enabling us to produce hybrid 2.5D and 3D systems, as well as enhance the functionality of CMOS through post-process integration of novel materials and structures. Together with our fellow collaborators, we aim to usher in a new era of microelectronics innovation that will shape the future of our industry and society."
Training for Southern California
​Semiconductors, which run everything from smartphones to fighter jets and have enabled many of the advances in the modern world, are continuously becoming more complex and powerful. Breakthroughs in materials and techniques have allowed engineers to go from fitting four transistors on a silicon wafer in the 1960s to etching trillions onto an even smaller-size platform.
In the 1990s, the United States had about 37% of the global market in these semiconductors, but that share has slipped to 12%. A crucial goal of the superhub is to inspire the next generation of students to design and build microelectronics, with an emphasis on recruiting community college students.
Researchers anticipate that over the next five years, there may be even more opportunities to further their involvement in the national effort to return microelectronics manufacturing to the United States.
This story is adapted from the original USC release entitled "Defense Department awards nearly $27M for USC-led coalition to boost microelectronics production for 5G/6G"
What California DREAMS leaders and collaborators are saying
University of Southern California
"It's USC's privilege to be leading and collaborating with the powerhouse research universities and industry in Southern California, addressing national security, helping solve global problems, bringing major technological advances and jobs to our region, and ensuring U.S. economic growth."
— Carol L. Folt, USC President
---
University of California San Diego
"UC San Diego's innovation ecosystem thrives on partnerships like California DREAMS, which remove barriers to accelerate ideas from concept to social and economic impact," said Chancellor Pradeep K. Khosla. "This critical effort provides avenues for regional collaboration between our students, faculty, partners and others to accelerate the development and manufacturing of microelectronics in the United States. As a world leader in wireless communications, UC San Diego is poised to make meaningful and impactful contributions in this extremely important collective effort."
— Pradeep K. Khosla, UC San Diego Chancellor
"The public often thinks of academic research as only a place for advancing knowledge that's often obscure, but what we continually strive to achieve is this kind of concerted effort — moving ideas from the greatest minds in the world through the rigors of the scientific method and ultimately into the market in commercially viable and sustainable ways that improve the world."
— Corinne Peek-Asa, UC San Diego's Vice Chancellor for Research
"This new Microelectronic Commons is a huge workforce development opportunity. As a major engineering and computer science talent producer in Southern California and the nation, we are excited to further strengthen our ability to train tomorrow's microelectronics and wireless workforce through our participation in the superhub. The dynamic flows between research, education and workforce training will be extraordinary."
— Albert P. Pisano, Dean of the UC San Diego Jacobs School of Engineering
See the USC release for the full set of comments from California DREAMS leaders and collaborators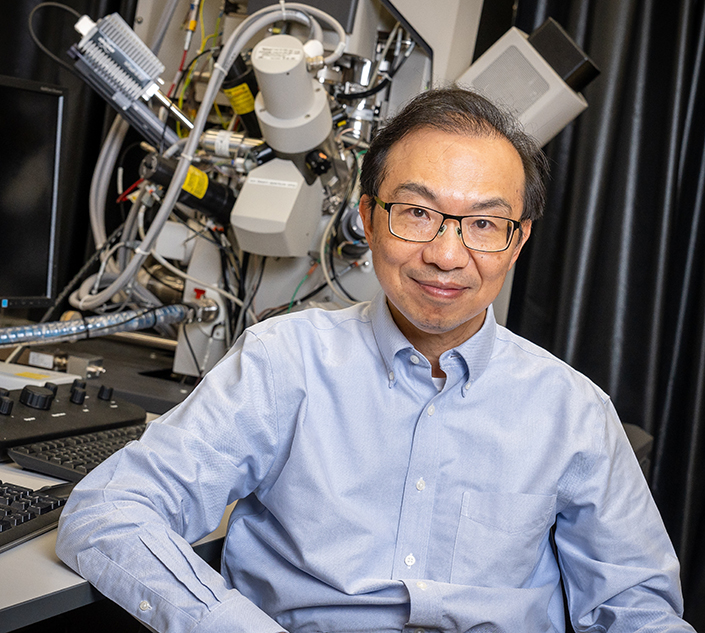 Stay in the Know
Keep up with all the latest from UC San Diego. Subscribe to the newsletter today.