UC San Diego Helen Edison Lecture Series Presents Housing Insecurity Researcher, Matthew Desmond
Eviction Lab Founder Speaks About Poverty and Affordable Housing at UC San Diego Park & Market on December 14
Media Contact:
Published Date
Media Contact:
Share This:
Article Content
If you're like most people you've probably noticed a shift in the economic conditions of our world over the last handful of years. Inflation, the lack of affordable housing, and other factors have been contributing to an increase in poverty all across America.
Topics like poverty aren't fun to talk about, but they're very real dynamics in our world that will require open engagement and discussion to alleviate. Talking about such important topics is central to the Helen Edison Lecture Series hosted at the UC San Diego Park & Market complex.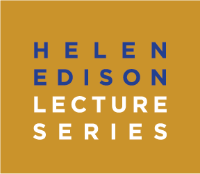 "We're living in an era still grappling with the downstream effects of COVID-19, new workplace norms, new wage expectations, and fluctuating interest rates. Both our community members and our policymakers are being pushed to confront this new reality," said Andrew Waltz, Director of Arts Management at UC San Diego Park & Market, part of the Division of Extended Studies. "The Helen Edison Lecture Series focuses on issues that advance humanitarian objectives and strives to help us all meet the moment by sharing valuable perspectives.
For the next event, the Helen Edison Lecture series will welcome Matthew Desmond, a professor of sociology at Princeton University, and author of the Pulitzer Prize-winning Evicted: Poverty and Profit in the American City and the more recently released, Poverty, By America. He'll be speaking about poverty, affordable housing, and other topics at Park & Market on Thursday, December 14.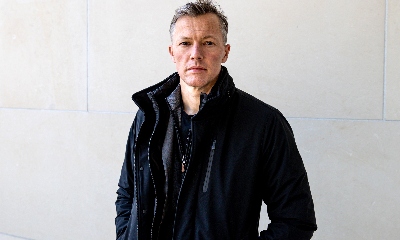 Desmond's writing has garnered significant national attention and has played a crucial role in shifting the conversation to understanding poverty as a structural failure, as opposed to a moral failure of impoverished individuals, as many people tend to believe.
"Poverty is about money, of course, but it is also a relentless piling on of problems," Desmond wrote in Poverty, By America.
One aspect of poverty that Desmond pays particular attention to is housing insecurity and the lack of affordable housing. This is an issue of particular importance to the San Diego region.
Matthew Desmond: A Voice for the Marginalized
Matthew Desmond has a history of presenting an honest yet provocative look at the nature of poverty in the United States.
"Poverty is not just a sad accident, but it's also a result of the fact that some people make a lot of money off low-income families and directly contribute to their poverty," he is quoted as saying in a 2016 New York Times article.
In a country where one in every eight children goes without basic necessities, where citizens live and die on the streets, and where corporations pay poverty wages, Desmond's work is becoming increasingly important.
In his latest book, Poverty, By America, Desmond challenges us to understand why the richest nation on Earth continues to grapple with such widespread poverty.
He asserts that poverty is a structural issue that affects the impoverished in all areas of life, not just economics. It harms people physically and psychologically. Holding onto employment can be difficult, even when it's available. Shame is omnipresent. Decision-making processes are strained by desperation.
"If we take a hard look at what poverty is, its nature, it's not pretty–it's full of trauma," Desmond said in a 2016 interview with The Cut.
Desmond's research also shows that, knowingly or unknowingly, affluent Americans play a persistent role in perpetuating poverty.
He points to economic policies that disproportionately benefit the "haves", such as student loan interest rates, mortgage rebates, tax cuts, and public investments in more affluent neighborhoods.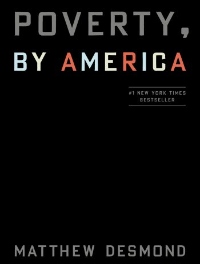 The attitudes of individuals are a problem too. Even folks who mean well can be prone to understandably focusing on their own self-interest in key aspects of their lives, often at the expense of more marginalized people.
"To live and strive in modern America is to participate in a series of morally fraught systems," he wrote in Poverty, By America. "If a family's entire financial livelihood depends on the value of its home, it's not hard to understand why that family would oppose anything that could potentially lower its property values, like a proposal to develop an affordable housing complex in the neighborhood."
Housing insecurity is another central theme in Matthew Desmond's work.
In Evicted, he documented how a significant number of poor renting families in America spend more than half of their income on housing, making eviction an increasingly common occurrence, especially for single mothers.
This is an especially sobering prospect to look at in a city like San Diego where rents have surged and affordable housing is less and less available.
Yet through it all Desmond also offers hope and points to potential policies that can offer solutions if we're willing to make that commitment.
"Lift the floor by rebalancing our social safety net; empower the poor by reining in exploitation; and invest in broad prosperity by turning away from segregation," he wrote in Poverty, By America.
Desmond also founded The Eviction Lab at Princeton University, which "creates data, interactive tools, and research to help neighbors and policymakers understand the eviction crisis."
A Venue for Provocative Conversations
The Helen Edison Lecture Series, hosted at UC San Diego's Park & Market, has a history of bringing provocative speakers, writers, and thought leaders to its stage.
"As we reflect on shared experiences that remain consistent across borders, genders, religions, health, and education, I ask 'What are contributing factors that inhibit a prosperous shared socioeconomic landscape? What are things that could help empower the next generation of leaders and entrepreneurs who are coming into their own, influencing policy and industry?" said Waltz, describing the themes they seek out for selecting Edison series speakers. "We want our audience to hear compelling ideas that could potentially be an inflection point for them as we all work to build a more just and equitable world."
Over the years, the series has hosted the Dalai Lama, Vice President Al Gore, journalist Bob Woodward, and actor John Lithgow.
Waltz shares one of his favorite moments from the series with composer Terence Blanchard, best known for writing the musical scores in Spike Lee movies.
"Blanchard crafts evocative scores to help listeners feel an empathetic connection to narratives about American culture through his music," Waltz says of the composer.
Waltz relates the story of a young man in the audience who stood up to ask Blanchard a question.
"He couldn't have been more than a sophomore in high school," said Waltz. "He wanted to pursue a music career and asked for advice. Blanchard was able to speak directly to our young guest and help inspire him. His advice was just 'pursue your interests. Pursue your authentic voice,' which might seem like something you can hear anywhere but it's really impactful when you hear it from somebody who's made that level of success for themselves."
The Park & Market Venue: A Nexus of Ideas and Innovation
The venue where the Helen Edison Lecture Series takes place, Park & Market, is UC San Diego's outpost in downtown San Diego.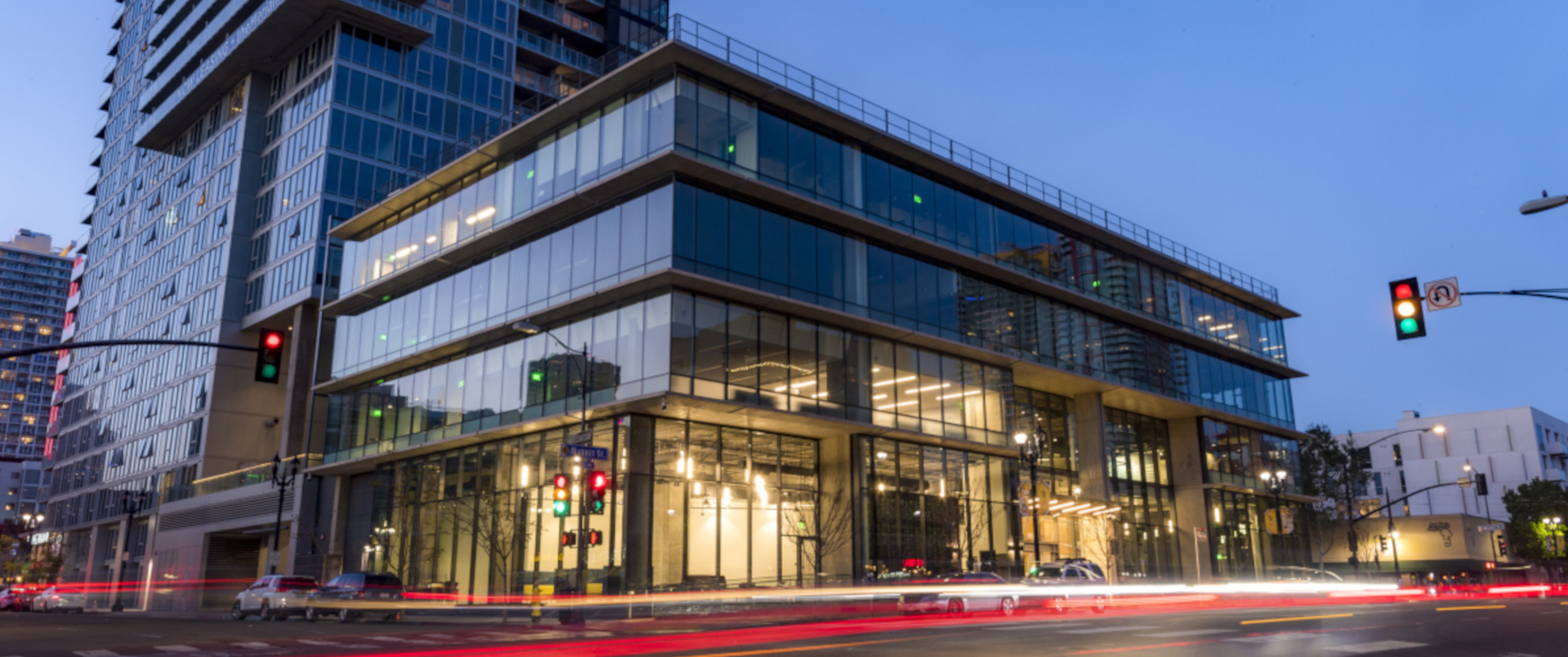 The vision for Park & Market is ambitious. It aims to be a "magnet for futurists, artists, innovators, entrepreneurs, scientists, lifelong learners, and change-makers" who can collectively contribute to the growth of the community and the region.
Located right on the San Diego Trolley Blue Line connecting Tijuana and La Jolla, Park & Market also aims to be a key cultural center in creating a vibrant and accessible binational exchange.
"It's by design and not accidental," Waltz states regarding Park & Market's strategic location. "UC San Diego's leadership in concert with local community leaders had a vision for how a world-class research university can play a pivotal role in our creative and dynamic binational region. Park & Market provides a unique opportunity to serve communities from San Ysidro to La Jolla, as well as everyone along the San Diego Trolley Blue Line."
To this end, Park & Market hosts a number of different cultural, educational, and community events.
One program called Intersections brings together musicians from around the region and the world to share their art by exploring both cultural musical traditions and avant-garde counterpoints. Previous Intersections performers have included a trio of world renowned pianists and virtuoso tabla player, Samir Chatterjee.
"Since the Intersections Concert series launched in 2023, there have been several sell-out shows as well as several endearing reviews by our local music industry. The community support has been quite rewarding and I look forward to an innovative season ahead!" said Waltz.
There's also the complementary series, Intersecciones.
"It's an exploration of arts and culture through a binational lens," said Waltz. "The Intersecciones series highlights writers, singers and artists from across Mexico with the goal of presenting the diaspora of Mexican arts, culture, life, and history"
Park & Market is also home to nearly 30 resident partners such as the Burnham Center for Community Advancement, The San Diego Regional Economic Development Council, the County of San Diego Black Chamber of Commerce, World Design Capital, Digital Gym Cinema, and more.
"Part of the mission of Park & Market is to help incubate and amplify great work happening around the community," Waltz said of the resident partners.
Furthermore, Park & Market is home to an art gallery that often features exhibitions with a focus on cultural diversity. The building is also the site of educational programs, offering classes and workshops hosted by the UC San Diego Division of Extended Studies in the areas of Arts and Humanities, Business and leadership, Corporate Education and Custom Training, Digital Arts, Education, Engineering, Environment & Sustainability, Osher Lifelong Learning Institute, Pre-College, and much more.
By connecting with audiences from various backgrounds, the series and its venue hope to contribute to a more informed and engaged society, fostering positive change in the San Diego region and beyond.

To learn more about The Helen Edison Lecture Series, visit the UC San Diego Extended Studies Helen Edison Lecture Series page.
Reserve your tickets for the Helen Edison Lecture Series event featuring Matthew Desmond on December 14.
Learn more about Park & Market: https://parkandmarket.ucsd.edu/
Stay in the Know
Keep up with all the latest from UC San Diego. Subscribe to the newsletter today.