UC San Diego Health Ranks No. 1 in San Diego, Makes National Honor Roll
U.S. News & World Report ranks 10 medical and surgical specialties at UC San Diego Health among the nation's best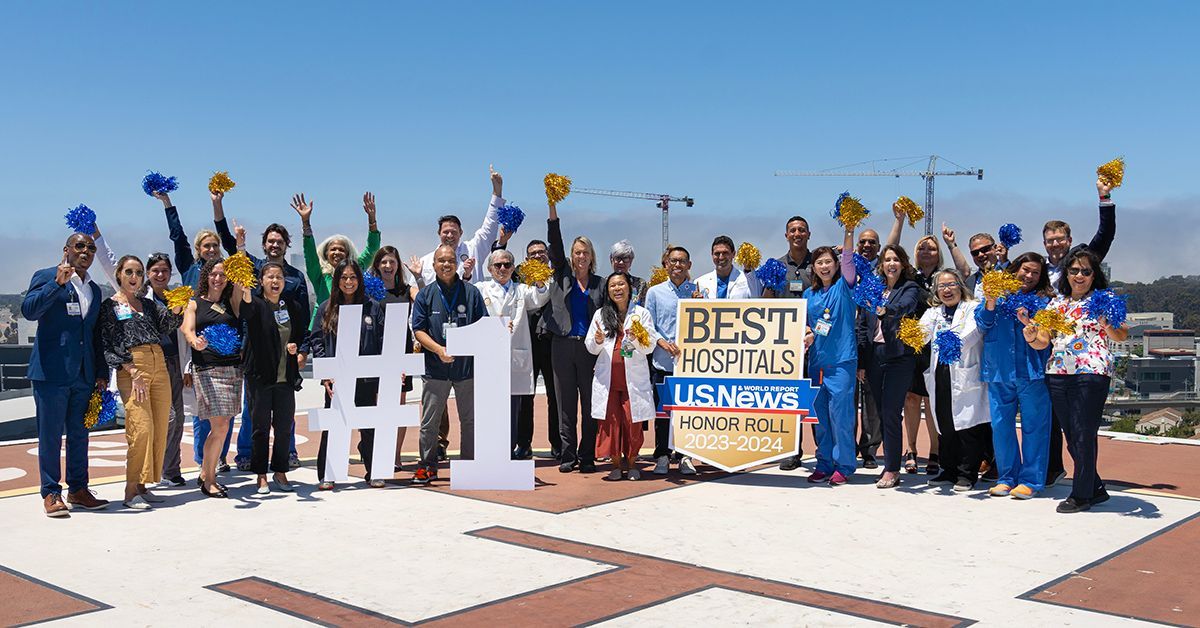 Published Date
By:
Topics:
Share This:
Article Content
UC San Diego Health has once again ranked No. 1 in San Diego, according to the 2023-2024 U.S. News & World Report "Best Hospitals" survey, placing it among the nation's best health care providers.
For the first time in the academic medical center's history, UC San Diego Health was also placed on the 2023-2024 "Best Hospitals National Honor Roll," a distinction awarded to only 22 hospitals nationwide that are recognized for outstanding patient care.
"We are extremely honored and proud that UC San Diego Health is the only hospital system in San Diego that has reached a pinnacle level of recognition based on the quality of care provided by exceptional staff," said Patty Maysent, CEO of UC San Diego Health. "I celebrate and applaud the national recognition of our expert physicians, nurses and team members who work together cohesively every day with our patients' well-being and successful outcomes on the forefront of their minds."
"Earning our place among the nation's top hospitals has been a goal for nearly two decades," said UC San Diego Chancellor Pradeep K. Khosla. "Years of work have brought together the ideal mix of research and care teams with the most advanced technology in spaces specifically designed for individualized patient-centered care that gets results and pushes the boundaries of modern medicine."
For the 2023-2024 rankings, U.S. News & World Report evaluated more than 4,500 hospitals across 15 specialties and 21 procedures and conditions. UC San Diego Health ranked nationally in 10 specialties:
Cancer (20)
Cardiology, Heart & Vascular Surgery (23)
Diabetes & Endocrinology (39)
Ear, Nose & Throat (14)
Gastroenterology & GI Surgery (18)
Geriatrics (17)
Neurology & Neurosurgery (21)
Obstetrics & Gynecology (15)
Pulmonology & Lung Surgery (9)
Urology (32)
Only 12% of evaluated hospitals earned a Best Hospitals ranking, a designation given for medical providers that excel at factors such as clinical outcomes, level of nursing care and patient experience.
"UC San Diego Health's impressive rise to prominence is the direct result of our unique collaborative environment, where staff are encouraged to explore, discover and continuously improve upon novel, highly effective therapies," said John M. Carethers, MD, vice chancellor for Health Sciences at UC San Diego. "This multidisciplinary approach to care reinforces and enhances our reputation as a premier academic medical center."
UC San Diego Health is also rated as "high performing" in 18 common procedures and conditions, which cover a spectrum of care from heart procedures and treatment options for acute kidney failure, to orthopedic and cancer surgeries, and stroke care.
"Making the national Honor Roll for the first time is the highest honor for our incredible team who remains laser-focused on delivering the highest quality of care for our patients living in the San Diego region and for those who travel to receive care at our hospital system," said Christopher A. Longhurst, MD, chief clinical and innovation officer at UC San Diego Health. "We are so privileged to serve this community, and this recognition is a direct reflection of our vision in making the world a healthier place, one life at a time."
UC San Diego Health also tied for No. 1 in California, along with UC Los Angeles, UC San Francisco, Stanford Health Care and Cedars-Sinai.
The Best Hospitals Survey methodology factors in data from the Centers for Medicare & Medicaid Services, American Hospital Association, professional organizations and medical specialists; recent changes include a greater emphasis on objective quality outcomes and health equity.
Rankings are meant for patients with life-threatening conditions who need a hospital that is a leader in treating complex, high-risk cases.
"This year's rankings are less dependent on reputation and more focused on quality, safety and the patient experience. The methodology concentrated on elements that matter most to our patients, such as being discharged safely without complications," said Chad VanDenBerg, MPH, chief quality and patient safety officer at UC San Diego Health. "When measured by these standards, it's evident that our team is dedicated to continuously enhancing the care we provide and showing high reliability across all hospital services."
Another key component of U.S. News & World Report ranking is the expert opinion score, which is based on physicians around the nation voting for the best hospitals in their specialty.
UC San Diego Health, the region's only academic health system, is dedicated to delivering outstanding patient care through commitment to community, groundbreaking research and inspired teaching. The 799-bed academic health system includes UC San Diego Medical Center in Hillcrest and Jacobs Medical Center, Sulpizio Cardiovascular Center, Moores Cancer Center, Shiley Eye Institute, Koman Family Outpatient Pavilion and Altman Clinical and Translational Research Institute, all in La Jolla, as well as primary care and same-day services at clinics throughout Southern California.
For more information on this year's U.S. News & World Report rankings, visit health.ucsd.edu/usnews.
Topics:
Share This:
Stay in the Know
Keep up with all the latest from UC San Diego. Subscribe to the newsletter today.