UC San Diego Student Catches Eye of White House
Alec J. Calac to participate in the Biden Administration's Health Equity Leaders Roundtable Series
A student at UC San Diego School of Medicine and Herbert Wertheim School of Public Health and Human Longevity Science has been invited by the Biden administration to participate in an exclusive group of experts and leaders in the fields of medicine and public health.
A candidate in the university's Medical Scientist Training Program (MD/PhD) and a high-profile public health advocate, Alec J. Calac is one of several trainees invited to join some of the nation's leading clinicians and scholars as a participant in the Health Equity Leaders Roundtable Series to discuss health equity in the United States.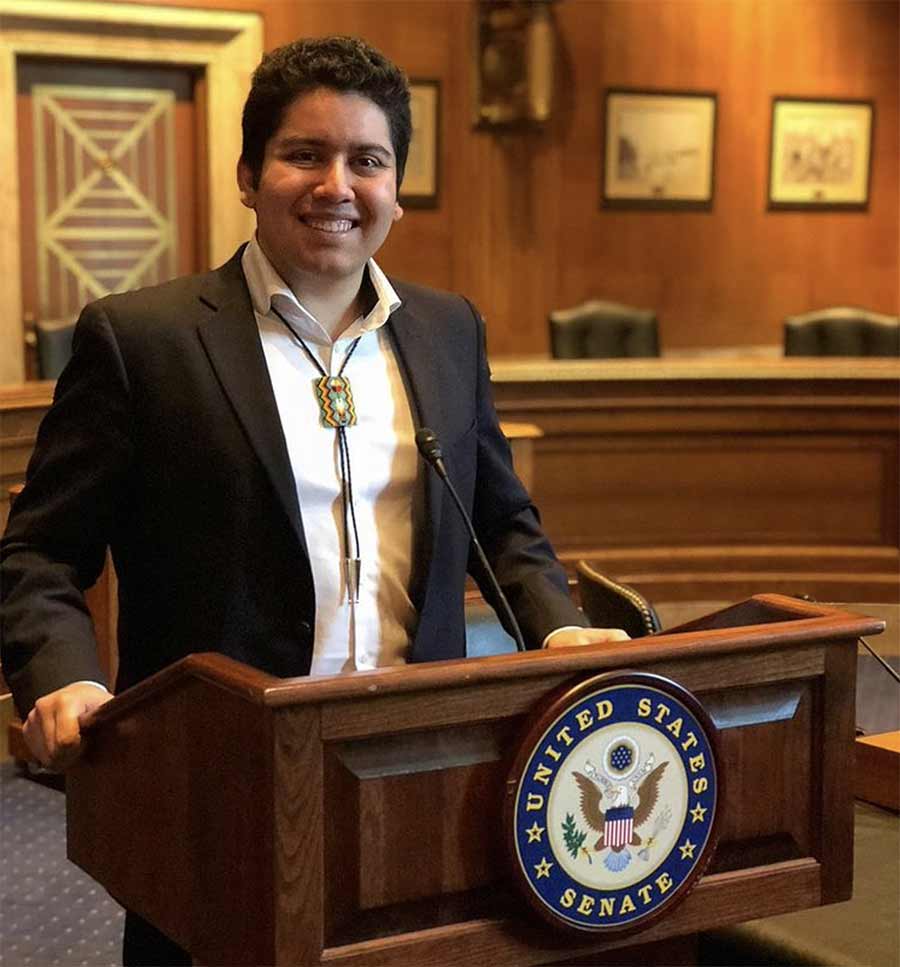 "I've always had a special focus on education attainment and workforce development, which I've carried into my training as an MD/PhD student," Calac said. "With the support of many students, staff and faculty at UC San Diego and across the entire University of California system, I have continued to advocate for policies aimed at supporting the next generation of American Indian and Alaska Native physicians and allied health professionals. My participation in the Health Equity Leaders Roundtable Series is a function and extension of those efforts."
Calac will participate in discussions regarding the social determinants of health, defined by the Centers for Disease Control as "conditions in the places where people live, learn, work and play that affect a wide range of health and quality-of-life risks and outcomes." Roundtable discussions will provide perspectives that support current and future health equity policy and strategy.
"In addition to his tremendous accomplishments in scholarship and activism, Alec's dedication to health equity is inspiring," said one of Calac's mentors, Angela R. Bazzi, co-director for the UC San Diego and San Diego State University Joint Doctoral Program in Public Health in Global Health and associate professor at the Herbert Wertheim School of Public Health. "From observing the sincerity and commitment inherent in his work, it is easy to understand how he has earned the trust and admiration of so many."
Calac is in his second year in the global health track of the joint doctoral program, and has completed two of four years of medical school as part of the Medical Scientist Training Program in the School of Medicine. Students pursuing the joint doctor of medicine and doctor of philosophy degrees are uniquely positioned to become leading physician-scientists.
"Alec Calac is a tireless, effective and solution-oriented advocate who thinks broadly, communicates persuasively and acts proactively," said another of Calac's mentors, Maria Rosario Araneta, associate dean of diversity and community partnerships and professor of epidemiology in the Department of Family Medicine in the School of Medicine. "He frames the urgency of addressing health inequities in the American Indian and Alaskan Native communities with historical knowledge and a social justice perspective."
Calac draws on a wide range of academic, professional and personal experiences. This is not his first time participating in the public service sector.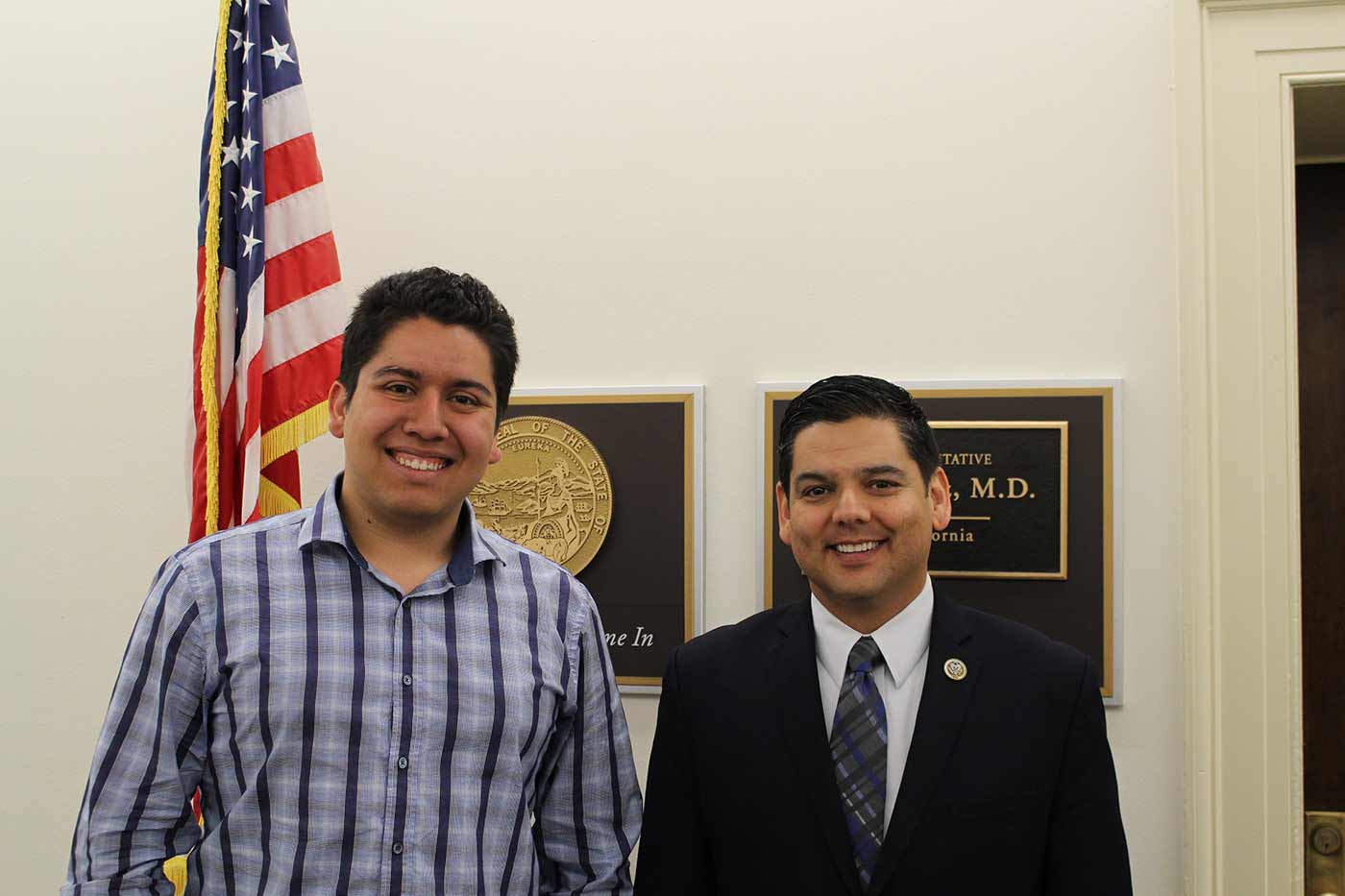 He interned with California Assemblymember James Ramos, the first California Indian elected to the California State Legislature, and was tapped by the Clinton Foundation for the Clinton Global Initiative University for a Commitment to Action addressing critical health workforce needs for tribes in California and rethinking of medical school curricula. Calac worked in tandem with UC San Diego leaders to advocate for expanding UC Programs in Medical Education (PRIME) to include a new emphasis on American Indian and Alaska Native health at UC San Diego and UC Davis.
His work is also informed by his heritage as a member of the Pauma Band of Luiseño Indians.
"The Luiseño or Payómkawichum, the People of the West, have always sought to support the health and well-being of our communities," he said. "While our communities are small, our voices are loud. We have always been involved in policy conversations dating back to the late 19th century.
"By participating in the White House Health Equity Leaders Roundtable Series, I hope to re-center national policy conversations to better include the needs of American Indian and Alaska Native tribes and villages and to elevate the work that I have been doing in California. My mentors have always seen potential in me, especially when I didn't necessarily see it in myself. A friend once told me that you should always be part of the conversation and say what needs to be said, even if your voice trembles."
When he finishes his studies at UC San Diego, Calac plans to continue working in public health. "I would like to eventually take my medical and public health training to Washington, DC and lead the Indian Health Service," he said. "My leadership has led me to this Roundtable, and I am so fortunate to have a direct line to The White House to promote health equity for Indigenous Peoples."
Stay in the Know
Keep up with all the latest from UC San Diego. Subscribe to the newsletter today.