UC San Diego Delegation to Attend Annual UN Climate Conference in Dubai
Meet the students and faculty from Scripps Institution of Oceanography and School of Global Policy and Strategy who are headed to COP28
Published Date
By:
Share This:
Article Content
About 30 delegates from UC San Diego's Scripps Institution of Oceanography and the School of Global Policy and Strategy will be attending the 28th Conference of the Parties, or COP28, in Dubai, in the United Arab Emirates (UAE).
This two-week United Nations (UN) climate conference from Nov. 30 to Dec. 12, 2023 creates a space for world leaders, politicians, experts and other hosts to discuss the climate crisis on a global level. Following a year in which many climate records have been broken, this event is focused on limiting and preparing for future climate change.
Composed of students, faculty and staff, the UC San Diego cohort is part of the University of California observer delegation, which includes affiliates from several other UC campuses.
In addition to official negotiations and side-events organized by the UN, parties and organizations are given the opportunity to host events, showcase research and create discussions through pavilions.
For the second year, there will be an Ocean Pavilion organized by Scripps Oceanography, Woods Hole Oceanographic Institution and 35 leading global ocean organizations inside the conference's official meeting area or "Blue Zone." The Ocean Pavilion brings together world leaders in ocean science, engineering, policy and philanthropy to highlight the ocean's critical role in offering climate solutions.
"The ocean is integral to our climate system and it is being stressed from climate change — it has absorbed more than 90% of the excess heat caused by human activity and warming has more than doubled since 1993," said Margaret Leinen, director of Scripps Oceanography and vice chancellor for marine sciences at UC San Diego. "The goal of the Ocean Pavilion is to highlight the importance of the ocean in climate and collaborate on science-based solutions to mitigate the effects of climate change. I look forward to seeing the UC San Diego delegation in action on the global stage and advocating for greater understanding and protection of our planet."
The UC delegates will also have the opportunity to engage and participate in panel discussions and side-events throughout the conference that will provide knowledge sharing, capacity building, networking, and exploring actionable options for meeting the climate challenge. Delegates will also help staff the COP28 exhibit devoted to the UC-wide "Bending the Curve" educational climate program.
Travel for the Scripps Oceanography student delegation is supported by Logitech, a global company that designs technology for working, creating and gaming, and is committed to sustainable practices. We talked with students and faculty who will be representing the UC San Diego delegation at COP28. Below, read more about the delegates and what they hope to learn and achieve while at COP28.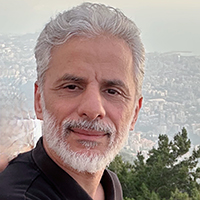 Wael Al-Delaimy, UC San Diego Professor of Public Health (he/him)
Attending week one
Wael Al-Delaimy, MD, PhD, is a professor of public health at Herbert Wertheim School of Public Health and Human Longevity Science at UC San Diego. He is a multidisciplinary chronic diseases epidemiologist working with vulnerable communities locally and globally, focusing on climate change, mental health and research ethics. He directs four large federal programs focused on climate change, training of community health workers, and research ethics, as well as a state-wide evaluation program for tobacco control among American Indians in California. He is the director of the National Institutes of Health newly funded Global Center on Climate Change and Water, Energy, Food, and Health Systems, and joint director of the GeoHealth Hub on Climate and Health in the Middle East and North Africa. His work on climate change involves global capacity building, health policy and the role of water and climate variables on health.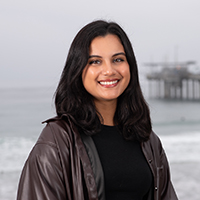 Sofia Alli, Scripps MAS MBC Student (she/her)
Attending week two
Sofia Alli is a student in the Master of Advanced Studies program in Marine Biodiversity and Conservation (MAS MBC). She is interested in the intersection between policy and marine conservation, specifically in Latin America. Alli is looking forward to seeing how the Global Goal of Adaptation is discussed in relation to increasing climate change awareness in developing nations. "I am very excited to hear how prominent world leaders discuss ocean conservation tactics and policy on a global level," said Alli.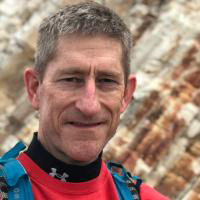 Bruce Appelgate, Associate Director and Head of Ship Operations at Scripps Oceanography (he/him)
Attending week one
Bruce Appelgate holds executive responsibility for the management of the Scripps fleet of research vessels and the scientific capabilities aboard them. At COP28, Appelgate will discuss the new California coastal hybrid-hydrogen research vessel currently in development. This vessel is being designed with a hydrogen-hybrid propulsion system that will enable it to operate with zero-emission capabilities, a first-of-its-kind system in the maritime industry. Development of this and subsequent zero-emission vessels is essential to the University of California's Carbon Neutrality Initiative, with the goal to be carbon neutral by 2025.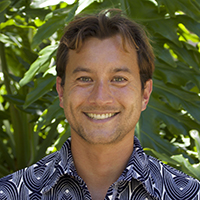 Austin Barnes, Scripps PhD Student (he/him)
Attending week one
Austin Barnes is a Scripps PhD student from Hawai'i in Scripps Oceanography's Coastal Processes Group, working with advisor Mark Merrifield. Barnes studies applied ocean science with a focus on coastal impacts of sea-level rise. He is currently investigating how wave dissipation by fringing reefs will change with accelerated relative sea-level rise in American Samoa, and he is examining the effects of eroded and nourished beaches on wave runup and coastal groundwater. "I hope to connect with the youth community members and organizers who are bringing a lot of fresh energy and action to the climate change movement, and see how my work might contribute. How COP negotiations take into account the ever increasing threats to Pacific Island nations' ways of life is also of particular personal and professional interest," he said.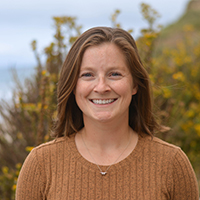 Grace Cawley, Scripps PhD Student (she/her)
Attending week two
Grace Cawley is a PhD student studying zooplankton ecology. More broadly she is looking at pyrosomes, gelatinous zooplankton, and what they are doing in the marine ecosystem. Cawley is also interested in how zooplankton communities have changed with things like ocean warming. She is thrilled about the opportunity of attending COP28. "I am eager to dive into the world of policy, observe international negotiations, explore the diverse efforts of countries, engage with various pavilions, and hold meaningful conversations about ocean organisms as sentinels of climate change," said Cawley.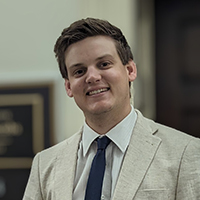 Mitchell Chandler, Scripps PhD Candidate (he/him)
Attending week two
Mitchell Chandler is a physical oceanography PhD candidate where he is advised by Nathalie Zilberman and Janet Sprintall. Chandler's research incorporates ocean measurements from a number of different observing platforms (Argo, Deep Argo, satellites, and hydrographic surveys) to examine upper-ocean and deep western boundary currents. He is particularly interested in examining variability in these western boundary currents and the implications of this variability on, for example, extreme ocean temperature events such as marine heatwaves. "I hope to come away from COP28 having built relationships and connections that will allow me to apply my ocean and climate science expertise in ways beyond what is typically possible in a purely academic setting," Chandler said. "I would also like to connect with delegations from island nations, such as my home country of New Zealand, where oceanic changes can have an outsize impact on regional weather and climate."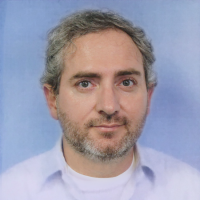 Tom Corringham, Scripps Research Economist (he/him)
Attending both weeks
Tom Corringham is a staff research economist at Scripps Oceanography. His research focuses on the economic impacts of climate change and extreme weather events. Corringham's current projects include projections of the increasing costs of atmospheric rivers over the 21st century, an assessment of the economic impact of atmospheric rivers on road transportation networks, a study of flood vulnerability and environmental justice, and the development of natural language processing tools to evaluate climate action plans. Corringham is affiliated with the Center for Western Weather and Water Extremes (CW3E) at Scripps, the California Nevada Climate Applications Program (CNAP), the Southwest Climate Adaptation Science Center (SWCASC), and the San Diego Supercomputer Center's WIFIRE program.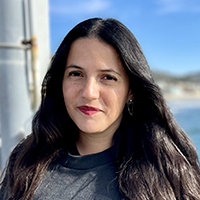 Natalia Erazo, Scripps PhD Candidate (she/her)
Attending week two
Natalia Erazo is a PhD candidate in the Bowman Lab. Her research focuses on understanding microbial communities in coastal ecosystems and the impact of anthropogenic stress on ecosystem function. She is examining the composition and function of the mangrove microbiome, and studying plant-microbial interactions to understand how microbes can protect plants against environmental stress and pathogens. Erazo works with a women-led mangrove fishery on seafood sustainability and climate resilience. She is also working on understanding the blue carbon potential of mangroves and a community-based mangrove restoration project in Ecuador. At COP28, Erazo is interested in topics related to climate finance and funding for adaptation and mitigation. She'll be tracking discussions on knowledge and technology transfer between developed and developing nations and the equity issues associated with access and implementation of climate solutions. "I hope to connect with other experts, leaders, young leaders and community leaders for collaboration and knowledge exchange on climate justice," said Erazo.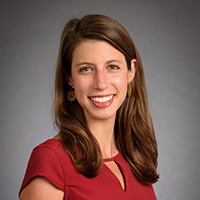 Tamara Handfas, School of Global Policy and Strategy Master of Public Policy Student (she/her)
Attending week two
Tamara Handfas is a Master of Public Policy candidate specializing in environmental public policy, with a focus on climate change related to deforestation and land use change in South America. She is also interested in international and subnational (state and provincial) cooperation to address this climate change issue. Handfas is looking forward to witnessing the live international negotiations aimed at tackling one of the most pressing, urgent and complex issues of our time. "I am also excited about the opportunity to explore the pavilions of various countries and attend civil society's side events to experience the remarkable diversity at the conference," she said.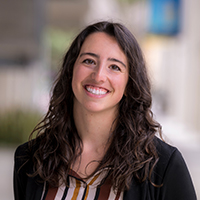 Emily Kunselman, Scripps PhD Student (she/her)
Attending week two
Emily Kunselman is a PhD student studying marine biology. She is a shellfish aquaculture enthusiast interested in both economic production and conservation of various shellfish species. She studies diseases that affect cultured shellfish, including oysters and abalone, and how their microbiomes respond to specific pathogens to exacerbate the severity of the disease. These diseases are tightly linked to climate as they have emerged with increased water temperatures and heatwaves. Kunselman is looking forward to promoting discussions around sustainable aquaculture and the blue economy under predicted climate scenarios. "I hope to meet other students and scientists like myself that are interested in finding solutions to mitigate and respond to global climate change," said Kunselman.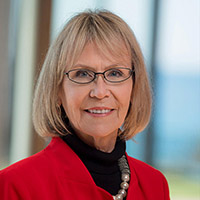 Margaret Leinen, Director of Scripps Oceanography (she/her)
Attending week one
Margaret Leinen is the director of Scripps Institution of Oceanography and vice chancellor for marine sciences at UC San Diego. She is an award-winning ocean biogeochemist and paleoceanographer whose research includes study of ocean carbon cycling and the role of the oceans in climate. Leinen has served as the president of the American Geophysical Union and The Oceanography Society. She also served as Chair of the US Global Change Research Program and was a U.S. Department of State Science Envoy for the Ocean. Leinen currently serves as a member co-chair of the Decade Advisory Board for the UN Decade of Ocean Science for Sustainable Development.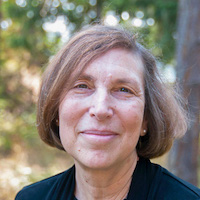 Lisa Levin, Scripps Distinguished Professor Emeritus (she/her)
Attending both weeks
Lisa Levin is a pioneering biological oceanographer and distinguished professor emeritus at Scripps. Throughout her career, Levin has been at the forefront of research that shows how environmental conditions shape deep-sea communities on continental margins and how climate change is impacting vulnerable ecosystems in the deep sea through ocean deoxygenation. Levin has been a leader in advancing conservation and observation of deep-sea ecosystems and has also made valuable contributions to the fields of coastal wetland ecology and larval connectivity. She founded and co-leads the Deep Ocean Stewardship Initiative (DOSI), dedicated to bringing deep-sea science to policy-makers, and has been instrumental in efforts to develop the Deep Ocean Observing Strategy (DOOS), a global initiative to integrate deep observing efforts to benefit science and society.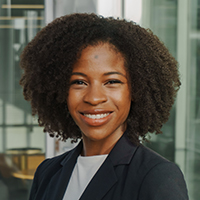 Taylor McKie, Scripps PhD Student (she/her)
Attending week one
Taylor McKie is a sixth-year PhD candidate in the Multiscale Ocean Dynamics (MOD) lab at Scripps, where she studies physical oceanography with a concentration on oceanic boundary layer dynamics. Her research focuses on submesoscale dynamics in salinity stratified oceans, such as in the Indian Ocean, and the potential impacts of climate change on these systems. McKie hopes to pursue a career in climate policy post-graduation and contribute to efforts driving mitigation strategies and increasing climate resilience within communities most impacted. "For COP28, I'm looking forward to engaging with leaders involved with domestic climate policy and gaining a deeper understanding of strategies associated with climate resilience, both domestically and internationally," said McKie.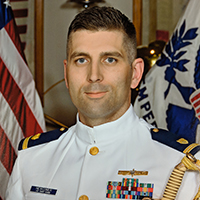 Austin Newcomer, School of Global Policy and Strategy Master of Public Policy Student (he/him)
Attending week two
Austin Newcomer is a Master of Public Policy candidate specializing in environmental policy. He is a career United States Coast Guard Officer and he focuses his studies on ocean policy. "At COP28, I am hoping to meet people and organizations offering new technologies or practices to monitor maritime emissions (and other activity) and craft and enforce sensible regulation. I'm also interested in seeing how international deal-making shakes out, what kinds of compromises must be made and more," Newcomer said.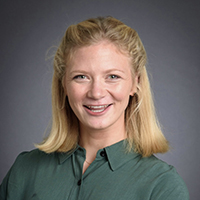 Courtney Ransom, School of Global Policy and Strategy Master of Public Policy Student

(she/her)
Attending week two
Courtney Ransom is a Master of Public Policy candidate who studies energy and environmental policy. Her research covers broad aspects of public policy with a focus on human-environment relationships. Broadly, Ransom seeks to understand how urban infrastructure and energy systems contribute environmental problems and solutions — and vice versa. "I am most excited for the 'final negotiation days' at COP28 where there will be a number of policy-makers responding to the first five year global stocktake of greenhouse gas emissions," she said.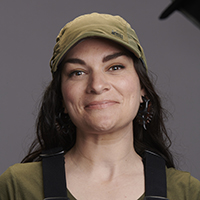 Tammy Russell, Scripps PhD Student (she/her)
Attending week two
Tammy Russell is a Scripps PhD student studying biological oceanography. Her research focuses on the habitat use and climate change impacts on seabirds along the west coast of the United States. "By attending COP28, I'm looking forward to the opportunity to engage with other scientists, politicians, and other delegates about how climate change is impacting our world and the steps we must take to mitigate it," Russell said. "In my career, I want to make sure the science I work on is impactful and contributes to mitigation strategies and conservation actions, and participating in this conference will be a tremendous experience with how to bridge the gap between science and policy."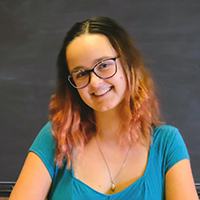 Phoebe Skok, Scripps MAS CSP Student (she, they)
Attending week two
Phoebe Skok is a graduate student at Scripps pursuing a Master of Advanced Studies in Climate Science and Policy (MAS CSP). They currently serve as the media relations intern at Redwood Climate Communications, a strategic communications firm exclusively serving climate tech companies and environmental nonprofits. Skok also works at UC San Diego as a communications assistant, where she writes for the UC San Diego Today newsletter and analyzes performance metrics. During high school, she spent six months studying abroad in Queensland, Australia. A few months later, Australia experienced devastating bushfires, which inspired Skok to work on climate change. "I'm excited to get a closer look at how international climate policy is created and to learn from experts from around the world," they said. "I'm also curious to see how fossil fuel companies who are attending the conference may impede action and progress."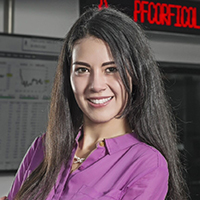 Angela Solanilla, School of Global Policy and Strategy Master of Public Policy Student (she/her)
Attending week two
Angela Solanilla is a second-year student in the Masters of Public Policy at the School of Global Policy and Strategy (GPS) with a specialization in environmental policy. Her academic pursuits focus on sustainable development, particularly within the realms of food security, blue economy, energy, and land use. "At COP28, my primary goal is to understand how the latest scientific advancements in climate change align with political decisions. I also aim to gain insight into the key topics and agents currently at the forefront of global discussions," said Solanilla.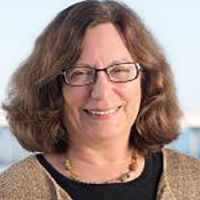 Lynne Talley, Distinguished Professor of Physical Oceanography (she/her)
Attending week two
Lynne Talley is a distinguished professor of physical oceanography in the Climate, Atmospheric Sciences, and Physical Oceanography division at Scripps. Talley's research focuses on the general circulation of the ocean and the role of various oceanic and atmospheric conditions that affect ocean currents and property distributions, and the role of the ocean in climate. Talley was one of the first women in the world to author a graduate-level textbook on physical oceanography. She was a lead author of the IPCC Fourth Assessment Report Working Group I chapter "Observations: Oceanic Climate Change and Sea Level," which earned contributing scientists a share of the Nobel Peace Prize in 2007. Talley was also elected as a fellow of the American Academy of Arts and Sciences in 2003, a fellow of the American Geophysical Union in 2006, a fellow of the American Meteorological Society in 2008, a fellow of the Oceanography Society in 2010 and a fellow of the American Association for the Advancement of Science in 2017.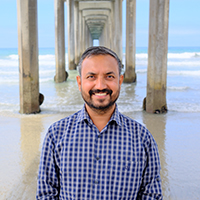 Vivek Tejaswi, Scripps MAS CSP Student (he/him)
Attending week two
Vivek Tejaswi is a student in the Master of Advanced Studies program in Climate Science and Policy (MAS CSP). He has a background in public policy research and governance at the sub-national level. His policy in practice exposure included aspects of emissions and health mitigation, sustainable budget and financing, and institutional strengthening. Tejaswi's primary focus revolves around seeking innovative solutions that positively impact both human and environmental health. "I see participation in COP28 as an invaluable opportunity to deepen my understanding of how global public policy influences institutional strengthening in the context of climate change," said Tejaswi. "I aim to explore the diverse landscape of innovations and entrepreneurial endeavors geared towards adaptive solutions."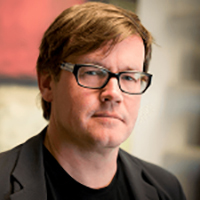 David Victor, School of Global Policy and Strategy and Scripps Oceanography Professor (he/him)
Attending week two
David Victor is a professor of innovation and public policy at the School of Global Policy and Strategy at UC San Diego. He co-directs the campus-wide Deep Decarbonization Initiative, an effort to understand how quickly the world can eliminate emissions of warming gases. He also serves as an adjunct professor in the Climate, Atmospheric Science and Physical Oceanography research unit at Scripps Oceanography. Prior to joining the faculty at UC San Diego, Victor was a professor at Stanford Law School where he taught energy and environmental law. He has been heavily involved in many different climate- and energy-policy initiatives, including as convening lead author for the Intergovernmental Panel on Climate Change (IPCC), a United Nations-sanctioned international body with 195 country members that won the Nobel Peace Prize in 2007.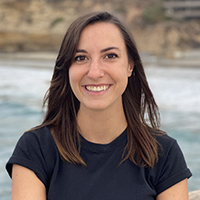 Kara Wiggin, Scripps PhD Candidate (she/her)
Attending week two
Kara Wiggin is a PhD candidate studying the intersection between plastic pollution and marine diseases. She is looking forward to hearing the thoughts and opinions of the attending delegates and observers when it comes to ocean-related climate change topics. "Scripps can often be a bubble of up-to-date information and forward thinking and it will be enlightening to hear what the rest of the world thinks, and will hopefully help us to better understand how to approach these research topics," said Wiggin.
Stay in the Know
Keep up with all the latest from UC San Diego. Subscribe to the newsletter today.