UC San Diego Kicks Off the New Year with Changemaker Week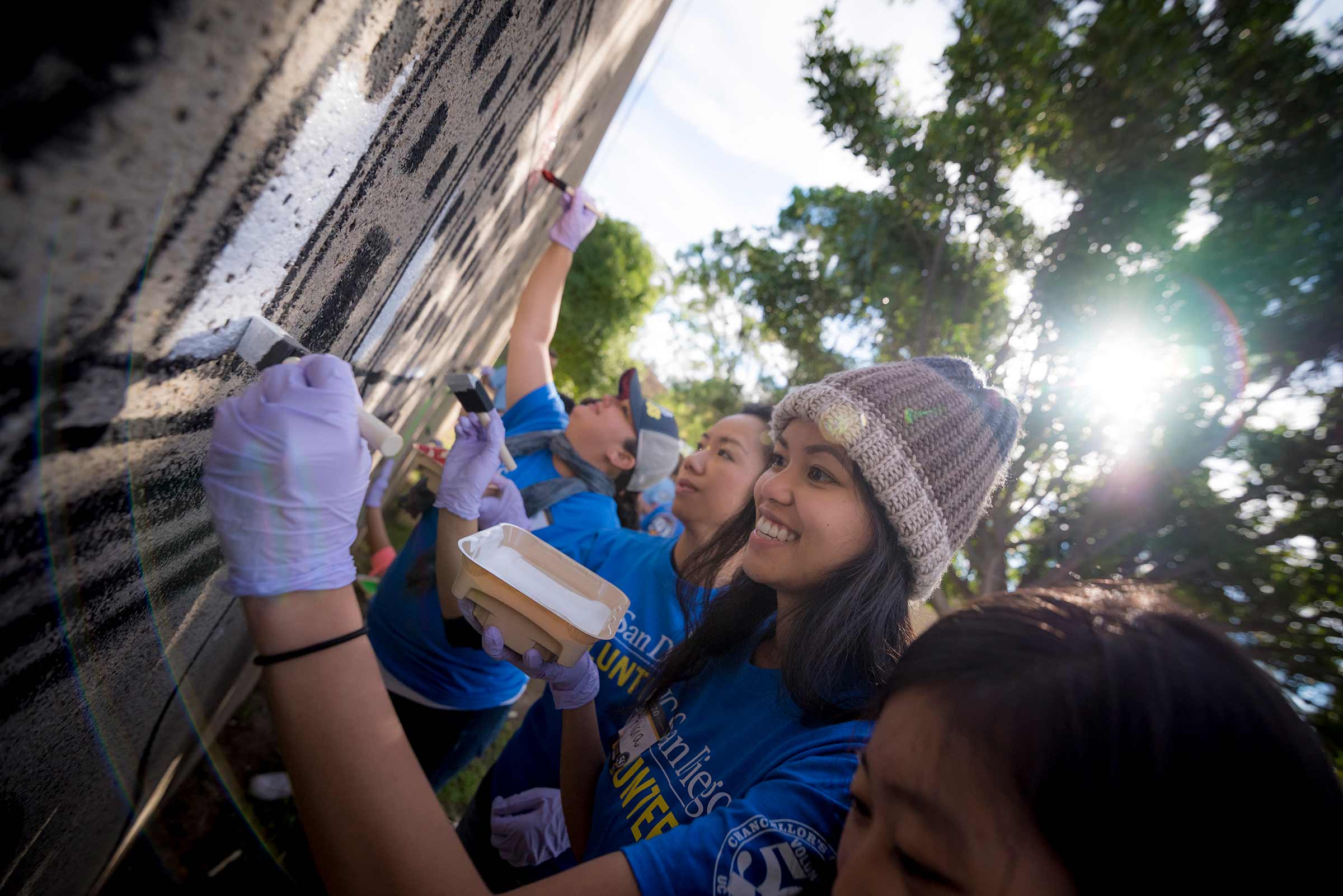 Changemaker Week celebrates the positive impact the campus makes in the community. Photos by Erik Jepsen/UC San Diego Publications
The New Year is a time of fresh starts and positive change. At UC San Diego, students, faculty and staff are celebrating this time with Changemaker Week from Jan. 20–26. The weeklong series of events will feature an array of free activities focused on making positive change, from the exploration of change-making research and a discussion about women disrupting for good, to an alumni film screening and the annual Martin Luther King, Jr. Day of Service and Parade.
"From innovative research to community service, UC San Diego is focused on driving positive change," said Chancellor Pradeep K. Khosla. "We are proud of our Ashoka Changemaker designation, and pleased to host Changemaker Week, which will give members of the campus community the opportunity to come together to celebrate our ongoing efforts of making a difference in the world."
UC San Diego is one of only 44 universities in the world designated as a "Changemaker Campus." Ashoka, the largest network of social entrepreneurs, recognized UC San Diego in 2017 with the prestigious honor based on the campus's dedication to social innovation education and research, and its ability to translate that into real-world positive impacts.
UC San Diego's inaugural Changemaker Week is designed to draw attention to the dynamic and passionate efforts underway at UC San Diego around social innovation and change for the greater good. This year's programming includes:
Jan. 20
Martin Luther King, Jr. Day of Service
UC San Diego will honor the legacy of Dr. Martin Luther King, Jr. by taking part in a day of service at Mission Bay High School, where members of the campus community will be gardening, painting and working on other campus beautification projects.
Jan. 21
San Diego Martin Luther King, Jr. Parade
UC San Diego will participate in the 39th annual San Diego Martin Luther King Jr. Parade. The parade will run from the San Diego Embarcadero from 2 to 4 p.m. The event is open to all and free shirts and transportation are available for parade participants.
Jan. 22
Changemaker Orientation Workshop
In the spirit of UC San Diego's Ashoka Changemaker designation, this workshop, held from 4 to 5:30 p.m. in the Price Center Green Table Room, will help participants explore more about what it means to be a changemaker and find out how they can get involved to make a positive social or environmental impact.
Dialogue Over Dessert – Exploring Changemaking Research at UC San Diego
Socially impactful research is at the center of UC San Diego's mission. No matter the discipline—social or physical sciences, medicine or engineering, arts or humanities—faculty and students are dedicating their time and energy to finding solutions to pressing problems. The event will take place in Price Center West, Ballroom B, from 5 to 7 p.m., as faculty give a short overview of their research, followed by small group discussions over dessert.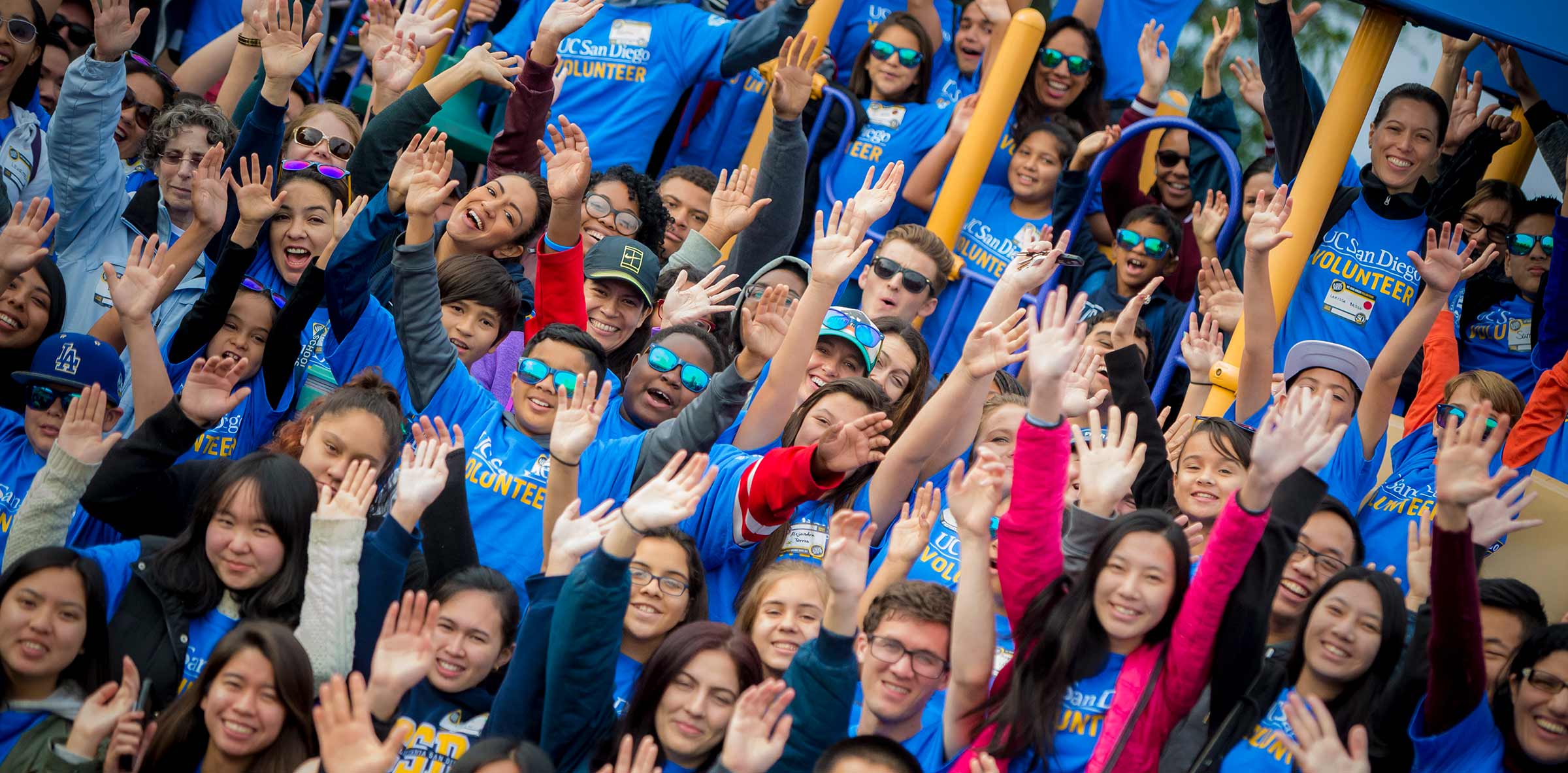 Jan. 23
Community Service Fair
Beginning at 10 a.m. on Library Walk, UC San Diego student organizations involved in community engagement will be on hand to share their community impact and help others get involved.
Changemaker Dialogue Circle
In this workshop, held in the Price Center Marshall College Room at 2 p.m., attendees can participate in a community building dialogue, learning about change-making and sharing their own ideas, thoughts and insights on how to make change.
TV Dinner: "Who's Driving Doug" Changemaker Film Screening
The campus is invited to The Loft for a free dinner and film screening of "Who's Driving Doug," an independent drama that follows Doug, played by RJ Mitte of "Breaking Bad." Doug is an introverted, sheltered student with muscular dystrophy who embarks on a spontaneous road trip with his driver and college crush in order to get away from his overbearing mother. "Who's Driving Doug" screenwriter and alumnus Michael Carnick, '07, will be in attendance to share his inspiration for the film and answer questions. Carnick was born with a rare physical disability which confines him to an electric wheelchair. His work is often centered around the themes of disability awareness and the human experience of being a minority. Seating is limited. Beginning at 6:30 p.m., the event is sponsored by The Loft and UC San Diego Alumni. To RSVP, please email jmdean@ucsd.edu.
Jan. 24
Translating the Value of Your Changemaker Experiences
Undergraduates and graduates are invited to connect with fellow UC San Diego student changemakers in the Price Center Earl Warren Room at 11 a.m., to learn how to capture and share their experiences and career-readiness competencies developed beyond the classroom. This workshop will provide participants an opportunity to translate the value of their contributions and showcase their work.
Women Disrupting for Good
The Basement Disruptor series was created to highlight demonstrations of diversity in entrepreneurship and innovation through alumni experiences. This talk will feature alumni daring to make an impact with their innovation, technology or social impact work. The panel discussion will focus on impactful innovations, technologies and businesses that are positively disrupting the status quo to catalyze change. The event will take place in The Basement at 6 p.m.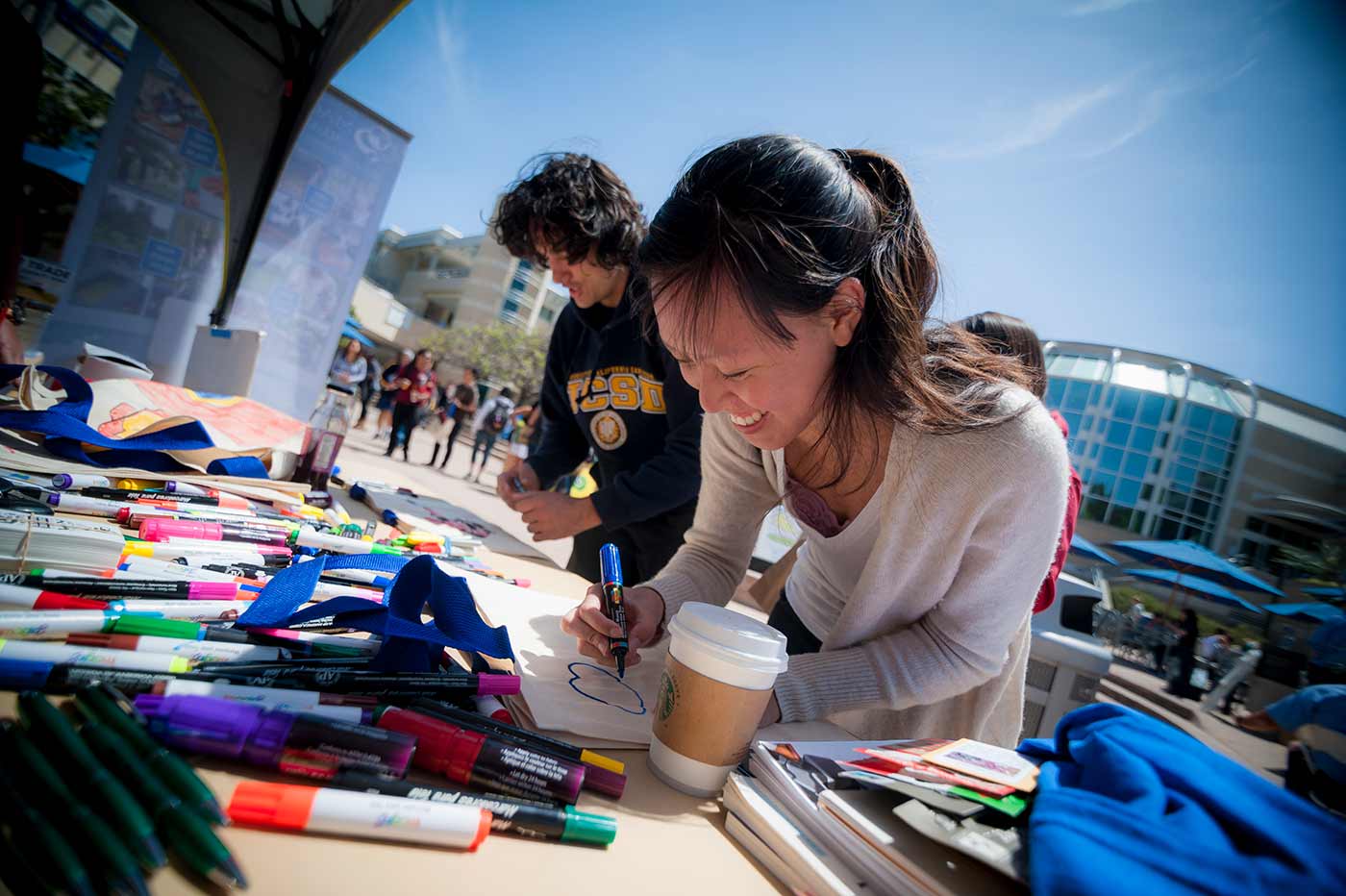 All Week
Changemaker Chalking
The campus community is invited to create art and/or positive messages about changemaking at Town Square by the Triton Fountain from Noon to 3 p.m.
Changemaker Week will also feature a social media contest, with a chance to chance win prizes. To enter, participants can share images of their experiences during the week on social media with the hashtag #TritonChangemaker.
Stay in the Know
Keep up with all the latest from UC San Diego. Subscribe to the newsletter today.