UC San Diego Celebrates its Inaugural Cohort of College Corps Fellows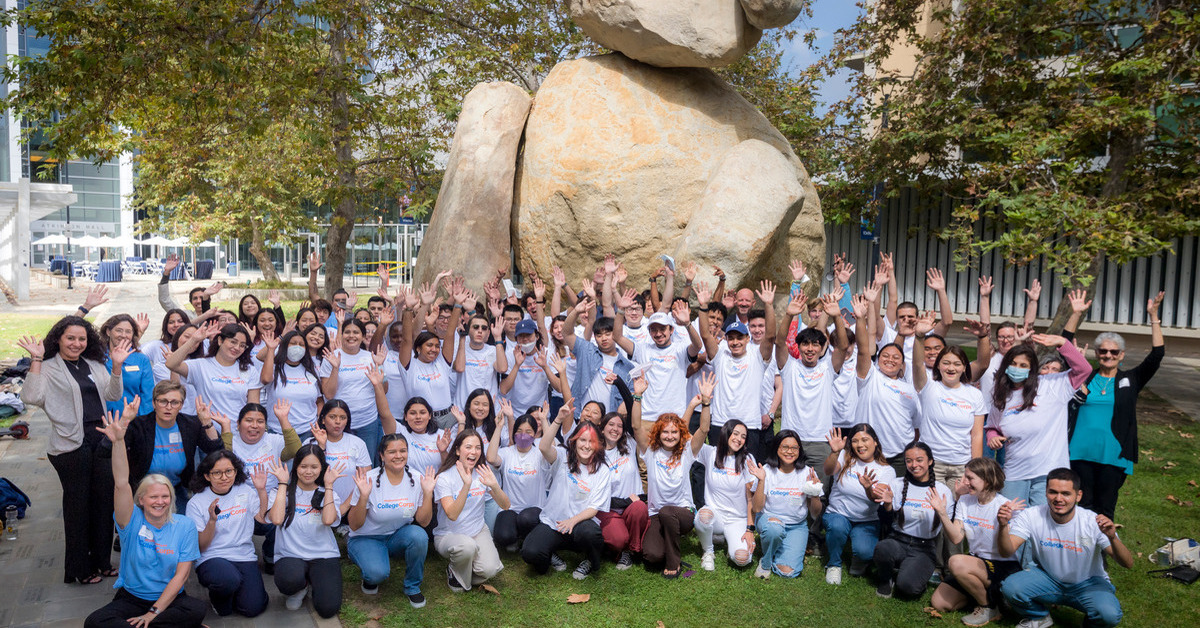 Published Date
By:
Share This:
Article Content
UC San Diego students joined more than 3,200 undergraduates this month for a statewide launch and swearing-in ceremony in celebration of the first #CaliforniansForAll College Corps Fellows.
Led by California Volunteers and the California Office of the Governor, College Corps is a statewide paid service program that engages students in community-serving opportunities, while also receiving financial compensation and other benefits.
The university is among 46 schools across the state selected for the inaugural program, which is facilitated on campus by UC San Diego's Changemaker Institute.
As part of the statewide launch, the 120 students selected for UC San Diego's inaugural College Corps cohort were invited to participate in a hybrid celebration at Qualcomm Institute. The fellows gathered for a watch party, where they joined schools across the state to view a live swearing-in ceremony streamed from Sacramento.
From the state's capital, Gov. Gavin Newsom gave a speech before officially swearing in thousands of College Corps fellows across California. During the on-campus watch party, program leadership and Executive Vice Chancellor for Academic Affairs Elizabeth Simmons shared words of inspiration with the inaugural cohort.
"The fact that we are able to give our students this opportunity to earn while working with our community partners is absolutely amazing," said Cat Lettieri, assistant director of the university's Changemaker Institute and College Corps Project Director. "The program is allowing us the opportunity to work in solidarity with community partners on issues like K-12 education, climate change and food insecurity through a local lens."
Fellows will allot 450 hours to partnering with nonprofit organizations and government agencies across the region. Through the fellowship, students will be compensated for their time and talents while making an impact in local communities through changemaking efforts.
Tackling California's biggest issues through service
UC San Diego's College Corps fellows will dedicate the 2022-23 academic year to one of three service issues: assisting local K-12 schools and education organizations throughout San Diego; addressing food insecurity in the region; or participating in climate change research and awareness.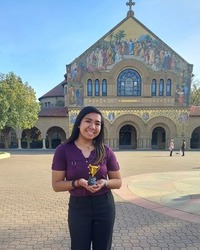 Arlene Nagtalon, a second-year molecular and cell biology student, is excited to carry out a project inspired by a hobby she picked up during the pandemic called postcrossing.
Postcrossing is an online project that allows its members to send and receive postcards from all over the world. Over the span of a year, Nagtalon has received postcards from Russia, China, Africa and across the United States. She plans on working with K-12 teachers to integrate this activity into curriculum or campus clubs.
"I think it's a really amazing activity, because not only was I able to 'travel' from the luxury of my home, but I was also able to gain a wider global worldview," says Nagtalon, who attended Morse High School in San Diego. "By exposing students to the act of snail mail—sending postcards and learning about all these different types of cultures and identities outside of their own—they'll also gain not only that global understanding, but that sense of wanderlust if they dream of traveling to different parts of the world."
Nagtalon, who proudly identifies as the daughter of Filipino immigrants and a woman in STEM, sees the fellowship's financial support as a critical resource in support of her medical school journey. "I still don't even have the words to describe how immensely grateful I am to this program for accepting me," she shared.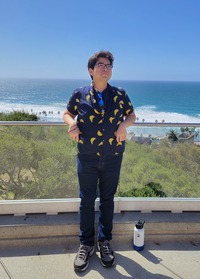 Martin Montiel, a fourth-year student studying psychology major who transferred from San Diego Mesa College, has been placed with a project centered on K-12 education with a special focus on AVID. AVID, which stands for Advancement Via Individual Determination, is an in-school academic college prep support program.
He has already jumped into his work at Mt. Everest Academy, tutoring students from elementary through high school across an array of subjects. Alongside assisting in AVID and lab classes, he also volunteers with the school's Makers Space—a room where students participate in tinkering time, workshops and engineering challenges. Montiel, who plans to pursue a career in therapy or counseling, is looking forward to the chance of sharing knowledge with local students of all ages as a College Corps fellow.
As he completes his final year at UC San Diego, Montiel expresses gratitude for the opportunity to build connections, gather new experiences and inspire positive change through his work as a College Corps fellow.
"The actions that we do here will have definite ripple effects for our community," he emphasized. "Being a part of the first cohort is something that's really unique, and I really want to personally try my best to make sure we all get together and work towards whichever [service] sector we chose and try to do the best for the community."
Supporting the next generation of changemakers
From academic enrichment to student wellbeing, College Corps is designed to provide wraparound support for all fellows. Hosted by the Changemaker Institute, the program is strengthened by collaborative efforts from groups across campus, including Student Retention and Success, the Colleges, Student Life, the Student Affairs division, as well as the Center for Research on Educational Equity, Assessment & Teaching Excellence (CREATE) and past Changemaker Faculty Fellows from the Department of Education Studies, Scripps Institution of Oceanography and the Department of Urban Studies and Planning.
UC San Diego has also built a network of support with participating UC campuses, each sharing resources to benefit students and promote their development as civic leaders.
The program opens the door for undocumented students and students from low-income, first-generation and marginalized communities to participate in paid community engaged learning opportunities. All participants are also required to complete UndocuAlly Training to gain an understanding of the challenges and barriers that undocumented students face.
Lettieri, who understands firsthand the challenges of being a low-income college student, emphasizes the positive influence that community engaged learning has on student retention. However, she also acknowledges how community engaged learning is predominately taken advantage of by those who can afford to participate without compensation and have reliable transportation. As part of the program, fellows have access to transportation options to reach their community partner location.
"If we really want to narrow the equity gap in terms of increasing civic engagement amongst the most historically marginalized populations, this program is a tool to make that happen," she said.
To learn more about College Corps at UC San Diego, please visit the Changemaker Institute website.
Stay in the Know
Keep up with all the latest from UC San Diego. Subscribe to the newsletter today.