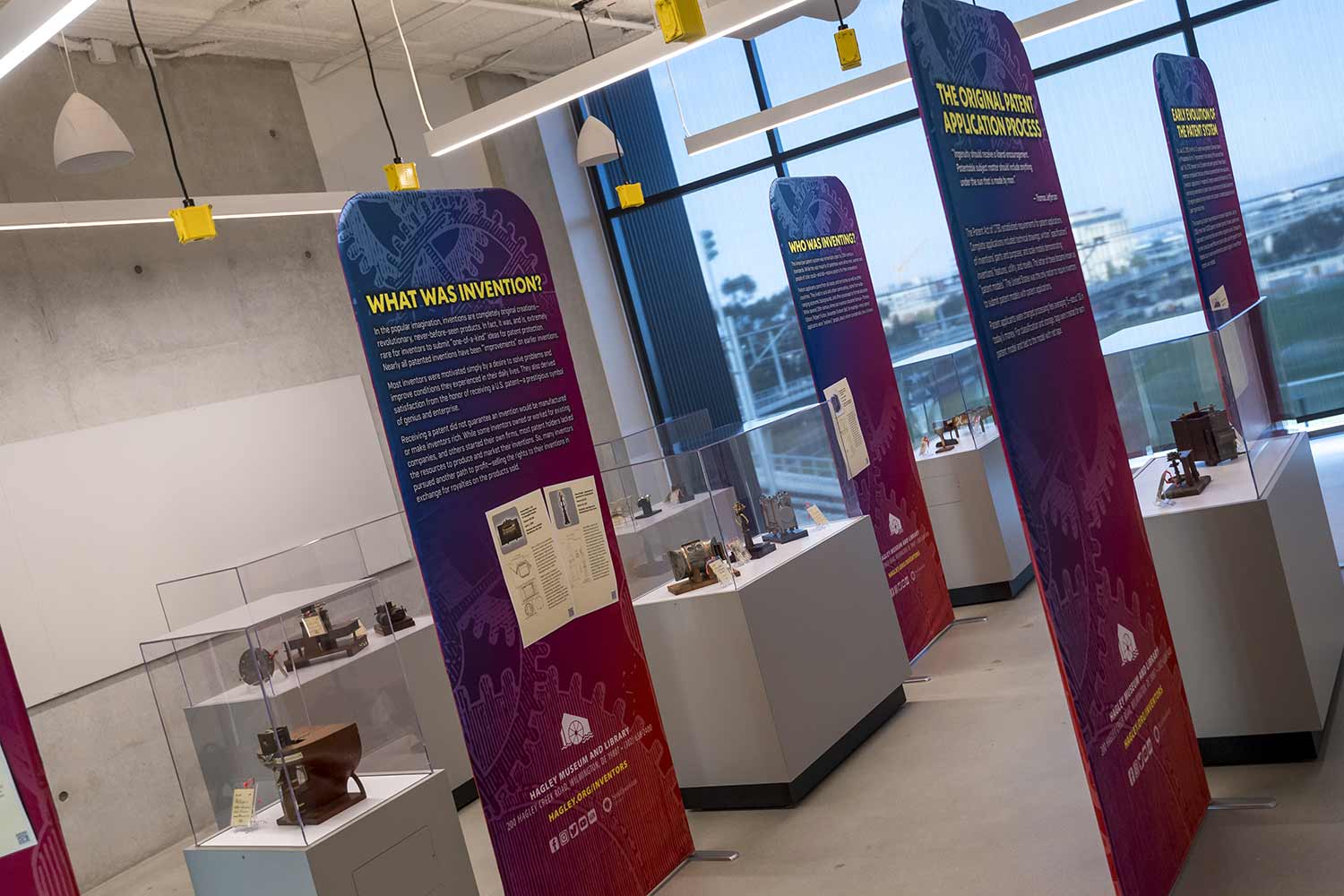 UC San Diego Celebrates Hidden History of US Innovation with Exhibit of 19th Century Patent Models
Hagley Museum and Library, a leader in the field of history of business technology, shares unique artifacts
Through the spring of 2022, UC San Diego's Design and Innovation Building is hosting a historic exhibition of 19th-century patent models in partnership with Hagley Museum and Library, sponsored by Qualcomm Incorporated. Patent Models: A Celebration of American Invention showcases the breadth and depth of American industry and ingenuity—in telecommunications, medicine, the maritime trades and more. Hagley's collection, which includes nearly 5,000 patent models, is the largest private collection of its kind and second only to the Smithsonian in scale.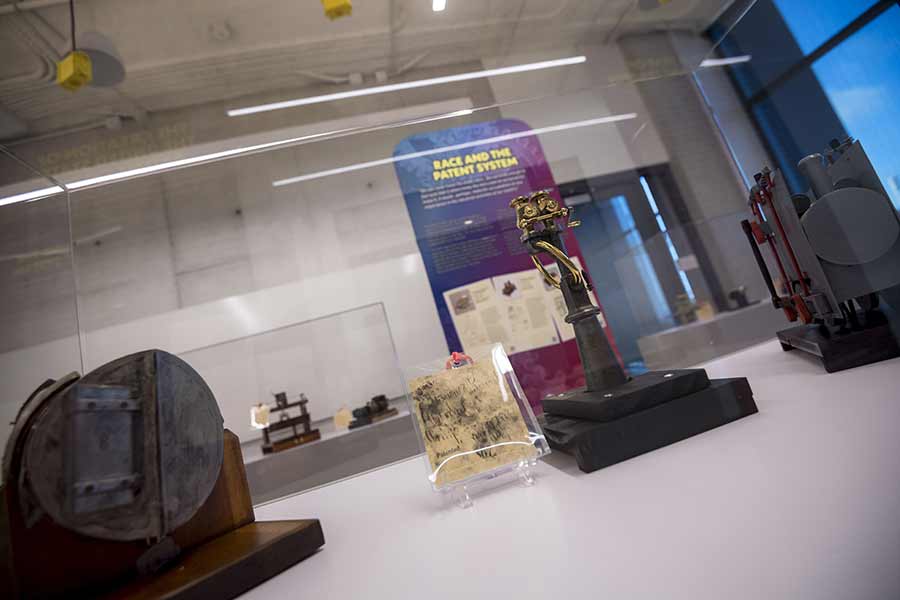 "These models serve as inspiration to anyone who has ever dreamed of inventing, while also providing insight into the creative minds of the past," said Caroline Western, curator of collections at Hagley Museum and Library. "UC San Diego's patent model exhibition seeks to inspire all people to be innovative in their own lives, and we hope they continue their exploration of Hagley's extensive historical collections and online resources."
"Earlier this year, I reached out to the Hagley Museum to see if they would have an interest in providing 19th-century patent models as a showcase to help complement the launch and philosophy of UC San Diego's new Design and Innovation Building," said Jeffrey Belk, one of the founders of the Basement—the campus's incubator space—and current volunteer executive in residence for UC San Diego. "The Hagley Staff immediately engaged, and Qualcomm committed to sponsoring the exhibition, and I'm thrilled by the launch."
Patents, established in the U.S. Constitution, protect the intellectual property of inventors and have been a core engine of U.S. innovation for more than two centuries. From 1790 to the 1880s, the U.S. Patent Office required inventors to submit patent models—small-scale physical models of their ideas—with their applications. These were phased out due to catastrophic fires at the Patent Office, in 1836 and 1877, as well as the changing nature of intellectual property. This exhibition marks Hagley's first partnership with a major American university for a patent model display.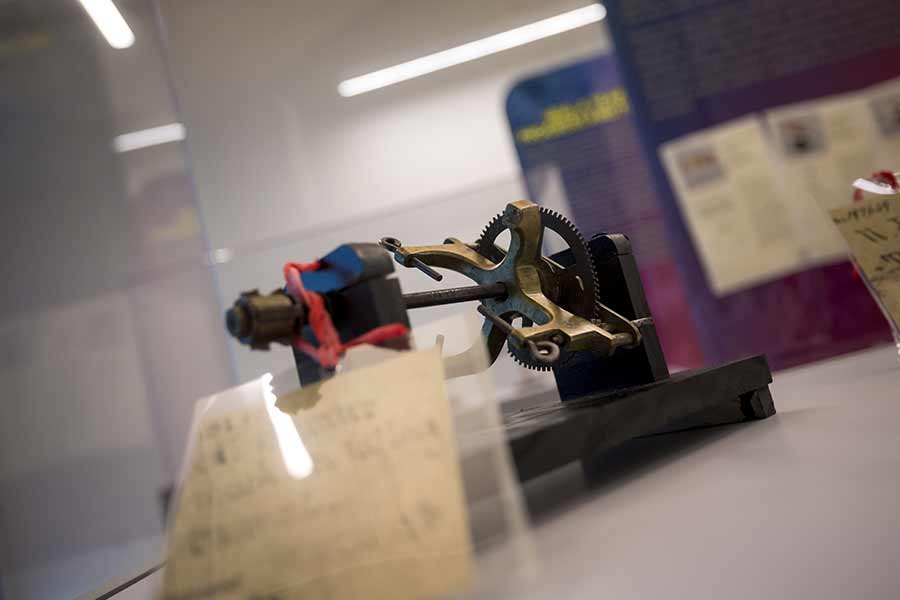 "As one of the largest innovation engines globally, we are delighted to partner with Hagley and Qualcomm in celebrating American inclusive innovation, highlighting the creative ideas and energies of diverse inventors," said Paul Roben, associate vice chancellor for Innovation and Commercialization.
"The UC San Diego exhibit is a vital and timely illustration of how patents stimulated both creativity and economic growth, and it's a reminder of how the patent system continues to be a catalyst of innovation for anyone who wants to bring to the world something new," said Christine Trimble, vice president of Public Affairs, Qualcomm Incorporated.
Patent Models: A Celebration of American Invention will be available for viewing beginning November 18, and is located on the 4th floor of UC San Diego's newly opened Design and Innovation Building. It includes 15 unique 19th-century models from Hagley's collection that reinforce the university's commitment to expanding the base of "inclusive innovation" in America by celebrating unheralded inventors from the past, including women, immigrants and people of color. The lesser-known inventors honored in the exhibit include Emily Evans Tassey, who patented an essential maritime invention in 1880, when women comprised a scant 1-2% of all patent recipients.
For more information including visiting hours, location, and more, please visit the Hagley/UC San Diego Exhibition webpage.
For group tours, please contact innovation@ucsd.edu.
Stay in the Know
Keep up with all the latest from UC San Diego. Subscribe to the newsletter today.