UC San Diego Breaks Ground on Viterbi Family Vision Research Center
Supporters, patients, friends and campus leadership came together to celebrate the groundbreaking of the new center where research will focus on treating and curing eye diseases and conditions causing vision loss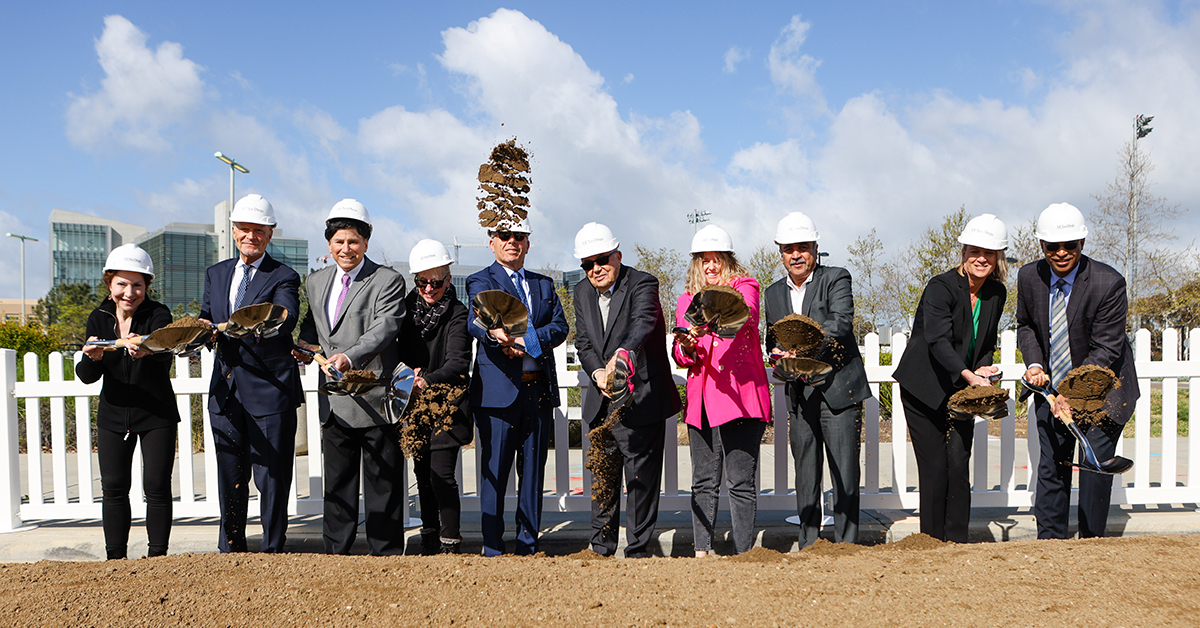 Published Date
By:
Share This:
Article Content
Following weeks of wintertime rainy days, the sun broke through the clouds and shined bright for a special occasion at UC San Diego recently: the groundbreaking of the Viterbi Family Vision Research Center at Shiley Eye Institute.
Supported by a $50 million gift made in 2018 by philanthropist Andrew J. Viterbi, PhD, the future 5-story, 100,000-square-foot facility will house laboratories, clinical trials operations, administrative and educational spaces to support a variety of research efforts, including curing glaucoma blindness, restoring vision of those blinded by macular degeneration and providing sight to individuals who have reversible vision loss due to cataracts or infections.
"We are grateful to Dr. Andrew Viterbi for his transformational generosity to create a hub for interdisciplinary ophthalmology with the Viterbi Family Vision Research Center," said Chancellor Pradeep K. Khosla. "With this investment, our leading-edge researchers will be empowered to conduct groundbreaking research to find new treatments and cures for vision loss and eye disease — and significantly advance healthcare around the world."
Viterbi's generous gift was inspired by his late father, Achille Viterbi, a celebrated ophthalmologist. The donation established the new center which is now under construction, as well as the Viterbi Family Department of Ophthalmology and six new endowed chairs to recruit top faculty to UC San Diego. In attendance at the event were the holders of the first three endowed chairs that have been filled: Radha Ayyagari, PhD; Eric Nudleman, MD, PhD; and Alex Huang, MD, PhD.
"I believe that the best way to contribute to society is to promote the people who are most able to make an impact," said Viterbi. "As part of my giving, I have emphasized the creation of endowed chairs, and I am proud that three researchers who hold the chairs I established are here today. These researchers need space to do their work, so this is going to be a tremendous facility that will serve that purpose. I believe it will be one of the best places in the U.S. – and in the world – for ophthalmology."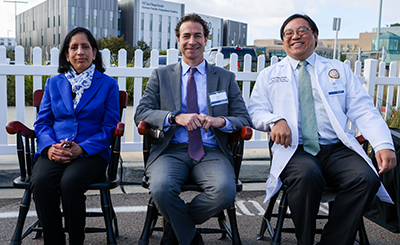 Vice Chancellor for Health Sciences John M. Carethers thanked Viterbi and pointed out that the event attendees were sitting where the UC San Diego's newest research facility would soon be constructed. "Buildings are important to grow our research impact, but we have to fill them with talented people, and I'd like to thank Dr. Viterbi for his support of six endowed chairs as part of his gift," said Carethers. "Bringing excellent researchers to campus is critical to furthering our tripartite mission, as it also strengthens our patient care and plays a key role in providing education to new generations of health professionals."
CEO of UC San Diego Health Patty Maysent then spoke, highlighting UC San Diego's unique ability to bring research discoveries to patients. "UC San Diego is special because we have so many physician scientists working to grow research that then becomes part of our clinical care. At UC San Diego Health, we have the advantage of a health care system that can harness the capability of innovative research. We work literally and figuratively side by side with the same goal: to translate research into the best possible care for our patients."
Maysent also highlighted another important benefit of the new building. As researchers move from the second floor of the Shiley Eye Institute into the new Viterbi Family Vision Research Center, it will free up additional clinical space to care for the rapidly growing number of patients who visit the Shiley Eye Institute each year. In 2022, Darlene Shiley gave a $10 million gift for the clinical space expansion of the Shiley Eye Institute at UC San Diego Health, which opened more than 30 years ago with foundational support from Darlene and her late husband Donald.
The new facility will also be home to the newly established Hanna and Mark Gleiberman Center for Glaucoma Research, which was funded by a $20 million gift in 2022 from the Gleibermans. Research on macular dystrophy, a retinal condition that can result in vision loss and for which there currently is no cure, will take place in the center as well, thanks to the support from the Nixon Visions Foundation, led by UC San Diego alumnus Brandon Nixon '85, and his wife, Janine.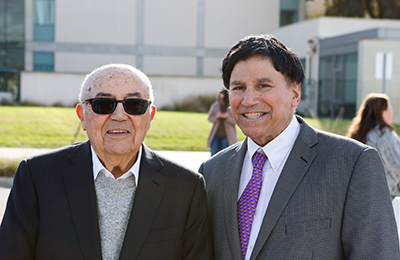 Robert N. Weinreb, MD, chair and Distinguished Professor of Ophthalmology, director of the Shiley Eye Institute and holder of the Morris Gleich, MD, Chair in Glaucoma illustrated the real-world impact of the new center, introducing a patient in attendance who had flown in from India for continuing eye care. Weinreb shared that the patient had come to Shiley Eye Institute since he was a baby. "He could have gone anywhere in the world, but he came to UC San Diego," said Weinreb. "Today, he travels throughout the world making a difference as a diplomat for India."
Weinreb continued: "In this new building, there will be clinical trials for precision ophthalmology, gene therapy trials, stem cell therapy trials and more. We are building bridges with other departments across the university, including neuroscience, data science, bioinformatics, engineering, bioengineering, stem cell biology and gene therapy. Our dream is the realization of the impossible. We are going to cure blinding eye diseases."

Stay in the Know
Keep up with all the latest from UC San Diego. Subscribe to the newsletter today.