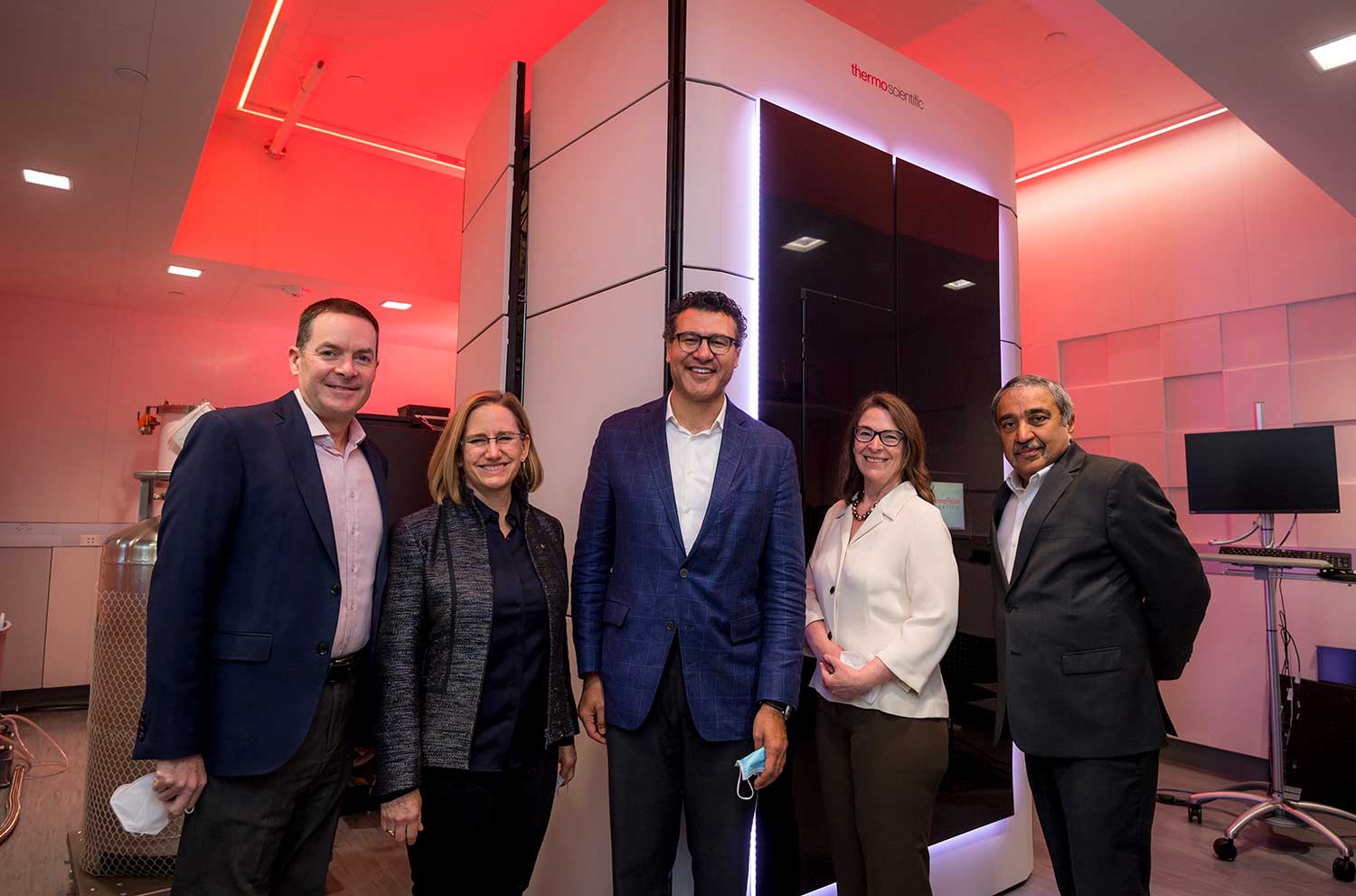 UC San Diego and Thermo Fisher Scientific Enter Innovative Strategic Partnership
Groundbreaking 10-year agreement to accelerate research and technology innovation, develop diverse talent and achieve ambitious sustainability goals
Two global leaders are joining strengths in a broad new effort to advance the discovery and innovation needed to address complex scientific challenges. The University of California San Diego and Thermo Fisher Scientific have agreed to form a transformational 10-year strategic partnership that leverages the leading expertise of each organization.
The unprecedented public-partnership will focus on achieving four key objectives, including the launch of a "Technology Sandbox," establishment of a collaborative research framework, creation of a pipeline of underrepresented, next-generation talent that become tomorrow's leaders in science, technology, engineering and math (STEM) and development of a sustainable supply chain.
The Technology Sandbox will enhance access to cutting-edge technologies and expertise to accelerate collaboration, discovery, technology transfer, workforce development and data analytics. It will serve students and alumni in tandem with a newly established collaborative research framework, designed to drive innovation in emerging areas of science including CRISPR, next-generation sequencing, mass spectrometry, cryo-electron microscopy (cryo-EM) and data science.
With the aim to build a pipeline of next-generation talent centered on equity, diversity and inclusion, the partnership will focus on training diverse students in advanced research methods and applied skills through education programs and employment opportunities. In alignment with UC San Diego's goal of achieving zero waste and Thermo Fisher's ongoing commitment to sustainability, the partnership also will include development of a sustainable supply chain for research supplies and increased use of environmentally friendly alternatives to commonly used materials.
"As a global leader in higher education, collaborative research and pioneering innovation, UC San Diego advances scientific discovery to improve the human condition and the planet," said UC San Diego Chancellor Pradeep K. Khosla. "Our partnership with Thermo Fisher Scientific will enhance existing pathways to develop novel technologies, reduce our carbon footprint and train a more diverse and equitable workforce."
"Partnering with academic institutions of UC San Diego's caliber is critical to the advancement of scientific knowledge and development of tomorrow's innovative technologies that drive discovery," said Peter Silvester, retired senior vice president and president, Life Sciences and Laboratory Products Group, Thermo Fisher Scientific. "We are excited to partner with UC San Diego in support of our mutual goals, which not only demonstrate our commitment to diversity and inclusion, but are also focused on attracting, inspiring and training an inclusive talent pool from around the world."
Under the agreement, Thermo Fisher will provide support for various research initiatives, scholarships and fellowships. The company also will collaborate with UC San Diego on community outreach programs, curriculum development and career mentorship. The ambitious breadth and scale of the 10-year agreement marks a significant shift from a traditional products-and-services arrangement into a collaborative, complete life-cycle business, research and innovation partnership.
"The new UC San Diego-Thermo Fisher Scientific partnership capitalizes on the complementary strengths of each organization, combining UC San Diego's top-ranked biological, environmental and engineering programs with Thermo Fisher Scientific's position as a global leader in serving science," said UC San Diego Division of Biological Sciences Dean Kit Pogliano. "The partnership will accelerate discovery, democratize technology, enhance workforce development and boost UC San Diego's position as the destination of choice for the best talent from around the world."
Stay in the Know
Keep up with all the latest from UC San Diego. Subscribe to the newsletter today.