UC San Diego Admits Record 52,946 First-Year and Transfer Students
More than one-third of first-year and over half of transfer students admitted are first-generation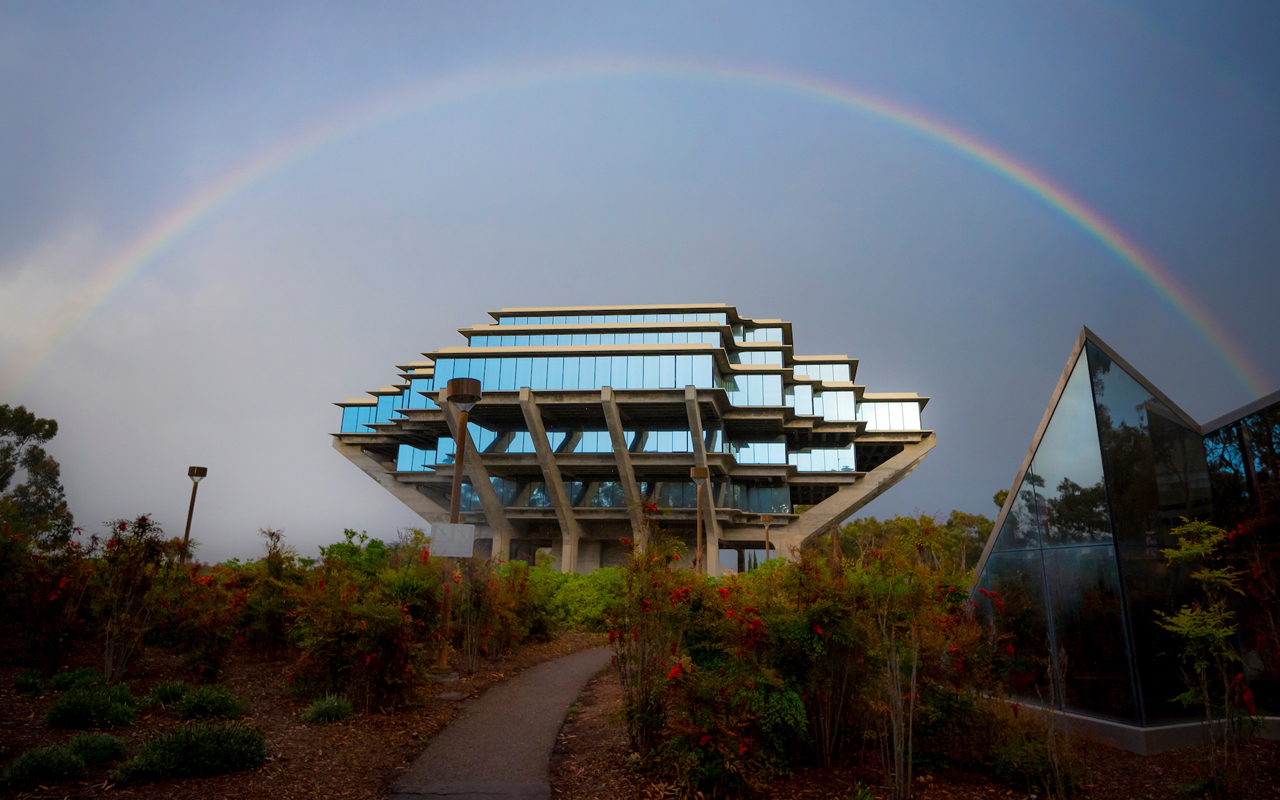 Published Date
Article Content
Navigating the coronavirus pandemic over the past year presented high school and community college students with many unexpected challenges, yet their drive to earn a college degree did not wane. The University of California San Diego received thousands of outstanding applications and has admitted 40,616 first-year and 12,330 transfer undergraduate students for the fall 2021 quarter.
Providing access to first-generation, low-income and underrepresented students, and supporting them through graduation, is a central part of UC San Diego's mission to help improve access and outcomes for all qualified students. More than one-third of first-year students and over half of transfer students admitted to UC San Diego will be the first in their family to attend a university.
For Arlette Fajardo Rodriguez, a first-generation student from Chula Vista, attending UC San Diego means being able to pursue a degree in neurobiology and help those who suffer from brain disorders. "I am looking forward to meeting like-minded individuals who strive to achieve their goals," said Rodriguez, who received the Chancellor's Associates Scholarship and plans to enroll this fall. "I would like to surround myself with positivity and success, something I feel I have lacked throughout my life experience."
Newly admitted students, as well as returning students, will be invited to attend lectures in-person, resume Division 1 Athletic games, participate in peer-led tutoring sessions, conduct research alongside faculty members and more. This has all been made possible through the implementation of a rigorous campus safety campaign, Return to Learn. The program—which employs tactics such as vaccination, self-administered COVID-19 testing and wastewater monitoring—has resulted in consistently low positivity rates at the university.
"Over the past year our university has proactively responded to the COVID-19 pandemic to enable our students to resume classes, research opportunities and social activities in-person this fall," said Chancellor Pradeep K. Khosla. "We look forward to welcoming a new cohort of talented students to UC San Diego who will bring strong problem-solving capabilities, diverse worldviews and a renewed zest for learning."
A model of resilience
UC San Diego received more than 140,000 applications for fall 2021, the second highest in the nation. The campus's Admissions team read stories of students studying from their apartment balcony or bathroom because it was the only quiet place they could find. They heard about students who took on an extra job or caretaking responsibilities to help support their family, including tutoring younger siblings. The common theme was applicants demonstrating perseverance in a year marked by numerous challenges.
"We recognize the persistence and resolve of our current and newly admitted students, who continue to advance their higher education goals despite the myriad challenges of the past year," said Executive Vice Chancellor Elizabeth H. Simmons. "This fall we look forward to welcoming our newly admitted students, as well as our second-year students, who will now have the opportunity to experience learning and build community with fellow Tritons in-person."
Many students are transferring from a California Community College. UC San Diego admitted the most transfer students—and the most transfer students from California (10,177)—among all University of California campuses. Of the transfer students admitted, more than 5,400 come from a home with a low family income and more than 3,000 are from an underrepresented group.
Once transfer students arrive, there are numerous resources at UC San Diego to support their success. At the Triton Transfer Hub, students can meet one-on-one with a peer coach as a first contact for their questions. They can also explore academic support, preparation for a career and learn how to connect with professors. And through the OASIS Transfer-to-Career Program, transfer students can find community, tap into professional enrichment opportunities and participate in career development workshops.
Cultivating a diverse and inclusive campus community
Equity, diversity and inclusion are integral to UC San Diego's mission. Over the past year, the university Admissions team actively connected with high-achieving students from underrepresented groups, many of whom reside right here in San Diego and Imperial Counties.
This year, more than one-third (35%) of UC San Diego's admitted first-year students are from an underrepresented group, a growth of eight percent since 2020. Among historically underrepresented first-year applicants from California, the campus admitted 13.7% more African American students and 12.6% more Native American students than the previous year.
As an emerging Hispanic-Serving Institution (HSI), UC San Diego also expanded outreach to California's fastest-growing population. The campus admitted 6,449 (23.2% more) first-year students who identify as Latinx/Chicanx. This represents 30% of all first-year students admitted for fall 2021, up from 23% of all first-year students admitted last year, fall 2020. A total of 2,527 transfer students who identify as Latinx/Chicanx were also admitted, comprising 26% of all transfer student admits.
Increasing access
Scholarships can make an important difference for students who find their dreams limited by financial constraints. Nearly half (46%) of all undergraduate students admitted for the fall quarter come from low-income households. California resident undergraduate students who demonstrate total family income below $80,000 and financial need are eligible for the University of California's Blue + Gold Opportunity Plan, which covers systemwide tuition and fees. The plan combines all sources of scholarship and grant awards received to go toward covering tuition and fees.
UC San Diego students also benefit from the Chancellor's Associates Scholarship Program, which recognizes and supports talented, high-achieving students with great potential and financial need. Students who attend a partner school or are nominated can receive up to $10,000 per year for a maximum of four years and transfer students with up to $10,000 per year for a maximum of two years.
Arlette Fajardo Rodriguez always knew she wanted to go to college but didn't know how her family would afford it as her father was not able to work due to his health. When she was admitted to UC San Diego and learned she would receive the Chancellor's Associates Scholarship, her path to higher education was secured.
"I truly am a big believer that anybody can accomplish anything they set their mind to with the appropriate education and resources," said Rodriguez. "I am extremely grateful for receiving the Chancellor's Associates Scholarship. It has not only brought relief, but also motivation to continue following my dreams."
Since Chancellor Khosla started the program in 2013, nearly 1,900 students have received the scholarship. And it is much more than a scholarship. The program includes a summer transition program, leadership and communication seminars, graduate school advising, peer and faculty mentoring, and other resources throughout the student's time on campus.
A whole new world
Starting college is an exciting time for new students as they embrace a new home-away-from-home and delve into novel academic inquiries. To help ease the transition for new students, OASIS and the Teaching + Learning Commons will serve nearly 800 students through the Summer Bridge Program, starting Aug. 1. First-generation and underrepresented students will have the option to live on campus or conduct the program primarily remotely. During the six-week program, they can enroll in up to eight units of academic credit, develop a network of peers and mentors and join in social activities to get to know the campus and feel confident for fall quarter.
And after a year of studying remotely, students returning to campus will find it has been transformed by multiple enhancements for students. These include 400 SPIN bikes and scooters to help students navigate the campus, three miles of new protected bike lanes, a campus Target store, a 11,000-square-foot Craft Center offering everything from ceramics to surfboard shaping, world-class artwork, a full selection of popular restaurants and exciting new undergraduate housing options. In November, the campus will open two trolley stops on the UC San Diego Blue Line, connecting the campus to downtown and all the way to the border. The additions are designed to accommodate the campus's growth and make UC San Diego a premier destination for students, patients and community members.
For more information about admissions at UC San Diego, please visit admissions.ucsd.edu.
Stay in the Know
Keep up with all the latest from UC San Diego. Subscribe to the newsletter today.