By:
Leslie Sepuka

Lauren Wood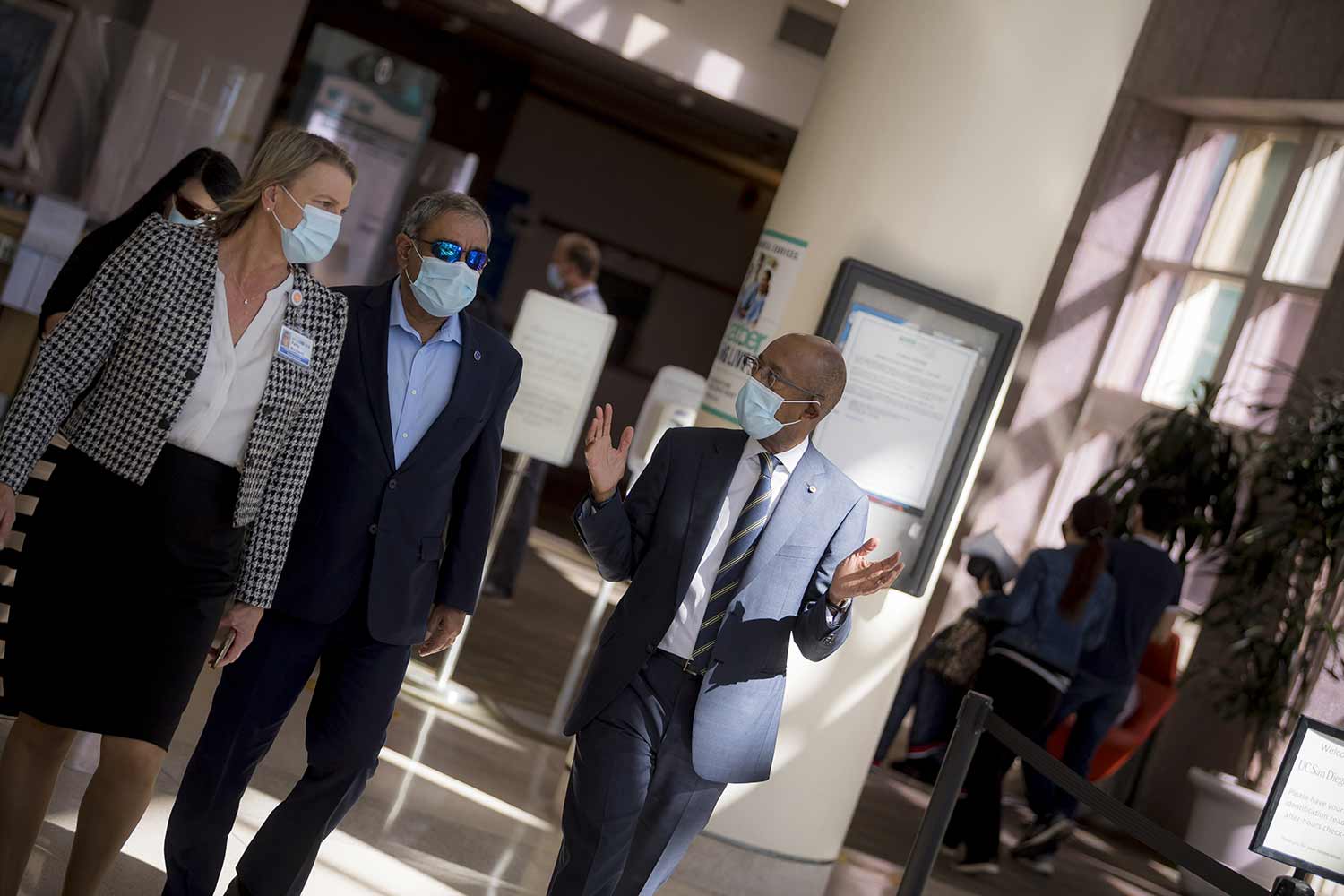 UC President Makes First Visit to UC San Diego
It was under bright blue skies that University of California President Michael Drake made a recent visit to UC San Diego—his first since becoming president in August 2020. Over two days, President Drake toured various parts of campus, witnessing our transformation first-hand and learning more about some of our innovative and impactful research. During his visit, he also made it a priority to speak with students, staff and faculty as well as thank frontline workers.
Seeing the transformation unfold
While walking the halls of UC San Diego Health Medical Centers in La Jolla and Hillcrest, President Drake had the opportunity to meet with frontline physicians and staff who have been essential to UC San Diego's response to the pandemic. A physician himself who spent more than two decades on the faculty of the UCSF School of Medicine, President Drake connected with the staff and thanked them for their dedication. He also learned more about the multi-phase, multi-billion-dollar redevelopment of the Hillcrest Campus, the first phase of which started construction this week.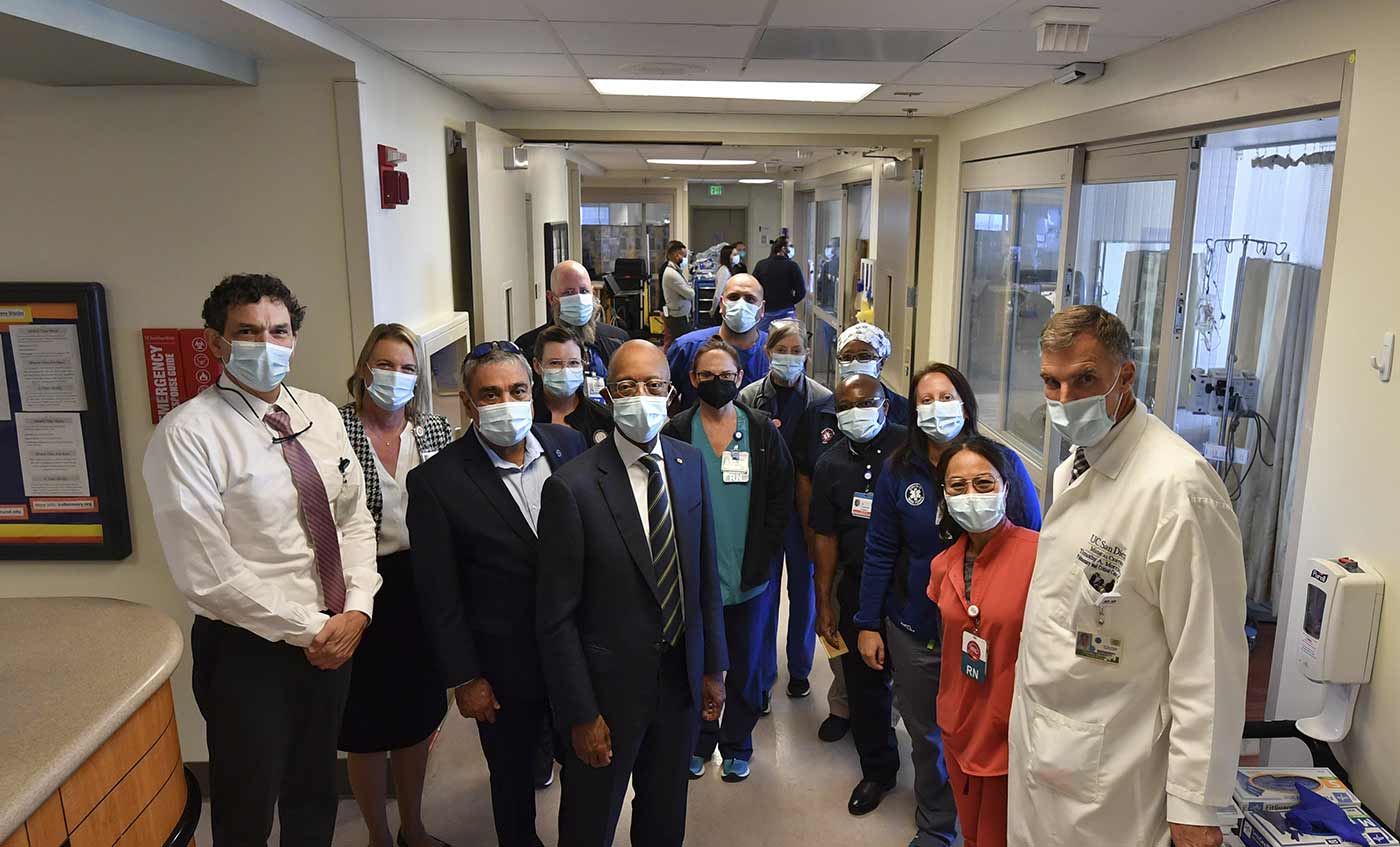 President Drake also toured UC San Diego Park & Market downtown to get a preview of the wide array of cross disciplinary campus and community partnership programs planned. He stopped by the university's latest Orchid Award-winning project, North Torrey Pines Living Learning Neighborhood, and other brand-new student housing on campus. While in the Pepper Canyon neighborhood, the location for one of two UC San Diego Blue Line trolley stations opening November 21, the president visited the Design and Innovation Building, designed to incubate and accelerate groundbreaking ideas, and the Epstein Family Amphitheater, anticipated to open in the fall of 2022.
Getting to know the campus community
While visiting the campus, President Drake had several opportunities to meet with students, staff and faculty to hear their concerns, questions and ideas. He met with graduate students and undergraduate students, including representatives from the Graduate and Professional Students Association and the Associated Students. He also met with leaders of the Academic Senate and faculty, and had a conversation with women academic leaders that was moderated by Executive Vice Chancellor Elizabeth Simmons.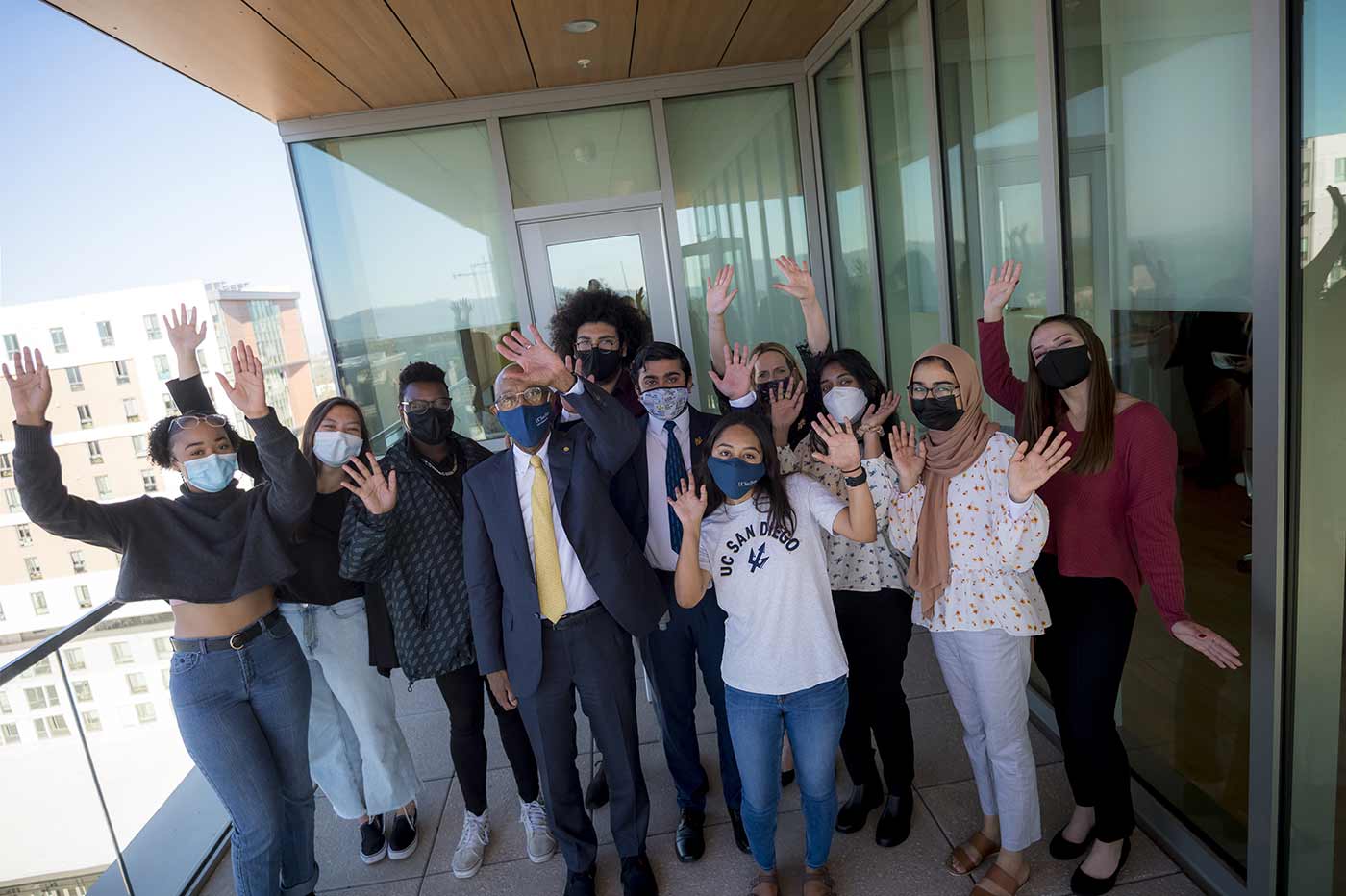 During his visit to North Torrey Pines Living Learning Neighborhood, he sat down for a conversation with staff representing the UC San Diego Staff Association as well as representatives from the Veterans Staff Association, the Black Staff Association, the Chicanx/Latinx Staff Association, the Pan-Asian Staff Association, the Faculty & Staff Christian Fellowship and the Parents, Guardians & Caregivers Association.
Students, staff and faculty shared their experiences navigating the challenges of the COVID-19 pandemic while also expressing varying concerns. The campus community was united in its commitment to encouraging investment in sustainability and climate change efforts, which President Drake shared was a priority of his as well and spoke of UC's ongoing commitment to sustainability.
Exploring where science and the ocean come together
To learn more about some of UC San Diego's impactful research around sustainability, President Drake visited the Scripps Institution of Oceanography campus, where he met with Vice Chancellor for Marine Sciences and Director of Scripps Margaret Leinen, as well as faculty members studying climate change and advancing research into the connections between oceans and human health.
The president said he was familiar with Scripps Oceanography research, having worked alongside ocean innovator Fred Spiess in the 1990s when both chaired an academic committee. He views Scripps as the place where "science and the ocean come together."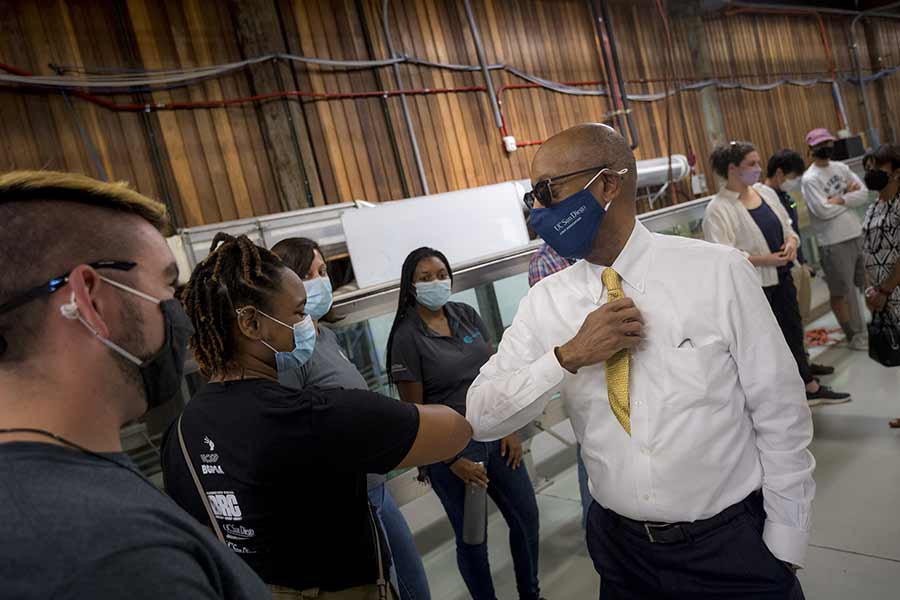 During the visit, President Drake learned about the growing undergraduate program at Scripps, which serves nearly 6,000 undergraduate students across approximately 100 courses, as well as the fleet of research vessels managed by Scripps.
Mark Merrifield, the director for the Center for Climate Change Impacts and Adaptation, shared information on the innovative Resilient Futures program in Imperial Beach, which provides city officials with early warning of potential sea-level rise driven coastal flooding, and research using LIDAR imaging to track erosion of beaches and cliffs. President Drake also learned about important climate programs managed by Scripps, including the Keeling Curve, Argo and ALERTWildfire.
The director for the Center for Marine Biomedicine and Biotechnology, Bradley Moore, who shares a joint appointment with Skaggs School of Pharmacy and Pharmaceutical Sciences, shared how UC San Diego is unique in the UC system in supporting a major oceanographic institution and medical school on the same campus. This has enabled important discoveries, such as the drug Marizomib. It was developed from a marine cyanobacteria discovered by Scripps scientists, and is now in the final phase of clinical trials to treat the brain cancer glioblastoma.
To conclude the visit, President Drake visited the Hydraulics Laboratory for a preview of the new Scripps Ocean Atmosphere Research Simulator (SOARS), set to open for broad scientific use early next year. This impressive interdisciplinary instrument will be able to bring the ocean into the lab, to allow scientists to closely study the important air-sea interface, and simulate future ocean conditions as our climate continues to change.
Stay in the Know
Keep up with all the latest from UC San Diego. Subscribe to the newsletter today.