Published Date
Two Artists Are Better Than One?
Oceanside Museum Pairs UC San Diego Visual Arts Students and Faculty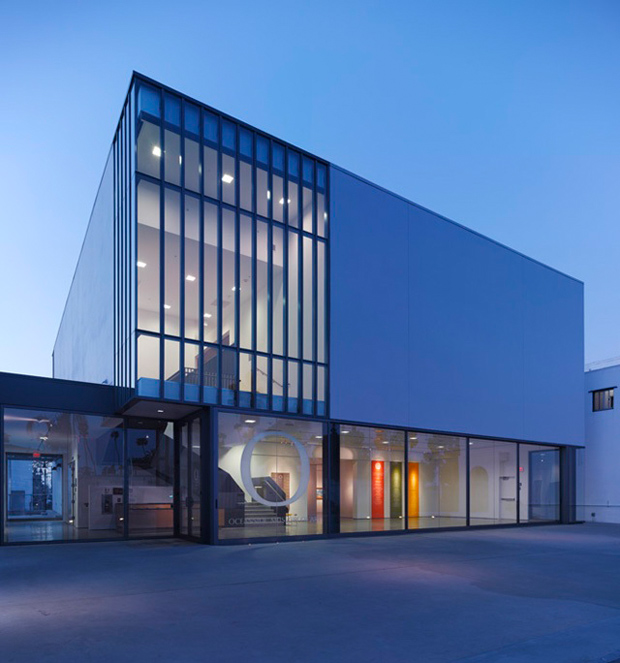 All the artworks pictured below are featured in the Oceanside Museum of Art exhibition "Vantage Point: UCSD Visual Dialogues."
A seemingly unstable sculpture is the first thing that meets the eye on entering the Groves Gallery at the Oceanside Museum of Art: a boulder-like object sits atop a tall and narrow wooden structure. The initial impression is slightly unsettling, and this was the exact intent of the artists, Master of Fine Arts candidate Brian Zimmerman and professor Anya Gallaccio of the department of visual arts at UC San Diego. The duo collaborated to create "Cloud," which they say explores "perceived danger," specifically for the exhibit "Vantage Point: UCSD Visual Dialogues."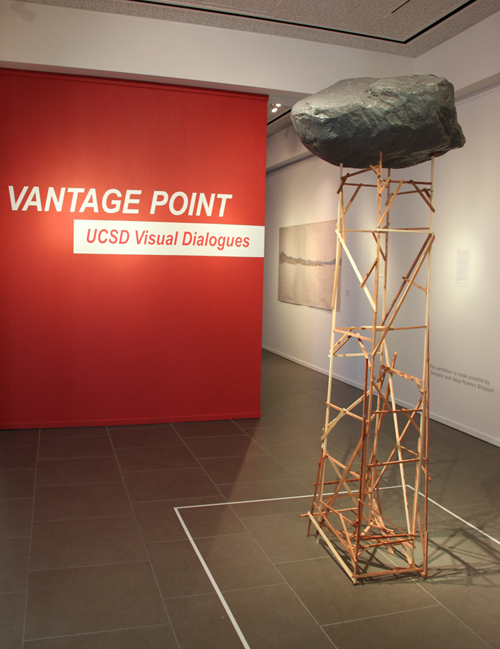 Brian Zimmerman and Anya Gallaccio's "Cloud," made of wood, plastic and paint.
"Vantage Point" is on view at the Oceanside Museum of Art (OMA) through January 15 and features four graduate students and four faculty members working in overlapping styles. The exhibit curator, Danielle Susalla Deery, is familiar with the work of current visual arts MFA candidates because she has visited the annual Open Studios.
Having seen the breadth of innovative work coming from department, Deery said she wanted to "showcase the relationship that students have with their professors."
Deery selected students working in a range of different mediums and asked them each to identify a faculty member who inspires them and is working with similar techniques or concepts. Faculty members were paired with MFA candidates based on the students' responses and Deery's conversations with the selected students. The result: emerging artists Ela Boyd, Alida Cervantes , Chris Kardambikis and Brian Zimmerman are paired with, respectively, the renowned Louis Hock, Rubén Ortiz-Torres, Ernest Silva and Anya Gallaccio.
Cervantes juxtaposes her paintings next to the painting collages of Ortiz-Torres. Both artists are presenting pieces with personal content that is executed in a bold painterly style. Cervantes has selected two large-scale paintings from her "Casta" series. Featuring mixed-raced men, women and children, the work questions the understanding of ethnicity – and not just during the Spanish colonial period when the complex Spanish caste system was developed. These pieces play off the fragmented and nostalgic portraits created by Ortiz-Torres.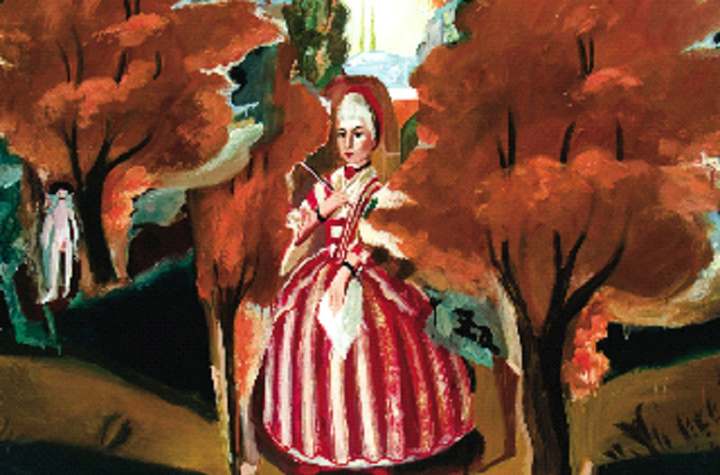 An oil-on-board painting from Alida Cervantes' series "Casta": "Criolla considerando las consecuencias de cogerse a un charro ladino."
Across the gallery, Kardambikis has stretched out his piece titled "Squaring a Circle" where he layers and restructures, with multiple inkjet prints on newsprint , the landscape of 6,000-year-old extinct volcano Amboy Crater. Kardambikis is exhibiting alongside professor Silva, and both artists showcase the process-oriented and narrative quality in their artwork. Silva's detailed and whimsical paintings on wood are rooted in primitive art forms. A common theme that Silva notes in his work is the concern with the use of vernacular references to construct a visual language.
Light-and-space artist Boyd and professor Hock work with theories of visual perception to question consciousness and media. In her "Prism" series, Boyd asks, "How can a form be regarded as actual?" By mapping photo-collage images with prismatic light and actual light, she is able to challenge the viewers' understanding of the perceived and the actual. Hock, meanwhile, in his video piece "The Searchers" presents a desert landscape where he blurs the actors, striving to erase human involvement in the film and make the memory solely the viewers'.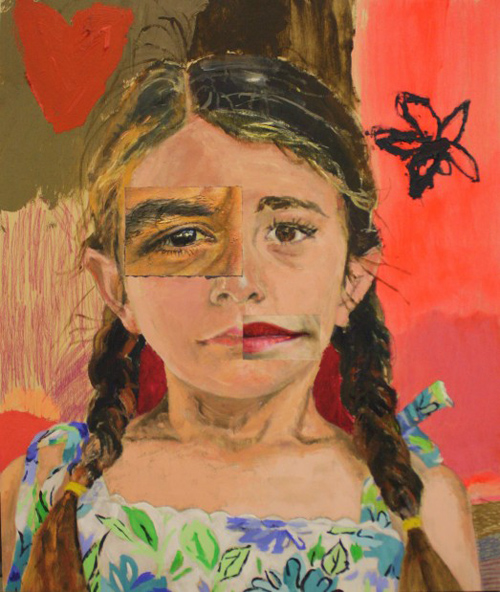 Ruben Ortiz-Torres' "She reminds me of her mother, Maria Regina de Los Angeles Ortiz," acrylic and oil on wood panel.
Rich dialogue between artists has been a part of UC San Diego's visual arts department since its beginnings. And "Vantage Point," notes MFA candidate Ela Boyd makes clear the "connection between the UCSD visual arts legacy, established professional artists and emerging artists within the framework of pedagogical relationships."
"Vantage Point" is the second exhibition at OMA dedicated to work from UC San Diego. Two years ago, Deery mounted a show that featured nine MFA students.
"['Vantage Point'] is an important exhibition for OMA because it fosters a stronger relationship between UCSD, the museum and the art community. Part of our mission is to support regional artists and we want to provide graduate students the experience of showing their work in a museum setting while introducing them to OMA," Deery said.
Deery also said she looks forward to "continuing this mutually beneficial relationship with UCSD in the future" and hopes to present another graduate exhibition in the next few years.
When speaking with the North County Times recently, Deery said: "I want this exhibit to show visitors how artists at UCSD are on the cutting edge of art making practices. And here they are, right in our own backyard. They're so talented, they may not be in San Diego forever. This is a perfect opportunity to see their work first."
Details on visiting: Oceanside Museum of Art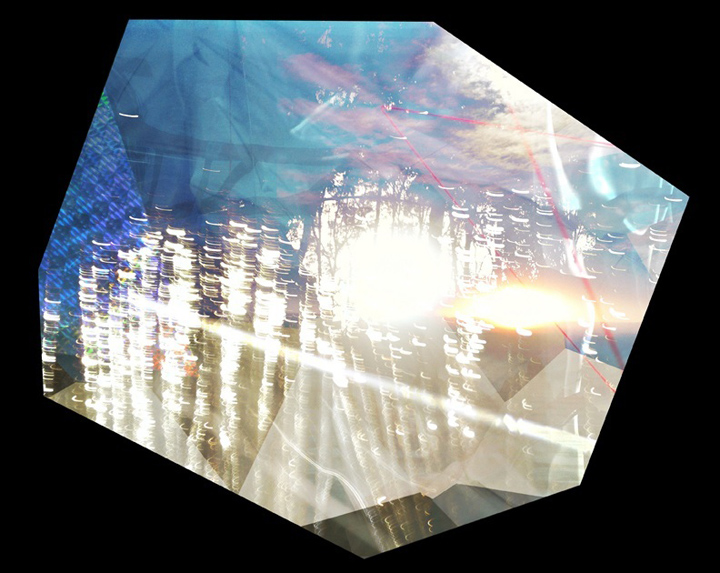 Ela Boyd's "Travel Transition," photographic collage print on vellum, Plexiglass, Mylar and LED light.
Stay in the Know
Keep up with all the latest from UC San Diego. Subscribe to the newsletter today.