Two UC San Diego Health Sciences Schools Named Apple Distinguished Schools
Published Date
By:
Share This:
Article Content
The University of California San Diego School of Medicine and Skaggs School of Pharmacy and Pharmaceutical Sciences have been recognized as Apple Distinguished Schools for 2022-2025 for the successful integration of the Triton MedTech Program into each school's curriculum.
Apple Distinguished Schools are centers of innovation, leadership and educational excellence. They use Apple technology to inspire creativity, collaboration and critical thinking in learning, teaching and the school environment, and have documented results of academic accomplishment.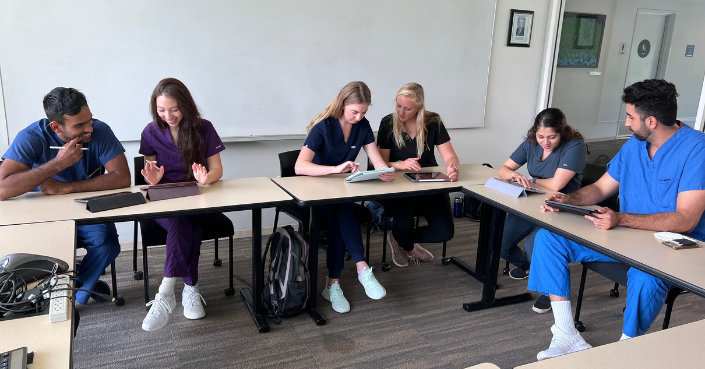 Establish in 2020, Triton MedTech ensures that all students have the same access to technology resources, regardless of their socioeconomic status. The program provides all medical and pharmacy students with iPad Air, Apple Pencil and Apple Care+ for the duration of their programs. iPad is given to students pre-loaded with access to their program's learning management system, evaluation system, progress dashboards, and apps such as Complete Anatomy and Headspace. All students can keep their Apple products upon graduation.
The goal of Triton MedTech is to enhance and adapt technological capabilities to improve curriculum design, teaching and research in the health sciences at UC San Diego. Access to iPad has provided the infrastructure to build an innovative interprofessional curriculum across the Schools of Medicine and Pharmacy. Students can now easily collaborate among themselves and with their faculty in new ways that were not previously available in the health sciences.
"There is so much medical education content available out there, and my iPad has really elevated my ability to learn in medical school. I have access to innovative apps that allow me to engage with anatomy or physiology through incredibly detailed and hands-on 3-D models," said fourth-year medical student Jonathan Hong. "I also recently realized that my iPad has allowed me to better connect with my patients during clinical rotations. Using the apps, I've been able to show them the steps of their upcoming surgery or discuss how a certain medication works in the body."
In its three-year tenure, the program has seen a significant impact on the health sciences education at UC San Diego. In a 2021 survey of iPad users, 98 percent of medical students and 84 percent of pharmacy students indicated that having iPad has positively influenced their education. Over 95 percent of respondents said they believed that it is important to integrate technology into health sciences education and over 90 percent of students said that having iPad helped them study.
In addition to improving access to and the presentation of curricular content, the iPad program has provided significant cost savings to students. In one example, students and faculty collaborated to convert a previously printed 800-page course packet into several Apple Books, allowing students to annotate notes, add images and easily search terms and handwritten notes. The conversion resulted in a savings of $25,000 per class in printing costs.
Moving forward, the Schools of Medicine and Pharmacy will continue working with faculty and students to identify innovative ways to utilize iPad in the classroom, laboratory and clinical environments. The program will also be integrated into the new Physician Assistant program, slated to launch in 2024.
"The success of our iPad program has demonstrated the power of technology to transform health sciences education and we are thrilled that our medical and pharmacy students have had such positive experience with the program," said James Murphy, MD, interim dean of education technology, innovation and assessment at the School of Medicine. "We encourage all health sciences students to innovate in their own learning with iPad and we are excited to see what they will come up with next."
Stay in the Know
Keep up with all the latest from UC San Diego. Subscribe to the newsletter today.