Published Date
Triton Ballpark is a Home Run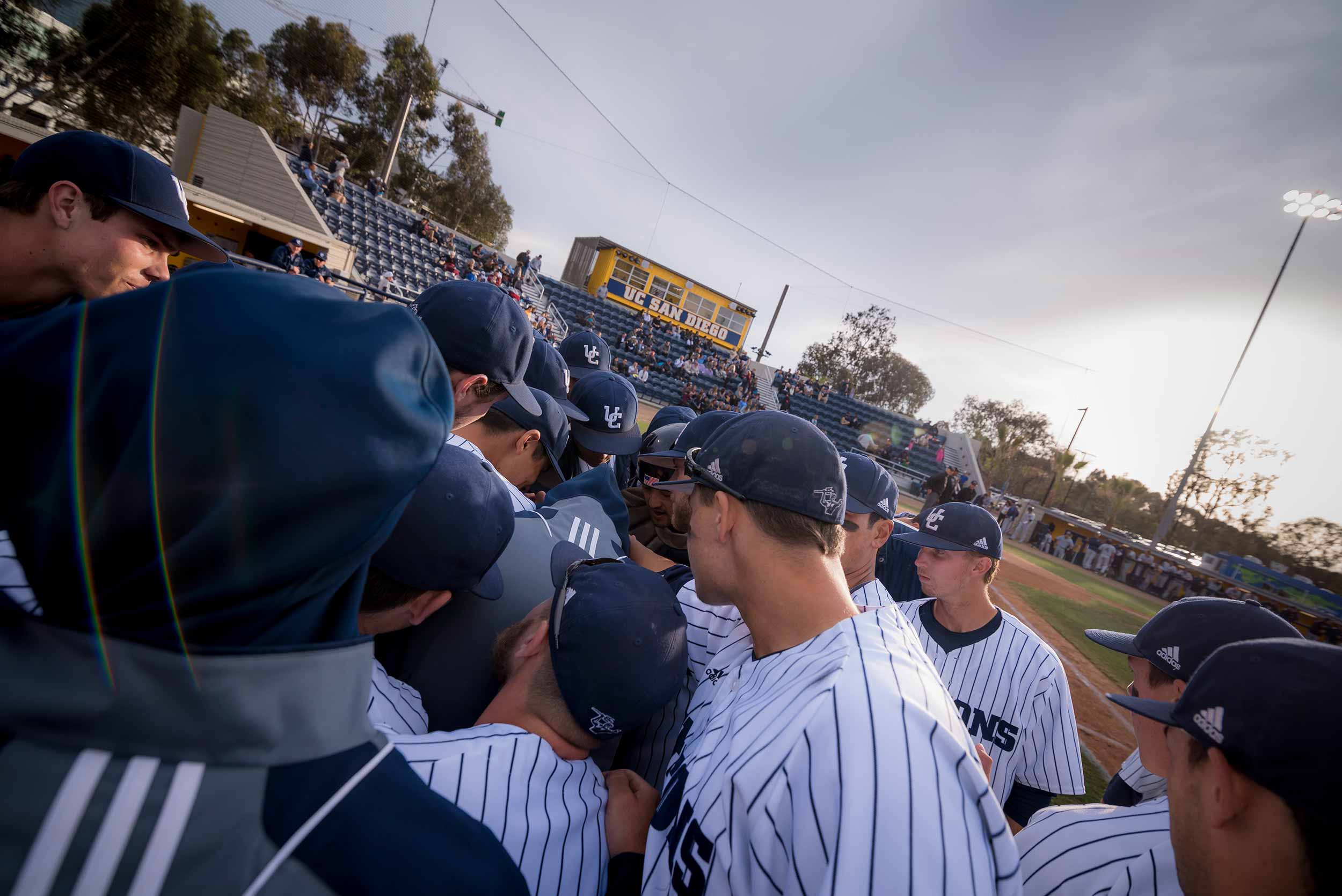 Photos by Erik Jepsen/UC San Diego Publications
Looking out over the newly created Triton Ballpark, Rick Nowak, recalled his days of playing when the campus's baseball field was accessible only by an unpaved road.
"I would tell people coming to see our games to go through the eucalyptus trees and take the dirt path," recalls Nowak, one of the best baseball pitchers in UC San Diego history. "We had no restrooms, so we would dress in our cars in the parking lot nearby. We would often show up to campus events and mixers in our uniforms. But it wasn't to show off; we just didn't have a place to change after the game."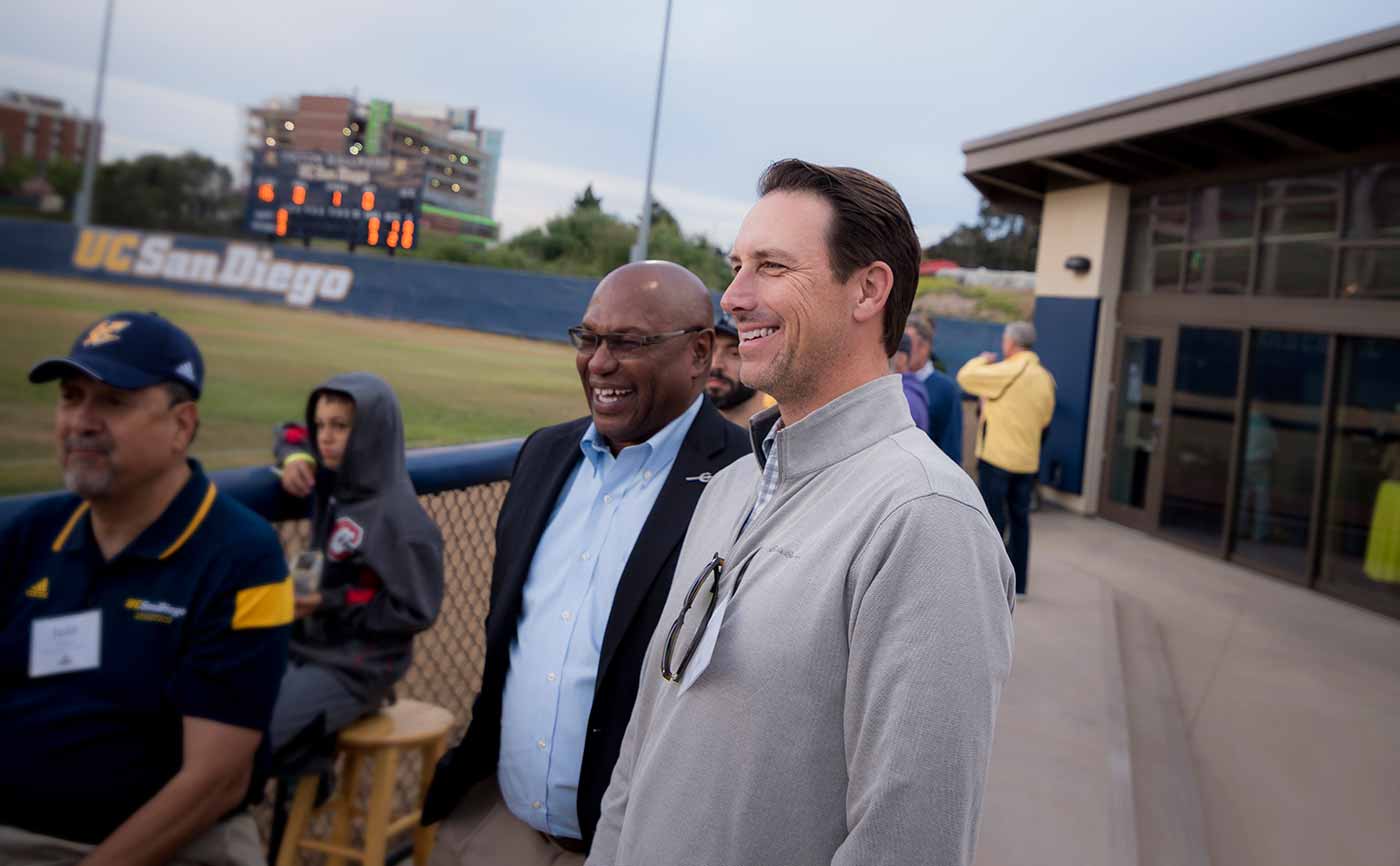 The conditions Nowak, '90, remembers are a far cry from UC San Diego's new state-of-the-art Triton Ballpark and Marye Anne Fox Clubhouse, which were dedicated April 10. Former players, alumni, parents and friends all came together to celebrate the opening and tour the facility that they helped make possible with philanthropic gifts. Attendees then watched as the current Triton baseball team took on league rival Cal State Monterey Bay.
The festivities kicked off with a ceremony on the field to thank the donors who helped make the project a reality, including former UC San Diego Chancellor Richard Atkinson; Malin Burnham; Gigi and Shale Imeson; Jeri-Ann and Gary Jacobs, '79; John Moores; Jim Morris; and Bill Scripps.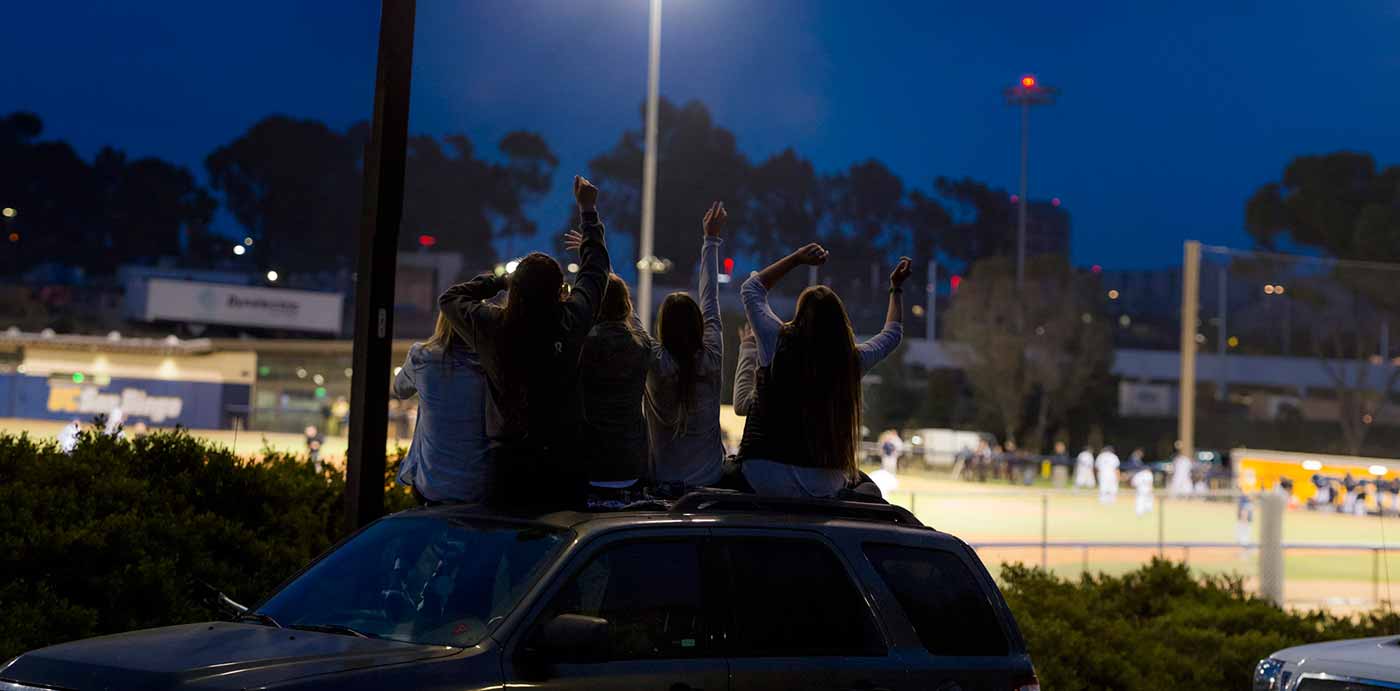 "It took 15 years for Triton Ballpark to become a reality," said Director of Athletics Earl W. Edwards. "This project came in stages over the years, and we are so grateful for those who stepped up to the plate to help make this possible today."
Triton Ballpark now boasts sunken dugouts, batting cages, a press box, permanent spectator seating and restroom facilities. In addition, the Marye Anne Fox Clubhouse—named in honor of UC San Diego's seventh chancellor—features team showers, locker rooms, coaches' offices, a multipurpose room, the Triton "Wall of Fame" and more. Two award-winning architectural firms, Gensler and Populous, worked on the project design. Populous, which helped create Petco Park, home to the San Diego Padres, formulated the initial concept, while world-renowned Gensler worked with Turner Construction to execute the project to completion.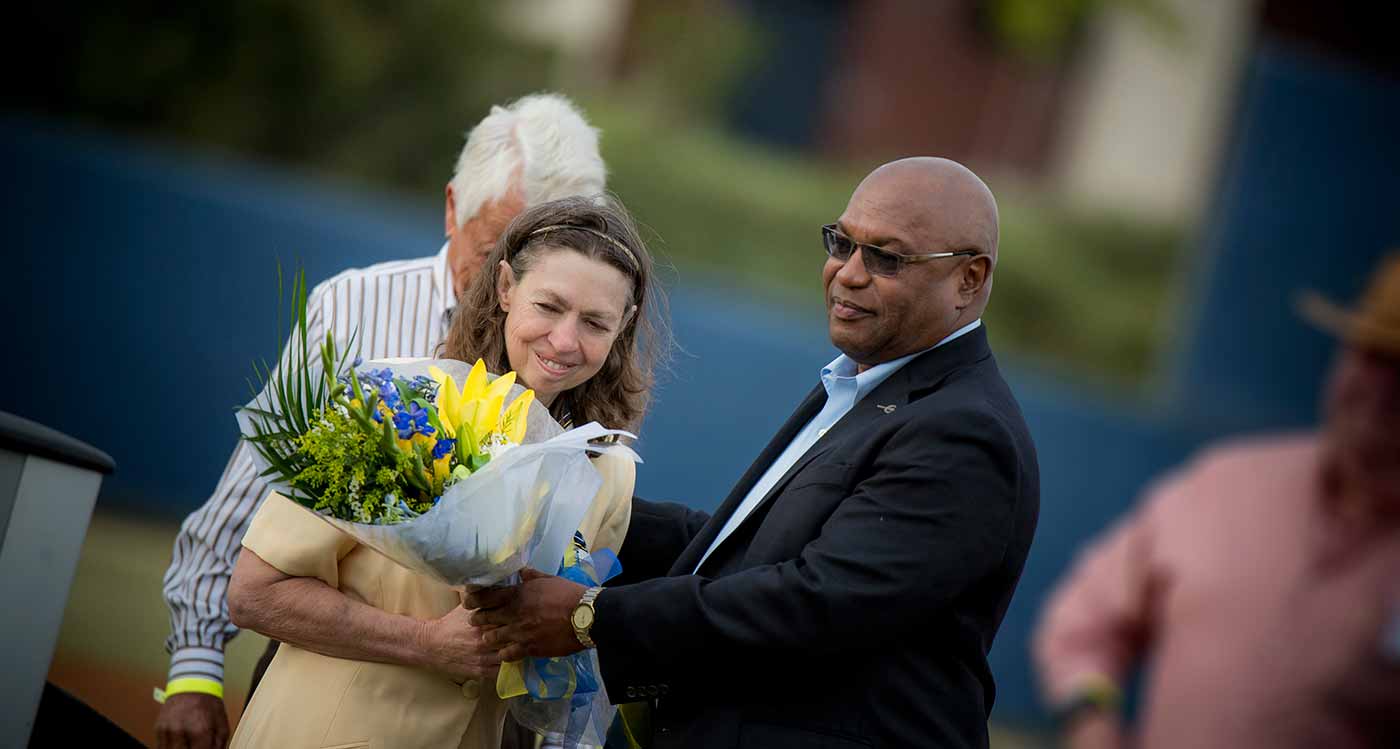 "We named the clubhouse in Marye Anne Fox's honor to recognize her support of Triton Athletics and her leadership in setting the foundation for the ballpark," said Edwards. "Honoring our former chancellor was an impetus for many of the lead gifts on this project."
Fox thanked attendees and then quipped. "I appreciated the high fives from our student-athletes before the game, and I hate to tell the opposing team that our players told me they would win for me tonight."
The Tritons went on to answer that promise—beating Cal State Monterey Bay 8-0, after the ceremonial first pitches were thrown by Vice Chancellor of Student Affairs Juan Gonzalez and Jim Morris, member of the UC San Diego Athletic Board.
The evening also included a tour of the locker rooms, where the student-athletes' lockers bore plaques with names and sentiments of donors who had given to Triton Ballpark. The engravings ranged from inspirational thoughts such as "Over the fence" and "Play hard 24/7" to commemorative stamps including "Chris Stiehl, 1971 #13, Closer" and "2010 Tritons: In my mind, I'm going to Carolina." The latter was in honor of a gift made by the 2010 baseball team, which succeeded in making it to the NCAA Division II College World Series in North Carolina.
"We have a championship caliber program and now we have a championship caliber ballpark," said Brian Choi, a member of the current Triton baseball team. "It's really special that former players and community members have played such an important role in making this happen. And I'm really proud to be a part of it."
While Triton Ballpark is open for games, fundraising for the project is still underway and naming opportunities are available. Thanks to a challenge gift of $50,000 from Jerri-Ann and Gary Jacobs, all contributions made to the Triton Ballpark Match Campaign through May 2 will be matched—doubling the impact of each gift. Visit crowdsurf and click on the "Triton Ballpark Match Challenge" icon to make a donation. For more about Triton baseball, visit ucsdtritons.com.
Stay in the Know
Keep up with all the latest from UC San Diego. Subscribe to the newsletter today.