Triton Spirit Soars for Homecoming 2021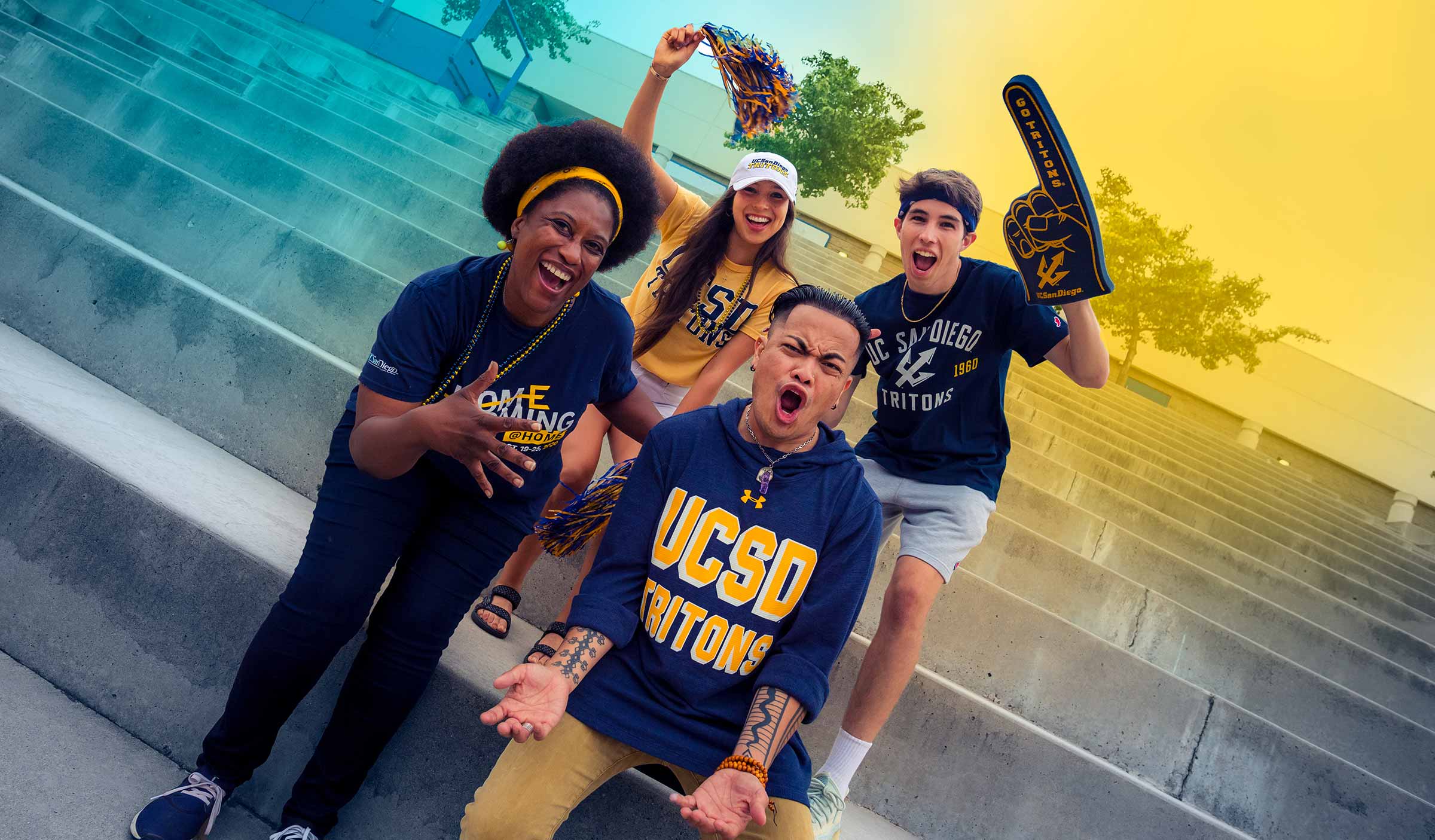 Tritons get ready for the Homecoming 2021 festivities. Photos by Erik Jepsen/UC San Diego.
UC San Diego's Homecoming celebration will be back in full gear for 2021, filled with exciting in-person and online events designed to spread Triton cheer and reconnect with community members near and far. The campus tradition returns Oct. 18-24, bringing a robust weeklong lineup of 20+ athletic events, virtual tournaments and races, a live outdoor concert, class reunions and more.
There is no better time to revel in one of the university's most exciting milestones—UC San Diego Athletics is currently playing its first full season as a NCAA Division I school. Just four years ago, the university accepted an invitation to join the Big West Conference, paving the way for its transition to DI.
Over the years, Homecoming has evolved: what was once a university-centric experience has grown into a beloved all campus celebration that not only includes alumni, students, families, staff and faculty, but extends to UC San Diego community members, as well. Over 5,000 Tritons have already registered for this year's Homecoming, signaling what will surely be the largest iteration of the annual event yet.
Last year, Homecoming pivoted to an innovative and completely online experience due to the pandemic. Combining UC San Diego's successful Return to Learn strategies, together with COVID safety protocols to help keep guests safe, Tritons can come together once again to revel in school spirit. Homecoming 2021 will offer a wide variety of in-person and outdoor campus events, so there's something for everyone.
"Triton pride grows stronger each year," said Chancellor Pradeep K. Khosla. "Our annual Homecoming events continue to engage and activate our entire Triton community, from alumni and students to faculty, staff and friends. Whether you return to campus to meet up with old friends or choose to participate virtually from home, there is much to celebrate at UC San Diego. Come celebrate our recent entry into Division I athletics and our ongoing transformation into a premier destination for students, patients and the community."
Cheering for our Division I Tritons
This is the very first year that NCAA Division I games will be featured as part of Homecoming. With UC San Diego now competing at the highest level of intercollegiate athletics, fans can experience the talent and passion of the university's scholar-athletes in person at the several men's and women's matches scheduled during the weeklong celebration.
"From a personal standpoint, to see a 20-year dream come true is something that one cannot imagine," said Earl W. Edwards, athletic director at UC San Diego. "For what it is doing for the university, the community and the scholar-athletes, it feels phenomenal to be in a place where students are back, athletes are competing, and a limited number of fans are in the stands cheering us on. It is truly a wonderful situation."
Edwards, who was named the university's athletic director in 2000, has had a front-row seat and major role in UC San Diego's long journey from Division III to Division I. "To watch us evolve is something that brings me a lot of joy and is an indication of how the program is growing," he said. "This progression demonstrates our proud tradition of academic and athletic excellence."
During its recently concluded 20-year affiliation with NCAA Division II, UC San Diego consistently ranked as one of the most successful athletic programs in the nation. This winning spirit continues throughout Homecoming 2021, with a schedule that offers multiple opportunities to cheer among fellow Triton fans donning blue and gold.
Homecoming Athletics events kick off on Oct. 21 with the Triton Tide Fan Fest, as UC San Diego Women's Soccer meets UC Riverside in Big West Conference action. Students are invited to come early for pre-game fun featuring food, games and photo ops with King Triton himself.
Then, on Oct. 23, join UC San Diego for the Triton Tailgate Concert, featuring the 6-piece Grammy award-winning Latin fusion band Ozomatli. The evening will include live and virtual entertainment, lawn games, food truck cuisine, plus beverages from alumni-owned Protector Brewery. Before the concert, fans are invited to cheer on UC San Diego Men's Soccer as they square off against CSU Bakersfield in their big season finale home game. The fun starts at 5 p.m. PDT.
"It is so exciting to finally be playing in front of fellow Tritons and fans," shared Natalie Widmer, human developmental sciences student and right back defender on the UC San Diego Women's Soccer team. "I think everyone can agree that this past year has had a lot of ups and downs, so finally being able to play after our season was canceled last year has been something we have all really been looking forward to."
Of course, no sports season is complete without a thrilling rivalry match. In a highly anticipated Homecoming game, Tritons Men's Water Polo will play Loyola Marymount University back on home turf for the second time this season. Back in September—at home in front of a spirited crowd—the Tritons beat LMU with only 15 seconds left in the fourth quarter. It all happens at noon, Oct. 23.
Celebrating new additions and old traditions
Brand new to Homecoming this year will be the presentation of UC San Diego's inaugural Homecoming Grand Marshals. Former UC San Diego Athletics Director Judy Sweet will serve as the Grand Marshal of the Triton Tailgate concert and soccer game. A trailblazer and champion for women in athletics, Sweet was the first female president of the NCAA and co-founder and former president of the board of the Alliance of Women Coaches. During her tenure as the university's athletics director (1975-2000), the UC San Diego collegiate athletic program won 26 of its 30 national championships.
Chancellor Khosla will serve as the Grand Marshal of the Virtual Triton 5K event. This year marks the 25th anniversary of the race, which has been a staple in raising scholarship funds to ensure learning is accessible and affordable for all. Since its founding in 1996 by former UC San Diego Chancellor Robert C. Dynes, the Triton 5K has generated more than $4 million in undergraduate scholarship support, benefiting more than 1,000 motivated and ambitious students.
Tritons are invited to run, walk or bike during this year's Virtual Triton 5K from anywhere on the globe. Participants can sign up for the race online, then access the Virtual Triton 5K app to track their race time and progress. Little ones under 12 years old are encouraged to participate in the Virtual Junior Triton Run. To help inspire that push to the finish line, prizes will be awarded for Fastest Individual, Highest Fundraising Team and Best Social Media Post. To register for the race and support Triton 5K student scholarships, visit the race webpage.
Welcome home, Tritons
While Homecoming 2021 will feel like an exhilarating new chapter for UC San Diego's newest Tritons, it promises to be a nostalgic adventure for alumni returning to campus.
Throughout Homecoming week, alumni are invited to reminisce and celebrate at a variety of in-person and virtual reunions, such as the special Golden Triton Induction and Celebration, honoring Tritons celebrating 50-plus years as UC San Diego alumni. Graduates from the Class of 1972 will be celebrated at the Oct. 23 event.
At the Graduates of the Last Decade (GOLD) Wellness Social, UC San Diego will honor alumni from the last ten years, (plus the classes of 2012, 2017 and 2021). The School of Global Policy and Strategy (GPS) will also host a virtual reunion, offering opportunities to meet the recently appointed Dean Caroline Freund, celebrate alumni achievements and contribute to the GPS digital memory book.
Homecoming coincides with UC San Diego's annual Parent and Family Weekend, where students and their families can dive into fun activities and resource sessions, as they learn more about Triton life. Family-centric events include the Welcome Home Triton Family Sessions, a study abroad presentation, and bike tours around campus.
To view the entire lineup of Homecoming events, please visit homecoming.ucsd.edu. To help keep the UC San Diego community safe, all guests must provide proof of COVID-19 vaccination or a negative COVID-19 test (taken within 48 hours) before attending any in-person campus event.
Stay in the Know
Keep up with all the latest from UC San Diego. Subscribe to the newsletter today.