Transfer Students Start Strong with New Success Center
Transfer Triton Hub offers an abundance of virtual resources to students throughout spring and summer quarters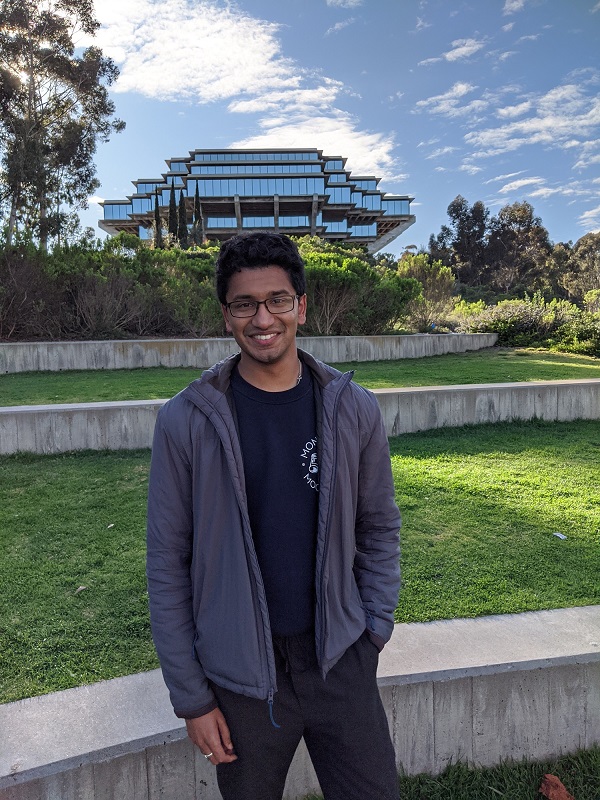 In high school, Adarsh Parthasarathy envisioned a future career as a professor of law, and he could not be deterred. When school administrators rejected his petition to enroll in more Advanced Placement classes, he simply rerouted his educational path by registering at a community college in his junior year. He transferred to UC San Diego at the age of 19 and will graduate this spring with a double major in political science and history. Parthasarathy now helps other transfer students find their niche as a peer coach at the newly created Transfer Triton Hub on campus, which he helped launch.
More than one-third of UC San Diego's fall 2019 entering class are transfer students, and each brings diverse backgrounds and experiences. While Parthasarathy chose the transfer path as a means to fast track his goal, others are returning to college after serving in the military, some are juggling a job and family while commuting and others may have wanted to explore a variety of majors before enrolling at a four-year institution. To ensure their success, the campus recently opened the Triton Transfer Hub, focused on timely degree completion, high-impact learning experiences, professional development and community building.
The Triton Transfer Hub officially opened on Feb. 10. It is temporarily housed in the Biomedical Liary. In spring quarter, the center quickly pivoted to serving students digitally, and is now offering virtual peer coaching sessions over Zoom. Other services available include online transferable skills workshops; Triton Transfer Community Forums where new transfer students can get advice; virtual social meetups such as game nights; and weekly livestreams via Instagram on a variety of topics such as "Job Searching During COVID-19."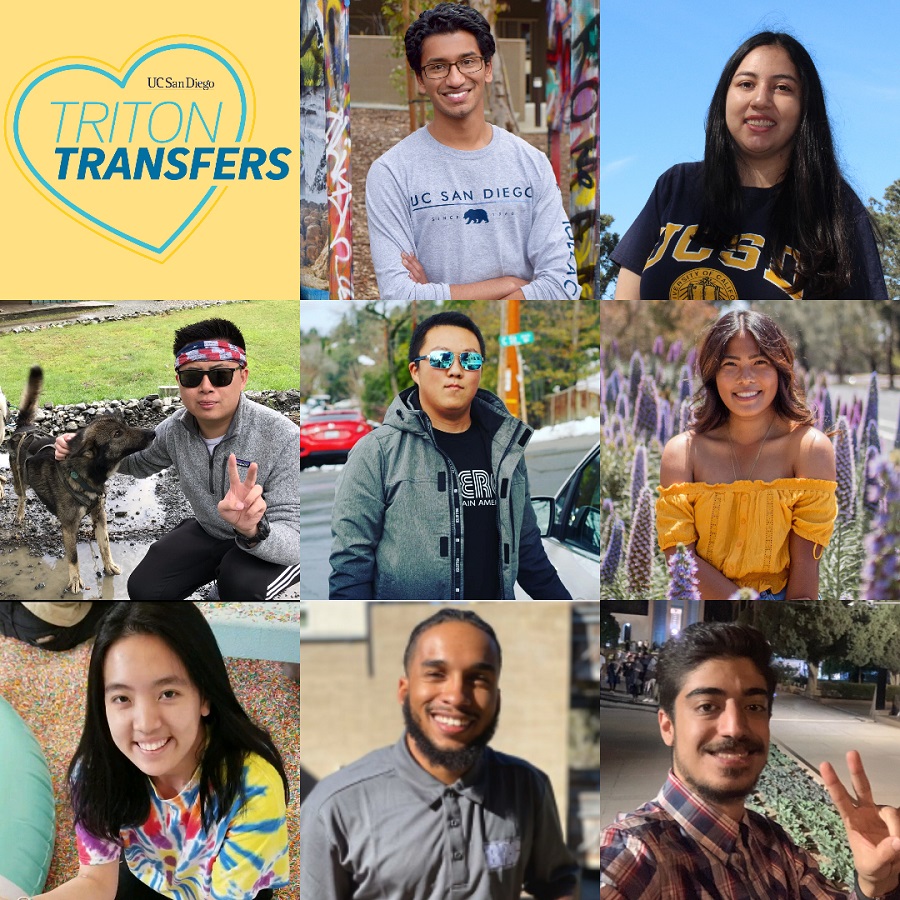 "Finding a place where students can connect with people who have similar experiences can be very powerful," said Jackie Duerr, program manager for Transfer Student Success, who was a transfer student herself. "My biggest hope for this center is that students find their safe place, their home away from home."
The Transfer Triton Hub has established partnerships across campus to promote student success, including with the undergraduate colleges, Teaching + Learning Commons, Academic Enrichment Programs and University Centers. Future plans include a permanent space in the Pepper Canyon West Living Learning Neighborhood, currently under design.
Targeting the unique experiences of transfer students
"The transfer experience is unique because we are expected to accomplish so much on a limited time budget, especially if you have plans for grad school…I have yet to meet a transfer student that lacks grit!" said Pamela Elguezabal, a senior studying sociology. "The Transfer Hub is critical for the success of transfers because they provide support for academic success, professional development and faculty connections. Aside from these resources, it is a great space to mingle with other students who understand the unique transfer challenges."
Because they arrive at the university with junior standing, transfer students can start engaging in a wide variety of research programs immediately. Through a partnership with Academic Enrichment Programs, they can become connected with faculty members who are seeking undergraduate researchers, learn how to prepare a research paper and present their findings at conferences on campus and across the nation. During this period of social distancing, these experiences are being offered remotely, including a virtual research conference this spring and summer. Each opportunity offers insight into the pathway to graduate or professional school, as well as other avenues to post baccalaureate success.
"Transfer students are the ideal candidates to conduct research because they come in as upper division students with a GPA that exceeds program requirements," said David Artis, director of Academic Enrichment Programs. "We are very responsive in helping transfer students make a plan to maximize their time at UC San Diego, including developing faculty mentorships, applying for research scholarships and fellowships and conducting research abroad."
Whether they participate in research, join a student organization or become a scholar-athlete, Parthasarathy believes getting involved and finding community is the best way to be successful. As one of seven peer coaches at the Triton Transfer Center, he holds one-on-one appointments online to help transfer students navigate their college career, which can be more challenging when jumping into a university setting as a junior.
"As a peer coach, I give my perspective and offer personal experiences to help them navigate their college journey because many of them come here without a community and just want to talk to someone," said Parthasarathy, who also serves as associate vice president of Academic Affairs for Associated Students.
"Peer coaches are here all day for students because we want to interact with different transfers to help ensure they have a better start than we did."
He continued, "I have met incredible transfers from all over the state and the world, and feel like it has made my time here rich. I carved my own path, and there's something wonderful about knowing that everyone around me did the same for themselves."
Stay in the Know
Keep up with all the latest from UC San Diego. Subscribe to the newsletter today.