Three Words Can Save Lives: Run, Hide, Fight
Published Date
By:
Share This:
Article Content
While it is painful to imagine, it is important to be prepared for our worst days. Three words, "Run-Hide-Fight," and the active shooter survival training they represent can save lives. Even though these are rare occurrences, in the past year, there have been fatal shootings at or near universities in several states.
"Although these tragic events are unpredictable, awareness and training can better prepare our community to react when a critical incident occurs," said UC San Diego Police Chief Lamine Secka. "Like institutions across the nation, our campus is proactively addressing this growing threat."
There are many things faculty, staff and students can put into practice ahead of an emergency situation at the university. Here are five potentially lifesaving steps to consider.
During emergencies, UC San Diego sends critical information and updates via Triton Alerts. Make sure you're signed up to receive Triton Alert emergency text notifications on your phone.
The UC San Diego police department offers about a dozen trainings per month to prepare and empower students, faculty and staff to react to a critical incident, such as an active shooter. You can request a training or join a scheduled training and learn more on the UC San Diego Police Department website.
Learn about emergency medical training available at UC San Diego, and develop a safety plan, for example, identify exits and areas to hide wherever you go. As always, if you, or others, are in immediate danger, call or text 911.
Be aware of "tailgating," where attackers gain access to buildings by simply walking behind a person who has legitimate access to residential areas, labs or classrooms. Other "social engineering" tactics include posing as a delivery driver or creating some other false scenario to gain access.
Many of us have heard, "If you see something, say something." Please let local campus police know about suspicious behavior. And trust your instincts—don't downplay warning signs or danger. Even if you are unsure about what you are experiencing, speak with confidential resources like CAPS or the Behavioral Consultation Team to discuss concerns and options.
"The campus community is our greatest ally in an emergency," added Secka. "Training is key, but time after time, people in the community save lives by simply being aware of their environment and reaching out to local authorities."
ASSERT training on campus
The UC San Diego Police Department's Active Shooter Survival Education and Response Training (ASSERT) raises awareness and provides valuable skills needed to respond to critical incidents before law enforcement or other first responders arrive. Licensed, professional counselors from UC San Diego's Faculty and Staff Assistance Program (FSAP) have joined the Police Department at select trainings to provide support to participants.
"When we are prepared we can be more effective, calmer and more in control," said Crystal Green, director of the Faculty and Staff Assistance Program. "It's hard to imagine a beautiful place like our campus could one day be an active shooter scene, but the truth is we aren't exempt from violence. We all have to participate in creating and keeping a healthy, fulfilling and peaceful environment in which to learn, work, live and play; and to be prepared to pull together in resilience and courage if violence breaks our peace at some point."
Erika Johnson, Interim Director of Communications for the School of Arts and Humanities attended a recent training and shared, "Put simply, this is lifesaving training. We learned practical skills that could be used as an individual or as a group to slow down, deter or disarm someone who has a gun." She explained that the training led by UC San Diego Police Sergeant Sheldon King included video testimonials as well as specific guidance for a range of situations. "The information prompted me to start thinking about my own space, what I would do if this type of emergency happened and how I could collaborate with the team to promote safety," she said. "I was impressed by the breadth of information that Sergeant King shared with us, and though it was an incredibly serious topic, he managed to ease the tension some may have felt."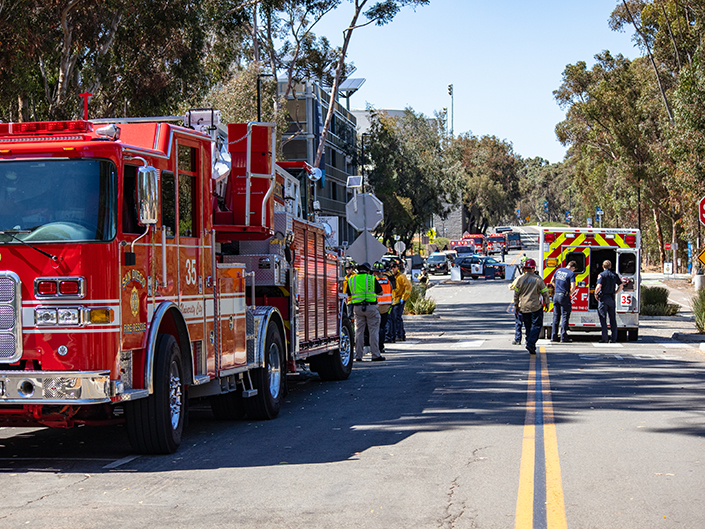 Training our first responders
UC San Diego works to improve campus safety through multiple initiatives, including technology, training and an alliance of local first responders. Technology like Shot Spotter, which is a gunshot location and detection system similar to a fire alarm, provides rapid detection and warning. The Police Department and Environment, Health and Safety (EH&S) conduct drills and exercises throughout the year and partner with local emergency personnel on training and response.
Active shooter response training takes place, at minimum, annually for the UC San Diego Police Department and UC San Diego has trained with other UC campuses as well as neighboring agencies, including San Diego Sheriff's Department, San Diego Police Department, California State University San Marcos and University of San Diego.
Support is Available
It is difficult to process the sorrow, loss and insecurity active shooter events can elicit. Support is available. UC San Diego strongly encourages students who need help processing violent episodes to reach out to Counseling and Psychological Services at (858) 534-3755.
Campus faculty and staff are encouraged to contact the Faculty and Staff Assistance Program at (858) 534-5523.
The HEAR Program at 858-657-6799 is available to UC San Diego Health faculty and staff, as well as the Employee Assistance Program at (866) 808-6205 or at liveandworkwell.com using access code ucsdmc.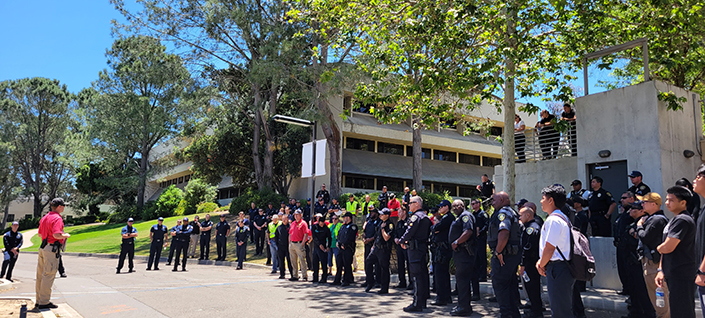 Stay in the Know
Keep up with all the latest from UC San Diego. Subscribe to the newsletter today.