Published Date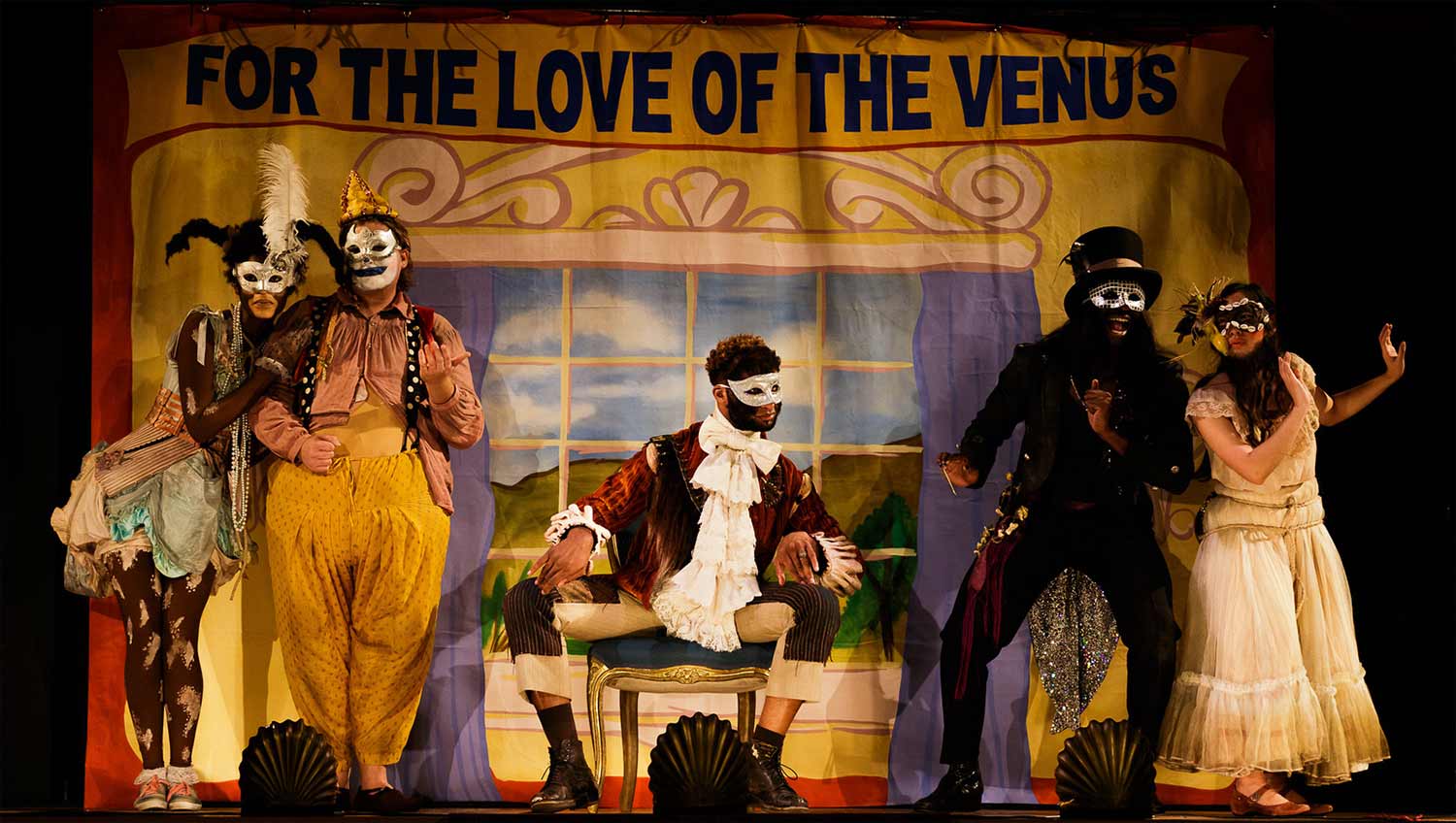 Theater Residencies Enhance Resumes and Jumpstart Careers
UC San Diego's graduate theater program, one of the nation's top training grounds, emphasizes invaluable professional experience
UC San Diego graduate student Mandy Nussbaum is living a dream – serving as a valued member of the stage management team for the current La Jolla Playhouse production of Come From Away, a world premiere musical.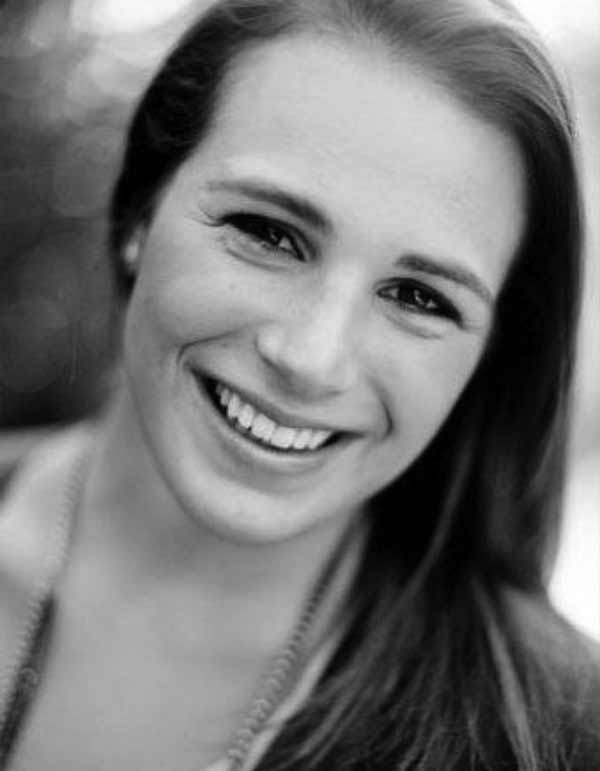 "I've been tracking costumes for a show that has 12 actors playing four plus different roles over the course of the performance, which is a big job," said Nussbaum, an M.F.A. stage management candidate who will graduate in 2016. "Of course, a credit at the Playhouse is a wonderful thing to have on my resume, but for me, it's much more about the networking opportunities and learning all that I have throughout this process."
The department of theatre and dance at UC San Diego, one of the top theater training programs in the nation, has forged a unique partnership with the Tony Award-winning La Jolla Playhouse, which is housed on UC San Diego's La Jolla campus. The two entities share state-of-the-art facilities and a core group of technical staff. The university and the Playhouse work closely together to offer students hands-on experience that can enhance resumes and jumpstart careers. Current M.F.A. students participate in residencies throughout the year, serving as assistant directors, designers, dramaturges and actors and learning invaluable professional skills.
For Nussbaum, the fact that her graduate program is so closely tied with a distinguished theater is a huge asset to her education. She also believes that other experiences offered by UC San Diego and supportive faculty have been invaluable to her future career.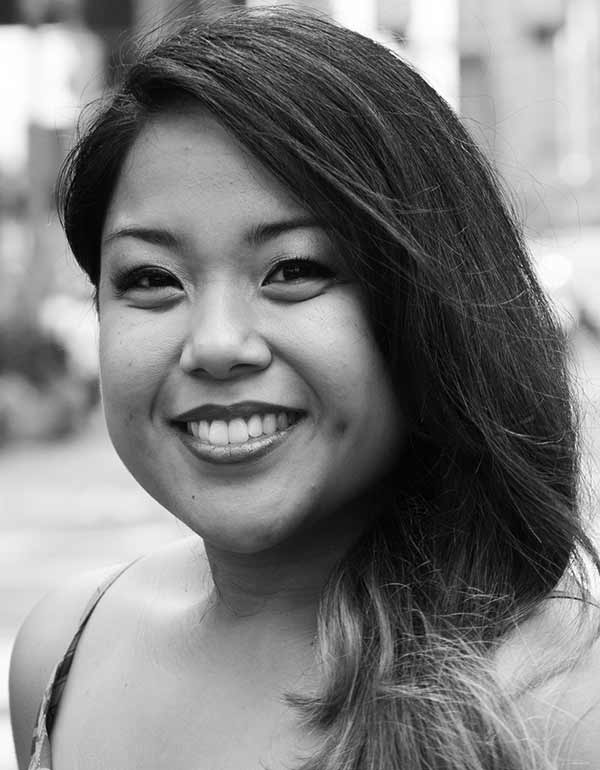 "Last winter, faculty member Charles Means announced that he would be doing a production of The Real Thing (written by Tom Stoppard and directed by Sam Gold) with the Roundabout Theatre Company on Broadway. Charles made arrangements for me to join him in New York City as an intern on the show. I spent six weeks this past summer working on Broadway … and I'm beyond delighted to say that I made my Broadway debut alongside Maggie Gyllenhaal, Ewan McGregor, Cynthia Nixon and Josh Hamilton at the age of 23."
Former New Yorker Jesca Prudencio, who will earn an M.F.A. in directing in 2016, is thankful to be part of UC San Diego's theater program. "It was important that I go to a school that will give me the opportunity to dream big and provide resources to realize my vision," she said. "At UC San Diego, I am able to be a theater director all day and all night. It never stops and I love every second of it."
She recently completed a UC San Diego directing residency with The Hunchback of Notre Dame at La Jolla Playhouse, serving as assistant director. "The Hunchback of Notre Dame is a major Playhouse musical, but it's also a new piece in development. I loved seeing the project evolve, expand and take shape. The director, Scott Schwartz, included me as an active participant by his side in the rehearsal and tech process. Having an opportunity to be a part of a piece at this magnitude is something unique to this directing program. Sitting at the same table as the lyricist Stephen Schwartz and composer Alan Menken was an honor."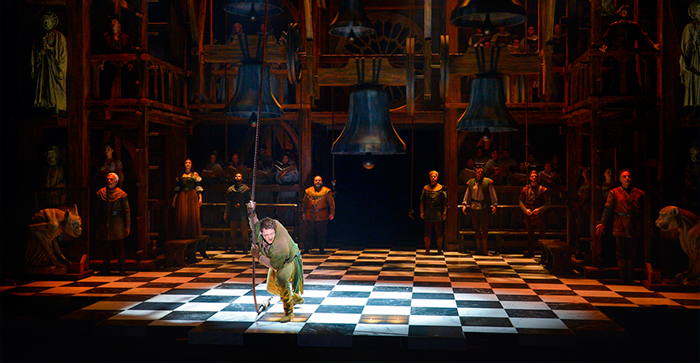 Prudencio also spoke with excitement about working with fellow students and taking their work out in the wider world. "I'm meeting my future collaborators. UC San Diego's M.F.A. theater program is one of the top schools in the nation and I've been blessed to work with some extraordinary artists," she said. "These are the people who I will be dreaming and creating with more for the years to come. Last summer I started my own theater company called People Of Interest, which focuses on creating new theater around social issues. Our first production was Campo Maldito by UC San Diego M.F.A. playwright Ben Fisher. After premiering it here at the Wagner New Play Festival, we toured New York City and San Francisco where we sold out our runs and got a great review in the NY Times! My work at UCSD is already getting recognized on a national level."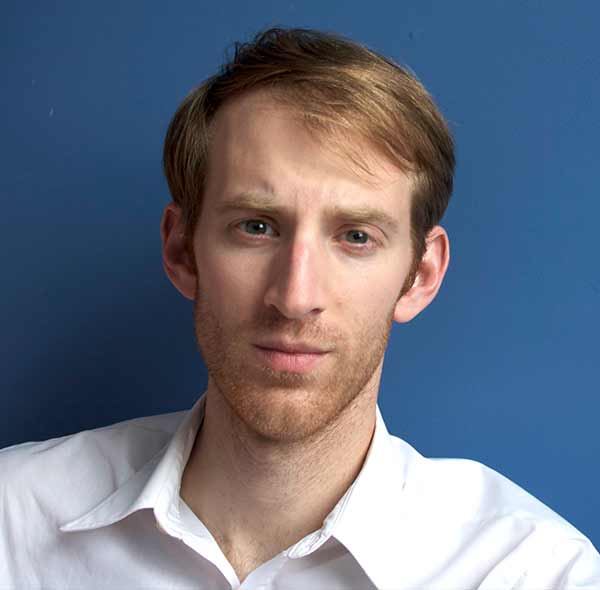 Numerous UC San Diego theatre and dance students have gone on to great success — at La Jolla Playhouse, on Broadway and at theaters around the world. Notable graduates include scenic designer and 2014 Playhouse Artist-in-Residence Robert Brill (The Wiz, Yoshimi Battles the Pink Robots), Tony Award-winning actor Jefferson Mays (A Gentleman's Guide to Love and Murder, I Am My Own Wife), former Playhouse artistic director Michael Greif (Rent) and Tony Award-winning costume designer Paloma Young (Peter and the Starcatcher), among many others.
Embracing an exciting career as a director, 2010 UC San Diego M.F.A. graduate Tom Dugdale used his education and experience as a springboard to launch a local theater group, THE TRIP, with fellow UC San Diego M.F.A. graduate Joshua Kahan Brody.
"The main factors in deciding to come to study theater at UC San Diego were the international reputation of its head of directing, Gabor Tompa, and the overall national prestige of UC San Diego's graduate directing program, which of course included the relationship with La Jolla Playhouse," he said.
Dugdale credits La Jolla Playhouse in helping to build his resume. "The talented artists and technicians in the shops at the Playhouse always treated my productions with the utmost care. We are so fortunate that our student shows are built by these people. They made my productions look professional, and the images of these productions have proven impressive to all who have looked at my work since."
He noted that a residency serving as assistant director to Doug Wright, who has won a Tony Award and Pulitzer Prize, provided an enormous opportunity. Wright adapted Strindberg's Creditors at La Jolla Playhouse in 2009. "It was such a rich learning experience because of all the layers in this project: Doug as both writer and director; a great, complex classic play; the task of adapting the play for a contemporary audience; and the huge challenge the play poses to actors with its long, nuanced scenes," Dugdale said. "Doug has remained a mentor and contact to me as I've gone forward in professional theater.
"The department of theatre and dance's support has been vital in these first two and a half years of THE TRIP'S existence," he added. "Without their support in the form of rehearsal space and technical resources, we wouldn't have been able to do the work we've done. We are excited to be returning to the WoW Festival at La Jolla Playhouse this fall with a major new production involving, as always, a large number of UC San Diego alumni."
Ticket discounts at La Jolla Playhouse are available to the campus community. The Triton ticket program offers all UC San Diego students up to two $10 tickets to any performance (pending availability). Faculty and staff can take advantage of a 20 percent discount on six-play subscriptions and 10 percent off four-play subscriptions. UC San Diego's department of theatre and dance also offers student discounts and season tickets.
Stay in the Know
Keep up with all the latest from UC San Diego. Subscribe to the newsletter today.