By:
Sarah Pfledderer

Anthony King
Published Date
The Value of Networking with Classmates
School of Global Policy and Strategy alumni give students advice on entering the job market at two-day event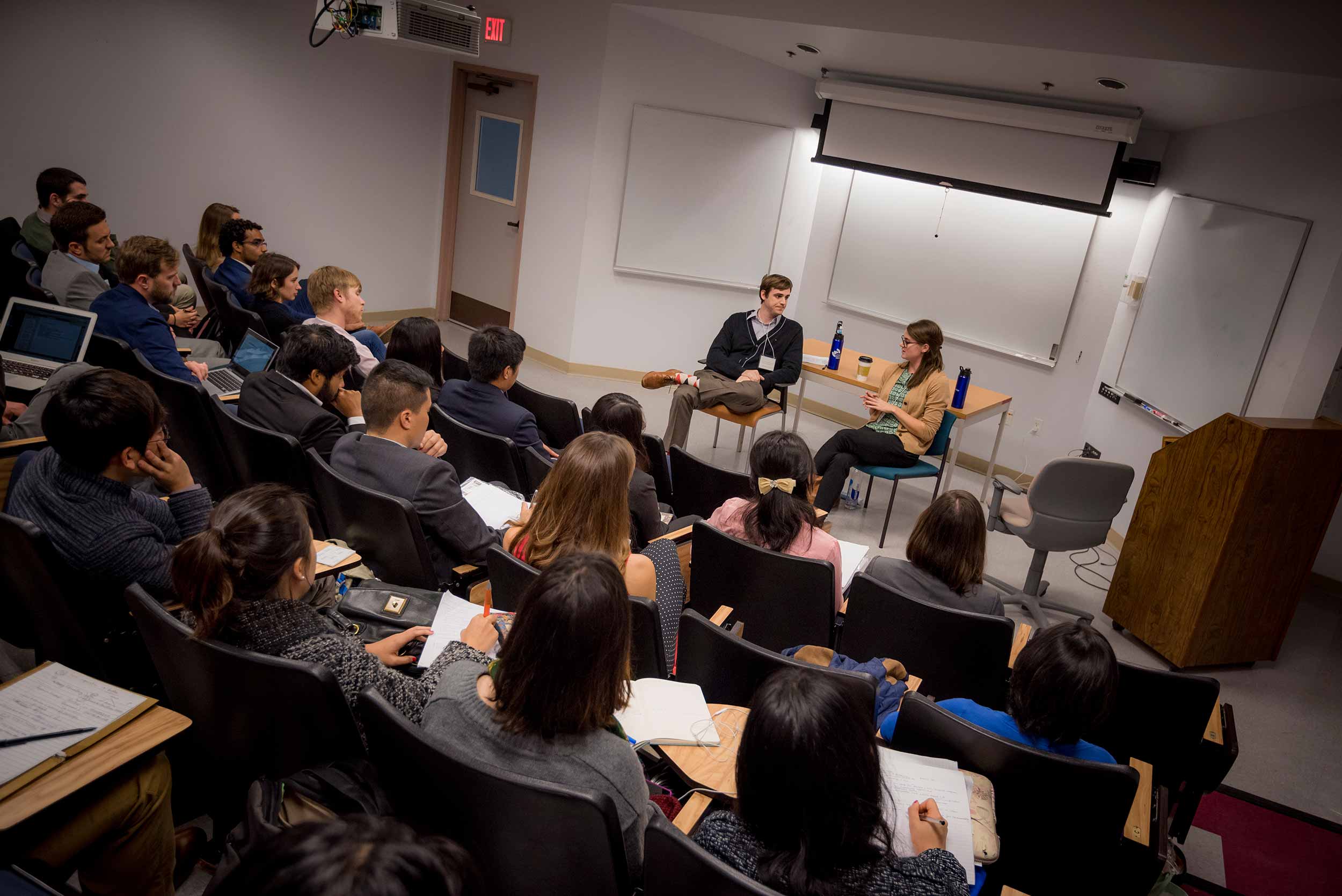 (l to r) Kevin Stahler, 2013 and Maeve Whelan-Wuest, 2014 returned to campus Jan. 22 - 23. Photos by Erik Jepsen/ UC San Diego Publications.
When Zach Birmingham came to UC San Diego for his graduate degree in international affairs, he already had a love of all things boating. A former merchant marine, he holds a near-coastal, 100-ton commercial master captain's license and has served on vessels in the Pacific, Middle East and Latin America. So naturally when he graduated in 2011, he took an internship at the Unified Port of San Diego — an internship that ultimately led him to a full-time career in government and civic relations.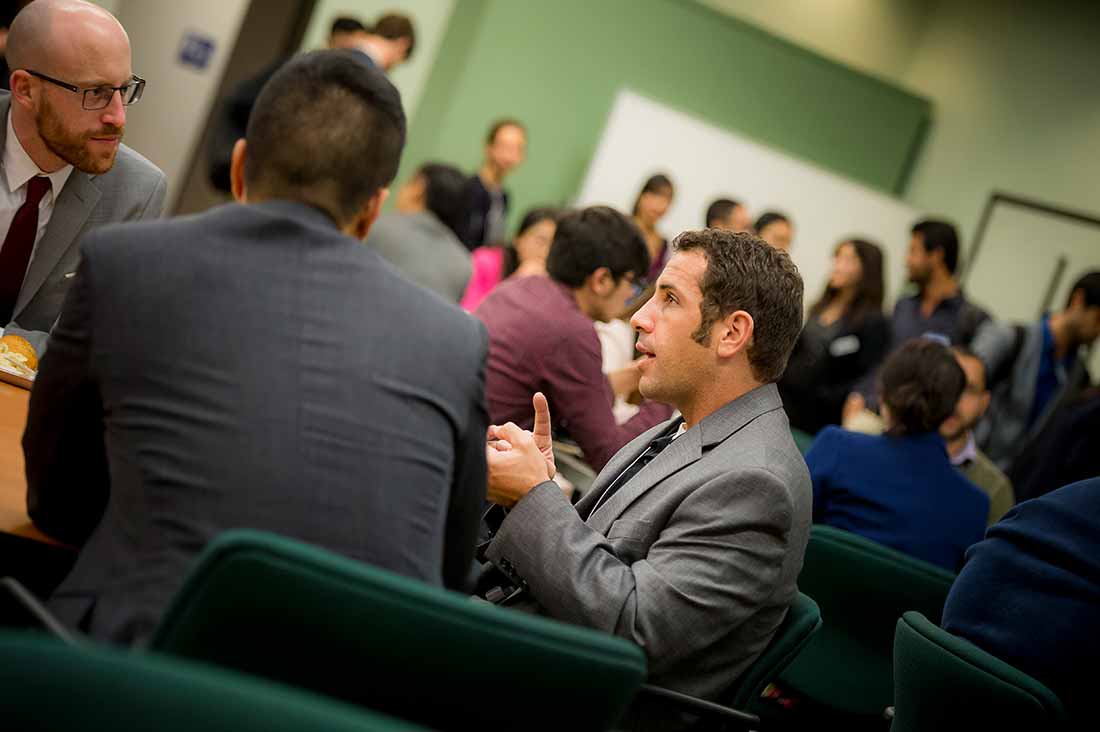 Now a management analyst for the port helping to set environmental policy, Birmingham has worthwhile advice to all students: use the networks you have at your fingertips.
The UC San Diego School of Global Policy and Strategy welcomed Birmingham and additional alumni to campus for a two-day networking event, strengthening the relationship between the students of yesterday and current graduate students as they make plans to enter the work force. The school's annual Winter Connections is now in its seventh year.
"Winter Connections is designed to be informational and educational for our current students," said David Robertson, director of the School of Global Policy and Strategy's Career Services. "We focus on inviting our alumni back to campus representing a range of industries and sectors, so students can broadly see what might be possible for their own careers."
Alumni returned to campus from as long ago as the class of 1990, only the second graduating class of master's degree students for the school, which was founded as the School of International Relations and Pacific Studies in 1986. Today, the graduate program awards more than 175 master's degrees in international affairs and public policy each year, and offers a joint Ph.D. program with the Department of Political Science.
Held for the first time as a two-day event, this year's Winter Connections was comprised of an entire day of group sessions on topics ranging from landing careers in the government, public, private and non-profit sectors to navigating employment in research and think tanks. An informal, "speed-date-style" dinner closed the first day, followed by early morning mock interviews that divvyed up more than 75 students to 28 returning alumni in one-on-one meetings.
School of Global Policy and Strategy Dean Peter Cowhey said that, in many ways, it was better for students to hear stories directly from those who had already made the transition from academic training to jobs. Alumni success, he said, shows how hard work and dedication is well worth it.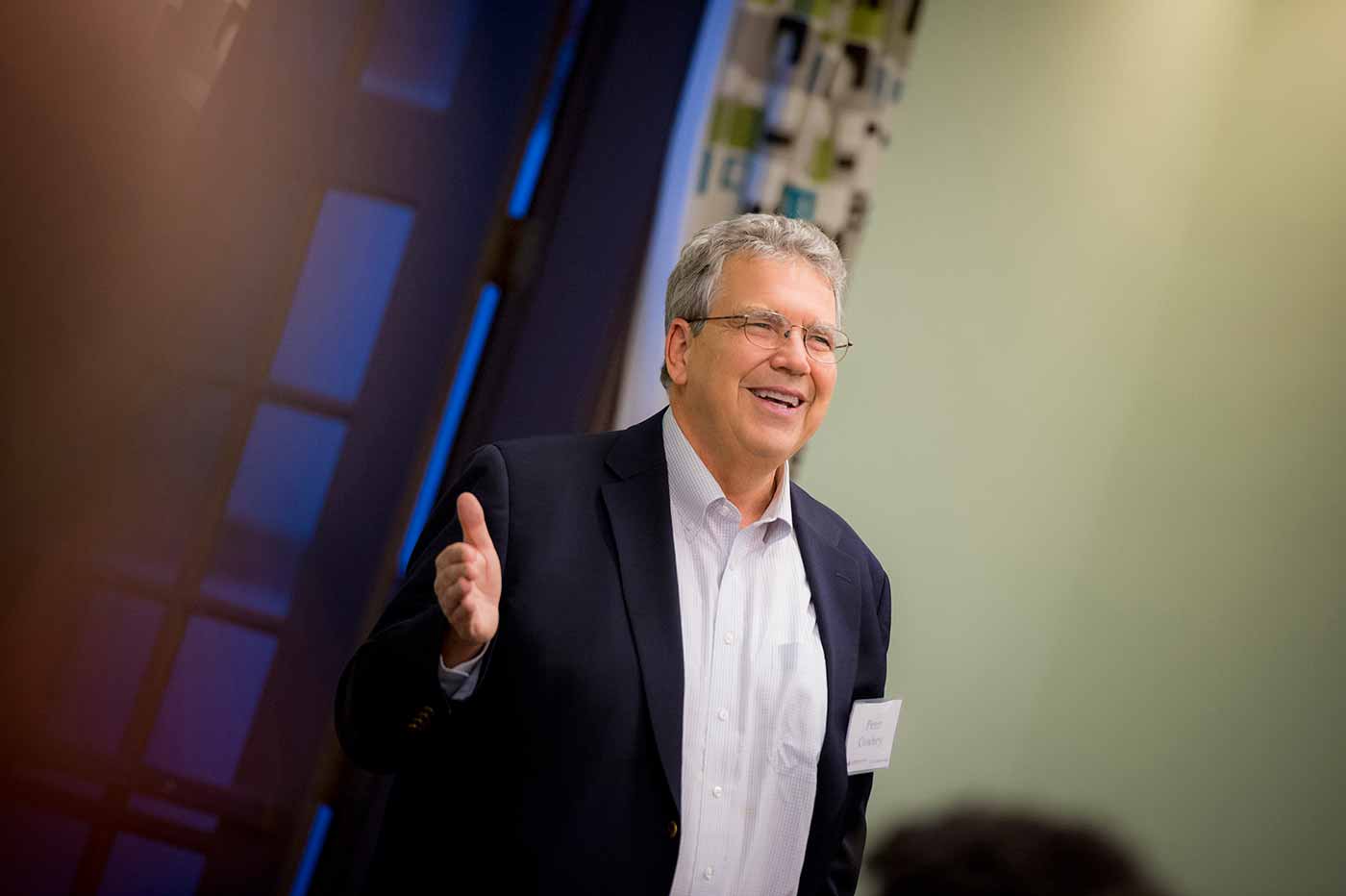 "I hope the current classes walk away with the understanding that we are, at our core, a program that is dedicated to producing professionals who can operate across the boundaries of the public, private and non-profit sectors," Cowhey said at the dinner. "By integrating your skills across a variety of tools, you'll have the ability to craft your own particular perspective, with a unique advantage and passion behind it."
While the hoops to jump through differed by job, alumni found one piece of advice to ring true across any career pursuit: stay close to your classmates.
Alixa Sharkey, a 2010 graduate and current research associate at Euromonitor International in Chicago, and Daniel Klubis, a 2009 graduate and director at Lieberman Research Worldwide in San Francisco, reinforced similar points about navigating the "real world" after graduation in their discussion.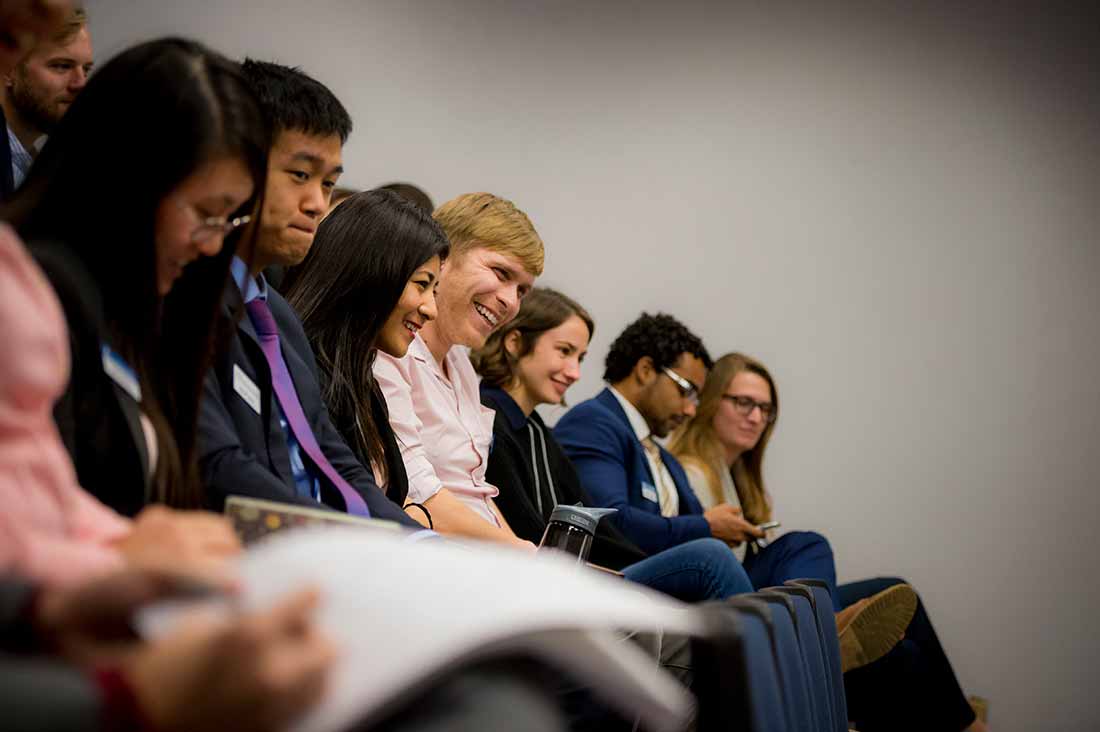 "In my experience for both getting my job at Euromonitor and before, my network largely comprised of people I went to school with," Sharkey said. "That's something important to think about. Your network is right here, right now."
At a special panel discussing "Careers at the Nexus of Science and Policy," Jung Joo Hwang, a 2012 graduate, said networking directly with those in the classroom was a student's "best asset." Hwang is an assistant director for UC San Diego's International Innovation Initiative, managing the relationship between government, company and academic researchers. The public panel was hosted by the school's Science Policy Fellows Program and included 2006 alumnus Michael Aller, 1978 alumnus Peter Frumhoff and 2002 alumna Kathryn Mengerink.
Cowhey closed the event by reiterating the importance of coming together: "Our core commitments to you as students, to you as alumni and, above all, to our obligations collectively to the society in which we live, are what unite us across all the years."
Stay in the Know
Keep up with all the latest from UC San Diego. Subscribe to the newsletter today.