Published Date

The Survey Says…
Staff@Work results include responses to new climate and diversity questions
UC San Diego staff members have an opportunity to make their opinions heard on topics ranging from overall employee satisfaction to supportiveness of supervisors through the annual campus Staff@Work Survey. As part of the 2015 survey, respondents were also able to share their thoughts about the campus climate at UC San Diego via a new section created in partnership with the Office of Equity, Diversity and Inclusion.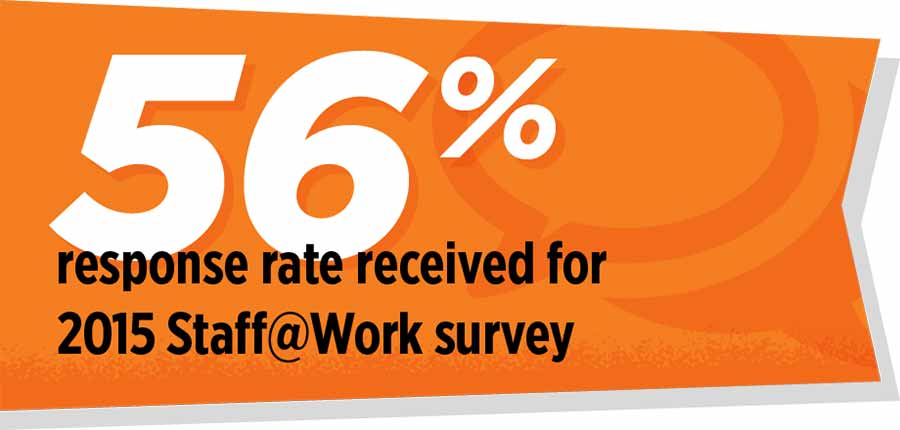 "UC San Diego's Staff@Work Survey was the first in the UC System to annually ask staff, both represented and not-represented, about their perceptions of their workplace," said Angela Song, who, as director of organizational performance assessments, leads the campus' survey program. "This is a hallmark year for the Staff@Work Survey as additional questions were created with the vital input from the five campus resource centers to provide meaningful data on perceptions, behaviors and experiences of staff."
The Staff@Work Survey received a 56 percent staff response rate this year. With regard to overall satisfaction, 80 percent of respondents said they are a "satisfied" or "extremely satisfied" UC San Diego employee. The survey received a Collaborative Innovation Award from the California Public Higher Education Collaborative Business Conference in 2015.
Responses were most positive on the following issues: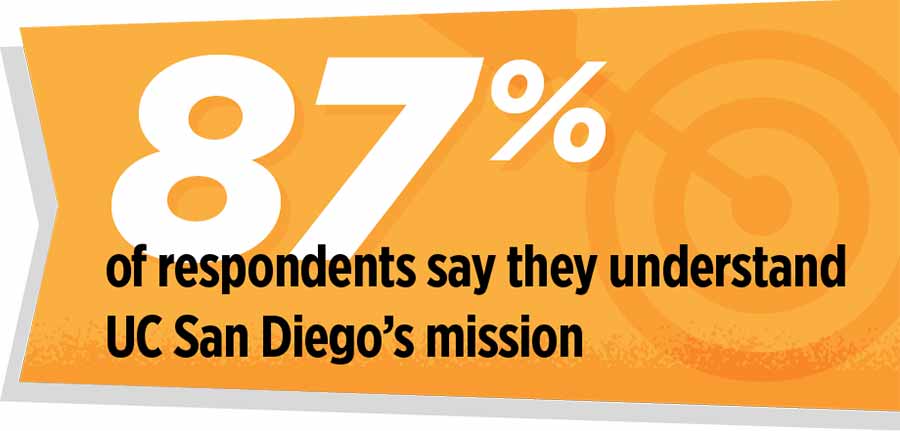 Understanding how their job directly contributes to UC San Diego's mission
Feeling that other staff value their contributions
Feeling supervisors are supportive of personal issues
Feeling they are evaluated fairly
Feeling that people with different sexual orientations are treated fairly
Practicing Principles of Community
Respondents indicated overall areas of improvement including:
Salary and benefits
Career advancement opportunities
Feelings of having a voice on campus
Staff members also responded to questions specifically related to the campus climate, which is defined by the University of California as "the current attitudes, behaviors and standards of faculty, staff, administrators and students concerning the level of respect for individual needs, abilities and potential."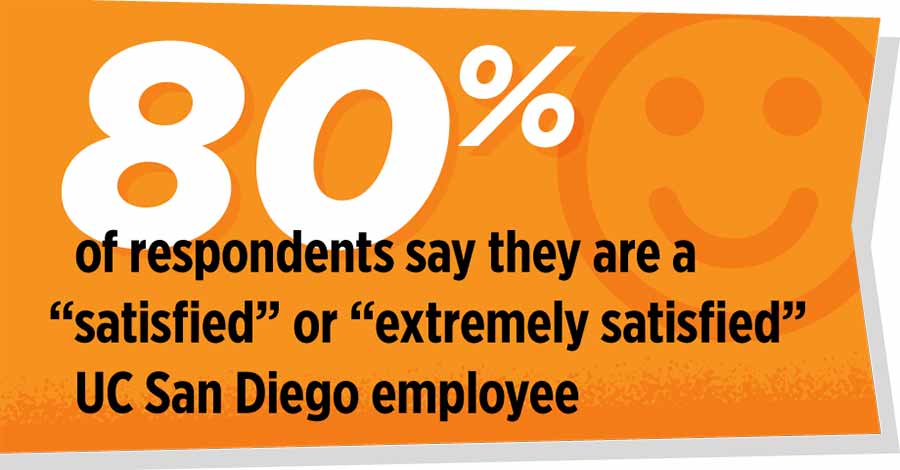 "These questions for the 2015 Staff@Work Survey will help understand and track staff perceptions of climate at UC San Diego," said Becky Petitt, Vice Chancellor of Equity, Diversity and Inclusion. "The responses will help enable campus leaders and department heads to understand the baseline for their respective units, implement department-specific interventions, and monitor progress."
According to results from the questions relating to campus climate, 79 percent of those who responded agreed or strongly agreed that they were comfortable with the climate at UC San Diego.
On a scale of 1 to 5, responses were highest on the following issues relating to campus climate:
Comfortable with climate at UC San Diego
People from different backgrounds get along well
People are valued regardless of their backgrounds
On the same scale, responses were lowest relating to the following issues:
People provide constructive criticism regarding each other's work
People work to foster harmony
Other key campus climate-related takeaways included:
Overall, people reported rarely or never experiencing negative behaviors relating to their gender, race or ethnicity. However, black respondents were more likely to report being treated differently or feeling the need to minimize expression of their culture.
Black and American Indian respondents gave lower ratings on climate items than those in other race/ethnicity groups.
Most people reported that they rarely or never experienced uncivil or ostracizing behaviors. However, people with physical or mental disabilities were more likely to report having experienced uncivil or ostracizing behaviors.
As part of the survey, staff members were invited to make comments relating to their views of diversity on campus. "We have definitely made progress in terms our efforts in regards to equity, diversity, and inclusion," wrote one respondent, while another commented that there is still "much work to do."
Read the full Staff@Work Survey results here.
Stay in the Know
Keep up with all the latest from UC San Diego. Subscribe to the newsletter today.