The Most Delicious Way to Support Climate Initiatives
Published Date
By:
Share This:
Article Content
Throughout the University of California, there's a commitment to increase sustainable food procurement to help reduce the university's carbon footprint. Here at UC San Diego, we're working towards this goal thanks to people like Martin Lahtov, a staff member at the Jacobs School of Engineering who has sparked a sustainable change that has rippled throughout the campus.
At Jacobs, Lahtov organizes industry-focused research summits, which draw attendees from around the world. For the past year, the majority of those events have featured 100% percent plant-based menus. Working with UC San Diego Catering, the team has created a variety of satisfying offerings, making the initiative a crowd-pleasing success. "Our peers, industry and community partners have applauded the effort," said Lahtov. "I believe that universities offer a unique opportunity to lead by example and inspire positive change in the world. Our external communities have this expectation of us, and eating this way shows our support for climate initiatives and healthier lifestyles."
Lahtov explained that the increased adoption of plant-based menus helps reduce our carbon footprint, while also addressing challenges related to animal welfare, fresh water shortages, global food security, chronic disease, rainforest preservation and global extinction of species. In fact, a recent study has shown that phasing out animal agriculture is the most immediate way to reverse the trajectory of climate change.
"Adopting more plant-based food is a powerful form of activism that requires minimal effort," Lahtov noted. "It has an incredibly beneficial impact because it touches so many different areas of the ecosystem."
UC San Diego's Tenth Sustainable Food Expo
On top of Lahtov's role as a business intelligence analyst at the Jacobs School, he's a member of the Staff Sustainability Network, Food Action Group and a co-chair of the 10th Sustainable Food Expo, which was held at the Price Center on April 11. The annual event was developed by University Centers as part of their commitment to sustainability and typically features live chef demos, local sustainable restaurants, bakeries, food producers and farms—all with the goal of showing how daily food choices can help us contribute to a healthier and more sustainable future for all.
Chef Josie Lagrimas, a Certified Chef de Cuisine at UC San Diego Catering was one of the chefs providing a demonstration at the event. She has a long history of creating delicious plant-based foods, and joined UC San Diego more than a decade ago to be part of the team that opened the first vegan dining destination on campus, Roots at John Muir College.
"I gained a lot of experience working at Google's Vegan Cafe, but I wanted to be closer to home in San Diego," Lagrimas recalled. "When I learned Roots was an option, I felt it was meant to be."
At the Sustainable Food Expo, she shared samples of soba noodles and showed guests how to make an energy bar that is plant-based, raw and gluten-free—and also part of an entirely plant-based catering menu the campus launched this month with the support of Jason Alessio, Event and Guest Experience Manager at UC San Diego Catering.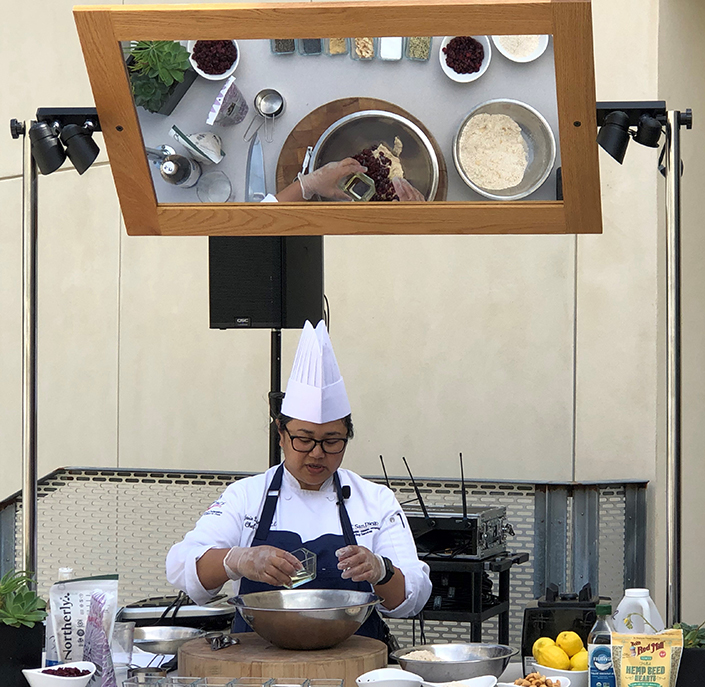 UC San Diego student groups exhibited at the event, sharing information on sustainable food resources on campus and beyond. Kieran Padgett, who studies cognitive and behavioral neuroscience, became involved in the UC San Diego Food Coop this year. While greeting the crowd entering the Sustainable Food Expo she described their mission, "The Coop is a non-profit student-run restaurant with very low prices. We're working to provide affordable vegan options for students on campus so it is more accessible."
Fahsyrah Knight, a graduate student studying public health with a concentration in precision health and technology, was there to support access to fresh organic fruits and vegetables. She provided information on Farm Fresh to You, a Community Supported Agriculture service that delivers organic produce straight to doors.
"We pride ourselves in being sustainable and biodiverse at this farm, which means we conserve our soil, preserve our water resources and we protect our farm workers," said Knight. "We deliver organic fruits and vegetables fresh from our fields to your doorstep, which is now opening a new lane to provide our community with more access to healthy organic foods."
She added, "This is my first time at the Sustainable Food Expo, so I am excited to talk to everyone about other ways to access organic produce!"
Food producers were also on hand to share samples of innovative and delicious offerings. Ricardo Lona is Chef and Co-creator of Flavor Lab Test Kitchen, a plant-based test kitchen which focuses on Asian and Mexican ingredients. "We also use native ingredients, sourcing heirloom corns from Mexico to make our tacos," Lona said.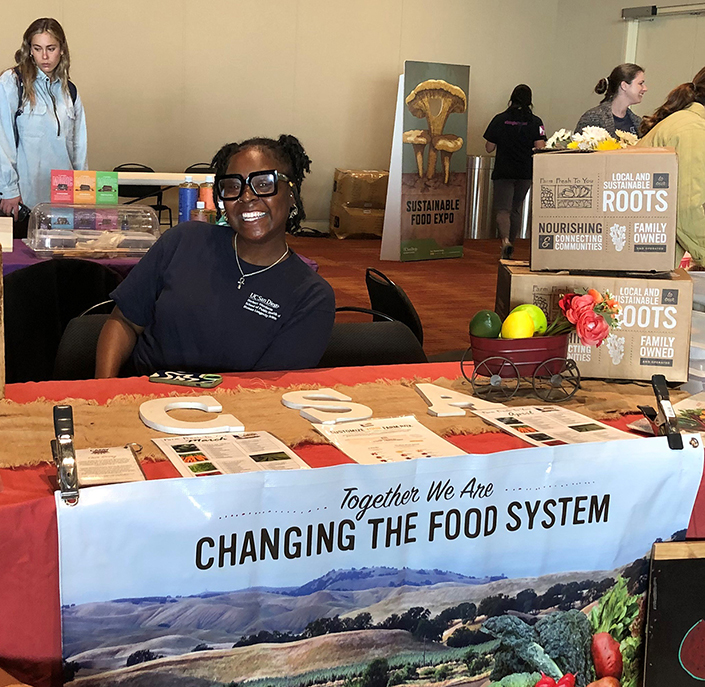 Co-creator and Chef Katherine Pacheco highlighted two tasty fermented products to try, "Today we shared a traditional Mexican drink, Tepache, made with pineapple rinds and fermented in an oak barrel, and I also brought kimchi." If you didn't get to taste their creations at the Sustainable Food Expo, their products can be found at the Pacific Beach farmers market and other markets around the city.
Many attendees at the Sustainable Food Expo were intrigued by a brand-new algae-based dumpling, which were being sampled from the table of Triton Algae Innovations, under their consumer-facing brand, "Too Good To Be Foods." A San Diego-based food startup company that creates innovative algae-based ingredients and foods, Triton Algae Innovations was originally spun out of the UC San Diego lab of molecular biologist Stephen Mayfield, co-creator of the world's first biodegradable shoe.
"The alternative pork filling of our dumpling is made with a whole-cell algae that we evolved to be biochemically identical to meat," said Miller Tran, a co-founder of Triton Algae Innovations along with Mayfield, and an alumnus who earned his undergraduate and doctorate degrees at UC San Diego. "It is this algae which imparts those key nuances of flavor and texture that most alternative meats lack, and makes our product taste like actual pork."
He added, "This spring marks the first time we're launching this product. We learned everything we know about biology at UC San Diego, and are excited to show the students that what you learn here can be turned into sustainable products that change the world."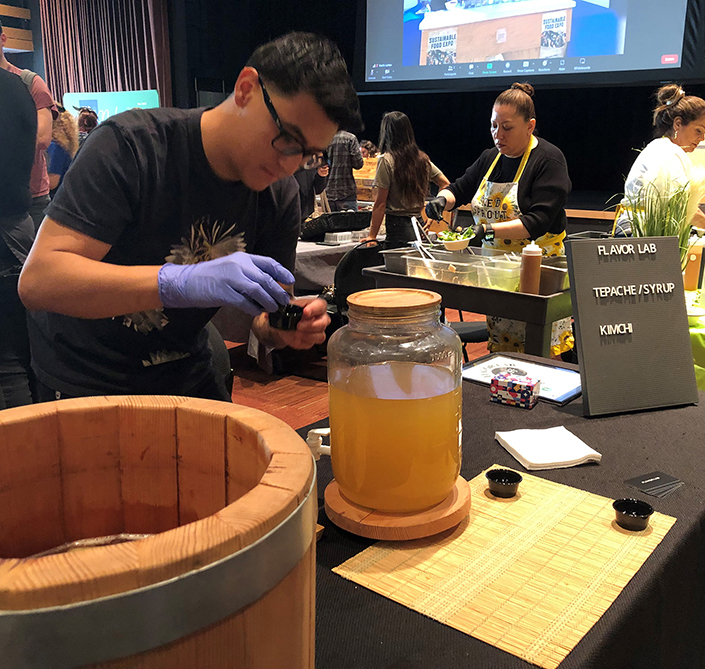 The "Too Good To Be" dumplings will be available at the GTFO It's Vegan website later this month, with rollouts in food service outlets and retail stores to follow shortly thereafter.
Madeleine Martinez, a first-year transfer student studying biochemistry, was attending the event for the first time. "It's lively, and I like the layout. Even though it's crowded, you can still work your way around the room," she said. When asked what sample she enjoyed most, Martinez highlighted the UC San Diego algae spin-off.
"My favorite thing was the vegan dumpling! It is really unique and I couldn't tell the difference from a regular dumpling," she noted, adding, "It is nice to see that people who have attended the university are doing something good and giving back to the students. I like to see how alumni are applying their knowledge from the university to create something new."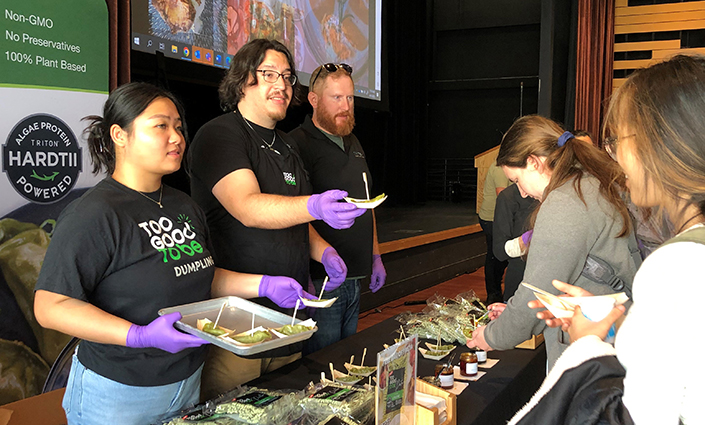 Meeting Student Demand
"When Roots opened in January 2012, vegan dining on university campuses was a niche thing," said Jeff Palmer, senior director of campus dining at UC San Diego Housing, Dining and Hospitality (HDH). "Since then, our campus has evolved into incorporating vegetarian and vegan options throughout all of our menus."
Palmer went on to explain that over the last two years, HDH redesigned menus in all of the residential dining locations to ensure that it reflected this concept, noting, "Every menu has the intentionality of ensuring that students who observe a vegetarian or vegan diet feel included." For example, when HDH was creating the concept for Restaurants at Sixth College, the team looked at how to include dishes that were designed with a vegan base, but offered the choice to add a lean protein. Because of the great student response to this concept, they expanded it to other residential dining locations as well.
The team has also added a sustainability icon for all menu items across campus, indicating low carbon footprint options that are less than 25% of the daily carbon footprint target. Currently, the majority of menu items at UC San Diego (63%) are categorized under the sustainable icon.
Palmer highlighted an emphasis on diverse, authentic cuisine throughout campus. "As we started to expand and get into menu redevelopment, we focused on authenticity of foods," he said. "We learned that historically, for many cultures, the origins of their foods were rooted in plant-based ingredients, and it expanded over time to incorporate meats. We aimed to get as close as we could to how the foods were originally served and to celebrate multiple cultures."
Feeling inspired? Why not try some plant-based meals this week. "At UC San Diego we have access to an incredible array of sustainable food choices," said Lahtov.
Check out the "Fresh" build-your-own salad bar at Canyon Vista, a plant-based burger and shake at Plant Power, Hella Vegan Burrito at Curry Up Now, the Vegan Summer Rolls at Blue Pepper Asian Cuisine, the 3-Bean Chili Bowl at Roots with a side of Sweet Potato Waffle Fries or the Banana Nut Bran Muffin at OceanView Terrace.
Stay in the Know
Keep up with all the latest from UC San Diego. Subscribe to the newsletter today.