Take 10 with a Triton: Softball Coach Patti Gerckens Has a Lot of Balls in the Air
By:
Media Contact:
Published Date
By:
Media Contact:
Share This:
Article Content
Name: Patti Gerckens
Pronouns: she/her/hers
Position: Head Softball Coach
Years at UC San Diego: 31 years; Gerckens originally traded New Jersey shorelines for San Diego skylines when she enrolled in a sports psychology master's program at San Diego State University. Gerckens joined the UC San Diego softball team first as the assistant coach for a year and a half; then, after a stint as the interim head coach, she became the full head coach, a position she's held since 1992.
During the 2022 season, Gerckens hit a milestone, celebrating 800 career wins. The team kicked off the 2023 season, with their first game Friday, February 10.
What she does at UC San Diego: As the head of the softball program, Gerckens has a lot of balls in the air. On the field, she runs practices, helps scholar athletes finetune their softball skills and leads the team through the highs and lows of every game. Off the field, a large part of her role is logistical: scheduling practices, games and transportation, working with her students to balance their class load with their athletic commitments, managing athletics staff and making sure that the field is playable.
"I love what I do: this job, working with our scholar athletes and my colleagues have been such a blessing in my life," Gerckens explained. " I don't think of it as a job—I get to come to play every day."
And while she does admit that some days are stressful—like any position—she added, "It's really all encompassing, and I love it."
What she loves about UC San Diego: "There's a lot of support in the athletics department for scholar athletes," Gerckens said, sharing how Judy Sweet, UC San Diego's director of athletics from 1975-2000, shaped the department. "She really made a lot of equity with men and women's sports, which doesn't always happen, even today."
For Gerckens, her role as coach gives her the opportunity to work with a lot of "smart young ladies" on the team. She hopes they learn from her—she learns a lot from them, too.
"My job is to empower them to become women who have a voice and who have confidence," Gerckens said. "I love working with them. Being able to see the oceans and the mountains everyday is a bonus."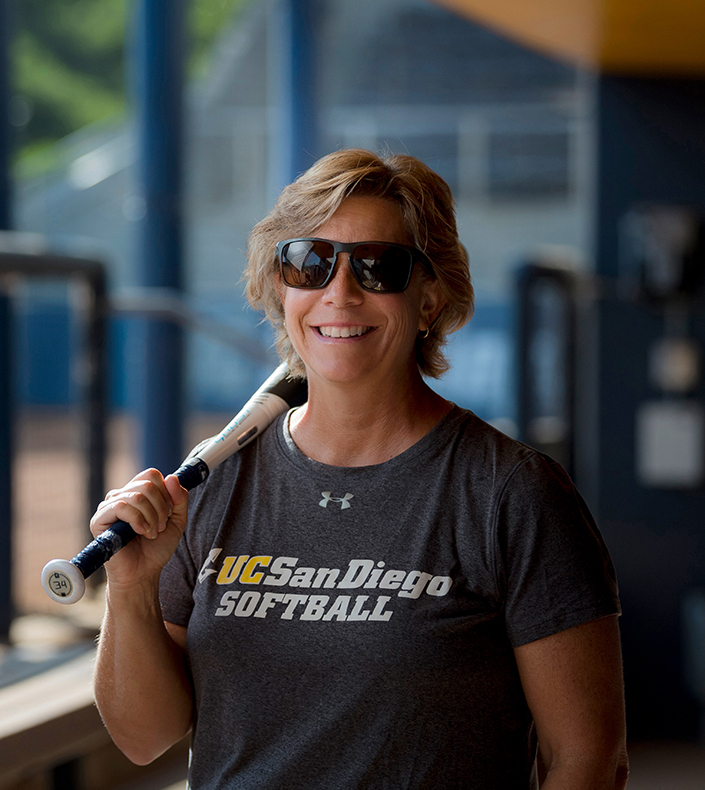 Best advice received: Gerckens admits she always had a competitive streak, which she described as "intense." But, she's proud to share that she's loosened up a lot. She explained that, as a coach, the way you handle conflict and show emotion on your face is extremely important, because athletes are always looking to you for guidance. Staying calm is key. Still, Gerckens highlighted something even more important to the game: connection.
"You're only as good as the people you surround yourself with," Gerckens said. "I love the relationships of the team. I love to win, I love to compete, but I really love the relationships. The people I work with are phenomenal."
Something unique in your workspace: When Gerckens isn't out on the field, most of her time is spent in her softball-memorabilia-filled office. On one wall, she has a sign from the 2011 national championships, which was the team's first national title. Drawings and holiday cards from former athletes plaster another wall.
Favorite spot on campus: After practices, Gerckens and the team often walk through the eucalyptus grove at the northern tip of campus (directly across from the softball field) to debrief. While she hasn't had time recently, Gerckens looks forward to more tree-filled walks.
Something most people don't know about her: "I love to cook and be around family and friends," Gerckens explained. "I love making Italian food—I'm Italian—and I especially love cooking fish and brussels sprouts. I'll take a gathering with family and friends at home over going out anywhere. "
If she had one day to do anything she wanted: In the morning, Gerckens would take her dog to the beach to swim for an hour before stopping for a nice, slow breakfast. She'd come home, exercise, and do some work in the backyard before spending her evening with good food and good company.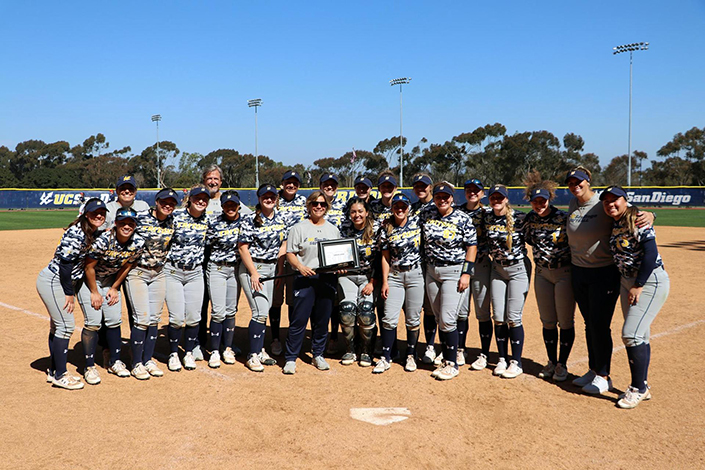 Stay in the Know
Keep up with all the latest from UC San Diego. Subscribe to the newsletter today.