Take 10 with a Triton: Pamela Frugé Talks Yoga, Secret Gardens and Beach Escapes
Published Date
By:
Share This:
Article Content
Name: Pamela Frugé
Pronouns: She/her/hers
Position: Currently Chief Administrative Officer for the undergraduate colleges, but soon will be moving into the role of Assistant Dean of Undergraduate Education once a department restructure concludes. She is also chair of the university's Black History Month Celebration Committee.
Years at UC San Diego: Frugé spent four and a half years as a student at UC San Diego's Warren College. She has also been a professional staff member on campus for 30 years.
"It was an extraordinary blessing for me to be able to come to UC San Diego as an undergraduate and make the lifelong friends that I've made," she said. "I never thought I'd be working on campus. I've been able to build such a magnificent career here in various departments and I'm really grateful. It's been a wonderful journey."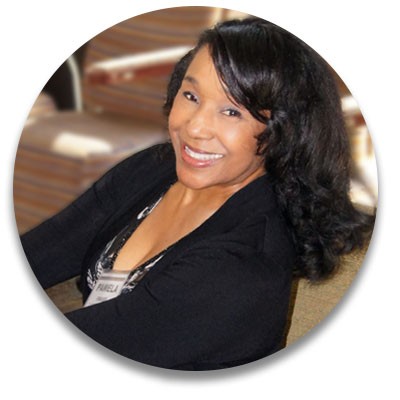 What she does at UC San Diego: As the new Assistant Dean of Undergraduate Education, Frugé will support the leaders of the eight undergraduate colleges, Office for Students with Disabilities, Academic Integrity Office and Summer Session in meeting their mission and goals.
"There's so many things going on in each area that are impacting the campus in positive ways," she explained. "We're so excited for Eighth College to open this fall. I'm really looking forward to working with inaugural provost Professor Angela Booker, whose innovative and inclusive thinking is already making an impact."
Other initiatives Frugé is excited about is the creation of a new Triton Testing Center, led by the Academic Integrity Office to expand testing accommodations for faculty and students. In addition, she is working with the Summer Session team to grow remote instruction options as more students embrace year-round education.
Frugé also serves as the chair of UC San Diego's Black History Month Planning Committee. She has been a part of the committee for nearly two decades.
"It has always been about highlighting student success and lifting the profile of academic excellence at UC San Diego," said Frugé. "This work is from the heart and keeps me connected to my student Triton roots. It feels good to carry on the legacy."
What she loves about UC San Diego: Being a student, then alumna and now a career employee, Frugé has had the chance to experience many opportunities for engagement, education and exploration at UC San DIego. One of the things she enjoys is being in the midst of ongoing breakthroughs. "I love that if the timing is right I can walk from my office to an event featuring Nobel laureates and other incredible movers and shakers on the global stage."
Beyond the chance to hear about the latest innovations, Frugé values the connections she has made at the university. "There are so many things that I love about this campus and community, but primarily it would be the people that I have had the privilege of knowing and working with over the years," she shared. "I have lifelong friendships from my undergraduate time and have built wonderful relationships with colleagues across campus in my career here."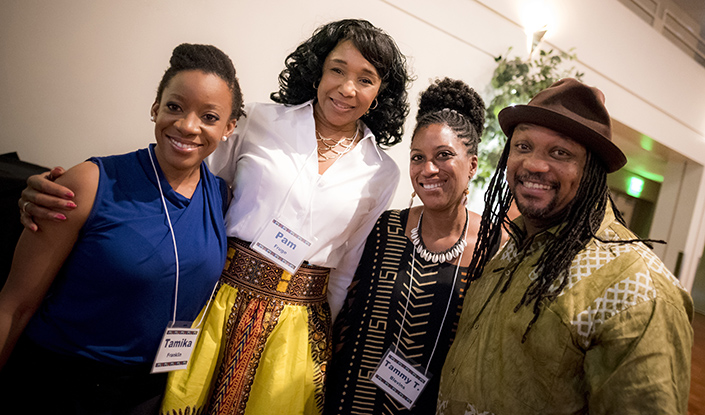 Best advice received: Frugé has had a number of formal and informal mentors in her career. Some of the best advice she's received is to always know you belong in the room, and don't talk yourself out of your own excellence.
"My mentors reminded me that supervisors don't assign jobs and responsibilities because they like you; they give it to those who can do the work," shared Frugé. "They told me—go do it and be great at it. That I belong in the room. These are the things I run in my head over and over so that fear doesn't undermine me."
Something unique in her workspace: Frugé has a fun tool to help promote ideas and decompress between meetings—a magnetic dart board a former student employee gifted her.
"He said I should use it to get out frustration or promote brainstorming," she said. "I've brought this to every office that I have had since. I'll sit there and throw darts while problem solving. It's a meditative way to get ideas going and release stress."
Her favorite spot on campus: One of Frugé's favorite spots is the small garden that you find walking up the Snake Path—one of the artworks that is part of the Stuart Collection. "It's almost hidden; I love to sit there because it's up high, you can see Warren Plaza and farther east. It's gorgeous and quiet," said Frugé.
Something most people don't know about her: During the pandemic Frugé became certified as a yoga teacher trainer. She ran across an ad for a 200-hour remote training program, and signed up for it. "And I'm so glad I did. I've done remote teaching for family and friends. It was a lifesaver," she said.
While she enjoys vinyasa flow, Frugé has also started incorporating some Kemetic yoga, which is based on African yoga tradition. She explained that the poses are reminiscent of some stances you might see in Egyptian hieroglyphics.
If she had one day to do whatever she wanted: When pondering what she might do on a free day, Frugé immediately decided the beach would be an ideal destination.
"I would get up early and go for a walk at the beach—my favorite is Windansea near Bird Rock," said Frugé. "I go there to sit and decompress often. Then I would take myself to an expensive lunch and return to the beach to watch the sunset with friends and family."
Stay in the Know
Keep up with all the latest from UC San Diego. Subscribe to the newsletter today.