Take 10 with a Triton: Jo Jo Lee on Responding to Crises and Facing Fears
Published Date
By:
Topics:
Share This:
Article Content
Name: Jo Jo Lee
Pronouns: She/her/hers
Position: Licensed Professional Clinical Counselor with the newly launched Triton Compassionate Response team (Triton CORE), part of Counseling and Psychological Services (CAPS).
Years she has been working at UC San Diego: Lee joined the Triton CORE team in April 2023, though her connection to the university has spanned many years. After completing a degree in psychology from UC San Diego, she traveled to the UK to earn a master's degree before returning several years later to work at the UC San Diego Health Eating Disorders Center for Research and Treatment.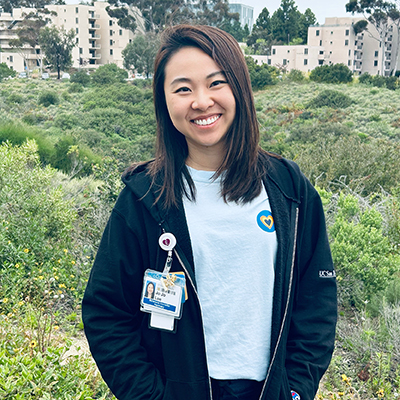 What she does at UC San Diego: If a student on campus is experiencing mental distress, they can call on the Triton CORE team for help. Lee serves as one of the clinicians who will meet the student in a place where they feel comfortable to talk and collaboratively decide on which wellness resources will work best for their needs. If necessary, Lee will also help transport the student to the emergency room, remaining by their side until they can be seen by a medical provider.
"We offer crisis intervention wherever the student is located instead of waiting for the student to step into our CAPS office," explained Lee. "In the food court, in the middle of the campus, in their dorm room—wherever they feel safe, we are there."
When responding to a crisis, Lee arrives with a partner clinician so that they can provide holistic support. While one person is giving their undivided attention to the student, the other clinician will be monitoring the environment to identify additional support as needed. Calls are routed to them through the UC San Diego Police Department dispatch line, and police officers serve as important partners in responding to situations that involve a safety concern.
"I decided to be in this role because this support was not available when my family member needed it, and when I was a student, I wished I had the courage to seek out resources," said Lee. "There is still significant stigma around getting help. As a 1.5 generation immigrant (meaning she grew up in the U.S. but was born in Hong Kong so not completely second generation) I want to support people who share similar experiences or who look like me so that they don't feel like an outsider."
The Triton CORE program launched in Jan. 2023 and is set to expand rapidly in the coming year. Currently, the team is comprised of two full-time staff members and is recruiting two full-time clinicians. The program will also soon include peer specialists who have either experienced a mental health crisis themselves or have supported someone directly who has. These individuals will provide a unique sense of empathy toward students who may be struggling to understand their feelings and what comes next.
What she loves about UC San Diego: What Lee loves most about the university is the sheer size of the campus as well as the diversity of scholars who are attracted to our coastal college to make waves in their respective fields. While the distance between one end of campus to the other can be daunting sometimes when rushing from one meeting to the next, she revels in the opportunity to uncover a new spot she hadn't seen before.
"The campus population is diverse, the architecture is distinct, and I can always find a place to relax," said Lee. "It's an adventure to walk around and see what you discover—like Pandora's box!"
Best advice received: As a transfer student arriving at UC San Diego, Lee felt anxious about finding her way while still acclimating to U.S. culture and developing her language skills. She knew many of her peers who had been at the university for two years already had an edge in terms of understanding the university system. Lee appreciated when she received advice about pacing herself and realizing that the quarter system is much different than her former semester system.
"I took 18 units in community college, and I took three or four upper division courses here and I struggled until someone checked in on me and told me to slow down," shared Lee. "I also valued my TA who served as a bridge for me to approach my professor; they were really supportive. I was able to get an opportunity to work as a research assistant."

Something unique in her workspace: As Lee looked around her space, she focused on several items that she typically has near while working. The first is hand lotion, a mix of eucalyptus and spearmint scents to promote stress relief. "My hands are always dry, especially in the pandemic when we were using hand sanitizer and washing our hands frequently!"
Lee also likes to be surrounded by plants; "I choose plants that allow me to neglect them," she said with a smile as she confesses that she often overwaters unintentionally. The greenery offers calm, bringing the outside indoors.
Her favorite spot on campus: Since taking on her new role on the Triton CORE team, Lee explained that she hasn't had a chance to explore much of campus yet, "since they remodeled the entire map." One area she looks forward to discovering is the North Torrey Pines Living Learning Neighborhood, especially the rooftop lounge area that offers ocean views.
When she was a student, Lee found refuge at the "La Jolla Project," a Stuart Collection sculpture by Richard Fleischner that is known by many on campus by its nickname "Stonehenge." "Before the new college it used to be quite secluded a decade ago. I loved picnicking over there."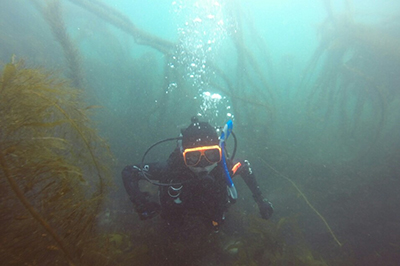 Something most people don't know about her: Lee is a certified diver. Trained in Hong Kong years ago, she has dived mainly in La Jolla where she enjoys encountering seals and sea lions in their natural habitat. Though she has been on hiatus for a few years during the pandemic, she hopes to return to the waters soon.
"Diving is a very calming, mindful activity," Lee explained. "In therapy we talk about distress tolerance skills. When you dunk your head into water, your body immediately activates paced breathing because the brain notices you've submerged yourself in water; you can't hyperventilate, survival mode kicks in. Diving forces you to be mindful of your breathing, to imagine yourself as a fish."
This past January, Lee embraced a new activity: indoor rock climbing. Even though she is afraid of heights, she was determined to face her fears. "After consistently doing it for several months I feel more comfortable even though I'm still freaking out when I get up there. I tell myself, 'You got this JoJo, keep focusing on the rock ahead of you, don't look down.' I feel accomplished when I reach the top!"
If she had one day to do whatever she wanted: Unable to decide on one version of the perfect day, Lee described one vision of relaxation and another that involved more productivity.
The first would look like waking up without an alarm, leisurely making pancakes and coffee for breakfast, going out for a short hike, making a trip to Costco (her favorite place) and then ending the evening with an entertaining movie.
Lee's alternative day would involve setting an early alarm to make the most of her time, going on a longer hike in a green area, walking her dogs upon returning and ending the day cooking a good meal at home.
Topics:
Share This:
Stay in the Know
Keep up with all the latest from UC San Diego. Subscribe to the newsletter today.