Take 10 with a Triton: Jimmy Cong is a Disability Specialist, DJ and Digital Media Lover
By:
Media Contact:
Published Date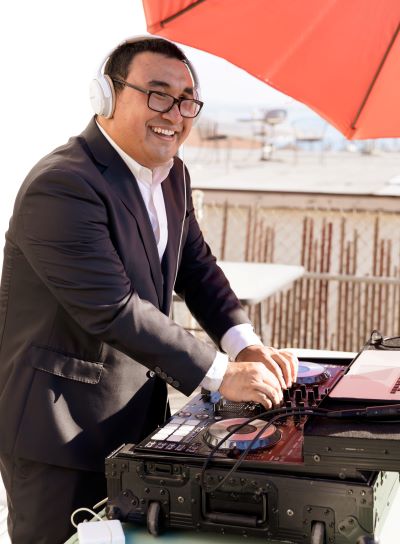 Name: Jimmy Cong
Pronouns: he/him/his
Position: Disability and Electronic Accessibility Specialist at the Office for Students with Disabilities (OSD)
Years at UC San Diego: 7 years, with some spent as a student. Cong transferred to UC San Diego as a music and visual arts (media) double major in 2015. Prior to graduating in December 2018, Cong began working at OSD as a student worker creating video content. Post-graduation, he remained there working part-time to continue creating video content, updating OSD's website and testing electronic accessibility around campus.
"I am a full-time screen reader user," Cong explained. "I've been legally blind since birth and use screen readers on all my devices. My boss at OSD saw how important it was to test accessibility, and started giving me projects doing that on the web."
Cong was offered a full-time position in mid-2020 as a disability specialist, the position he still holds today.
What he does at UC San Diego: "Part of my job is to meet with students to provide accommodations based on their current functional limitations relating to their disability," Cong said. He works with students of all levels: undergraduate, graduate and even postdoctoral fellows, typically looking into their academic or housing accommodations needs.
He also works with many groups on campus to make sure their websites are accessible and visits various rooms and buildings to make sure they're accessible for people with a wide range of disabilities. As an example, Cong shared that Braille placards in public spaces are often mislabeled, and he's responsible for reporting these kinds of errors if he ever finds them on campus. "I'm not just a consultant on digital spaces, but physical spaces, too," he said.
What he loves about UC San Diego: Cong is a firm believer in being willing to learn and listen to make improvements. One thing that stands out to him about UC San Diego?
"A lot of people across campus are willing to really see what's wrong with what they are offering," Cong shared. "They want to hear solutions on how to improve what they are doing in terms of accessibility and inclusive design."
The impact he has as a part of OSD is another thing he loves and what drew Cong to his current position. As an electronic accessibility specialist, the changes he makes to campus websites will improve the user experience and accessibility for years to come. And, he's doing so with the support of a team dedicated to improving accessibility.
"It feels really good to know that there's a group of people who have the same motives of improving the university's accessibility and inclusivity," he explained.
Best advice received: "Don't think about accessibility as a checklist—think of it as awareness," he said. "When you think about it as only a checklist, it's easy to hit each checkbox with flying colors but still have an inaccessible user experience."
Something unique in your workspace: What isn't in Cong's workspace is just as unique as what is there. Being legally blind, he has no use for a printer, high-tech double monitors or an external computer mouse. Instead, a USB microphone and keyboard sit on his desk, ready for him to use to attend Zoom meetings and navigate computer interfaces. Cong also uses a Braille note taker, a six-key input device that lets him take notes quickly.
"I don't have anything too unique on my desk, but I do have a few things I like to show off," Cong added. "My girlfriend built some miniature doll kits, and I keep them on my desk to try and bring my work area to life."
Favorite spot on campus: Due to COVID-19, Cong hasn't spent much time wandering campus in recent years. Still, as a student, one of his favorite places was, and remains, the Price Center fountain.
"Fountains and the sound of water have always been really soothing for me," Cong explained. "I like to sit on the time capsules on Library Walk and listen to the fountains to relax."
Cong also enjoys the fountain's close proximity to the Price Center's many dining options, where he typically goes for lunch. He's a regular at Lemongrass and Panda Express, where employees know his orders by heart.
"I typically get half chow mein and half fried rice with orange chicken, honey walnut shrimp, and a chicken egg roll at Panda," Cong shared with a laugh. "At Lemongrass, I love their spicy peanut sauce and usually get it with half pad thai and half fried rice with chicken and zucchini."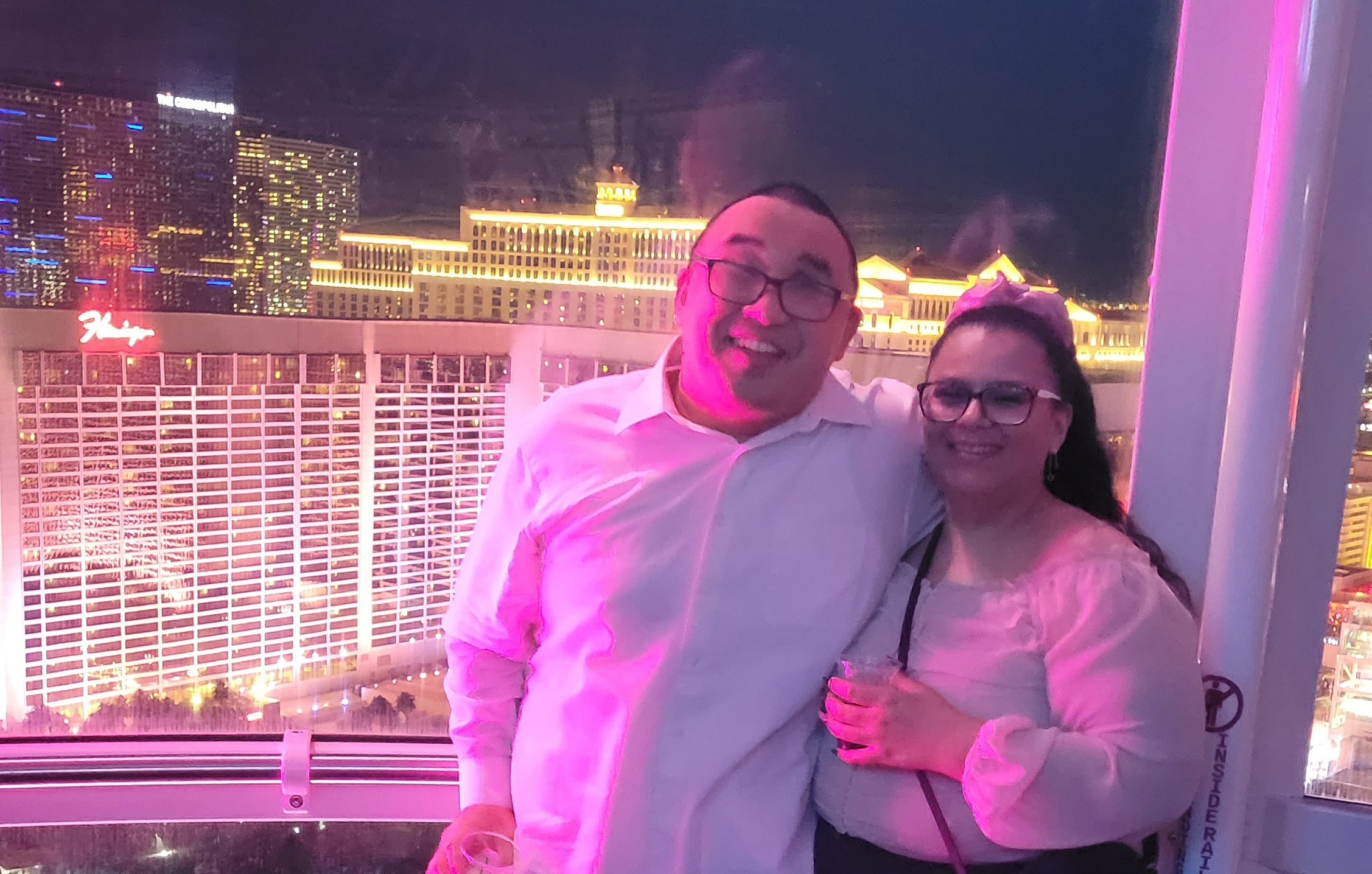 Something most people don't know about him: Sure, lots of people love to travel, but Cong likes to travel for free, or mostly free anyway.
"I really like collecting points for airlines and hotels," Cong explained, after prefacing his explanation with a disclaimer that he "knows it's nerdy" but enjoys the hunt for deals. "That way, I can maximize value in a way that lets me take a break, explore the world, and experience how other people live and eat."
Cong recently returned from a weekend away at the Bellagio in Las Vegas with his girlfriend. The music lover in him enjoys the choreographed dancing water fountains in front of the hotel— his favorite part about Las Vegas.
If he had one day to do anything he wanted: Cong shared three possible perfect days:
1) Waking up in a new place without worrying about the logistics of the day and being able to take the day to relax and step back from life.
2) Working as an accessibility consultant with departments and people across campus ("I love it when I meet different people throughout the day and how it can help open up their way of thinking!" Cong shared with a smile).
3) Pursuing one of his creative passions, DJing, even when he's nervous about the audience. "When I get into my groove and into the motion of actually DJing, I realize that everyone is enjoying themselves," Cong said. "That is a really good feeling, knowing that people are coming together over music."
Topics:
Share This:
Stay in the Know
Keep up with all the latest from UC San Diego. Subscribe to the newsletter today.