Take 10 With a Triton: Chef Héctor Pérez-Scolari on Finding Happy Places and Honoring a Friend
Published Date
By:
Share This:
Article Content
Name: Héctor Giancarlo Pérez-Scolari
Pronouns: he/him/his
Position: Chef de Cuisine, Catering Department, HDH UC San Diego
Years he has been working at UC San Diego: A San Diego native, Pérez-Scolari joined the university six years ago, after working as a chef in the wine region of California's central coast. He feels fortunate to be here, noting, "My wife graduated from Muir College, her sister and brother are graduates of Warren College and my brother-in-law is a sous chef for HDH as well—it's a UC San Diego family."
What he does at UC San Diego: Pérez-Scolari described the main responsibility of a chef de cuisine as being a leader for the kitchen team and making sure he puts the team in a position to succeed. "Menu planning, recipe development, training, scheduling, logistics, cooking—a little bit of everything," he said of his work.
He also has the opportunity to compete with other chefs across the country. Recently, he was named Pacific regional winner for the National Association of College & University Food Services 2023 Culinary Challenge and will advance to the national level competition this summer. He has joined competitions before, but he believes this type of challenge is much more difficult. "You have to create a recipe from scratch, knowing you only have two induction burners—no grill, no oven—and a specific set of ingredients," he shared about the challenge. "I made bread in one hour without an oven!" Chefs were critiqued on portion size, flavor, presentation, organization, sanitation and how much they waste.
His winning dish, a creative take on bahn mi, was dedicated to his friend, Quynh Nguyen, who passed away last fall. "Quynh was on the custodial staff for HDH, and I saw him every morning before he retired," Pérez-Scolari recalled. "We had a lot of conversations about Vietnam, which is one of my favorite places in the world. He inspired me as I was developing this dish."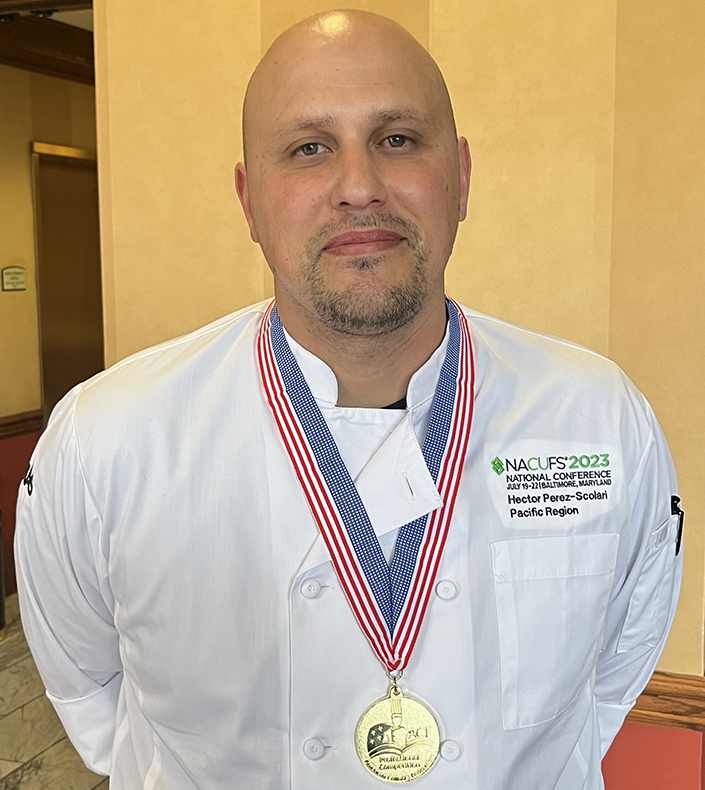 Pérez-Scolari emphasized that although he was recognized as "the winner," it's really a win for the full team. His coach, Executive Chef Vaughn Vargus, supported him throughout, including giving him ample practice time. "I didn't think I needed that much practice, so it was useful to have a mentor who has been there before," he said. "Having the catering kitchen team support me while I would do four-hour practice runs, just as though it was the competition, was invaluable. I put roughly 50 hours into it. By the time you get to the competition, it's all muscle memory."
What he loves about UC San Diego: What he loves about UC San Diego is that he is part of a really big, diverse department. "I've been able to have relationships with co-workers at UC San Diego that I would not otherwise have had," he said. "Our campus features many different cuisines, as well, everything from Neapolitan pizza to sushi to kosher and halal-certified dishes."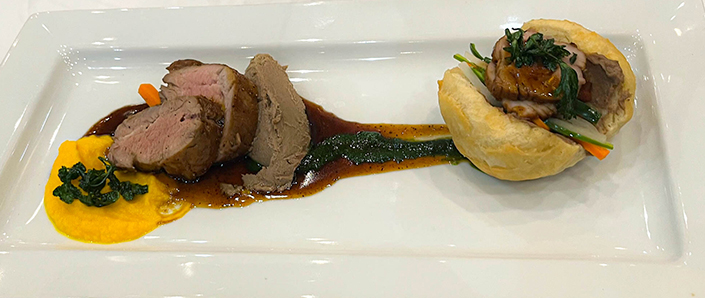 Best advice received: Pérez-Scolari shared that before he decided to become a chef, he was attending his second year of law school—unhappily, "I understood that money was not going to take me to happiness, but maybe happiness would eventually take me to money. I made decisions in my life to find happy places." Taking his own advice led to attending culinary school in San Francisco and working in the industry for the past 17 years.
Something unique in his workspace: Pérez-Scolari finds the location of his workplace unique, in that the catering kitchen is in a high-visibility spot within the HDH building. "Most of our directors walk right through the kitchen to get to the elevator," he said. "It drives a lot of interaction—they see what we are doing, can try what we are cooking and we have conversations about future plans."
His favorite spot on campus: Pérez-Scolari thinks we have an enviable campus. "When we do events, I make sure to take the time to breathe and take a walk," he reflected. "It's a beautiful campus, but my favorite spot is Oceanview Terrace, having a coffee and a good bagel overlooking the ocean. They tend to have good music on, also, so it's a good spot to break away for a bit."
Something most people don't know about him: He was an athlete. "I used to compete in basketball," he said. "I was in the national Olympics in Mexico and got up all the way to being offered scholarships in the U.S. and Mexico."
If he had one day to do whatever he wanted: He would pursue a combination of things, "I would take a trip with my wife and my kid to either Hanoi or Bali, which are my favorite cities to visit, and also play golf with my friends."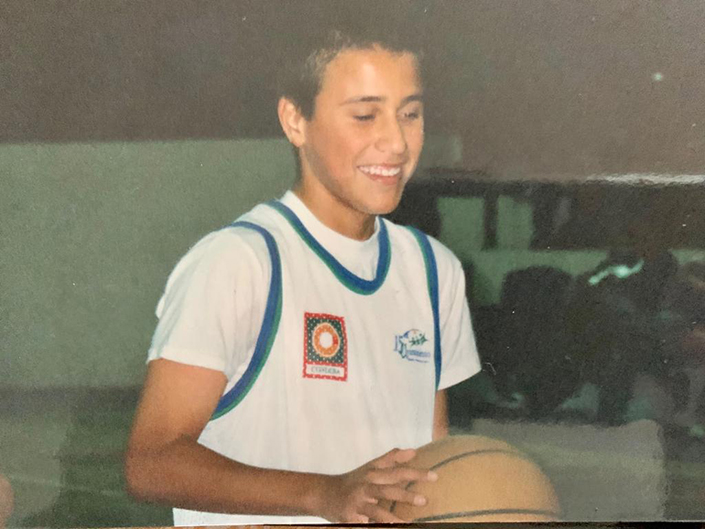 Stay in the Know
Keep up with all the latest from UC San Diego. Subscribe to the newsletter today.