Take 10 With a Triton: Alumnus Jose Perez Shares Why His Heart Belongs to Triton Transit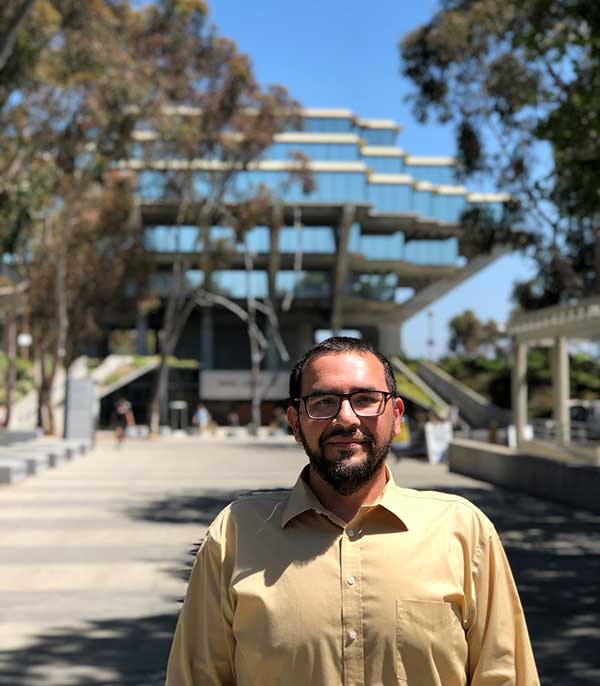 Name: Jose Perez
Position: General Manager for Triton Transit
Years at UC San Diego: Jose Perez started his position as General Manager in May, but he is no stranger to the campus or to the Triton Transit program.
What he does at UC San Diego: Perez started his career in mass transit at UC San Diego nearly two decades ago, working as a shuttle driver for Triton Transit while pursuing an undergraduate degree in Urban Studies and Planning. This allowed him to earn his commercial driving license and learn about the two top priorities of any mass transit operation—safety and customer service.
UC San Diego provided Perez with more than a career path, he met his wife while they were both students working for Triton Transit. "I met my wife as a student driver, in fact, she showed me how to drive busses," he shared. "So I've always had a special place in my heart for the Triton Transit program."
After graduating in 2005, he went on to work in consulting and executive leadership in the private and public sector of California's transit industry before returning to serve and support his alma mater as General Manager of Triton Transit. In his current role, Perez works with a team of managers and leaders that oversees the university's transit program, which includes shuttles on fixed routes, including the Hillcrest Express and the Grocery Shuttle to Convoy. Triton Transit also provides door-to-door service to people with limited mobility and charter services for campus events, athletic travel and field trips.
Perez is energized by recent efforts to secure federal funding for the Voigt Electric Mobility Hub, and looks forward to contributing to the university's sustainability efforts, "We have an aggressive goal of transitioning Triton Transit to zero emission vehicles by 2030, and already have on order six battery electric busses, the first of which will arrive in the new year. Being good stewards, responsibly managing our fleet, is important for our campus, the state—and our world, really."
He feels that student drivers are a unique and vital part of Triton Transit, "They are an important part of the success of the program and keep the program healthy by bringing a lot of great ideas and energy." Perez would like to hear from students who are curious about opportunities in transportation, and can be reached via email, jop023@ucsd.edu. He is also hosting recruiting events on Library Walk on July 6 and 7, from 10:00 a.m. to 3:00 p.m., and on Tuesdays and Wednesdays throughout July.
What he loves about UC San Diego: When asked about his return to the campus, Perez said it feels like coming home, adding, "I like the inclusivity and the open, welcoming atmosphere. I have seen and received it, not only from my peers and co-workers, but also from the student body. I see a lot of collaboration and exciting new developments. That is what I enjoyed when I was an undergraduate. I grew up in Chula Vista, so it has always been something I have appreciated about the university, but it is good to see that the welcoming nature has just grown by leaps and bounds."
Best advice received: "Know how to prioritize your efforts," Perez shared. "When you are working as hard as you can, there will always be conflicting projects and duties. Making sure you can determine the priority and the level of efforts needed is going to be critical to success. You are not going to get to everything immediately, so make sure you focus on the important stuff."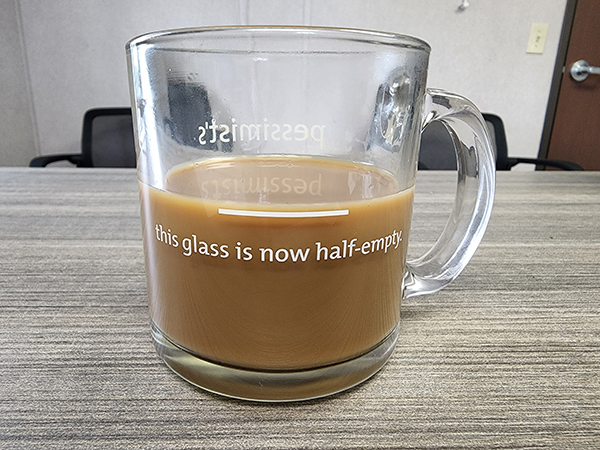 Something unique in his workspace: Perez talked about a funny mug on his desk, which also provides some insight on his leadership style. "I have a transparent mug, and when you fill it with coffee, there is a line that reads, 'this cup is half empty,'" he explains. "I really am optimistic, but I am discerning and ask challenging questions, which some people can read as pessimistic. The 'pessimist's' mug is my joke about the importance of considering potential barriers and making a plan for when things go wrong."
Favorite spot on campus: Campus classic Library Walk is a place that inspires a special feeling that many share with Perez. "Standing on Library Walk looking straight at Geisel Library in the heart of the university, it is so iconic, so nostalgic," he said. "I was able to bring my family here, and my son was awed. To see that kind of excitement for a library—because he loves reading—was a good feeling and only helped cement it as my favorite."
Something most people don't know about him: Perez has always had in interest in working on cars, initially out of a desire to save on repair and maintenance expenses—by changing the oil in his car, for example. But his interest has grown, and he is thinking about getting a project car. "Something completely boring, like a mid-90s sedan," he said. "It's not about the appearance of the car. I think it would be fun to restore something and appreciate the mechanical aspects of it, learn how things work and go together."
If he had one day to do whatever he wanted: The perfect day would involve his family, someplace in nature, like the beach, a national park or forest. "The important part is to spend time with my wife, son and daughter outdoors, and to enjoy the day without any distractions."
Stay in the Know
Keep up with all the latest from UC San Diego. Subscribe to the newsletter today.