Sustainability Gets the Spotlight at UC San Diego's Earth Month Celebrations
By:
Christine Clark

Darlene Lopez
Media Contact:
Published Date
Article Content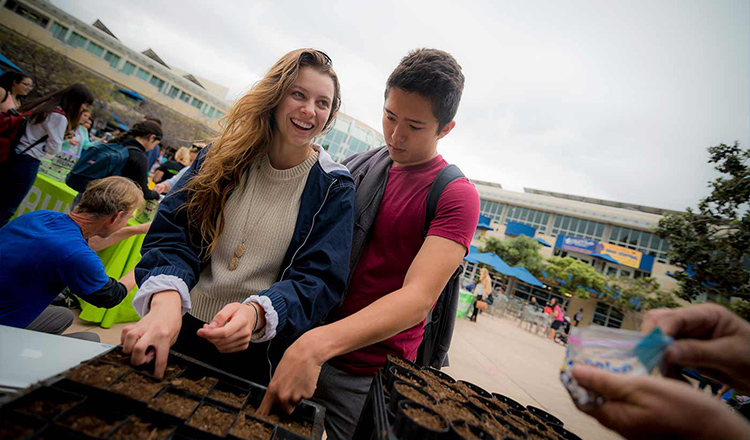 The University of California, San Diego campus community will celebrate Earth Month throughout April to educate and raise awareness about sustainability, climate change and the impact of policy on the environment.
This is the first year that UC San Diego's activities around Earth Day, recognized nationally on April 22nd, have been extended to a month-long series of events.
"Sustainability is an integral part of UC San Diego's institutional DNA," said Chancellor Pradeep K. Khosla. "The dynamic Earth Month events, planned by our dedicated students and staff, offer an opportunity for our campus to both celebrate our achievements in environmental sustainability, and demonstrate our commitment to making our planet healthier for future generations."
The series of events includes a campus garden tour, composting bin workshop, campus cleanup, tree planting, annual I-House "Trashion" Show , as well as a City of San Diego climate action plan presentation. Other events include various presentations by faculty, movie screenings and sustainability fairs.
A sampling of UC San Diego's Earth Month events, which are free and open to the public, are below. For more information about the month of activities, click here.
Annual Earth Month Tree Planting, April 1, 11:30 a.m. to 1:30 p.m., Mesa Garden
The campus and local community are encouraged to celebrate Earth Month with UC San Diego's sustainability office and campus landscaper Chris Johnson. Johnson and volunteers will be planting trees in honor of this year's Earth Month.

UC San Diego Campus Garden Tour, April 5, noon to 1 p.m., Beginning at Half Moon Meadow at Muir
(located between Middle of Muir and the Tamarack Apartments in Muir College) Participants are invited to take part in a walking tour of the student-led gardens on campus. The guided tour includes visiting the Half Moon Meadow at Muir, Marshall Student Garden and Ellie's Garden. Also included will be self-guided walking directions to Roger's Community Garden and information about visiting the new garden at the Mesa Nueva housing on UC San Diego's east campus.
Bending the Curve of Climate Change: Why Do We Need an Alliance Between Science, Religion and Policy?, April 6, 5:30 to 7:30 p.m., Seuss Room, Geisel Library
Scripps distinguished climate and atmospheric scientist Veerabhadran Ramanathan will host a lecture at the UC San Diego Geisel Library to discuss the impact of an alliance between science, religion and policy on climate change. Ramanthan is known for his pioneering research on climate change and climate change mitigation.
Sustainability Fair, April 21, 11 a.m. to 1 p.m., Price Center Plaza
All are invited to celebrate Earth Day activities with student organizations, campus departments and others to learn how each individual can live more sustainably.
"Merchants of Doubt" and its Legacy for Climate Science and Policy, April 21, 5:30 to 7:30 p.m., Seuss Room, Geisel Library
Lynn Russell, professor of atmospheric chemistry at Scripps Institution of Oceanography, and Ellie Farahani, executive director of the Climate Science and Policy Master of Advanced Studies Program also at Scripps, will present the documentary film, "Merchants of Doubt," based on the book written by former UC San Diego science historian Naomi Oreskes. Russell will then discuss how the film demonstrates the influence of climate change deniers and how special interests groups have attempted to influence the science-policy landscape.
I-House "Trashion" Show, April 21, 6 to 8 p.m., I-House Great Hall
International House at UC San Diego will host the annual Trashion Show, a collection of attire made entirely out of recyclables.
Environments in Motion: The Hockey Stick and the Climate Wars, April 22, 2 p.m., Great Hall
Michael E. Mann, professor of meteorology at Penn State University, will visit UC San Diego to discuss the politics behind the controversy of climate change. Mann is a key figure in the climate change debate due to his original paper depicting the Hockey Stick, a chart showing global temperature data over the past 1000 years.
City of San Diego Climate Action Plan Presentation, April 28, noon to 1 p.m., Student Center (Bldg. 289) Dolores Huerta Philip Vera Cruz Room
The City of San Diego's sustainability manager, Cody Hooven, will present the city's Climate Action Plan. Staff, students, faculty and community members are invited to attend.
For more information about UC San Diego's sustainability efforts, click here.
Stay in the Know
Keep up with all the latest from UC San Diego. Subscribe to the newsletter today.