Study: Endometrial Cancer Treatment Has Significant Results
The combination of immunotherapy and chemotherapy showed a significant reduction in disease growth in patients with advanced endometrial cancer
Published Date
By:
Topics:
Share This:
Article Content
In a study published in the March 27, 2023, online edition of the New England Journal of Medicine, researchers at the University of California San Diego School of Medicine and Moores Cancer Center at UC San Diego Health found the combination of immunotherapy (pembrolizumab) and chemotherapy in patients with advanced or recurrent/advanced endometrial cancer resulted in a significant reduction in disease growth when compared with chemotherapy alone.
Endometrial cancer, a type of cancer that begins in the lining of the uterus, is one of the few cancers with a rising incidence and death rate. Experts estimate that by 2040, it is projected to be the third most prevalent cancer and the fourth leading cause of cancer death among women.
In the past four decades, there have been limited advancements in treatment for patients with advanced endometrial cancer.
"These results may transform the way we care for patients with advanced stage or recurrent/advanced uterine cancer. Currently, chemotherapy alone is used in the first-line treatment for patients with this disease," said Ramez N. Eskander, MD, associate professor in the Department of Obstetrics, Gynecology, and Reproductive Sciences at UC San Diego School of Medicine, principal investigator and lead author of the study.
"It is critical that we work to identify effective and innovative treatments and combination therapies, such as immunotherapy and chemotherapy, to attack this cancer and give patients more time to live their lives fully."
In the blinded, placebo-controlled, randomized Phase III trial, 816 people with Stage III or IV endometrial cancer were assigned to two groups: deficient mismatch repair (dMMR) and proficient mismatch repair (pMMR), and treated with either immunotherapy in combination with chemotherapy or with chemotherapy alone.
In cancer, mismatch repair (MMR) proteins describe cells that have mutations in certain genes that are involved in correcting mistakes made when DNA is copied in a cell. pMMR is the "normal" state our cells are in, where the MMR pathway is active and functional. dMMR is the "mutant" state, where the MMR pathway is not working as usual.
At a follow up time of 12-months, the dMMR group showed a 70% reduction in the risk of disease growth in the participants who received immunotherapy in addition to chemotherapy. The pMMR group showed a 46% reduction in the risk of disease growth in the participants who received immunotherapy in addition to chemotherapy.
"These are exciting results that are both statistically significant and reflective of a clinically meaningful benefit," said Eskander, gynecologic oncologist at UC San Diego Health.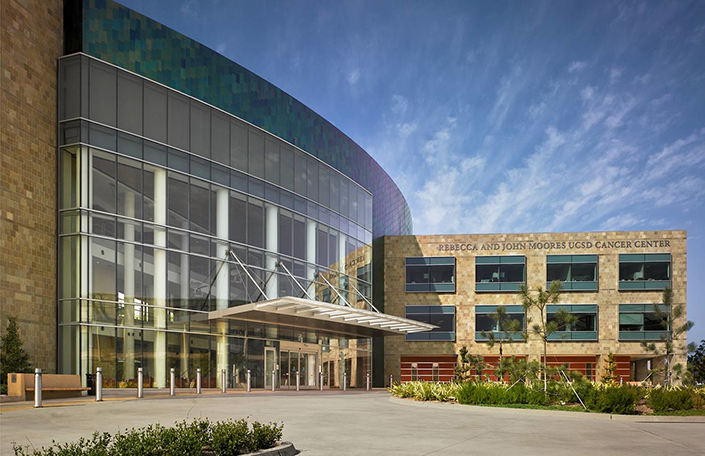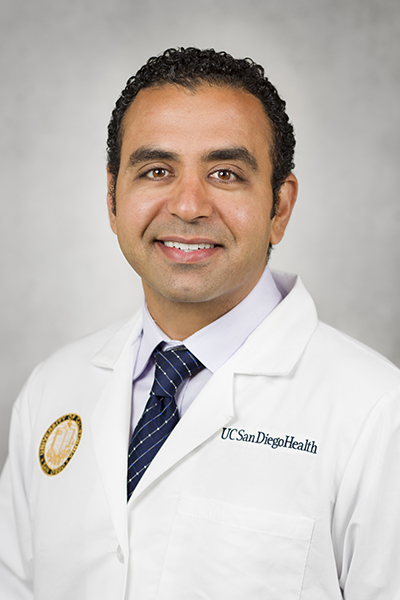 There are more than 60,000 cases of endometrial cancer diagnosed each year. Symptoms include vaginal bleeding/spotting, pelvic pain, bloating or change in bowel or bladder habits.
Eskander emphasizes that endometrial cancer is most common in post-menopausal women, and vaginal bleeding/spotting in this patient population can sometimes be overlooked.
"Anyone experiencing vaginal bleeding, even spotting, when post-menopausal should speak to their doctor. Early diagnosis often results in better outcomes."
Eskander adds next steps to further the study results are to receive approval from the Food & Drug Administration and implement the new treatment approach as a standard practice.
According to the 2022-2023 U.S. News & World Report "Best Hospitals" survey, UC San Diego Health is ranked 20th for cancer care, among the nation's top 50 programs, out of more than 4,500 hospitals nationwide. Moores Cancer Center at UC San Diego Health is the only National Cancer Institute-designated Comprehensive Cancer Center in San Diego County, the highest possible rating for a U.S. cancer center.
Co-authors include: Michael Sill and Shashikant Lele, Roswell Park Comprehensive Cancer Center; Lindsey Beffa ,Case Comprehensive Cancer Center, Cleveland Clinic Foundation; Richard Moore, University of Rochester Medical Center; Joanie Mayer Hope, Alaska Women's Cancer are and Providence Alaska Cancer Center; Fernanda Musa, Swedish Medical Center-First Hill; Robert Mannel, University of Oklahoma Health Sciences Center; Mark Shahin, Jefferson Abington Hospital; Guilherme Cantuaria, Georgia NCI Community Oncology Research Program; Eugenia Girda, Rutgers Cancer Institute of New Jersey; Cara Mathews, Alpert Medical School of Brown University; Juraj Kavecansky, Kaiser Permanente NCI Community Oncology Research Program, Antioch Medical Center; Charles Leath, University of Alabama at Birmingham; Lilian Gien, Odette Cancer Centre, Sunnybrook Health Sciences Centre; Emily Hinchcliff, Northwestern University; Lisa Landrum, Indiana University Health & Simon Cancer Center; Floor Backes, The Ohio State University Wexner Medical Center and James Cancer Hospital; Roisin O'Cearbhaill, Memorial Sloan Kettering Cancer Center and Weill Cornell Medical College; Tareq Al Baghdadi, Michigan Cancer Research Consortium NCORP, Trinity Health IHA Medical Group; Emily Hill, University of Iowa Hospitals & Clinics; Premal Thaker, Washington University School of Medicine; Veena Susan John, Northwell Health Cancer Institute; Stephen Welch, London Regional Cancer Program; Amanda Fader, Johns Hopkins School of Medicine.
Funding for this research came, in part, by National Institutes of Health (grants U10CA180868, U10CA180822 and P30CA008748) and Merck & Co., Inc.
Topics:
Share This:
Stay in the Know
Keep up with all the latest from UC San Diego. Subscribe to the newsletter today.