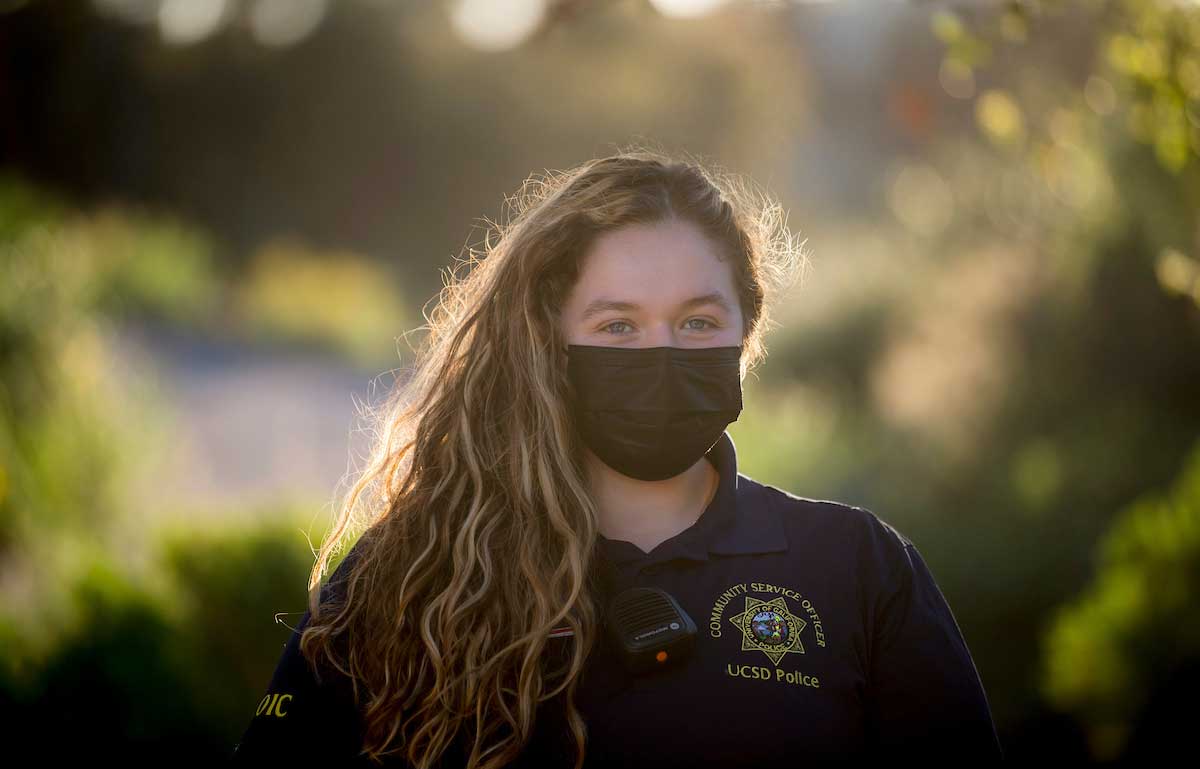 Student Community Service Officers Promote Campus Safety
Student Community Service Officers have supported safety on our campus for more than 40 years. They serve as safety escorts, assist with campus patrols, provide additional security at campus events, assist with medical emergencies and even provide fire watch services in cases where building fire alarms are being serviced or installed.
There are currently 50 CSOs serving the UC San Diego community, but the Police Department is always looking for students who are willing to serve. To learn more about what it's like to work as a CSO, we spoke to Dianna Lopez, a third-year student majoring in psychology who has been working as a CSO for nearly one year.
Q. How did you get involved with the CSO program?
A. I had heard about the position from family and friends. I'd also seen the CSOs walking around on campus and had taken advantage of the campus escort service.
Q. Why was this program of interest?
A. I'm interested in law enforcement but not sure what kind of career I would want to pursue. I thought participating in the CSO program would help me get some perspective, both by speaking to officers and seeing what they do.
Q. What kinds of activities do you help with as a CSO?
A. I've helped with on-campus emergencies by directing fire and medical aids to locations on campus. Directing traffic helps the responders get to people in need, and it also supports the officers who are on the scene.
Q. Does law enforcement relate to what you are studying?
A. I would say so. I am a psychology major, so I think in general it relates to understanding and communicating with people. Also, having a leadership position allows me to interact with a team.
But a wide variety of majors are represented in the CSO program.
Q. Could you tell me more about having a leadership role?
A. I've led some CSO trainings and am the first person students meet when they come into the program. I'm honored to introduce them to the program and, hopefully, get them more excited about the CSO position itself. We meet so many people with so many different backgrounds. Interacting with a diverse group of people allows me to learn and grow as a person. Anyone coming into the program has different interests and a different life story, so it's always nice to be exposed to that type of environment. I have sharpened my listening skills and understanding of others being in the position.
Q. What surprised you about serving as CSO?
A. I'm surprised by the connections I've made in the program. I joined so that I would have a job on campus, but it's been so nice to form bonds and friendships with people in the program and other people in the police department. It's a welcoming environment—the officers engage with us and show appreciation for the duties the CSOs take on. Our work gets acknowledged.
It's also been good to have a great support system, not only as a student worker, but a student in general. Every CSO is a student, so it's nice to know we can share our struggles about classes and how the quarter is going. The officers take interest in our studies and our wellbeing. They ask how we're doing or if we need anything.
Q. How have you benefitted from experience?
A. Getting to see the inner workings of the police department, being able to hear the experiences of officers, assisting with emergencies and seeing how responses are managed. I like being able to be there and help.
Q. What should students know about CSOs or their work?
A. We really do our best to serve the community. It is a fun position for students, and no experience is needed. It is rewarding to go through the training. Talk to CSOs on duty, ask them about it. I'm happy to talk to anyone about the program.
If you are a student interested in becoming a Community Service Officer, please apply on Handshake, job #5779526, or search Community Service Officer. Students can also contact Lieutenant Scott Gustafson about the program.
Stay in the Know
Keep up with all the latest from UC San Diego. Subscribe to the newsletter today.