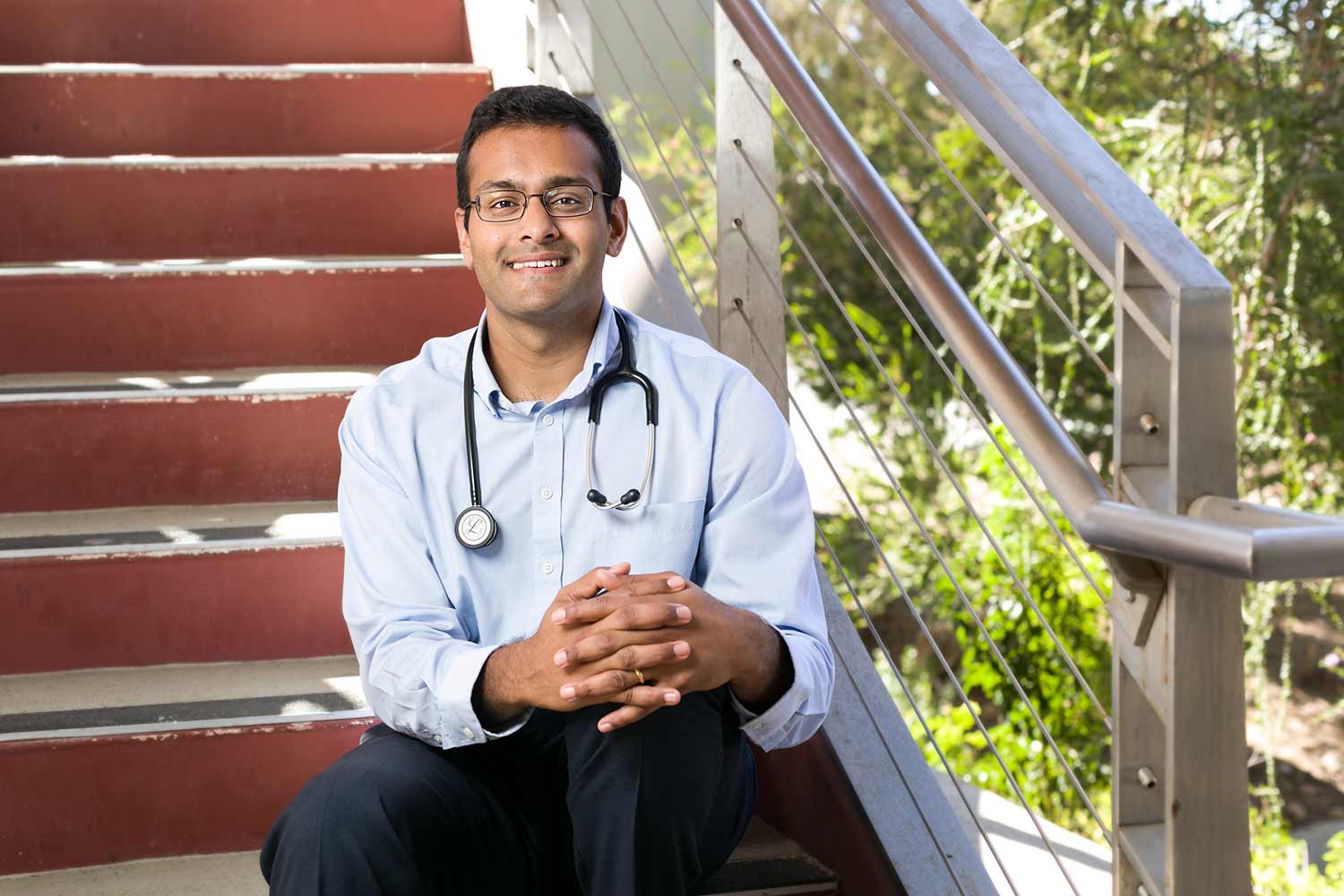 Student Awarded Prestigious Fellowships in Both Medicine and Environmental Science
Devesh ("Dev") Vashishtha, a fourth-year MD-MAS student and alumnus ('12 BA, '17 MAS), has won prestigious national fellowships in both family medicine and environmental stewardship.
Vashishtha, a UC Medical Scholar and former UC Regents Scholar, is one of only six medical students in the country selected for the 2017 Pisacano Scholars Leadership Program, awarded by the philanthropic arm of the American Board of Family Medicine to foster the professional development of individuals identified as being future leaders in family medicine.
He is also the only medical student awarded a 2017 Switzer Fellowship from the Robert & Patricia Switzer Foundation to support his interest in environmental justice and public health.
"My end goal is to shape health policy," said Vashishtha, who is an accomplished singer of traditional Indian music and avid student of the Hindu Vedanta philosophical tradition. "The issues that inspire me are improving people's access to primary care, disease prevention and early interventions that can both improve public health and lower the total cost of health care."
"We need primary care to address public health crises like obesity and diabetes, and we need physician payer models that incentivize keeping patients healthy," he said.
In medical school, Vashishtha interned with Assemblywoman Lorena Gonzalez to help pass the Healthy Workplaces, Healthy Families Act of 2014, which guarantees that private-sector workers earn paid sick leave. He has also served as a legislative contact for the California Academy of Family Physicians, most recently advocating for increased funding to medical residency programs in underserved areas.
He said his interests in environmentalism began with his parents, who are both scientists with a passion for protecting the natural world for future generations.
"I grew up in an environmentally conscious household," Vashishtha said. "My dad went to unusual lengths to protect the environment. He would take glass containers and cups to parties so we didn't use Styrofoam. Environmentalism is in my consciousness and upbringing."
Vashishtha is one of the founding members of the 2015 Hindu Declaration on Climate Change, which is a call to Hindus worldwide to "lead lives in harmony and balances with the natural world." He is also the UC San Diego chapter lead for Student Physicians for Social Responsibility, which seeks to highlight the medical problems caused by environmental degradation, among other topics. Through this organization, he has lobbied in Washington, D.C. for clean power policies.
"Climate change will increase the global burden of infectious diseases such as malaria, Zika and Lyme disease," he said. "We are also seeing changes in pollen patterns and increases in asthma diagnoses. We know that the poor and people of color will be the hardest hit. My interest in climate change is closely tied to my interest in public health and disease prevention."
Vashishtha graduated summa cum laude from UC San Diego with a bachelor's degree in political science and a minor in biology in 2012. He earned a master's of advanced studies in clinical research from UC San Diego in 2017 for his work on intravenous drug use prevention with epidemiologist and policy analyst Daniel Werb, an assistant professor in the school of medicine.
He is scheduled to earn his medical degree this spring and then plans to begin a three-year residency in family medicine. His goal is to eventually run for public office, he said.
Stay in the Know
Keep up with all the latest from UC San Diego. Subscribe to the newsletter today.