Stronger Together: Celebrating our Latinx Campus Community Members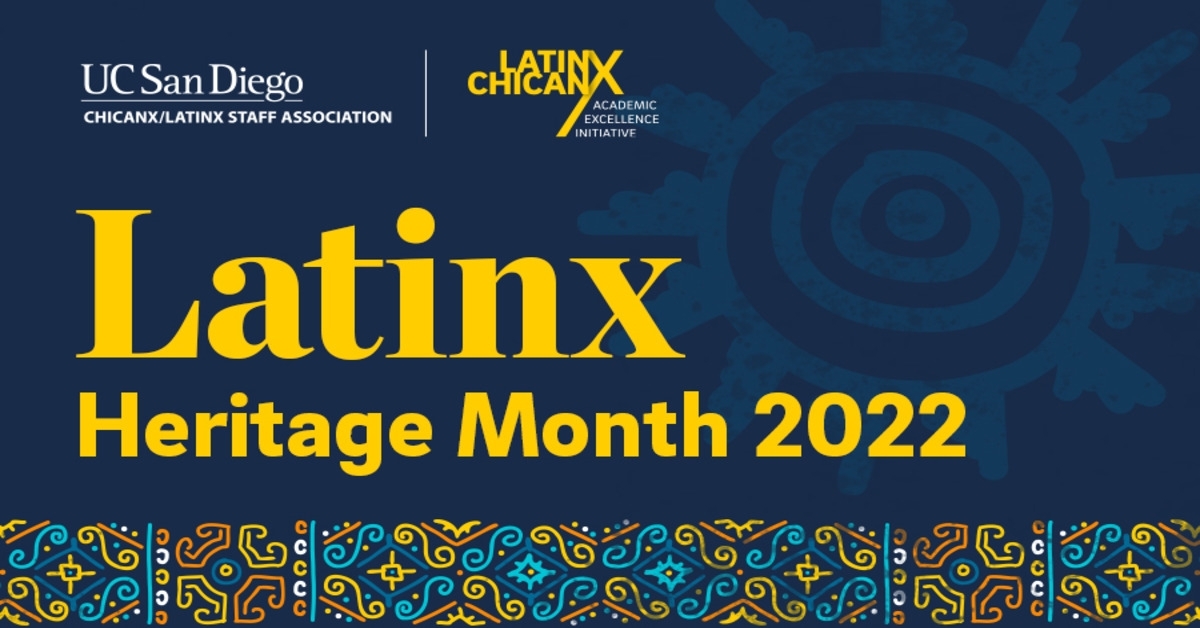 Published Date
By:
Share This:
Article Content
The UC San Diego community is invited to join in events across campus in October as part of the celebration of Latinx Heritage Month. A series of programs has been curated to mark the occasion, offering the opportunity to continue to learn about, recognize and acknowledge the rich heritage, history, cultures and contributions of our Latinx community.
The monthlong celebration also encourages students, staff and faculty to embrace the 2022 unifying theme: "Unidos: Inclusivity for a Stronger Nation."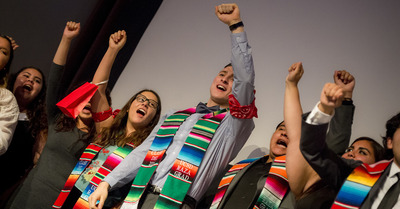 The word "unidos"—which translates to united—brings forward images of community, belongingness and support. At UC San Diego, an emerging Hispanic-Serving Institution (HSI) with a current Latinx undergraduate enrollment of 22 percent, the heritage month invites us to continue shining a spotlight on the unique individuals who make up our diverse Latinx community.
"We are thrilled to again have the opportunity to showcase and honor the diverse and intersectional voices in the Latinx community though a series of events culminating in the commemoration event," said Mario Garibay, assistant dean of Student Affairs and co-chair of the Latinx Heritage Month planning committee. "Especially now, as the university is moving to become an HSI and our community continues to be impacted by national and global challenges, it is more important than ever to connect through our culture and see the representation of our community at UC San Diego."
Latinx people play a major role in the fabric of America, from the country's arts and culture to scientific and medical advancements. Many members of UC San Diego's Latinx campus community have also made a lasting mark on society, such as the late Mexican-born scientist and UC San Diego Distinguished Professor Mario Molina, who won the Nobel Prize in Chemistry in 1995.
To highlight some of the unique individuals that make up UC San Diego's Latinx campus community, we invited students, faculty and staff to speak about topics including their cultural identity and heritage, powerful moments of unity and who they want to spotlight this Latinx Heritage Month:
Rubén Ortiz-Torres | Professor of visual art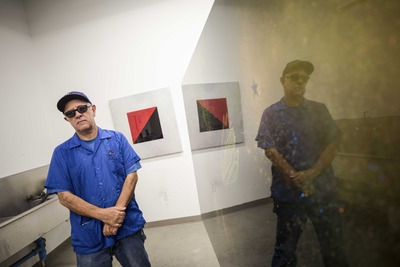 Rubén Ortiz-Torres, an artist who has been a faculty member in UC San Diego's Visual Arts Department for over two decades, was born in Mexico City to musical parents. While living in the capital city of Mexico, he found himself at an intersection of cultures. Though he was growing up in a modern, bustling metropolis deeply rooted in indigenous Mexican culture, he was also consuming American culture, listening to punk rock and more.
"It would probably be more accurate to say that I'm part of the first generation of Chicanos born in Mexico," laughs Ortiz-Torres. He identifies with an experience that many Chicanos face when it comes to their identity—an "in-betweenness" of being both Mexican and American.
When asked about special moments where he has felt especially empowered and uplifted by his Latinx community, Ortiz-Torres reflects on his experiences during recent social justice movements. "Whether they were marches for immigrant rights or Black Lives Matter protests, there were always Aztec dancers participating," he shared. "I see that solidarity as something that is very uplifting."
His spotlight for Latinx Heritage Month: his sister, Gabriella Ortiz. Considered one of the foremost composers in Mexico, she will be collaborating for a performance this month with Gustavo Dudamel, the music and artistic director of LA Philharmonic.
Moises Alvarado | Student Care and Accountability Specialist, John Muir College Student Affairs Staff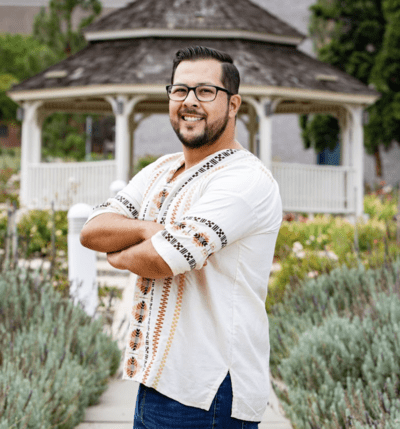 As a Student Care and Accountability Specialist at John Muir College, Moises Alvarado works to support students throughout their undergraduate careers. His path toward working in higher education has been shaped not only by the encouragement of his family, but by Latinx community members who provided a sense of unity along the way.
For Alvarado, a proud first-generation student and the son of immigrant parents, growing up in Mexican culture also means being a part of a very celebratory and resilient culture. "If you succeed, you succeed for the community," he said, recognizing his supportive system of uncles, aunts, friends and more.
As an undergraduate, Alvarado found himself navigating college waters alongside other first-generation students who were in the same position. Despite the challenges, "there was always this sense of 'You got it, you keep going, keep pushing forward. We are going to support you in whatever way we can,' " said Alvarado.
During his master's program and through today as he completes the Joint Doctoral Program in Educational Leadership at Cal State San Marcos and UC San Diego, Alvarado continues to find solidarity amongst his Latinx colleagues. "There is this sense of 'I see you in the room and I'm going to check in with you afterward because I want you to succeed.' "
His spotlight for Latinx Heritage Month: all Latinas working in higher education. He also names his mentor Terri Gomez, associate provost for Student Success, Equity and Innovation at Cal Poly Pomona.
Milena Salazar | Structural engineering undergraduate student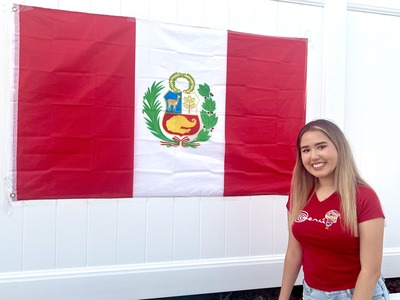 Fourth-year engineering student Milena Salazar has made her mark on campus, demonstrating her leadership as a Hispanic woman in STEM. She currently serves as the president of the Society of Hispanic Professional Engineers (SHPE) at UC San Diego, as well as an RA for Sixth College.
Salazar is the first person in her family to attend college and is the child of Peruvian immigrants. Among some of her favorite aspects of her culture are the traditions her family has brought from Peru. "We always celebrate Fiestas Patrias," said Salazar, which is a holiday commemorating Peru's independence. "We throw a big celebration at my house, where we get to sing the national anthem, eat Peruvian food and do all the traditional dances."
For Salazar, heritage is more than something "that is just celebrated on a holiday." She celebrates her Peruvian identity daily, using it as a source of inspiration to work hard and bring pride to her country. She is also working to raise the representation of Hispanics in the STEM workforce through her work with SHPE.
Her spotlight for Latinx Heritage Month: the IDEA Engineering Student Center at the Jacobs School of Engineering. Through their programming which promotes equity in engineering, Salazar was able to find mentors and resources to support her journey as a first-generation student in STEM.
Kimberly Parra-Guerrero | Medical student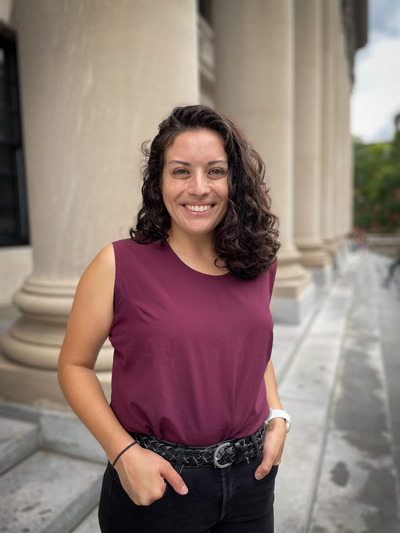 Kimberly Parra-Guerrero is a fourth-year medical student in the UC San Diego School of Medicine's Medical Education–Health Equity (PRIME-HEq) program. She is the daughter of Colombian immigrants who moved to the U.S. before she was born.
As the former president of the UC San Diego School of Medicine Latino Medical Student Association, Parra-Guerrero feels passionate about diversifying medicine through medical education. She shared that only six percent of active physicians in the country identify as Latinx, and that proportion is even less when it comes to Latinx women. "Even though there aren't that many of us, we all want more Latinx and people of color in medicine," she said. She feels motivated by the potential to make a lasting impact on young people who dream of working in medicine but may not yet see themselves represented.
Through witnessing her parents navigate the healthcare system and working with Latinx patients, she also acknowledges the role that cultural context plays in the patient experience. "This is something that has really opened my eyes to wanting to be a culturally competent and culturally humble physician who is able to connect with patients on a deeper level," says Parra-Guerrero.
Her spotlight for Latinx Heritage Month: Natalie Rodriguez, M.D., associate clinical professor at UC San Diego School of Medicine. Rodriguez has served as a mentor for Parra-Guerrero since the start of her medical school journey.
Latinx Heritage Month Events
This month at UC San Diego, a variety of events have been curated to showcase the diversity of Latinx people, as well as highlight the complexities and intersectionality of Latinx culture. The event calendar includes a ballet folklorico performance; a special event with Yvett Merino, the producer of Disney's award-winning film "Encanto;" and more.
Latinx Heritage Month events take place on campus and throughout the San Diego community, offering an array of unique experiences for staff, students and faculty to learn about Latinx heritage and contributions as well as build community. The events are organized by the Chicanx/Latinx Staff Association in partnership with the Latinx Academic Excellence Initiative and Hispanic-Serving Institution (HSI) workgroups.
To view a full calendar of events, please visit the Latinx Heritage Month website.
Oct. 27 | Las Cafeteras: Hasta La Muerte
Hasta La Muerte is an enthralling new production rooted in the indigenous Mexican practice of celebrating Life and Death, universally known as Día de los Muertos. To purchase tickets for the 8 p.m. event held at the new Epstein Family Amphitheater, visit the venue's website.
Oct. 6 | Muir College Movie Night: "Encanto"
At 6 p.m. on Muir Lawn, attend a special showing of Disney's animated film "Encanto." Attendees can register online for the free event.
Oct. 11 | Latinx Org Fair
From 10 a.m. to 2 p.m. at Library Walk, the Latinx Student Organization Fair will showcase student groups whose purpose highlights issues, interests, and topics surrounding the Latinx community.
Oct. 13-14 | CLS Latinx STEM Plática Series
As part of this event series, attendees will hear from UC San Diego Latinx STEM faculty as they share their journey, research and relationship to the Latinx community and experience. The conversations will be held at the Latin American Studies Gildred Building Library from 11:30 a.m. to 1 p.m.
Oct. 27 | Las Cafeteras: Hasta La Muerte
Hasta La Muerte is an enthralling new production rooted in the indigenous Mexican practice of celebrating Life and Death, universally known as Día de los Muertos. To purchase tickets for the 8 p.m. event held at the new Epstein Family Amphitheater, visit the venue's website.
Stay in the Know
Keep up with all the latest from UC San Diego. Subscribe to the newsletter today.