Stories of Resistance: Amplifying Black Voices on Campus
Published Date
By:
Share This:
Article Content
The campus community has been invited to join in an array of programs and workshops throughout February in honor of UC San Diego's 21st annual Black History Month. This year, the university is centering its monthlong celebration around the theme "Black Resistance, The Work Toward Freedom Continues."
Black Resistance—which is also the national theme for Black History Month for 2023—recognizes the historic and ongoing fight against oppression and racism in all forms that the Black community has faced and resisted. These acts of resistance have been recorded throughout history—from slave rebellions and uprisings, to sit-ins and strikes, to protest movements in the 1950s, '60s and through today.
In and around our community, we also see that Black Resistance can take a multitude of shapes: A student being the first in their family to attend college and attain a higher education. A group of individuals coming together to find joy in music and dance. A neighborhood cultivating a strong sense of community, empowering one another to feel supported and safe.
We spoke to a selection of UC San Diego students, staff and faculty members who are living out the theme of Black Resistance in a variety of ways, ranging from their research topics to personal passions.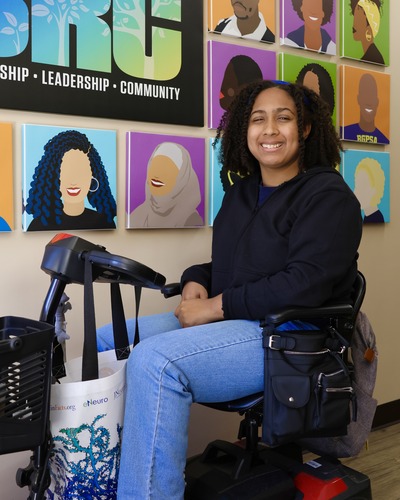 Angela Chapman '23
As she rounds out her final year at UC San Diego, fourth-year psychology student Angela Chapman '23 has been reflecting on the type of legacy she will be leaving behind on campus. Chapman is the youngest of 13 children and will be the first in her family to graduate from college. She is also pursuing her bachelor's degree while navigating university life as an individual with cerebral palsy.
An alumna of UC San Diego's Summer Bridge program, Chapman is passionate about supporting and encouraging underrepresented and Black students on campus throughout their college journey. She has served as tutor with OASIS, as well as a peer mentor through the Chancellor's Scholars Program. Currently, she helps foster a supportive campus community space for Black experiences working as a peer guidance leader at the Black Resource Center.
"I think it's really important to have that sense of community and connectedness … There are just so many obstacles that Black students have to think about and face–especially when it comes to pursuing higher education and a bachelor's degree when there is such a low percentage of us on this path," said Chapman.
After graduation, Chapman will be pursuing postbaccalaureate research positions before joining a doctorate program. She hopes to apply what she's learned through her research and studies at UC San Diego into a career in clinical neuropsychology. In her career, she also wants to lead as a mentor and serve as a source of encouragement and support to others.
"I think an important aspect of Black Resistance being the theme of this month is that it's not only resisting in terms of activism. Even something like me pursuing my education and career–going towards that Black Excellence–is a form of Black Resistance, as well." She adds, "it's the idea of breaking the ceiling and being part of the first."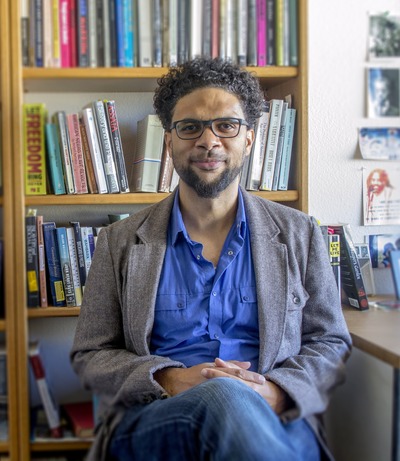 Dennis Childs
At the start of each course that Associate Professor of African American Literature Dennis Childs teaches at UC San Diego, he challenges his students with the same question: "Who freed the slaves?"
Childs explains that while many give the answer Abraham Lincoln, the story we are often told leaves out how there were actually a quarter million Black people that entered into the war for freedom. Among these individuals was Harriet Tubman, a historic abolitionist, activist and the first woman to lead a major military operation in the U.S.
"It's about centering our own role in our own history, specifically through the lens of resistance," says Childs, who is also the director of the Black Diaspora and African American Studies program (BDAAS). Resistance is a core theme in many of the courses that he teaches.
One of these courses centers around the writings of prisoners and former slaves, exploring the relationship between slavery and prisons in the United States. The class highlights the voices of those who went through these experiences, sharing narratives from individuals such as former UC San Diego graduate student, academic and political activist Angela Davis.
"It's challenging the traditional models of history that say slavery ended in 1865, when we have the biggest prison system on the planet–at its peak with over 2.3 million people incarcerated. And, we know that close to half of those 2.3 million people are Black."
Since his arrival to UC San Diego in 2007, Childs is proud to have seen former students incorporating resistance and activism into their lives and careers. These alumni achievements include serving as the editor of the Harvard Law Review and publishing content on the prison industrial complex, as well as founding a campus organization dedicated to sharing information about mass incarceration.
Childs invites the campus community to continue learning about resistance at a special panel discussion hosted by BDAAS in Price Center on Feb. 23: "Resisting the Prison Industrial Complex."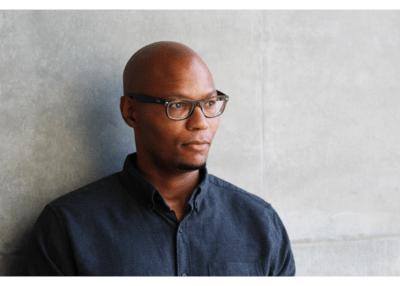 James Crawford '23
"When I think about Black Resistance, I think about really centering Black healing and Black joy," said James Crawford.
As an education studies doctoral student, Crawford is exploring the healing and empowerment processes of Black youth, particularly in community-based education spaces and programs. He currently works with a local nonprofit organization that supports the wellbeing and academic success of Black male youth in San Diego.
"The type of healing and joy that I pursue within my own personal and professional efforts is really around building community, building connections, building spaces where Black folks can see themselves in each other and see themselves in the environment," said Crawford.
At UC San Diego, he has helped cultivate spaces for Black students to celebrate their rich history and culture as an advisor for the Black Graduate Experience Living and Learning Community. His other affiliations include serving as an instructor with the Thurgood Marshall College's Partnership Schools program as well as graduate teaching consultant with the Teaching + Learning Commons Engaged Teaching Hub.
"So much of the work that I've done on this campus reflects my commitment to promoting racial equity and promoting pro-Blackness," said Crawford. "So, not just focusing on anti-racism or just minimizing racial inequality, but also emphasizing the positive side of what it means to amplify all that Black history, Black culture and Black communities have to contribute."
As a former foster youth, Crawford also shares he was fortunate that he and his siblings were raised by his aunt, who helped him recognize education as "a reflection of the ongoing legacy of education as a means of liberation that has been so much a part of our Black culture and our Black history." He was able to recently lead an HBCU college tour, which he shared "helped to really re-inspire, reinvigorate and reaffirm who I am and what I do."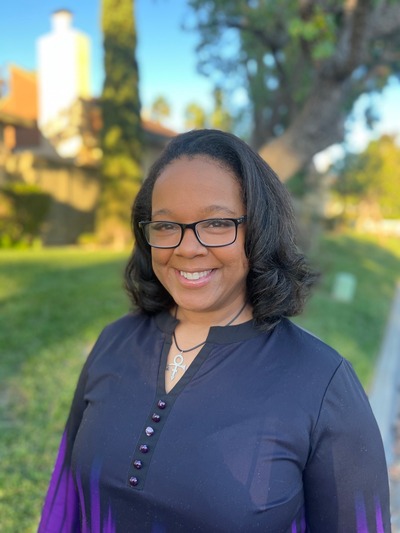 Cat Thompson
As a licensed psychologist, Cat Thompson has a rich history of supporting the health and wellbeing of the UC San Diego campus community. Prior to her current role as a counselor with the Faculty & Staff Assistance Program (FSAP), Thompson worked with the university's Counseling and Psychological Services (CAPS) for 20 years.
"My specific area of interest and expertise is providing services to underrepresented folks," said Thompson. "My focus is always looking at therapy through a cultural lens—making sure that folks are being seen in context—and really being able to support all aspects of our intersecting identities."
As a biracial person, Thompson has always contemplated race and its impact on our experience in a social realm. She followed this curiosity throughout her educational journey, majoring in psychology and minoring in sociology as an undergraduate at UC San Diego. She went on to complete her Ph.D. in Clinical Psychology at the California School of Professional Psychology, where she conducted doctoral research on the racial identity development of biracial Black/white adults.
Among her motivations to become a psychologist was the opportunity to increase the diversity of the workforce. She felt like the experiences of people of color had often been excluded in the field of psychology.
"I feel like it's important to understand where folks have been left out and what's been missing, and the importance of really being more inclusive throughout," said Thompson. "Whether it's in training programs in the field itself or on campus with the variety of counselors you have available, it's really about making sure that you're attuned to diversity and really being inclusive of folks and having folks that represent the population that we're in."
She also acknowledges that though there can be stigma around seeking professional help and talking to a psychologist or social worker, "anybody and everybody could benefit from support at some point or another."
For Thompson, the act of valuing yourself, doing self-care and getting support is a form of resistance.
Stay in the Know
Keep up with all the latest from UC San Diego. Subscribe to the newsletter today.