Groundwork Books Remains Grounded in Activism and Democracy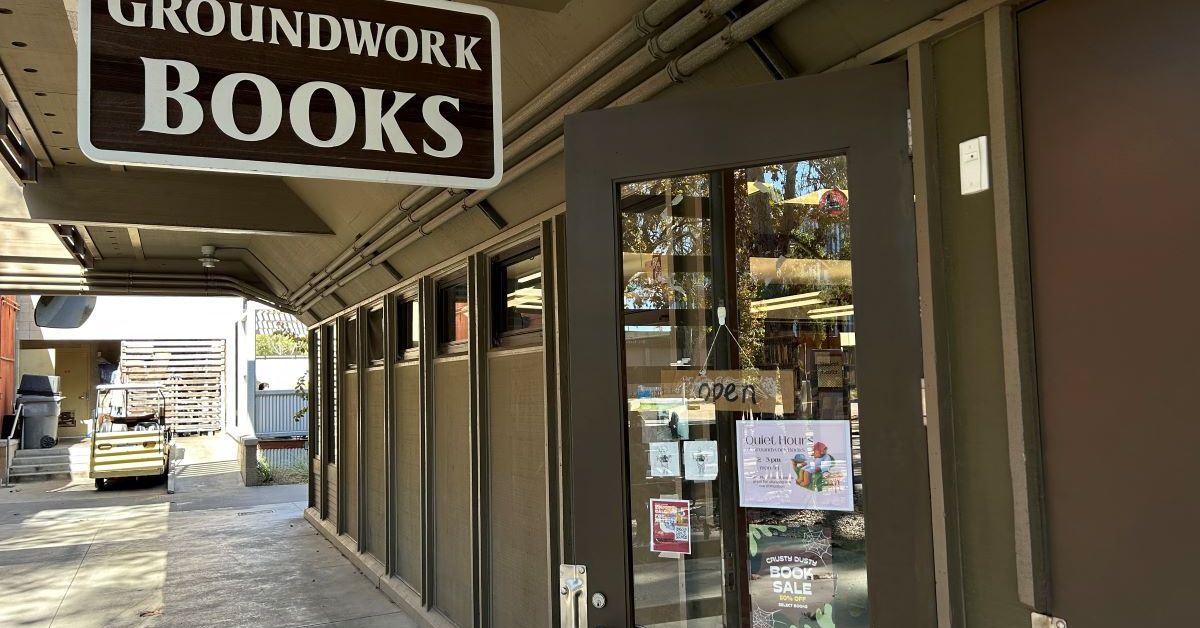 By:
Media Contact:
Published Date
By:
Media Contact:
Topics:
Share This:
Article Content
From board games to marine conservation, there are hundreds of organizations students can get involved with at UC San Diego. In this ongoing series we'll shine a light on a few of them. See who's in the spotlight this time.
Tucked away in the old Student Center near the General Store and the Food Co-op lies the Groundwork Books Collective, the campus's only cooperatively managed bookstore and one of three volunteer worker collectives. Framed by bookshelves and posters outside, the entrance appears non-descript at first. Inside, however, a warm, welcoming community and a treasure trove of books, board games and comfortable seating awaits.
"We want all human beings at UC San Diego to have a third place to stay and relax rather than their homes or a place of commerce," said a Groundwork representative who wished to remain anonymous, explaining Groundwork is meant to be a place where you can spend time without needing to spend money to be there. "We try to act as a community space for the region and as an organizing space."
Behind Groundwork: Backstory and Beliefs
Originally created to provide a community hub and resource base for student activists and community organizers, Groundwork is based on principles of democracy, equality and anticapitalism to combat social hierarchies. The collective is a fully functional bookstore that provides literature on topics ranging from social justice movements to critical histories to political theory and philosophy; they also stock indie publications, zines and more for students to peruse. And, through the Community Restock initiative, Groundwork will order any book they don't carry specially for you.
The organization also runs the Books to Prisoners project at UC San Diego, an affiliated group that receives letters from inmates around the country and connects them to the bookstore. Groundwork mails and donates books; in return, inmates send artwork, stories and letters. The partnership hopes to better educate the public about the realities of the prison system and to better educate inmates while they are incarcerated.
Groundwork recently celebrated its 50th anniversary, having come to fruition in the early 1970s as a result of the vibrant political climate in San Diego and beyond during and after the Vietnam War. Though little documentation exists regarding the original founding members of the collective, the collective's mythology holds that passionate student activists laid the, ahem, groundwork for Groundwork Books to begin. That activist identity shines through in how Groundwork is run: everyone, no matter if it's their hundredth day volunteering or their first day, has an equal vote.
"There are no strings attached here," our informant shared, noting that you get as much out of it as you put in. A grad student in electrical engineering, he now works in restock and runs the Community Restock Initiative. He first joined Groundwork when he was searching for a community whose values echoed his own. "No one is anyone else's manager. Even if I've been here longer, we're on equal footing. I'm not more important than you—we have an equal voice."
Interested in getting involved?
At Groundwork, it's as easy as walking through the door and expressing interest. Our informant shared that, when he wandered into a book club meeting and asked a few questions, he ended up being onboarded, trained and added to the volunteer schedule that very same day! Or, stop by one of Groundwork's events. They commonly host get-to-know-you bonfires for new members, as well as a weekly reading group on Wednesdays.
"It's rare to see how radically democratic we are—you can be whoever and whatever you want to be at Groundwork," our informant said. "We actively negate any hierarchy and try to be as free of expectations as possible. It's really liberating; that's such a valuable foundation on which to build friendships and a community."
Topics:
Share This:
Stay in the Know
Keep up with all the latest from UC San Diego. Subscribe to the newsletter today.