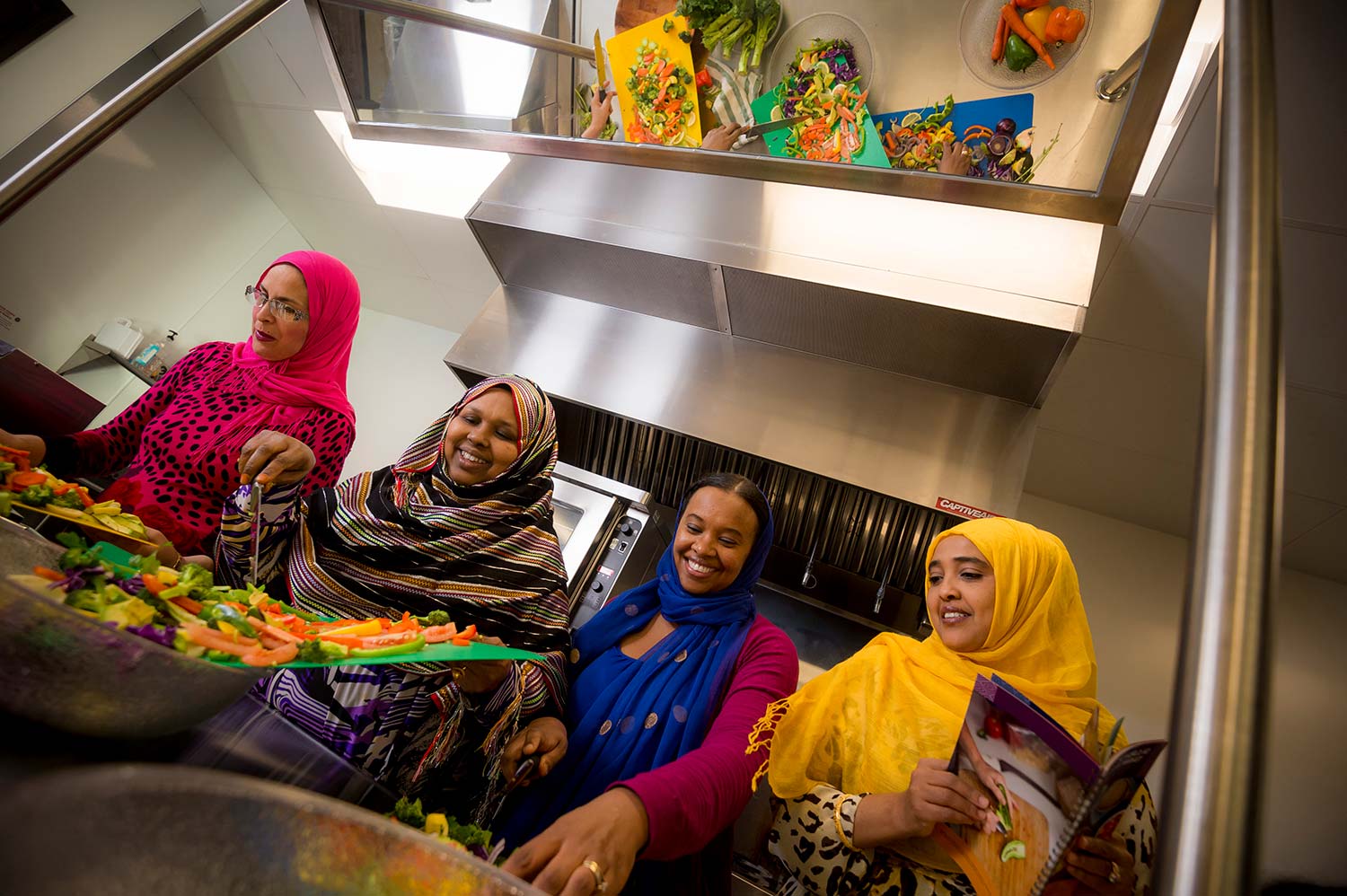 Somali, Swahili and Other Ethnic Recipes Go Low-Cal Thanks to Community Health Partnership
Promoting good nutrition and combatting obesity are worthy goals, but in some San Diego neighborhoods you'd better speak Swahili or you won't get far.
Amina Sheik Mohamed, director of Youth and Community Mobilization Programs at UC San Diego Center for Community Health, knows well that addressing cultural and language differences is key if community health outreach efforts are to be successful.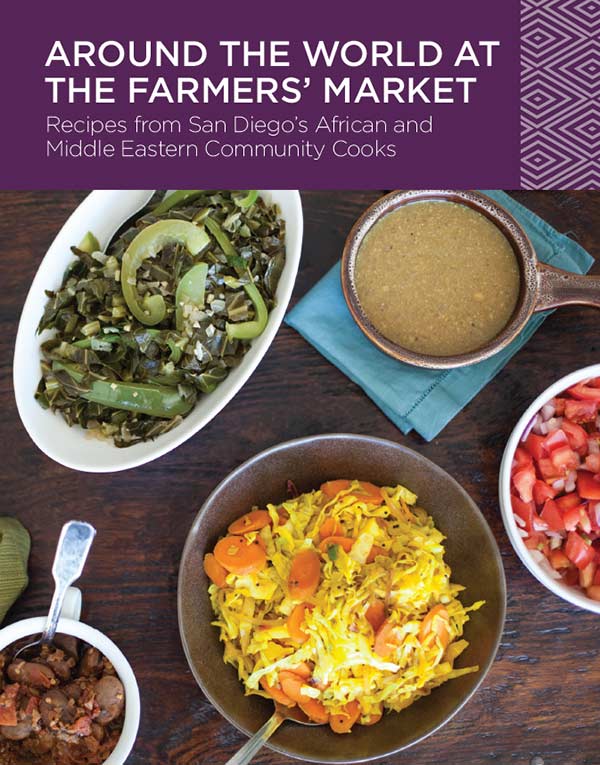 That recognition is behind a unique partnership that recently resulted in the publication of healthy, affordable and easy-to-prepare versions of traditional African and Middle Eastern recipes on EatFresh.org, a USDA-sponsored nutrition site. The partnership also produced a cookbook, "Around the World at the Farmers' Market," containing preparation instructions for lite-style dishes common to the large immigrant populations in San Diego's City Heights and El Cajon neighborhoods. Consider these mouth-watering offerings: Chicken Tagine with Olives and Artichoke Heart, Kenyan-Style Braised Greens, Swahili Tomato Salad and Somali Okra and Vegetable Soup.
"Our goal with this project is to make it easier for people to make healthy choices," said Sheik Mohamed, whose program, part of the School of Medicine's Department of Pediatrics, promotes healthy lifestyles to combat chronic disease and obesity. The program is supported by the county's Health and Human Services Agency. "We realized that reaching these immigrant populations required an innovative approach, since their culinary traditions are different from those in the U.S."
The recipe project was the brainchild of Sheik Mohamed and Adrienne Markworth, executive director of Leah's Pantry, a nonprofit which runs Eatfresh.org, and also implements other nutrition and cooking programs to promote healthier living among underserved populations. With similar community health goals, Sheik Mohamed and Markworth's paths often crossed. "Amina commented to me that her approved healthy eating materials weren't meeting the needs of the immigrant populations," recalled Markworth. "She wanted better materials."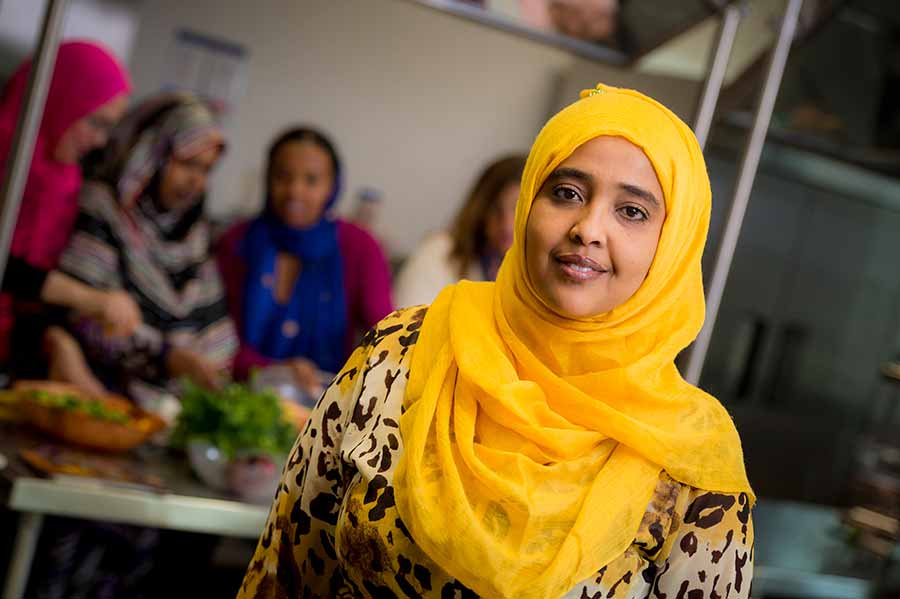 The pair ultimately realized that each could bring forth resources to make that happen. Sheik Mohamed worked with City Heights' residents who could benefit from, and help develop, the new materials. Meanwhile, Leah's Pantry had the infrastructure, dieticians, testing kitchens and nutritional analysis software to ensure the recipes met USDA guidelines for nutrition, affordability and ease of preparation.
The women launched the project about a year ago, with the first step being a gathering of community members from the various ethnic groups. "We worked with the United Women of East Africa Support Team who helped us identify the community leaders in City Heights," said Sheik Mohamed, a Somalian immigrant fluent in her native language.
Meanwhile, the International Rescue Committee of San Diego aided in identifying Iraqi participants in El Cajon. The result was four African groups divided by culinary traditions: Swahili-speaking East African countries (Uganda, Congo, etc.); Ethiopia and Eritrea; Somalia, and Arabic-speaking North African countries (Egypt and Morocco). A fifth group of Iraqi natives focused on Middle Eastern cuisine.
"We had a meeting in City Heights with all the African women and soon realized that we were working with the community health champions," said Markworth. "These were women who were already committed to the idea of making their communities healthier."
Working collaboratively with Leah's Pantry and UC San Diego staff, the women met in small groups, according to culinary region, and brainstormed traditional recipes that could be adapted to meet the reduced calorie and nutrition goals. "They were used to plates filled with rice and high fat meats," said Sheik Mohamed. "We'd say use more vegetables, less rice and maybe chicken breast instead of lamb. The women were very open and friendly."
Later, the groups met again at the United Women of East Africa Support Team's kitchen facility in City Heights to cook the recipes. "We all cooked together," said Markworth. "The women were making sure it smelled and tasted like African lentil soup or whatever dish, and we were making sure that it was healthy, easy to prepare and inexpensive."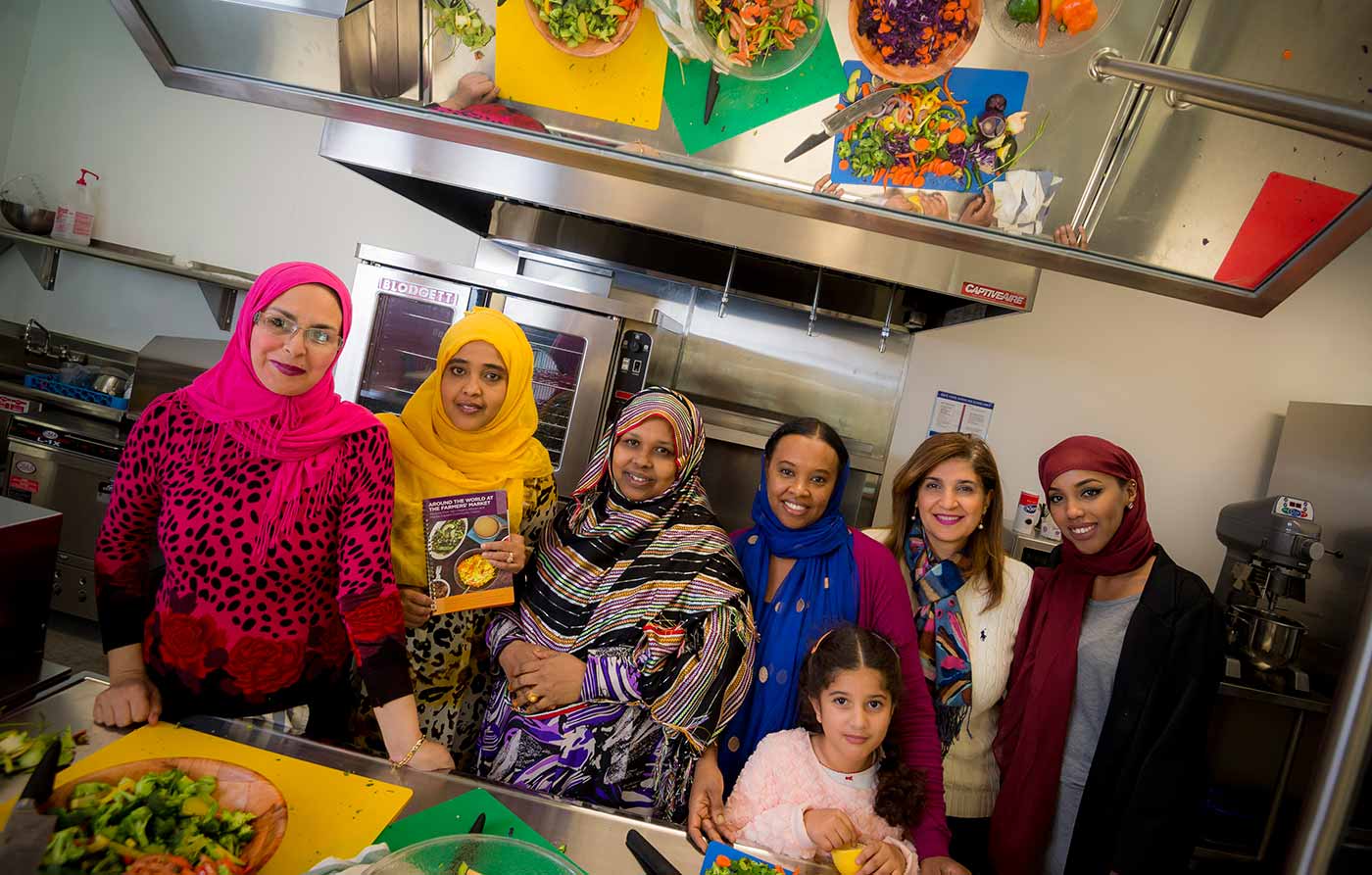 Project participant Thitina Shita said she enjoyed learning new ways to cook her traditional Ethiopian recipes. "Now I use less oil and some kinds of herbs to make it taste good, instead of a lot of salt," said Shita, who has two young sons. "Before I didn't use measuring spoons, but now I see they are really good help." The new approaches have helped to better control her husband's high blood pressure and improved her borderline diabetes. "I always cook Ethiopian food, but now I can cook it in a healthy way," she said.
Ultimately, each culinary group produced four to five recipes, with 20 in total submitted to Leah's Pantry for nutritional analysis. The recipes were posted to the EatFresh.org web site in early December and the cookbook was published.
Sheik Mohamed eventually hopes to see the recipes translated into five languages representing the ethnic participants. To make it easier to use, the cookbook contains photos showing step-by-step preparation instructions to enable people to understand the recipes regardless of their language.
She and Markworth are proud of the effort. "I hope people all over the country will take advantage of this resource," said Sheik Mohamed. "These are healthy, simple dishes that people from any background will love."
Stay in the Know
Keep up with all the latest from UC San Diego. Subscribe to the newsletter today.