UC San Diego Launches Two Projects on the Impact of Climate Change on Coastlines and People
National Science Foundation grants support research hubs in Southern California and Puerto Rico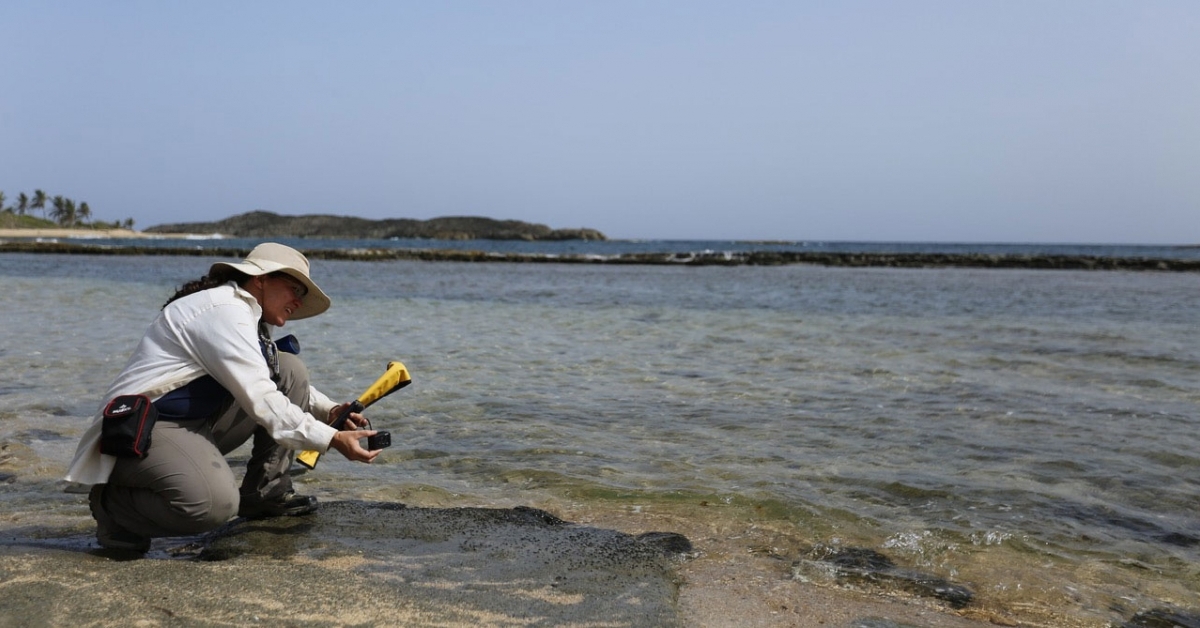 Media Contact:
Published Date
Media Contact:
Share This:
Article Content
The University of California San Diego has received two five-year National Science Foundation (NSF) grants totaling $6.6 million to fund research hubs in Southern California and Puerto Rico.
NSF funded the hubs through its Coastlines and People program. Leading the Southern California research hub is Scripps Institution of Oceanography coastal oceanographer Mark Merrifield, director of the Center for Climate Change Impacts and Adaptation. His team's $5 million project will examine the human impact of extreme heat waves and how they may be affected by ocean processes as part of climate change. Merrifield's team aims to produce results that will guide planning strategies for heat adaptation in Southern California.
Leading the other $1.6 million project, focused on Puerto Rico, is anthropologist Isabel Rivera-Collazo, director of the Scripps Center for Marine Archaeology with a joint appointment at Scripps Oceanography and the Department of Anthropology in the UC San Diego School of Social Sciences. Her lab will collaborate with the University of Puerto Rico-Río Piedras as part of a $20 million grant administered by the Haskell Indian Nations University in Kansas. The Rising Voices, Changing Coastlines Hub at Haskell is supported by the largest NSF grant ever awarded to a tribal college or university.
Southern California Heat Waves
The Southern California research hub leverages expertise in research areas meant to prepare society for unavoidable changes that planetary warming is bringing to coastal regions. It will bring together climate scientists, epidemiologists, policy experts, and educators, "making it a truly interdisciplinary endeavor," said Maren Hale, the staff research associate at Scripps Oceanography who manages the project. The Scripps Oceanography team will work closely with the San Diego Regional Climate Collaborative and the Nonprofit Institute at the University of San Diego to more broadly involve local and regional stakeholders.
"The co-production of research with community stakeholders is one of the most important aspects of the hub," Hale said.
A first research theme will use observations and models of air-sea interactions during periods of marine and terrestrial heat waves to better quantify past and expected future coastal cloud variability and change.
This part of the project will include developing a historical catalog of recurring atmospheric weather patterns over California and measuring their associated impacts. Developing the catalog will involve analyzing atmospheric circulation over the observational record and devising a classification system to identify different types of heat waves that affect Southern California.
Scripps Oceanography researchers have already studied winter season weather patterns over California. Doing the same for heat waves has potential uses for early warning systems and climate-change studies. How coastal cloud cover will change in the future as it responds to often-changing oceanic and atmospheric conditions remains unclear.
A second research theme will examine the health impacts associated with extreme heat, which cause important disparities across population subgroups and neighborhoods. The severity of health impacts from heat waves varies greatly according to a variety of factors such as access to green space. The Scripps Oceanography team will analyze the heat vulnerability of Southern California populations to understand what measures may help control the threat.
A third research theme will explore the intersection between water resource management and green spaces along populated regions of coastal Southern California. This includes urban greening, a potential climate change and heat adaptation strategy that communities can act on quickly, but which may be complicated by California's strained water supply.
In many of the communities most impacted by extreme heat, students historically have lacked access to high-quality STEM education. As part of the project, hub researchers will engage with high school teachers and students as well as community college student interns from urban areas most affected by extreme heat in community-engaged science. The education-focused aspects of this hub aim to broaden participation and to bring about mutual learning.
To meet these educational goals, the Scripps Oceanography and Birch Aquarium-led hub will team up with the San Diego Science Project, UC San Diego's Center on Educational Equity, Assessment, and Teaching Excellence, the San Diego County Office of Education, and regional school districts.
Rising Voices, Changing Coastlines in Puerto Rico
The Rising Voices, Changing Coasts Hub spans Alaska, Louisiana, Hawai'i, and Puerto Rico. Rising Voices is an ongoing national partnership between earth scientists and Indigenous people to encompass the latter's perspective in scientific research. Project activities will include training opportunities for Native students at each participating institution.
Through the Rising Voices initiative, Rivera-Collazo, a Native of Puerto Rico, will explore social justice and ecosystem restoration issues that sea-level rise and climate change have imposed upon Native residents and Indigenous communities. The project will mesh elements of multiple sciences along with traditional ways of being and traditional knowledge.
"Scripps can be a partner to a new type of emergent science based on this conversation between earth scientists and Indigenous peoples," Rivera-Collazo said. Project partners include the University Corporation for Atmospheric Research (UCAR) and the National Center for Atmospheric Research.
Co-leading the project is Jenniffer Santos-Hernández of the University of Puerto Rico-Río Piedras. Santos-Hernández, who specializes in the sociology of disasters, will focus on the social aspects of disaster response collaborating with highly-marginalized Puerto Rican communities. One community in the north lives on what used to be a mangrove forest that was infilled for habitation. The other two coastal communities, in the south, have dealt with years-long impacts from earthquakes and hurricanes.
"Many of these Borikua (native Puerto Rican) communities have long-term knowledge of and a close relationship to the land," Rivera-Collazo said. Yet they struggle with social issues, including racism, class-based discrimination, and complications related to drug trafficking and abuse. Many of these issues are linked to political and colonial conditions, some of which are centuries old, and others more recent.
Rivera-Collazo will validate and build upon existing Borikua knowledge. For example, fishing is an important subsistence activity for the partner community in the north of the Island. "There, fisher people have knowledge spanning several generations about the effects of pollution and fish mortality on the lagoon they depend upon. They know more about the effects of pollution and fish mortality than the scientists do because they are the local experts," Rivera-Collazo said.
Her team will generate models of future sea-level rise and take sediment cores to learn more about how coastal ecosystems, including mangroves, respond to sea-level changes. Their work will reconstruct the history of Puerto Rican mangroves and wetlands going back about 10,000 years. The results will help the local communities to better understand the risks they are facing due to present and expected sea-level rise. The team will also use history and archaeology to recover the past of these coastal communities in Borikén (Puerto Rico).
"Stories of societies that collapse and disappear is a colonial narrative because in many cases, individuals and communities survived," Rivera-Collazo said. "These Rising Voices, Changing Coasts projects help us center our voices, and narrate our past as part of our own ancestry because we didn't disappear."
Funding for the Southern California Research Hub comes from NSF grant 2209058. Funding for the Puerto Rico Research Hub comes from NSF grant 2103843.
Stay in the Know
Keep up with all the latest from UC San Diego. Subscribe to the newsletter today.