Scientifically, This Was Still a Monster El Niño Year
Despite less Southern California rain than expected, scientists say the climate phenomenon had a less obvious but profound impact
Published Date
Article Content
At the outset of the 2015-2016 El Niño season, researchers at Scripps Institution of Oceanography at UC San Diego recognized that all the ingredients of a major event were in place.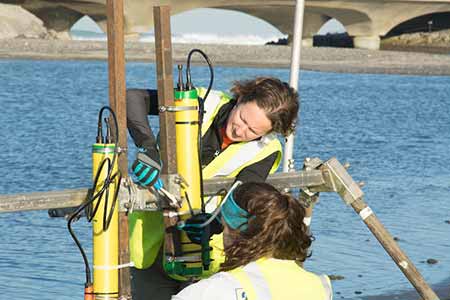 Observations of tropical Pacific water temperatures and atmospheric conditions indicated that El Niño could steer powerful storms towards California and drive numerous changes in coastal and marine ecosystems.
But, tempered by the historic complexity of forecasting El Niños, they steered clear of making the breathless predictions of cataclysmic rains made by others.
Now that the season has peaked, it appears on the surface that their caution was borne out. It was supposed to be a wet winter for the record books in Southern California, but precipitation levels barely made it to average in several areas. And although there was more precipitation than in any of the last four years, it mainly fell in Northern California, well north of where the public had been led to believe it would fall.
"It was clear that while El Niño had stacked the deck for a wet Southern California, it was still possible to draw the wrong card and that's what happened in Southern California," said climate researcher Marty Ralph, who directs the Center for Western Water and Weather Extremes at Scripps.
But from a scientific standpoint, this El Niño could provide one of the richest troves of climate data in several decades. In preparation for the big event, scientists from a wide range of disciplines secured funding from a variety of federal agencies to made plans to observe and document different aspects of the event. While the single component of heavy Southern California rain didn't materialize, several others did.
"There's a public perception that El Niño never came but it certainly did from an ocean perspective," said Scripps coastal oceanographer Sarah Giddings, who studied its effects on Southern California estuaries.
Giddings is one of several researchers poring over data from a season that saw far more extreme high water events on the coast than average. This El Niño –pushed westward much of the time by a persistent high-pressure ridge over the southwest – has supported new theories about how the phenomenon might behave in the future against a backdrop of global warming. Beyond California's borders, El Niño was likely the extra burst of energy that made for a mild winter throughout most of the United States and which made February and March record-setters in terms of global warmth. Even the fact that an otherwise classic El Niño aimed storms well north of where they were expected – the Pacific Northwest expected to be dry this year but wasn't – is in itself interesting, said Ralph.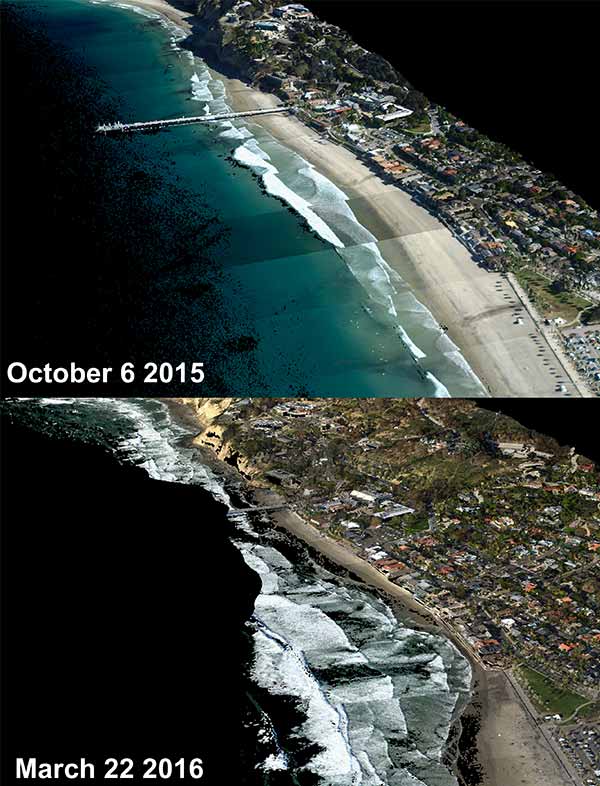 The misdirection is an example of the enormous chaos in climate systems that scientists still need to understand through sustained observations, said other researchers. In 2014, the international Argo program added 40 units to its network of 3,800 profiling floats in the equatorial Pacific Ocean as El Niño conditions began to develop that year. The phenomenon eventually died out then but the floats, funded by NOAA, were still present through this season.
As a result, this was the best-observed El Niño in history in the subsurface equatorial Pacific Ocean waters that are critical to the onset and evolution of El Niños, said Scripps physical oceanographer Dean Roemmich, a leader of the Argo program. Moreover, the global extent and sustained nature of the Argo network made it possible to track El Niño variability and impacts wherever they occurred, no matter how far from their equatorial Pacific sources.
And yet, the fact that most El Niño storms tracked north is evidence of the staggering level of natural variability scientists need to interpret, said Roemmich. Though the data from this single season will require supercomputer-level processing power, it is still only the second well-observed strong El Niño in history along with the last major event in 1997-98. For an event of this El Niño's size, there are essentially only two data points for scientists to work with when several more are needed. Across the climate science community, researchers are looking to cost-effective long-term observations from Argo and other networks to help crack the complexity of such global-scale phenomena.
The season isn't expected to fully end until June. Between now and then, it has the potential to provide the source material that enables scientists to develop not just forecasts of El Niño weather conditions but biological forecast models that could guide fisheries management among other applications.
Through early May, Scripps biological oceanographer Mark Ohman and the California Current Ecosystem Long-Term Ecological Research site team is off the California coast surveying biogeochemical conditions on a rapid response cruise supported by the National Science Foundation. Though winter rains may have subsided, April and May are prime time for observing a classic condition associated with El Niño in which ocean waters become more stratified. The sharp contrasts in temperature between surface water and bands of deeper water means the supply of nutrients that well up from deep ocean waters is cut off. Quantities of phytoplankton at the surface diminish substantially in a change that reverberates through the ocean food web.
"We expect to see less total biomass, less living stuff," said Ohman. "El Niños have changed traditional predator-prey relationships in both directions."
Among the phenomena related to the stifling of primary productivity is the migration of marine organisms that typically inhabit regions closer to the equator, which explains unusual catches by San Diego fishing fleets, sightings of exotic marine species, and more reports of sick and stranded marine mammals.
"Warm ocean conditions off our coast, preceding and during the 2015-16 El Niño, resulted in subtropical species such as Pacific Bluefin tuna, opah, marlin, and wahoo observed well north of their usual ranges," said Cisco Werner, director of NOAA's Southwest Fisheries Science Center. "Similarly sardine spawning that normally takes place in the Southern California Bight was observed off Oregon and Washington. These observations can give us a glimpse into how our future ecosystems will look under more sustained warming conditions."
Ohman said that researchers will use the cruise data to look for predictable patterns that could help them infer if certain types of changes in marine life will occur in El Niño years.
"Every El Niño is different but are they at least categorizable?" Ohman said.
With sea levels elevated as much as 30 centimeters (11 inches) above predicted heights between October and April and energetic waves consistently pounding the West Coast, much of the erosive power of this year's El Niño storms was realized. The combination of elevated sea levels and steady wave power promises to give several research teams at Scripps and other academic centers compelling data with which to make inferences about the look of the coast in the future.
For instance, storms sealed off the mouth of the Tijuana River from the ocean for the first time since the 1982-83 El Niño. Up and down the coast, several other estuaries have also been sealed off or significantly filled in due to storm activity pushing sediments into their mouths. It's a common occurrence, said Giddings, but what was different this time was that storm activity – waves and total water levels – was unusually strong, enough to increase the infill rates of estuaries and move not just sand but also cobblestones.
"This year's El Niño brought less overall rainfall than expected; however, it did bring very intense rains over very short periods of time and at abnormal times of the year," said Laura Engeman, manager of the San Diego Regional Climate Collaborative, an information-sharing network of local cities, universities, and other entities. "These rains led to severe flash floods in several cities across the region, exemplifying how these climatic shifts can impact our businesses and communities, and why it is important that we plan now to make us more resilient to the impacts of these climatic extremes."
Oceanographers Ken Melville and Luc Lenain obtained funding from the Office of Naval Research (ONR) to lead aircraft-based measurements of the coastline throughout the season. They used an imaging suite called the Modular Aerial Sensing System (MASS) during flights between Ventura, Calif. and the U.S.-Mexican border in October, January, and March. On board the aircraft were light detection and ranging, or lidar, equipment that measured the elevation of sand and cliffs along California's beaches as they responded to energetic storms and heightened sea levels.
The lidar, coupled to global positioning system (GPS) instrumentation and inertial motion sensors, scanned swaths of beach and ocean more than 600 meters (1,970 feet) wide. Lenain said the flight series revealed significant erosion over the season, particularly from October to January.
"And it was really only a couple of significant storms that had hit by that time," said Lenain. The vertical erosion on area beaches ranged between two and three meters (6.5 and 10 feet). Typical winters see less than two meters of erosion. Three meters is extreme, said Scripps physical oceanographer Bob Guza, who added that Melville and Lenain's surveys are groundbreaking because a large area was observed before, during, and after an El Niño.
Guza said that the El Niño season will give urban planners much to ponder. Severe erosion was juxtaposed against sand buildup in places such as the Tijuana River, aided at least in part by a sand replenishment project at Imperial Beach a few years prior to El Niño that fed the accretion, he said. Researchers led by Guza's student Bonnie Ludka compared coastal erosion episodes in 2010 and 2016 during the two most recent El Niños. They found that Imperial was one of several local beaches that undertook sand replenishment efforts in 2012 and all were higher and wider in 2016 than 2010. The relative coarseness of the replenishment sand might have helped improve the durability of these beaches.
Besides the sand replenishment project, Imperial Beach also had begun a state Coastal Conservancy-funded assessment of the vulnerability of its coastline to sea-level rise in 2014.
"Imperial Beach experienced the most severe coastal flooding in more than 20 years this year on our beachfront and bayfront," said that city's mayor Serge Dedina. "That experience, which we worked with our residents to prepare for has only reinforced our decision to embark on our comprehensive sea-level rise and coastal flooding adaptation planning process. This year was a sign of things to come."
With El Niño crossing a variety of research disciplines, Melville and Lenain are collaborating with Giddings, Guza, and others to create a comprehensive analysis that may be a first in its own right.
"We can now make the connection between what's happening on the beach and what's happening in estuaries for the first time," said Giddings. "It's an awesome combination of data."
The U.S. Army Corps of Engineers is funding the additional data analysis required to develop useful products for regional decision-makers.
"This large El Niño winter storm season gave us a unique opportunity to observe the compounding effects of sea level, storms, and tides on the coast," said Jeffrey Waters, chief of the Coastal Observation & Analysis Branch at the Army Corps' Field Research Facility, Coastal and Hydraulics Lab. "Scripps' analysis of this comprehensive dataset can aid the Corps of Engineers in its ongoing efforts to develop accurate coastal resilience models and manage coastal infrastructure and resources during extreme conditions."
Melville, Lenain and other researchers collected much of the data from 2015-16 using instruments not in existence during the last major El Niños in the 1980s and 1990s. In the topographical surveys, researchers created "point clouds" that made measurements of the precise latitude, longitude, and elevation of sand and other beach features every 25 centimeters (10 inches), making vertical measurements within a range of two centimeters (0.8 inches). Much of what Melville, Lenain, and colleagues had been developing in the last decade was the ONR-funded MASS instrument package itself but also the ability to quickly process the reams of data it produces.
"These airborne measurements offer both solid scientific data and supporting information for coastal communities to plan for storm events, and, over coming decades, for sea-level rise," said Melville. "It is my hope that this is the beginning of a regular series of flights to collect, archive, and analyze data describing the changing coastline of Southern California, from the Mexican border to Ventura County."
The more sophisticated accounting of this year's event will be valued ­– possibly even necessary – as a means of adapting to and mitigating damage caused by future events.
"The Navy is interested in high-quality regional data to improve our understanding and ability to plan for and respond to regional coastal hazards—from current flooding to future sea-level rise impacts," said Deputy Assistant Secretary of the Navy Karnig Ohannessian. "This valuable information enhances the Navy's ability to plan for and increase resiliency to future infrastructure and protect current coastal investments."
Scripps climate scientist Dan Cayan noted that this will also be known as the year that ushered in the positive phase of the Pacific Decadal Oscillation (PDO), a long-term climate phenomenon that had been in its negative phase since 1999. Among other things, the positive phase is expected to speed the pace of sea-level rise along the West Coast. Until now, the negative phase had suppressed sea-level rise here that was experienced throughout most of the Pacific Rim.
Coastal oceanographers at Scripps are already looking ahead to 2022-23, especially if the next large El Niño occurs then. In that timeframe, El Niño may be coupled with sea-level rise and the converging peaks of two multi-year lunar cycles. While Southern California tides may have seemed high this year (they were actually at the low point of both cycles) they will be around six inches higher then.
Stay in the Know
Keep up with all the latest from UC San Diego. Subscribe to the newsletter today.