Scholars and Donors Celebrate the Value of Scholarships
The 24th annual Hearts & Scholars event brought together scholarship recipients with those who have helped make their educations possible
Published Date
By:
Share This:
Article Content
It was while Lukas Aguon was enlisted in the U.S. Navy that he discovered his passion for human health. Working as a surgical tech, he realized that he wanted to attend college and pursue a career in health care to help others.
Now, as a transfer student at UC San Diego with a major in human biology, he will graduate in June 2023 and recently learned that he was accepted to attend the UCLA School of Dentistry.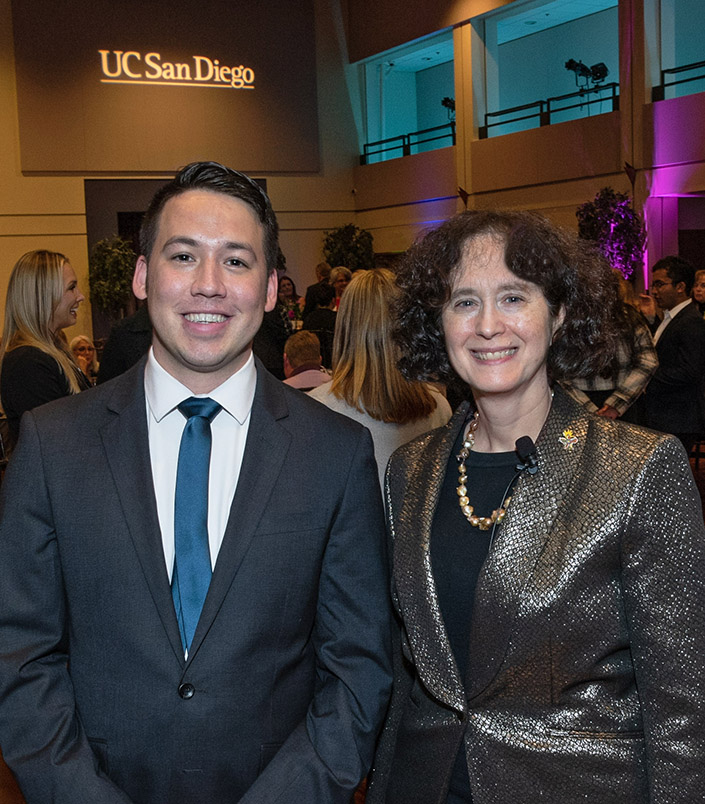 A recipient of the Crankstart Transfer Scholarship through the UC San Diego Chancellor's Associates Scholars Program (CASP), Aguon credits his CASP scholarship with giving him the opportunity to explore campus clubs and associations, rather than working extra to cover tuition and expenses while in college. The Crankstart Foundation funds 10 scholarships for transfer students through CASP. Aguon's campus and community involvement – made possible by his scholarship – ultimately led him to find his interest in dentistry.
"I got involved with UC San Diego's Pre-Dental Society," recalled Aguon. "We went out into the community and helped those in need of dental services. It was such a beautiful thing to be able to do work for people who haven't been able to get the dental work they need."
Aguon was one of approximately 85 scholarship recipients who attended UC San Diego's annual Hearts & Scholars reception recently, which provided an opportunity for scholars to connect with those who have established their undergraduate scholarships.
"Each year, we come together to recognize the many ways scholarships transform the lives of students," said Chancellor Pradeep K. Khosla. "This event also is an invaluable opportunity to thank our generous donors who provide scholarships that empower students to focus on school and their futures rather than funding tuition, books, rent, food and other basic needs. We celebrate our students' successes and their drive for a college experience that expands their minds, as well as their horizons."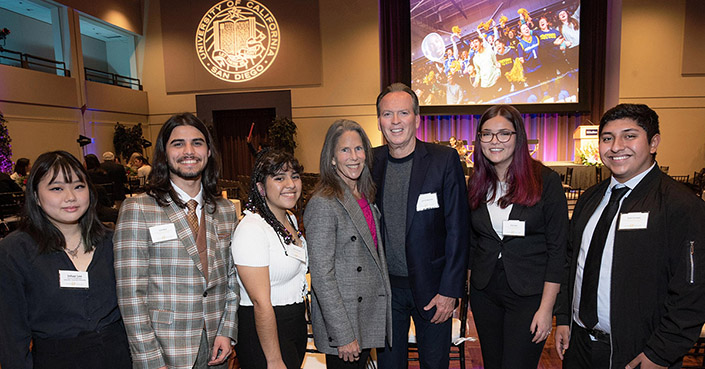 Student support and success remains a key priority at UC San Diego. At the conclusion of the Campaign for UC San Diego, which closed in June 2022, the campus announced that it had raised approximately $378 million for student support and success during the 10-year campaign. Donors helped create 315 new scholarship funds during the campaign, including 163 endowed scholarships, which remain in perpetuity.
During the 2022-23 academic year, 70% of UC San Diego students relied on some form of financial aid to pay for their education, making student support a continuing area of need.
When looking to the future, Aguon plans to stay in the U.S. Navy Reserves, while attending dentistry school at UCLA. He would like to get involved with helping underserved dental patients, perhaps with an organization like Smiles Without Borders.
"I have the deepest appreciation for my scholarship," said Aguon. "I'm so grateful to the Crankstart Foundation, which has opened doors for students like me to get a world-class education."

Stay in the Know
Keep up with all the latest from UC San Diego. Subscribe to the newsletter today.